This elegant sailing yacht is built upon the foundations of the First 36 and First 53. Her design combines performance, comfort, and style thanks to a meticulously laid out deck on a proven hull shape. The Beneteau First 44 looks to provide unequaled pleasure under sail & demonstrate an experience unparalleled by the top new sailing yachts of 2022 or 2023. The generous sail plan allows the the First 44 to be lively and efficient in all conditions.
Naval Architect: Roberto Biscontini
Design: Lorenzo Argento
FIRST 44 Exterior Design
The BENETEAU FIRST 44 has been designed with 2 deck plans to satisfy the various expectations of its owners: FIRST 44 and FIRST 44 PERFORMANCE. The FIRST 44's cockpit is very convivial with a lovely cockpit table as well as its fluidity with level access to the large clear gangways. Four winches, a fixed centerline block for the mainsheet, and a mast that is set further aft all maximize the potential of her modern sail plan, defined by a slender mainsail and generously sized foresails.
Dual 300-liter water ballast tanks can be electrically activated from the helm consoles, unlocking the boat's full potential. Imagine pressing a button & having 4 invisible crew members appear on the rail. That's 4 crew members that you don't have to feed or entertain.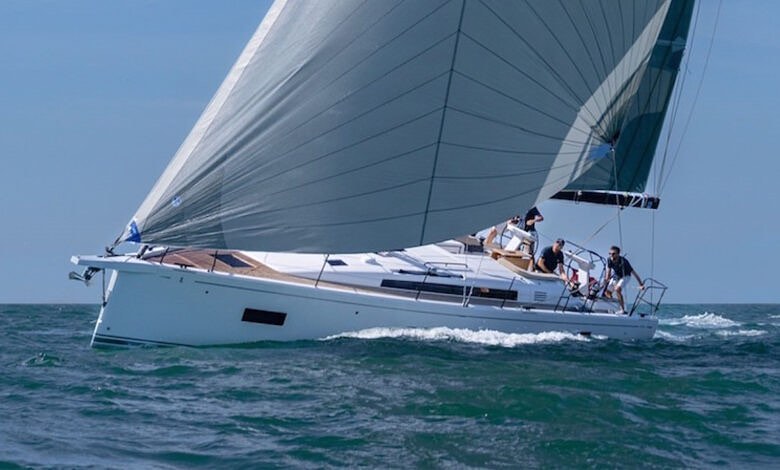 On the FIRST 44 PERFORMANCE, deck ergonomics were studied and developed with fully crewed regattas in mind. Equipment and systems are totally geared towards racing, among which should be mentioned the foam non-skid surfaces that replace the teak on the cockpit sole, six well-placed winches, and a conventional mainsail traveler.
The performance option adds 2 winches and upgrades the bowsprit.
Both the FIRST 44 and FIRST 44 PERFORMANCE will have options for keels and masts.
FIRST 44 Interior Design:
The First 44 offers a streamlined interior layout that is modern and luminous, with a blend of white lacquered surfaces, molded woods, and tasteful upholsteries.
With three cabins and two heads, the interior is designed with quality finishes and materials to create a refined atmosphere.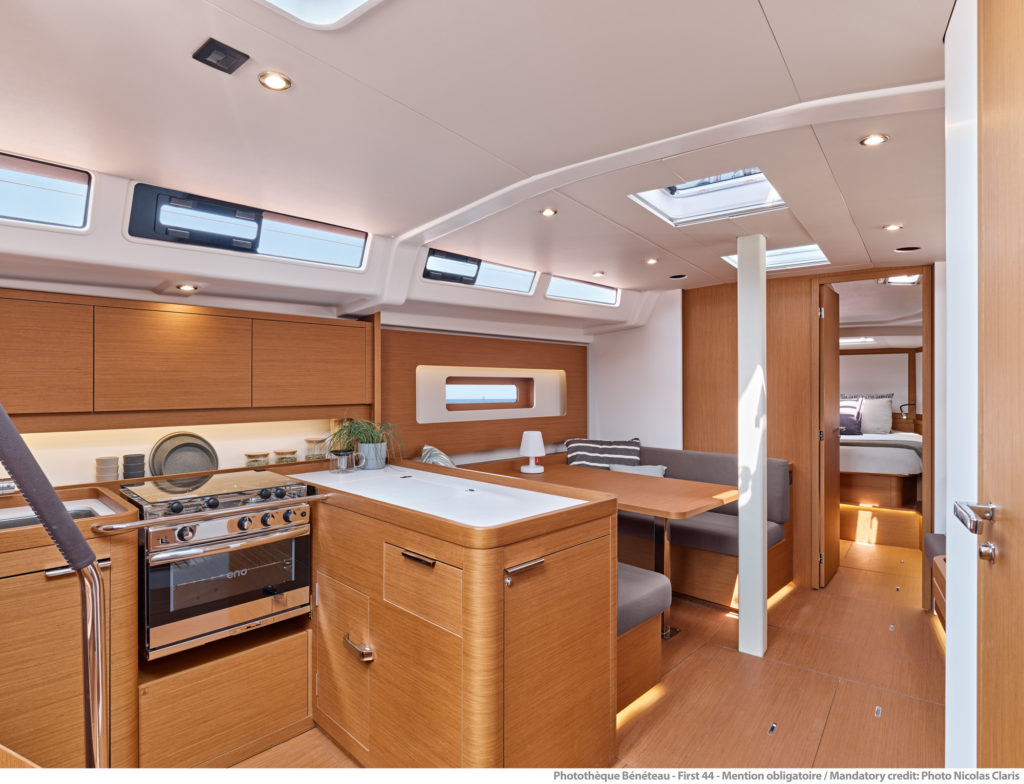 In the saloon, the transverse table seats up to six people and faces the sofa and navigation station; its position in relation to the mast facilitates circulation between the galley and the owner's cabin, enhancing the feeling of space.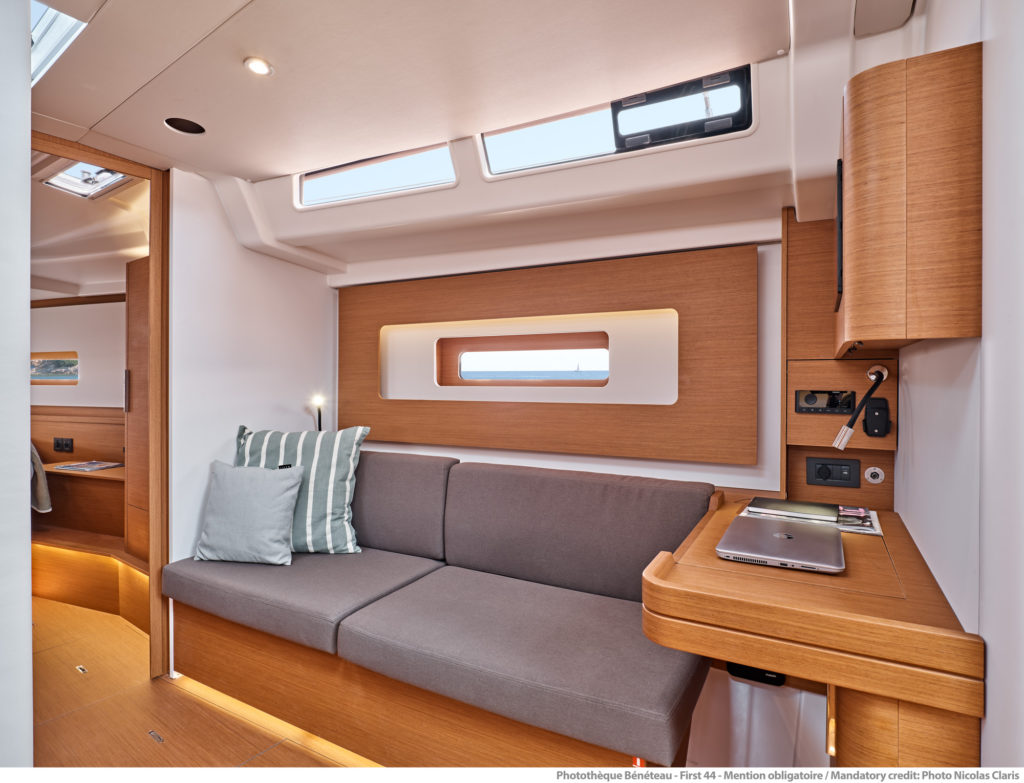 The FIRST 44 made her world premiere at the 2022 Yachting Festival de Cannes & looks forward to her US Debut at the 2023 Miami Boat Show
How much is the Beneteau First 44
For most accurate pricing & delivery estimates, please enter the below contact form with your homeport
Beneteau First 44 Performance
We look forward to seeing the First 44 rank top among the best new sailboats of 2022 & 2023. A perfect balance of performance & comfort make this new model one of unequaled pleasure to sail
Who builds the First 44
The Beneteau First 44 is meticulously built on a dedicated manufacturing line by experienced workers using high quality materials
Contact Us
"*" indicates required fields
First 44 Photography