HUNTER PASSAGE 42 REVIEW – CRUISING WORLD
When Hunter Marine introduced their voluminous Passage 42 at the Annapolis Boat Show, it drew an impressive crowd. Hunter had announced that they were taking "a bold step into the center cockpit arena with a striking new design." For a company already known for its modern, cutting-edge approach to the production boat market, this meant "look out."
Hunter puts enormous effort into finding ideas that fill niches. In the world of mass-production sailboats they are as prolific as the French at devising new lines and making them marketable. They have experimented with sweptback, diamond-stayed rigs and with modern freestanding spars, with shoal-draft wing keels and deep-water fins, with speedy flush decks and accommodating cabin tops – and in each of the many models they offer there always has been an attempt to do something a little new and a little different.
Interior volume and enhanced accommodations are the idea behind the Passage 42. Hunter makes full use of the center-cockpit theme by keeping the deck elevated from the mast all the way aft to provide up to 6'6″ headroom below; with 14 feet of beam, the plan is opened up even further. Included are a double stateroom in the bow with its own head and shower, and another one – the master suite – in the stern quarters with a private head, shower and tub. The main saloon is comprised of a large oval settee and a U-shaped galley on the starboard side that features state-of-the-art refrigeration, hot and cold pressure water and even a microwave oven; here in lieu of ports is a large, "wraparound" windshield. In the passageway between the main and after cabins is the navigation station and an area designed to accommodate a stacked washer and dryer.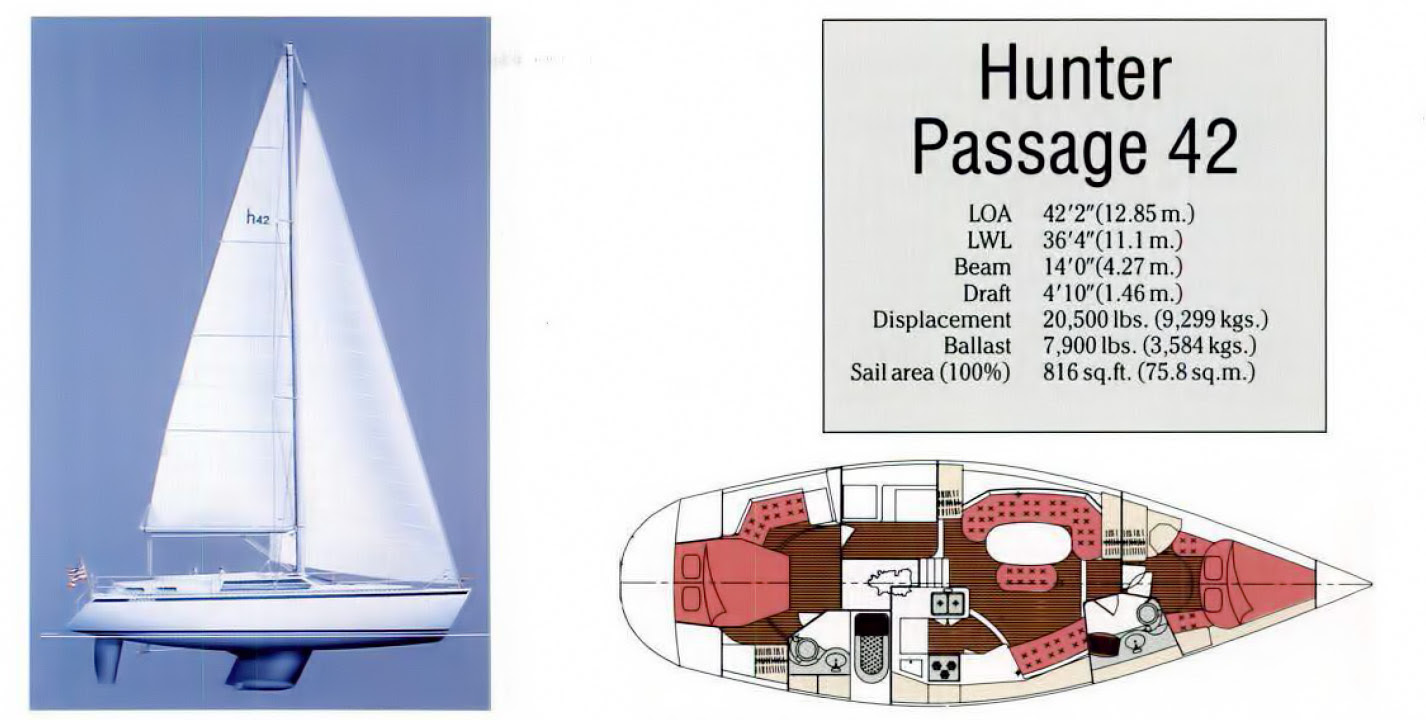 The deck consists of a large center cockpit and a spacious upholstered "sun lounge" over the after cabin. Spanning the cockpit is a stainless steel structural arch that supports the traveler just over the helmsman's head, along with cockpit lighting, stereo speakers and any number of "personal accessory installations." Sail controls and primary winches are within easy reach.
The rig is a B&R diamond· stayed affair – a Hunter trademark of sorts – incorporating double swept-back spreaders with intermediate shrouds that terminate at the mast instead of at the deck, thus permitting a smaller mast section for better airflow to the sails.
We sailed the Passage 42 in a steady 20 knots of breeze and found the boat to be controllable and maneuverable, likely a dividend of the large balanced rudder positioned well aft and the efficiency of her wing keel. She appeared a bit tender in seas and gusts, a feeling perhaps compounded by the relatively elevated position of the helm; and this suggests the need for an early reef. But despite the blustery day we stayed dry, the cockpit remained protected and with powerful stereo speakers mounted at head height port and starboard, we never suffered for musical accompaniment.
June 1990
by Quentin Warren.