After months of data-driven design and meticulous construction, the Excess 14 has finally made its way onto the market, standing out with sharp, sporty lines and a luxurious, unique cabin layout.
The sporty and sleek cruising catamaran has just been nominated for the prestigious British Yachting Awards for Multihull of the Year. This award is voted on by readers and announced later this year.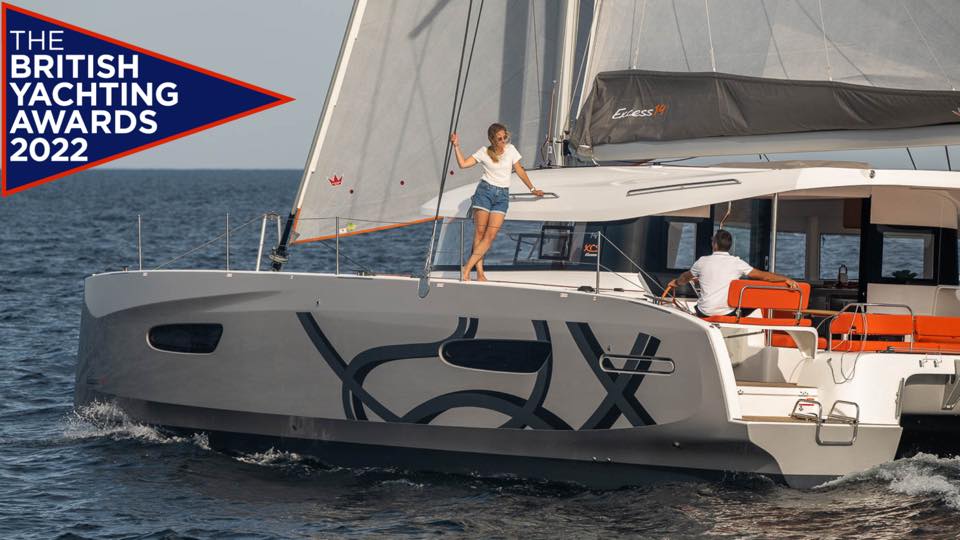 Uniquely Spacious Sailing Catamaran Layout
Unique to the Excess 14 is the convertible forward berth, which can switch between a walk-in closet and a 4th cabin w/ a double berth. This space greatly increases storage ability and makes the boat that much more live-aboard friendly.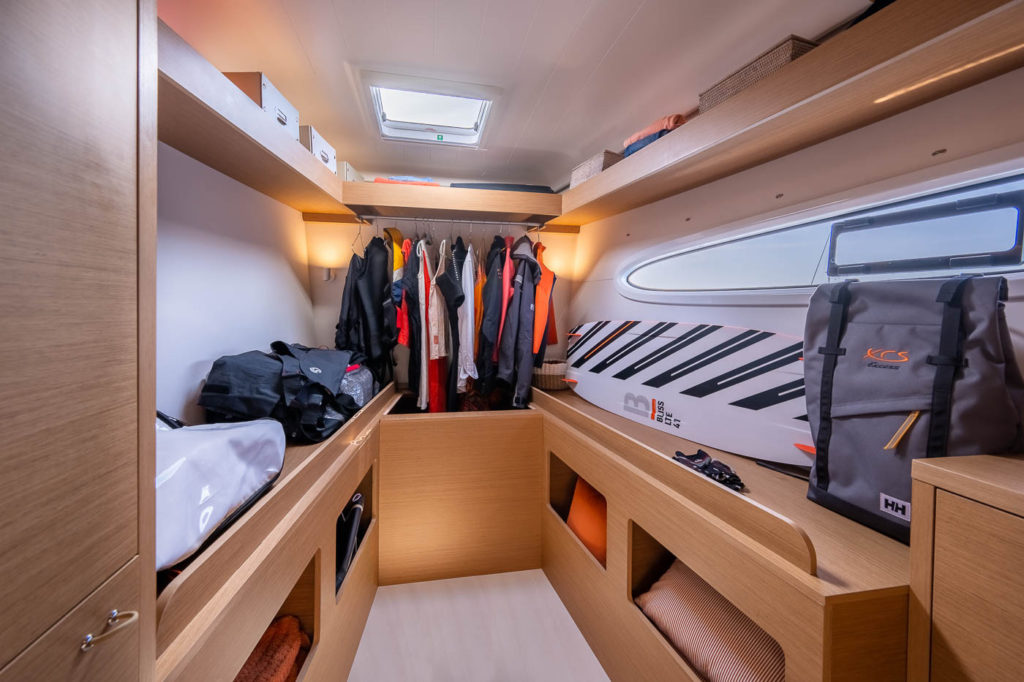 Smart Galley
The amount of refrigerator / freezer space on this boat is impressive for her size. The amount of food you can keep on board definitely makes a long voyage like an Atlantic crossing seem a lot more manageable.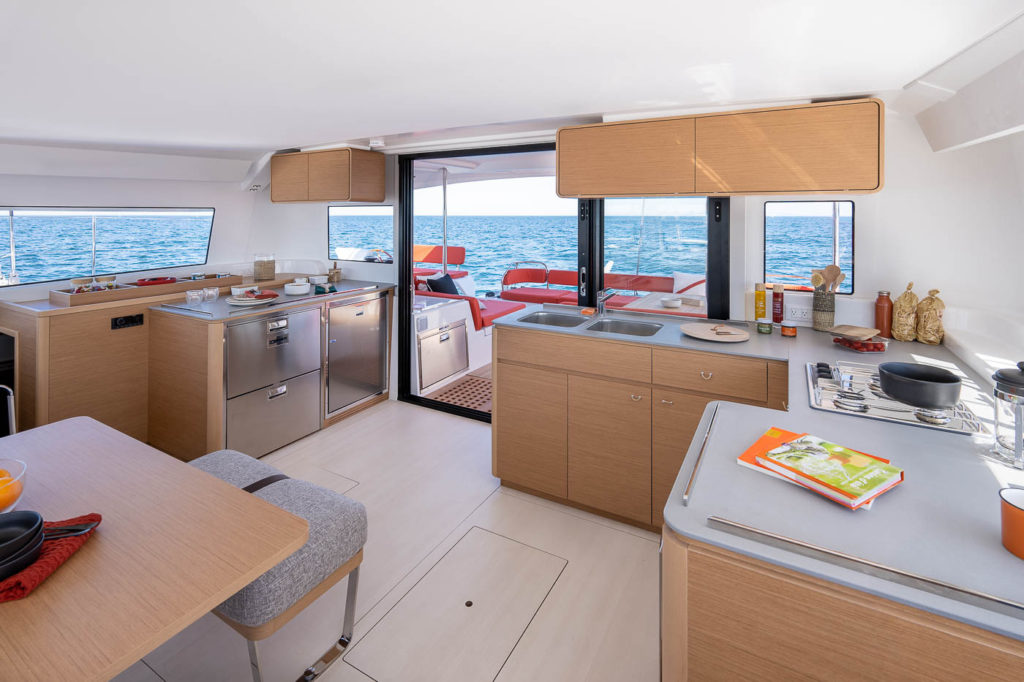 Convenient, Thrilling Navigation
The obvious difference in steering and sailing sensations that has made Excess so popular thus far has continued with the 14 model. Again, dual aft helms provide direct rudder steering, a clear line of sight, as well as a continuous social engagement where the captain and the crew are on the same level. This difference sets the Excess brand apart and unlocks a unique cruising lifestyle, with sailors of the next generation refusing to compromise on either performance or luxury.
Another navigational component we love about this boat is how conveniently you can steer and set courses with the Garmin autohelm setup. Set your course from the comfortable, ergonomic chart table as shown below, or opt to steer from either helm, protected by dual biminis.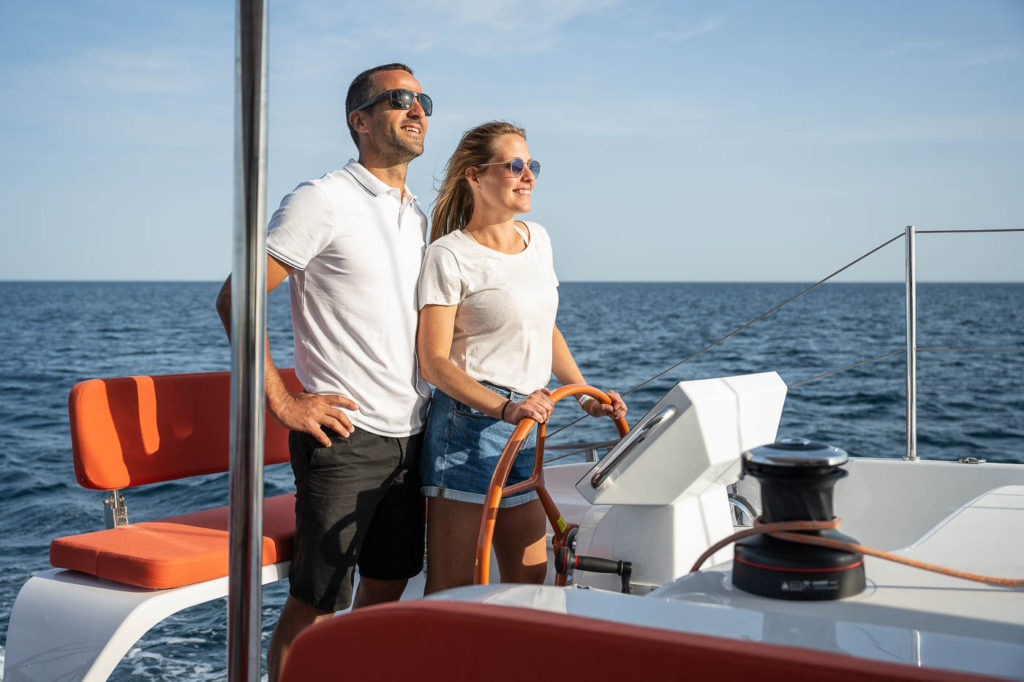 Is the Excess 14 good for ocean crossing?
The new Excess 14 Catamaran is designed with all the live-aboard room, freezer and refrigerator space, as well as an optimized sail area / displacement ratio to get you where you need to go faster, especially if that means across the Atlantic Ocean.
How does the Excess 14 stack up to other cruising catamarans?
The 14 can easily be considered the most performance-oriented, or "sporty" of the cruising catamaran market. Without having daggerboards, this is as serious as a cruising cat gets.
What are some of the top new sailing catamarans of 2022
The British Yachting Awards has nominated 7 new catamaran models for 2022 multihull yacht of the year. We believe the Excess 14 has a great chance to win for her proven balance of unprecedented cabin layout.