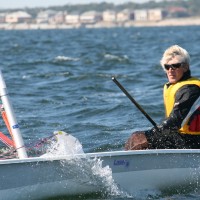 Rick Zern specializes in the sale of new and used sailing vessels 30′ to 60′ in length.
As the owner and operator of Zern rigging, Rick brings unique problem-solving and organizational skills to each deal as well as specialized knowledge of all things rigging-related.

Rick Zern
Pensacola, FL
RZern@MurrayYachtSales.com
Rick grew up in Ft. Walton Beach and began sailing in 1967, including GYA races and US Youth Sailing Championships before making his way to collegiate sailing.  He titled in a variety of monohull & multihull classes while attending the University of West Florida, and learned the craft of sailmaking and rigging from Paul Schreck.
Helmsman on IY 60 "Belle" in 2006-07 for the St Maarten Heineken Regatta, Gulfport race, etc…
Skipper & helmsman on Beneteau 47.7 – "Pretty Woman" 2004-06, KWRW, WFORC, etc…
Helmsman, skipper, navigator, tactician on Farr 36 "Wicked Woman" 2005-2006
Helmsman, skipper, tactician on Melges 32s "Evil Woman" 2006-2007
Delivery skipper/navigator for various sail and power boats at boat shows, for deliveries, etc….
Professional Licenses and Certifications
Licensed and Bonded Yacht Salesman: State of Florida
Yacht Broker's Association of America: Member
Internet Services Continuing Education Program
Curriculum Advisor – Pensacola Junior College
University of West Florida, Bio. Sciences
Pensacola Junior College, Liberal Arts
Board of Directors Pensacola Yacht Club
Board of Directors Pensacola Beach Yacht Club
Gulf Yachting Association Executive Committee
National Sailing Championship Title Holder
Acclivus Sales Negotiation Course
Very knowledgeable team with excellent customer service!
MYS has now helped me buy three boats and sell two. Our most recent purchase went flawlessly. Their expertise and professionalism made the difference. I cannot endorse them higly enough.…
The folks at Murray Yacht Sales are extremely knowledgeable of everything boat, yet down to earth, and a pleasure to work with!
Consistent, professional, and extremely knowledgeable on the yacht market. Not a "one size fits all" dealership, they really make the effort to find the right boat for the right person.
Murray Yacht sales is by far the most desirable yacht brokers in the Gulf Coast. The are committed to making the buying and selling process as pleasurable and effective in…
I'm also happy to hear the new owner is happy with the boat, especially after going through the storm. I felt you dealt with both Buyer and Seller in an…
"I would like to thank you and the rest of your staff for all of the work you guys did to sell the boat. I really appreciate it. I have…
"Thank you Stanton. It was a pleasure meeting you at the St. Pete boat show. My thanks also to (your team) and you for handling the sale of Stanley G…
"Our experience with your brokerage made a rough ride easier… been great to work with on all the paperwork! Our hats are off to you all and we appreciate your…
"… broker was impeccable in his response to every issue we encountered… reachable and willing to give advice… maintained constant communication… during the entire process, even after closing… Murray Yacht…