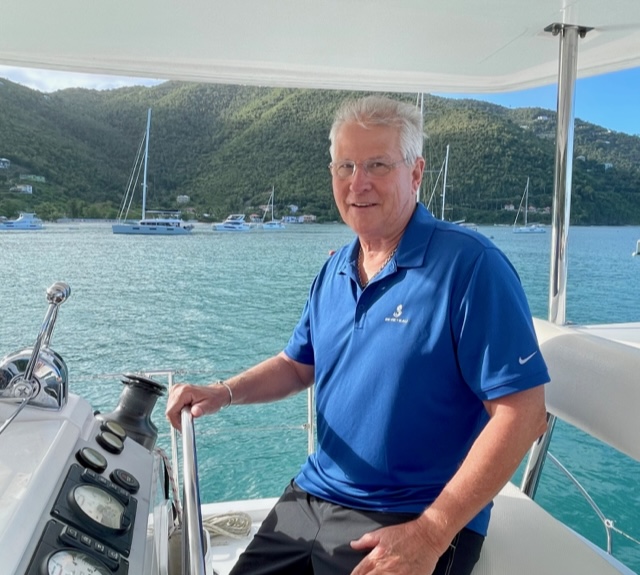 Leo brings over 45 years of boating experience with him to every deal.  He's racked up over 25,000 miles of blue water cruising and over 20 years of industry sales experience.
Leo Singleton, CPYB
ST. PETERSBURG OFFICE
1421 Bay Street SE
St. Petersburg, FL 33701
(985) 788-0306
LSingleton@MurrayYachtSales.com
Professional Licenses and Certifications
Certified Professional Yacht Broker
Licensed and Bonded Yacht Salesman: State of Florida
Yacht Broker's Association of America: Member
US Coast Guard 100 ton Master Near Coastal with Sail endorsement.
USPower Squadron (instructor)
Alberg 30 Assc. (Chesapeake Bay)
Education
BS Business Management University of New Orleans.
Very knowledgeable team with excellent customer service!
Leo Singleton, broker for Murray Yacht Sales, is amazing. As a single solo woman sailor, Leo helped me select the perfect boat. He asked about my hopes and dreams, experience…
MYS has now helped me buy three boats and sell two. Our most recent purchase went flawlessly. Their expertise and professionalism made the difference. I cannot endorse them higly enough.…
The folks at Murray Yacht Sales are extremely knowledgeable of everything boat, yet down to earth, and a pleasure to work with!
Consistent, professional, and extremely knowledgeable on the yacht market. Not a "one size fits all" dealership, they really make the effort to find the right boat for the right person.
Murray Yacht sales is by far the most desirable yacht brokers in the Gulf Coast. The are committed to making the buying and selling process as pleasurable and effective in…
I'm also happy to hear the new owner is happy with the boat, especially after going through the storm. I felt you dealt with both Buyer and Seller in an…
"I would like to thank you and the rest of your staff for all of the work you guys did to sell the boat. I really appreciate it. I have…
"Good Morning Leo, First, thank you for your help with the vessel that I called about.  You have been the most responsive broker I have probably ever talked to." -OW…
"I wanted to drop a quick line to thank Murray Yacht Sales, and specifically Leo Singleton, for the outstanding job getting my Beneteau sold.  Leo was the listing Broker when…
"Leo, Thank you very much for the time you spent with us today. The amount of knowledge I gained in the short amount of time I was able to spend…
"Leo thank you for your help in selling Searenity. It was a pleasure working with you. You were always easy to reach and always responded promptly, a true professional. Your…
"Leo and Stanton:  Thanks to you and to all for your help on this.  Given all the circumstances, I think this was win-win for everyone.  I hope the purchaser enjoys…
"Thank you Stanton. It was a pleasure meeting you at the St. Pete boat show. My thanks also to (your team) and you for handling the sale of Stanley G…
"Our experience with your brokerage made a rough ride easier… been great to work with on all the paperwork! Our hats are off to you all and we appreciate your…
"… broker was impeccable in his response to every issue we encountered… reachable and willing to give advice… maintained constant communication… during the entire process, even after closing… Murray Yacht…