July 1st, 2015
---
J/70 Worlds Preview
(La Rochelle, France)- The first J/70 World Championship to be hosted in Europe will take place in La Rochelle, France and hosted by the Societe Regate Rochelaises (SSR).  With 80+ boats in attendance from sixteen countries, it will be the first sportboat regatta in history that has representatives from all five major continents around the world- a notable achievement for the youngest ISAF sportboat class in existence! The regatta takes place from the 6th to 11th of July and is based in the giant yacht harbor- Port de Minimes.
The SSR is looking forward to roll-out the red carpet for the talented teams that are anticipating how best to tackle the challenging, often shifty conditions, in the sailing area called "les Pertuis".  It is characterized by the regularity of the sea breeze and its interaction with the synoptical winds in the region.  The winds are mostly blowing from SW to NW (3 or 4 Beaufort in average). At about noon (14.00 local time), the sea breeze arrives from the open sea and increases during the afternoon (up to 5 Beaufort).  At least that is what happens without major frontal systems generating significant gradient breezes.  In addition, an enormous tidal flow between Ile de Re, La Rochelle harbour and the islands to the south generate San Francisco Bay type of current shears that flow up to 2+ knots; generated by a tidal height change of nearly 20 feet!
The "local" French teams will know the area well, having spent years sailing in both offshore and one-design competitions.  Notable teams include Phillipe Briand (champion dinghy/ offshore sailor and famous yacht designer) and J/80 French champions like Ludovic Senechal and Laurent Sambron.
Leading United Kingdom teams that sailed the 2014 J/70 Worlds in Newport include BOATS.COM's Ian Atkins and Simon Ling's Team RAFB SPITFIRE.  Joining them for this year's adventure in La Rochelle are Ian Wilson's GILL RACE TEAM, Nick & Adam Munday's J7T, Charlie Esse's DARWIN PROPERTY INVESTMENT MANAGEMENT, and Patrick Liardet's COSMIC.
Many of the top German teams that sailed Kieler Woche this past weekend have a conflict with the next major J/70 Deutsche Segel-Bundesliga; otherwise, there may have been another twenty teams from Germany alone!  As it is, joining the five boat German contingent is J/70 International Class President Jurgen Waldheim (a past 505 World Champion).
Italy's J/70 class is showing up in force with many of their top sailors from the Alcatel OneTouch Italian Nationals series.  That group includes Vittorio Di Mauro, Carlo Alberini's CALVI NETWORK (J/70 Midwinter Champion 2015) and Luca Domenici.

Having at least one representative from their countries are Malta (local J/70 fleet champion Sebastian Ripard); Netherland's Wouter Kollman (J/22 European Champion); Russia's Alex Markarov; Switzerland's Gergorini Rico; Per Von Appen from Chile; Australia's Steve McConaghy, from the famous sailing and boat-building family in Sydney (most notably the Maxi 100 footer WILD OATS XI); Brazil's Mauricio Santa Cruz (a four-time J/24 World Champion and top J/70 sailor internationally); and Mexico's Julian Fernandez Neckelmann from their Valle de Bravo fleet west of Mexico City.  After a second at the J/24 Midwinters in Key West, a 2nd at Bacardi Miami Sailing Week and a 2nd at Annapolis NOOD Regatta, Mexico's Neckelmann is hoping his team's preparation will keep them in the hunt in the tricky conditions off La Rochelle sailing their battle-tested FLOJITO Y COOPERANDO.  Helping Julian as tactician will be two-time Etchells 22 World Champion and recent Rolex Yachtsman of the Year, Bill Hardesty.
The Monagesque J/70 fleet, one of the largest in Europe, is showing up in force with most of their top teams in attendance.  Those teams include Monaco's Fleet Captain Jacopo Carrain, Alex Isley, Ian Isley, Alexis Rodelato and Pierric Devic.
Also fielding a strong group of sailors is Sweden.  Many are top J sailors and dinghy sailors from the past, such as Anders Rosenberg, Mikael Lindqvist and Magnus Tyreman.
The Spanish teams include J/80 World Champion and Olympic Medallist Hugo Rocha sailing ESP 667 NEW TERRITORIES, the recent winner of the J/70 German Open Championship sailed at Kieler Woche in Kiel, Germany over a talent-laden fleet of sailors like Claas Lehmann, Oscar Lundqvist, Christian Soyka, Karol Jablonski and Carsten Kemmling (between this group of sailors are multiple X-99, 505 and World Match Race Tour World Champions, plus the current Barcelona World Race winner!).
Finally, with nine teams making the trek across the Atlantic, the American teams are laden with talent.  Top dog in this wolf-pack is current J/70 World Champion Tim Healy from Jamestown/ Newport, RI hoping to defend his title sailing HELLY HANSEN against a much improved and talented fleet.  Also, hoping to defend her J/70 World Corinthian Champion title is the duo of Heather Gregg and Joe Bardenheier sailing MUSE from Boston, MA/ Newport, RI.  Having won the J/80 Worlds, J/105 Midwinters and several J/70 events, Boston's Brian Keane on SAVASANA is always a force to contend with.  Joining this tough crew will be Peter Duncan (a top Etchells 22 champion) from New York, Jim Cunningham's LIFTED (Etchells 22 National Champion) from San Francisco, Tom Bowen's REACH AROUND from Charleston and Gannon Troutman (the 12 yr old skipper that finished 5th at the Key West Midwinters and at Bacardi Miami Sailing Week).
Sperry, the marine lifestyle apparel company, is sponsoring live coverage of the J/70 Worlds with an impressive media team.  None other than Alan Block from Sailing Anarchy.com will be providing live, on-the-water coverage while Petey Crawford of Penalty Box Productions will provide live HD video from drones and a RIB.  In addition, award-winning photographer Sander van der Borsch is providing HD photographic coverage from every corner of the race course.  Sailing photo credits- Tim Wright/ Photoaction.com  For more J/70 World Championship sailing information
---
J/80 Worlds Preview
(Kiel, Germany)- Host of the J/80 Worlds 2015 is the Kieler Yacht-Club, which annually conducts the famous Kieler Woche together with three other clubs.  Apart from the top-notch infrastructure for large sailing events ashore, KYC is expecting ideal wind and weather conditions in July and will offer a professional race management team and a first-class international jury.
The Olympic Sailing Center Kiel-Schilksee is the base for the fifty-six J/80s from eight countries that are returning to Kiel Fjord.  The regatta will take place from the 4th to 10th of July, with racing starting on Monday the 6th and final races on Friday, July 10th.
For German sailing champion Martin Menzner from Stein/Laboe, the J/80 Worlds at his doorstep will be a welcome opportunity to race in a big international fleet, "National events generally draw between 20 and 30 boats, so the J/80 Worlds will be a quite different dimension."
Menzner is looking forward to the regatta, "I'm sure that Spanish top teams, who have been dominating the scene over the last few years, will not miss out on the worlds," he says. "Things may go well for us if conditions are right. But to be honest – we'd be more than happy with a top ten finish like in Copenhagen in 2011. The international level is quite demanding and the top teams happen to be that bit quicker in decisive situations and more adaptable to varying conditions."
In addition to Menzner's crew on PIKE, twenty-four German teams will be vying for both German and World's honors.  Amongst the top local boats are Bjorn Beilken's PROCEDES DIVA, Andreas Rose's TRUE GRIT, Sven Vagt's BOOTSWERFT WINKLER, and Pit Finis' DRALION (with ISAF Match Race champion Karol Jablonski from Poland as tactician).
As anticipated, the next largest contingent is from France.  Their fleet has been working hard to get everyone up to speed and their performances at recent major events indicate they are ready for sailing in the Kieler Fjord waters, much like their beloved Bay of Biscay.  Most of the leading Coupe de France teams will be on the starting line, including Salomon Matthieu's CHARIOT PLUS- VANNES UTILITAIRES, Eric Brezellec's COURRIER JUNIOR, Maxime Mesnil's CO-PILOTES, and Bertrand Martin's CHARLY.
Though only three Spanish teams are participating in Kiel, all three are champions of one form or another- such as Spanish National Champions or World Champions or European Champions.  Those teams include Javier Chacartegui's HM-HOTELS, Marc de Antonio's BRIBON-MOVISTAR and Rayco Tabares Alvarez's HOTEL PRINCESS YAIZA from the Canary Islands.
Similarly, the teams from Great Britain number four, but include tough competitors like Jon Powell's BETTY and Mike Eames' JALFREZI.
The Danish fleet has seven teams making the trek from Copenhagen, including Flemming Djernaes' BLUE WATER SHIPPING and Niels Ferrup's SUR AQUA.
Sending one or more teams are Italy's Massimo Rama on JENIALE AKEWUELE; Netherland's Pip de Vries on LED2LEASE; Sweden's Mikael Andersson on TEAM VALLAGRUPPEN and Lars Gellerhed's MK-PRODUKTER.   J/80 Worlds Facebook page.   For more J/80 World Championship sailing information
---
J/105 North Americans Announcement
(San Francisco, CA)- St. Francis Yacht Club, will host the 2015 J/105 North American Championship in conjunction with Rolex Big Boat Series on September 17-20. The four days of racing cover a wide variety of courses, not just windward-leeward, thereby providing a great test of seamanship and navigational skills.
According to J/105 Class President and Regatta Chairman, Bruce Stone, "We have several boats available to charter – just call or email me, and I'll put you in touch with the owners.
Boat and sail inspections will take place on the days leading into the regatta. Non-SF Bay teams may purchase HA (heavy air) sails without them counting against their 2015 sail tags as long as they sell those sails prior to year end. They also have the option to tag them in 2016.
On Wednesday, September 16, most teams practice between noon and 3:30 pm, and then come into the Club for weigh-in and onsite registration. The North Sails team will be on the water taking photos of all boats (not just their clients), and then during the late afternoon weigh-in, they will provide a slide show with individualized pre-regatta commentary on each boat's rig tune, sail shape and even how your crew is hiking!
You and your team are then invited to an opening reception at the Club, sponsored by Rolex— a great chance to meet your fellow J/105 competitors and exchange local knowledge. The PROs will provide an initial briefing and answer questions about the courses.
For the first three days, there will be two races each day, starting either on the Berkeley Circle or on the western face of Treasure Island, with long windward beats and then dramatic downwind runs, including planing across the Bay to a reach mark. The second race will start on the opposite course, and generally finish in front of the clubhouse, a spectacular scene for your friends and family who come to watch.
Mt. Gay and Rolex will host parties at the Club after racing Thursday and Friday, and treat us to a video montage of the action. Here's what the regatta looked like in 2014, watch the Rolex J/105 Big Boat Series promo here.
Your regatta entry fee covers dinner for six on Saturday night at the St. Francis Yacht Club's Northwest Room with stunning views of the Golden Gate Bridge. You may buy extra tickets onsite for family and friends.
As a no-throw-out regatta, the competition comes down to what happens on Sunday! This is generally one longer race, the famous "Bay Tour", finishing in front of the Clubhouse. The winner of the J/105 North Americans will have his or her name inscribed on the J/105 perpetual trophy, and will receive the coveted Rolex Big Boat Series Oyster Perpetual Date Submariner (worth almost $9,000) with an inscription on the back commemorating the victory.
Come on out to San Francisco with your J/105!!  We'll help you find a talented local rigger and a compatible marina for launching and berthing before the event… or let us know if you want us to connect you with a local owner for a charter or a joint-venture. Feel free to contact me if you have any questions. We look forward to seeing you in September!"  You can contact Bruce at email- "bruce@brucestone.com" or cell# 917-822-4060.  Registration information here.  For more J/105 North Americans sailing information
---
J/Sailing News
The Sun Never Sets on J's Sailing Worldwide
The last week or so of June is marked on many sailors' calendars as "race week", whether you live on the East or West Coasts of America or in Europe.  Plus, depending on the year, it also marks two epic "round island" races on both sides of the Atlantic.
Starting with the Americas, the Storm Trysail Club hosted it's 50th annual Block Island Race Week (the East Coast's "largest sailing event") on that beautiful little jewel of an island sitting just offshore in Rhode Island Sound.  Block Island has attracted summer vacationers for centuries since it offers families all forms of activities, from fishing to sailing, from swimming to bike riding, or just kicking back and enjoying the views, the sunsets and the peace and quiet to read.  This year's event also included the J/109 North Americans, J/105 East Coast Championships, and provided one-design fleet actions for J/88s (their debut at BIRW), J/122s, and J/44s. Plus J/111s, J/29s, J/35s and other J's were sailing in IRC and PHRF handicap fleets.  Immediately after Block Island, many boats took off to sail the Marblehead to Halifax Race.  Also, the previous weekend, a number of J's had stellar performances in Riverside YC's Stratford Shoals Race.  Out in the Midwest, the Cleveland YC hosted their Cleveland Race Week.  On Lake Michigan, several J/88s have sailed a number of local offshore races and took home silverware.  Another big race week took place on the Pacific Coast, with Long Beach Race Week providing good racing for one-design fleets of J/109s, J/70s, J/80s and J/120s, plus PHRF handicap racing.
In terms of epic "round island" races, it could be said the two "biggest" versions took place this past weekend or two (not counting the RORC Round Britain & Ireland Race, of course).  In Canada, the Van Isle 360 was hosted by Royal Vancouver YC of British Columbia, a 580nm circumnavigation of Vancouver Island.  Then, over in Great Britain, the Island Sailing Club hosted the J.P. Morgan Round Island Race off Cowes, Isle of Wight— the classic 50nm "America's Cup" course with 1,500+ boats.  In both cases, J/crews sailed well and collected their fair share of silverware.
Finally, keeping on the theme of race weeks, the reputed "world's largest race week"- Kieler Woche- took place in the Kieler Fjord off Kiel, Germany.  The regatta features 1,500+ boats, mostly one-designs and Olympic Classes and also featured the J/80 Pre-Worlds, the J/70 German Open Nationals and J/24s.
Read on! The J/Community and Cruising section below has many entertaining stories and news about J/Sailors as well as cruising blogs about those who continue to enjoy the Caribbean and the South Pacific, staying warm while others are trying to stay warm up north.  Check them out!  More importantly, if you have more J/Regatta News, please email it or upload onto our J/Boats Facebook page!  Below are the summaries.
---
Regatta & Show Schedules:
Jun 26-Jul 5- Delta Week 2015- Grevelingen, The Netherlands
Jun 27-29- J/80 Pornic Cup- Pornic, France
Jun 28- Rolex Trans-Atlantic Race- Newport, RI
Jul 4-10- J/80 World Championship- Kiel, Germany
Jul 5- Marblehead- Halifax Race- Marblehead, MA
Jul 6-11- J/70 World Championship- La Rochelle, France
Jul 9-12- J/24 Irish Easterns- Dun Laoghaire, Ireland
Jul 10-26- J/24 Pan Am Games- Toronto, ONT, Canada
Jul 10-12- J/70 Pacific Coast Championship- San Francisco, CA
Jul 10- RORC Cowes-Dinard-St Malo Race- Cowes, England
Jul 11- Chicago-Mackinac Island Race- Chicago, IL
Jul 11-19- Larchmont Race Week- Larchmont, NY
Jul 11-12- Fiesta Cup Regatta (J70, J105)- Santa Barbara, CA
Jul 11-14- Lake Ontario 300 Race- Mississauga, ONT, Canada
Jul 13- Transpac Race- Los Angeles, CA
Jul 23-26- J/70 New England Championship- Marblehead, MA
Jul 23-26- Helley Hansen Marblehead NOOD Regatta- Marblehead, MA
Jul 25-26- J/105 Great Lakes Championship- Youngstown, NY
For additional J/Regatta and Event dates in your region, please refer to the on-line J/Sailing Calendar.
---
Gorgeous, Epic Block Island Race Week!
CAMINOS Wins J/109 North Americans
(Block Island, RI)- Founded in 1965, the Storm Trysal Club's Block Island Race Week is built on a foundation of fun and friendly competition. It attracts rival crews who beat each other up on the racecourse and then laugh about it over a drink afterwards– like the famous Oar Restaurant's "Mudslides". The competition is intense, but it's the camaraderie that keeps bringing people back.
"This week was epic," said Paul Beaudin, owner of the J/105 LOULOU. "Fantastic weather, no fog or rain, perfect sailing conditions…just perfect. This week is as much about bonding with our families as well as our competitors." The excellent weather conditions have made this year's race week special and two words say it all – no fog!! Rarely has a Block Island Race Week never lost a day, half or full, to fog, but that was the case this year. The fantastic weather conditions allowed the RC/PRO's to run 11 races over five days, more than have been run since 2005. Coupled with fantastic wind conditions for the four days of windward/leeward racing and 20-30 knots for the Round the Island Race, this year's week will be remembered as one of the best ever.
"This is probably the best race week we've had in the previous 10 editions (that covers 20 years!)," said Principal Race Officer Dick Neville. "We've rarely had the five full days of racing. Usually, the weather interrupts one day. But, the conditions this week have been spectacular. It might be the best race week ever."

This year's fleet totaled 167 boats in 15 classes, and Donald Filippelli's J/109 CAMINOS won the Everett B. Morris Memorial Trophy for Best Overall Performance.  CAMINOS also won the J/109 North American Championship, conducted as part of race week. Hailing from Amagansett, N.Y., near Sag Harbor on the eastern end of Long Island, Caminos is helmed by Filippelli's son-in-law, Ryan Dempsey and includes many family members. They've placed in the top three in the J/109 class each of the past three race weeks before breaking through this year. "I don't sail the boat anymore because of Parkinson's disease, but Ryan and his crew do a tremendous job," said Filippelli. "We have a 10-year-old boat and it takes a lot of abuse, and I love it. Each day I tell the crew 'Be safe, have fun and goddammit win!'" Factors determining boat of the week include class size, total points and margin of victory. Racing in the largest class at race week, 25 boats, CAMINOS finished with the low score of 21 points, won four races, had nine top-2 finishes and finished 17 points ahead of Bill Sweetser's second-placed RUSH.
"They had a whole other gear that we've never seen before," said Vicky Jo Neiner, who sails on Dr. Carl Olsson's MORNNG GLORY. "Just fantastic." "CAMINOS, was really fast," said Dan Cameron, the mainsail trimmer on SKOOT. "Ryan just punches it off the line and they had good speed on the course."

Beyond the trophies, shout outs go to other class winners for extended consistency. Jeffrey W. Willis' J/44 CHALLENGE IV and John and Tony Esposito's J/29 HUSTLER have multiple winning streaks that deserve recognition. Willis has won his class for six consecutive race weeks dating back to 2005, while the Esposito's have a five-regatta streak dating back to 2007. During those streaks, HUSTLER has won 70 percent of all races sailed and Challenge IV 56 percent. In the venerable J/44 fleet, the key to consistency, according to Willis is, "good starts, boat speed at the line, and in One-Design you have get that 'jump' on the fleet and cover." "It's kind of unbelievable," said Lenny Sitar, owner of VAMP on the win streak. "They had great tactics, boat speed and crew work. I think Jeff has won the J/44 North Americans 15 times in 25 years."

TUESDAY
Tuesday's Round the Island Race was a highlight of the week for many. With the wind blowing 20-30 knots from the southwest, many crews said they reached a new top speed for their boat. The J/105 ARBITRAGE reported a top speed of 20.9 kts and the J/122 WINGS reported a top speed of 20.1 kts!  The roughest stretch of the race was on the east side of the island, from Old Harbor to 1-BI bell, the buoy off the north end of the island. The wind built to 30 knots in that stretch and the seas built to 5 feet. While some had troubles, many scampered through the maelstrom without incident.
"I give the race committee heaps of credit for running that race," said Ken Read, the President of North Sails who sailed in the regatta. "It would've been easy for them to say it's too windy.  But, for me it was an epic day! One that all sailors here will remember forever!"
With two courses measuring 21 nautical miles (IRC 1, 2, 3, 4) and 18.5nm (all other classes), the first boats in the fleet of 167 got underway at 11:05 a.m. in winds around 20 knots. By the time the fleet got to the north end of the island, three-quarters of the way around, the wind had built to 30 knots and the seas to 5 feet. Many sailors said they had the ride of their life in testing conditions.
The race committee sent the fleet on a counter-clockwise circumnavigation of the island. After an initial beat into the southwesterly wind, the fleet turned left towards the east for a wet and wild run past Southeast Lighthouse with many bows alternating between submarine and airborne as they caught a wave and took off.
Off Southeast Lighthouse, a jibe to port was required to head northerly towards 1BI, the familiar green bell at the north end of the island. That stretch was the toughest of the race. Many in the fleet doused their spinnakers before 1BI as the breeze had become too strong to carry. Once around 1BI, the fleet had a tough beat to the finish line.
In PHRF 3, John Esposito on the J/29 HUSTLER (past 4x winner at STC BIRW) said, "It was just another day at the office. We had the bow wave back to the shrouds and the rooster tail coming off the transom. RUMOR (John Stock's J/80) was the only one in the class besides us to carry a chute. It was a great ride."

WEDNESDAY
After Tuesday's rowdy 20-to-30 knot winds for the Round the Island Race, a westerly wind between 10 and 17 knots returned on Wednesday with brilliant skies, calmer seas and oscillations of 15 to 20 degrees. Those were sailing conditions for which Block Island Race Week is renowned. Wednesday's racing saw hierarchies overturned in some classes, notably the J/109, which was hosting its North American Championship, and the J/105, which is hosting its East Coast Championship.
"We ran out of bullets today,͟" said Iris Vogel, owner of the J/88 DEVIATION.  "We had our heads in the boat a little too much and the current was a challenge for us. Others are mixing it up now but that's good. It's very close racing."  DEVIATION posted a 3-1-3 and still led the class, but only by 1 point over Rod Johnstone's JAZZ.  "They're a little faster than us upwind, but we feel we have a slight edge downwind," said Vogel. "It's good that the others are mixing it up. It wouldn't be any fun if we won all the races."
One of the top boats on the day was Donald Filippelli's J/109 CAMINOS, which posted a 2-1-1 to leapfrog from second into first with the North American Championship hanging in the balance. The 25-boat fleet (the largest at race week) includes Rick Lyall's STORM and Jim Vos's SKOOT, winners of the past three North Americans. But it's CAMINOS firmly in the driver's seat, holding a 15-point lead over Bill Sweetser's RUSH.
"We were able to stay out of trouble today,͟" said Ryan Dempsey, the helmsman and son-in-law of owner Filippelli. "We were almost burned at the pin end in the first race. The wind had shifted left and there was a big bunch up. But we were able to get through and tack away."
"CAMINOS was really fast today," said Dan Cameron, the mainsail trimmer on third-placed SKOOT. ͞Ryan just punches it off the line and they had good speed on the course."
In the J/105 Class, Paul Beaudin's LOULOU posted a 1-5-1 to also leapfrog from second into first. LOULOU now had the low score of 20 points and led last night's leader, James McDonald's Bermuda team on DISTANT PASSION, by 3 points. Bruce Stone's ARBITRAGE was third with 29 points while two-time reigning champion Damian Emery's ECLIPSE was fourth with 31 points.
For Beaudin, Thursday was about getting his new crewmembers in sync and improving his starts. "We had great speed all day. In fact, we've had great speed all week,͟" said Beaudin. "We have a couple of new people on the boat and after a couple of days we're working very well together. I've been over early quite a bit this week but today we got relatively clean starts. That, combined with really good boatspeed has helped drastically!"

In the J/44 Class, Jeff Willis' CHALLENGE IV put forth the best scoreline of the day, rattling off a 1-1-1 to take a commanding 9-point lead over Don and Rick Rave's RESOLUTE, which has 20 points.  "We've been having troubles keeping the propeller centered. So, I bought a huge clamp and put it on the shaft and that kept the prop lined up,͟" said Willis. "But, the real key today was our starts. We nailed all three starts at the pin end. The pin was hard to get on Monday because boats were coming in on port and tacking to leeward. But today we got the pin and worked the left side of the beats. And we got the laylines right, that was also critical!"
Mike Bruno's Wings (J/122) also leapfrogged last night's leader in IRC 4. Wings finished 2-1-2 and had 16 points, 1 point ahead of Ed Freitag's and Molly Haley's DownTime (Summitt 40). James Blakemore's Music (Swan 53) dropped first to third with 21 points after finishing 1-5-7.
THURSDAY
Unlike yesterday, however, the wind was blowing anywhere from the west to the south. One competitor reported an extreme shift of 60 degrees before the start of the second race, but more commonly the shifts were between 20 and 30 degrees. The strength also was lighter, in the 9- to-14 knot range. Some boats even used a Light No. 1 headsail in the second race.
Jeffrey Willis' (Huntington Bay, N.Y.) CHALLENGE IV ran its winning streak to five in the J/44 class with two additional victories today. After figuring a way to clamp the propeller in line, Willis and crew have had few challenges in the class. Holding a 12-point lead over Don and Rick Rave's (Huntington Bay, N.Y.) RESOLUTE in the six-boat class, CHALLENGE IV essentially had it wrapped up.

Donald Filippelli's (Amagansett, N.Y.) CAMINOS was also in the driver's seat in the J/109 Class. After scoring two seconds, CAMNIOS had strung together five consecutive top-2 finishes and held a 15-point lead over Bill Sweetser's (Annapolis, Md.) RUSH.
In the J/105 Class, hosting its East Coast Championship, Damian Emery's (Shoreham, N.Y.) ECLIPSE, the reigning race week champion, scored a 1-2 and moved up to second from fourth the night before. Paul Beaudin's (New York, N.Y.) LOULOU continued leading with 28 points after finishing 7-1, 6 points ahead of ECLIPSE.
Another crew with a nearly unassailable lead is John and Tony Esposito's (Mohegan Lake, N.Y.) J/29 HUSTLER in PHRF 3 HUSTLER scored two victories today and led their class by 13 points. A class victory by HUSTLER would be its fifth consecutive at race week.
In the J/88 Class Iris Vogel's (New Rochelle, N.Y.) DEVIATION and Rod Johnstone's (Stonington, Conn.) JAZZ each scored a 1-2, which means DEVIATION still holds a 1-point lead heading into the final day.
FRIDAY
On the final day, yet more spectacular sailing conditions blessed the fleet.  Overnight another front had passed through and left the fleet with brilliant sunshine, puffy cotton-ball shaped clouds flying across the horizon and a cool northeasterly breeze of 10-15 kts.  The RC PRO's were each able to serve up two more races to close out the week of simply fantastic sailing.  It also marked several upsets in three classes on the final day of action in Block Island Sound.

Starting off with IRC 3 Class, Mike Bruno's merry bandits aboard his J/122 WINGS posted double bullets to score the class win by five points over archrivals Downtime sailed by Freitag/Haley and the four other J/122s.  It was a solid come-from-behind performance for Bruno's team.  Second J/122 was John Pearson's RED SKY with Brown University Sailing Director John Mollicone aboard, plus they were fifth in class after posting a strong 2-3 on the last day— perhaps the "most improved" award goes to them!  The third J/122 was Paul Milo's ORION, 4th was Rupert & Jan Thouron's DUNDER and 5th was Dan Heun's MOXIEE.
The next upset was in PHRF 1 division, where Bennet Greenwald's crew on the J/111 PERSEVERANCE did exactly as the boat's name implied, persevered until the very end to post a 1-2-2 in the last three races to win by the slimmest of margins- a half point!  Taking 5th in class was Doug Curtiss's veteran team on the J/111 WICKED 2.0 (themselves a past Round Island winner and class champion at Block Island).
The J/88s enjoyed a fantastic first year as a one-design class at Block; they also saw a regime change on the final day.  Rod Johnstone's family crew on JAZZ scored two bullets to win by only one point over the very well-sailed DEVIATION, skippered by Iris Vogel from Long Island Sound.  Third in class was David Betts' INSTANT KARMA.

Another upset and another come-from-behind victory was registered by J/105 class veteran Damian Emery sailing the infamous ECLISE.  Their mistakes were "eclipsing" them in the early part of the week.  However, the overcame that slow start with a 1-2-1-2 in the last four races to take the J/105 East Coast Championship crown with 37 pts.  Just one point back after leading most of the series was a somewhat disappointed Paul Beaudin on LOULOU; as he explained later, "I'm still happy with the outcome considering the fact we were surrounded by J/105 North American Champions!"  Taking third place was past BIRW Rolex winner Bruce Stone on ARBITRAGE from San Francisco, CA.

Nothing changed much in the J/109 North American Championship; the insanely fast and smartly-sailed CAMINOS owned by Don Filippelli sailed off into the sunset with a 2-1 to cement their firm grip on the championship trophy!  Congratulations to him and his family team, an amazing performance!  As anticipated before the series started, the two protagonists always doing battle for class honors took the next two places, with Bill Sweetser's RUSH team from Annapolis taking the silver and Rick Lyall's STORM crew from Cedar Point taking the bronze.  Fourth was Jim Vos' SKOOT and fifth place was Jonathan Rechtshaffer's EMOTICON.
Similarly, the J/44s also saw a "runaway", this time in the form of Jeff Willis' CHALLENGE IV.  Taking no prisoners after race four, Willis' crew literally "ran the table", scoring all 1sts from there on end to win by the massive amount of 14 points in a six boat fleet!  Don & Dick Rave's RESOLUTE sailed a consistent series to take second with 29 pts and in third was Len Sitar's VAMP sitting on 37 pts.
The PHRF 2 class saw a spirited performance by the classic J/35.  Tom Sutton's LEADING EDGE won two races on the way to posting mostly top four finishes to take the silver.
As has happened in BIRW's past, the PHRF 3 Class was simply swamped with super-hot J/29 crews slicing up the race course.  Doing a "seven-peat" was class winner HUSTLER, the J/29 sailed by the father-son combo of John & Tony Esposito.  They eclipsed their fleet with eight 1sts and three 2nds- not bad for a bunch of old guys, eh?!  Giving them a run-for-the-roses and keeping the Espo's honest was Bristol's Steve Thurston on his J/29 MIGHTY PUFFIN, taking 3rd place in a very competitive fleet.  Fifth place was past J/80 North American Champion RUMOR sailed by John Storck.  Sailing photo credits- Clark/ photoboat.com.   For more Storm Trysail Club Block Island Race Week sailing information
---
J/88's Dominate Chicago Offshore
(Chicago, IL)- A recent update from Rich Stearns, the J/Dealer in Chicago, explained that the J/88 continues to kick up her heels and show her transom to much of the Chicago offshore fleet in local races.
According to Rich, "J/88's continue to dominate distance racing in Chicago. Ben Wilson's RAMBLER won the rally race in the NOOD regatta and Boyd Jarrell's SLOT MACHINE took first place in the Chicago to Waukegan race, and my boat HOKEY SMOKES took 2nd overall in the Colors Regatta.
You might have noticed the J/88's as a class have decided to sail the longer distance races. The owners have agreed that although some windward-leeward races are fun, they really enjoy the distance racing. So far this year the results are in, the J/88 sailors are dominating these races.
What is really cool about it is not one boat, but all the boats, are taking turns winning! Distance racing is really a different mindset in sailboat racing. Tactics are different and results rely more on skill and cunning than crew work. All the 88's are enjoying this laid back style of sailing and why not?! Isn't that why most of us are out there!? The sport seems to be moving back to longer racing and the fun and challenge of random leg courses offshore."  For more J/88 sailing information
---
J/Teams Enjoy Van Isle 360 Race Adventure
(Vancouver, BC)- The Van Isle 360 is a biennial, 580 nautical mile point-to-point race circumnavigating wild and rugged Vancouver Island, British Columbia, Canada. Sailed in ten legs, the course provides inshore, offshore and overnight sailing through some of the most stunning and challenging waters on the planet.
For a good perspective on why people do the race, here is a report from Christof Marti (Director at Simply Sailing School in Vancouver and sailing scribe for Vancouver Sun).  Reports Christof, "Starting in Nanaimo, the first half of the race takes sailors up the inside of the island through some of the world's most beautiful cruising grounds, sailing through Desolation Sound and up through Johnstone Strait to Port Hardy. The second half takes the boats around infamous Cape Scott at the Northern tip of Vancouver Island into the Pacific Ocean. The distances between ports are much longer on the outside and each leg includes an overnight passage.
You may ask why would someone want to be on a small sailboat with up to eight other crew, with no showers and sitting on deck in the rain and wind for hours or baking in the sun without shade?

The answers are as varied as the sailors participating in this race: A love of sailing and the ocean, the adventure of visiting stunning places few of us will ever visit, the camaraderie among crew and competitors, are probably common sentiments among participants. The exhilaration when the wind is just right, the sails trimmed perfectly and the boat is accelerating down a wave can hardly be described in words.
So, what makes Van Isle 360 so special? It's the involvement of the communities. At each stop, there is an event: The traditional pancake breakfast at the start in Nanaimo, the salmon feast at Hardwick Island, or the famous barbecue in Telegraph Cove.
The boats on this race range from small coastal cruising boats to high-end racing machines. The crews are just as varied. Some boats are crewed by highly trained, and seasoned racers. While other boats are crewed by less experienced sailors looking for a lifetime adventure."

One of those adventurers was multi-J owner Kevin and Sandy Reath.  Kevin is a former J/133 owner who just completed the race in his J/80 SOMETHING WICKED II. They had 20-35 knot winds almost the entire race, and were by far the smallest boat in the fleet. SW II won legs 7 and 9 overall in the race!!  Here is the first-hand account of how it all went down:
"We just completed the Van Isle 360, a 580nm of sailing, 9 ports in two weeks, shortest leg 28 miles and the longest 138 miles. It was EPIC! Winds on the inside and outside 25-35 knots. Our boat, SOMETHING WICKED II struggled in those headwinds against our larger 40-45 ft competitors. But, once we turned the corner at the top end of the island, our little boat lit it up and simply torched the racetrack! We won two of the offshore legs and placed 3rd in the other!  We were simply wearing cheshire cat grins a mile wide!  All the best, Kevin & Sandy Reath"
In addition to their stunning performance in the "offshore" portions of the race in the wild blue Pacific Ocean pounding the dramatic, beautiful bluffs on the western shore of Vancouver Island, other J teams enjoyed the most amazing weather the race has seen in years.

In the IRC Division, Tom Huseby's J/145 DOUBLE TAKE (if you recall this is his second J/145!) took 3rd overall and won the final leg from Victoria to the Nanaimo finish line.  Then, John McPhail's J/160 JAM took fifth overall after winning two of the legs- the start from Nanaimo to Comox and Deepwater Bay to Hardwicke Island.  They are commonly referred to in the fleet as "the blue boats"- both with gorgeous dark navy Awlgrip paint jobs.
PHRF Class 1 saw Ron Holbrook's J/133 CONSTELLATION take fourth after stellar performances on three of the legs- a 2nd on the Comox to Campbell River leg, a 1st on the Deepwater Bay to Hardwicke Island leg, and a 2nd on the Port Hardy to Winter Harbor leg.

Then, in PHRF Class 2, Bob Brunius' J/120 TIME BANDIT started out by leading the entire class after seven legs, then suffered a "brain fade" after so much success.  Nevertheless, TIME BANDIT's scores after a slow start included winning the Comox to Campbell River leg, another 1st on the next leg from Deepwater Bay to Hardwicke Island, a 2nd from Hardwicke Island to Telegraph Cover and a 2nd from Winter Harbour to Ucluelet.   In the end, just 8 pts out of first place, they still managed 4th overall.

PHRF Class 3 saw a rather eclectic field of boats, including a J/32 and the Reath's J/80.  Taking 5th overall was Todd Rutter's J/32 BLUE JAY with a very steady scoreline, including a 2nd in the Deepwater Bay to Hardwicke Island and a well-deserved 2nd to their stablemate in the finale from Victoria to the Nanaimo finish line.  Just behind them in 6th place was the Reath's J/80 SW II, suffering in the upwind beats as mentioned above in the early stages of the race.  However, once around the top, the closed rapidly with a 1-3-1 (1st from Winter Harbour to Ucluelet, 3rd from Ucluelet to Victoria Harbour, 1st from Victoria to Nanaimo).  Congratulations to all for having an adventure of a lifetime sailing around the spectacular Vancouver Island!   For more Van Isle 360 Race sailing information
---
J/Teams Sweep Stratford Shoals Race
(Stratford, CT)- The Riverside Yacht Club in Connecticut ran the annual Stratford Shoal Light regatta last weekend.  It is a popular event for those who enjoy offshore racing as it all takes place from mid-Long Island Sound to eastern Long Island Sound.  If you sail it fast enough, you can even be back to the Riverside YC in time for cocktails and dinner!
This year's race took place on a fairly windy Saturday, sailing in the same conditions as the J/70s in the Bacardi Newport Sailing Week regatta.  Strong easterlies made for big waves on Long Island Sound.  With such a long "fetch", the beat upwind to the first marks were rough, but the effort was well worth it for those crews that stuck it out (some boats DNF'd) to enjoy crazy-fast surfing and planing conditions all the way home to the Riverside YC finish line.  The two courses the fleet had to sail include Course I- the Stratford Shoal Light Course of 45.5nm and Course II- the Cable & Anchor Bell Course of 28.5nm.
In these challenging conditions, every J/Team in their division performed well and finished at the top of their respective classes!  In the PHRF Doublehanded class, Todd Aven's J/92 THIN MAN relished the conditions and simply sailed away with their class win.
PHRF 1 Class had Steve Chronert's J/109 ZUMA win over another 35 foot classic- the J/35 IMPROMPTU skippered by Brian Warner that took 2nd in class.  Fifth place was taken by Mark Parry's J/35 BLUE MOUSE.  Of note, "lightweights" like the MC 38 Carbonado got killed in the heavy upwind going.
In such demanding sailing, it's not surprising the J/105s swept the podium in PHRF 2 class.  Marcus Wunderlich's team on STRATOS took class and J/105 honors.  Second was the American YC Junior Big Boat Team on YOUNG AMERICAN- another fantastic performance for this young crew.  Then, giving the two leaders anxiety attacks was yet another junior crew, the Larchmont YC Junior Offshore Team sailing PRIVATEER into third overall.
In the shorter Cable & Anchor Bell Race, the J/105 STRANGE BREW sailed by Randy Bourne won the PHRF Non-Spinnaker I class. Not far off the pace was Ken & Drew Hall's J/100 NEVERMORE, taking 3rd in class.
For more Stratford Shoals Race sailing information
---
Kieler Woche Loved By Big Fleets of J/70s, J/80s, J/24s
(Kiel, Germany)- Sun, wind and waves: The first day of the 133rd Kieler Woche offered everything to make a sailor happy. As a result, "the first day in the office" for the sailors could be finished quickly. All planned races were done in less than three hours.
"That was a good start in all aspects", said Dirk Ramhorst, the Regatta Chairman for Kieler Woche! "The only problem now is that expectations are high!  After this day, it can only get worse!" He would have loved to let the sailors sail even more, but he had to stick to the framework.  Ramhorst's team was most fortunate, after three days of racing, the race directors had most of the races sailed for all fleets.
It's not a trivial task managing the one of the world's largest sailing events.  The week-long event took place from June 20th to the 28th for 1,500+ sailboats and over 5,000 sailors.

Three J classes were featured at Kieler Woche- the J/24, J/70 and J/80.  For the J/80s, the event was considered the J/80 "Pre-Worlds", as they will be sailing the J/80 Worlds at the same venue from July 6th to 10th.  Thirty-three J/80s sailed in the regatta and the fleet enjoyed the diverse sailing conditions.  Demonstrating why he is considered one of Germany's top sailors, local Kieler YC member Martin Menzner sailed a very strong series to win the J/80 Pre-Worlds.  Menzner's crew on PIKE included Frank Lichte, Mika Rolfs, Carsten Hopp managed to post a 2-3-1-2-1-2 record for 8 pts net.  Taking second only 3 pts back was Germany's Bjorn Beilken with a 1-2-2-4-2-5 tally for 11 pts net.  Third place went to Sven Vagt's team on BOOTSWERFT WINKLER, they were closing fast and nearly pulled off an upset after winning three races in their scoreline of 4-1-5-1-6-1 for 12 pts net.
The J/70s were sailing the first German Open National Championship.  It was a great event with 31 boats and marked a fantastic start for the J/70 class in Germany.  Several notable sailors from Germany were participating in the fleet, including Christian Soyka- 7x X-99 World Champion; Karol Jablonski- World Match Race Cup Champion and DN Iceboat World Champion from Poland who was sailing on Pit Finis boat from Dusseldorf YC; Karsten Kemmling from Norddeutscher Regattaverein- a top German match racer; Christian Soyka- another X-99 World Champion and 505 World Champion; and Felix Oehme- a winner of the Barcelona World Race in IMOCA 60s.

In the end, it was Spain's Olympic Medallist Hugo Rocha on NEW TERRITORIES that won the J/70 class in his first major regatta with a 3-4-2-1-6-4 record for 14 pts net.  It was a closely fought regatta for the top five with positions changing every day like a "snakes & ladders" board game.  Leading the fleet after the first four races was Germany's Hubert Merkelbach, with a 1-1-4-4 score sheet. However, the last two races proved his undoing as a quick 13-9 meant he had posted two, not one, toss race.  Merkelbach finished second overall with 19 pts.  German star Claas Lehmann on TRE MAKRELLER was caught in a five-way battle for the bronze position on the podium.  Ultimately, Lehmann sailed a 2-10-11-3-18-5 tally to finish with 31 pts net.  Only one point back in fourth place was Sweden's top J/70 team, Oscar Lundqvist on THE PURE CIRCLE with a 5-2-1-7-17-18 record for 32 pts net.  Fifth was finally taken by a tie-breaker between Phillipp Kadelbach and Phillipp Bruns with 33 pts each, the tie-break going to Kadelbach's team.

The thirty-four J/24s were the largest offshore one-design class at Kieler Woche.  Teams were participating from Germany, Monaco, Sweden, The Netherlands, Hungary and Great Britain.  Skipper Ian Southworth on IL RICCIO with crew of Andy McLelland, David "Sid" Howlett, Simon Philbrick, and Julia Scott managed to show the fleet what it takes to win in very tight J/24 fleets.  Posting three wins in ten races, Southworth's crew were able to sit out the last race so that the German teams Karsunke and Schonfeldt could duel for the 2 & 3 positions on the podium.  After winning two races themselves, Frank Schonfeldt's HENK (with crew of Finn Moller, Till Krueger and Thorsten Sperl) took the silver with a sixth in the last race to win a tie-breaker on 39 pts. Stefan Karsunke's SULLBERG (with crew of Tim Habekost, Carsten Kerschies, Christian Carstens and Malte Gibbe) lost that tie-breaker to take the bronze. Holding on to fourth place was Peer Kock and fifth was Jan Kahler.
Top women's team in 13th place overall was Stephanie Kopcke's VEGA RAGAZZA, sailing with her crew consisting of Ann-Katrin Brugge, Silke Basedow, Amelie Panuschka, Nelle-Marie Bock and Insa-Kristin Horsch from Muhlenberger Segel-Club.  For more Kiel Week sailing information
---
Fabulous Round Island Race!
(Cowes, Isle of Wight, England)- This year's annual JP Morgan Asset Management Round the Island Race, organized by the Island Sailing Club, was blessed with absolutely gorgeous sailing conditions from dawn to dusk.  With the first boats starting just after 0700 hours on Saturday morning, the massive fleet of 1,540 boats enjoyed sparkling blue skies and moderate westerly winds blowing down the Solent from the famous Needles (the westernmost point of the Isle of Wight and the first turning mark of the race). As flight after massive flight of boats took off from the famous Royal Yacht Squadron starting line, all sailors were treated to spectacular juxtapositions of yachting history as classics crisscrossed with ultra-modern grand prix racers and massively fast carbon offshore racing multihulls sliced through large one-design fleets of J/105s, J/111s, J/109s, J/70s and J/80s.

This one-day 50nm yacht race around the Isle of Wight is one of the largest yacht races in the world and the fourth largest participation sporting event in the UK- nearly 16,000 sailors in total participate on the massive armada of boats that range in size from diminutive 18 foot Cornish Crabbers up to 100 ft Maxi canting-keelers and huge classics like the 150 ft long ELEONARA.
Starting on the famous Royal Yacht Squadron line in Cowes, the fleet races westabout, to The Needles, round St Catherine's Point and Bembridge Ledge buoy, and back into the Solent to the finish line at Cowes.

Winning IRC 1A Class was Cornel Riklin's JITTERBURG and taking 3rd overall in the IRC 1 Group.  In fact, J teams took 8 of the top 20 places in class with Chris Body & Andrew Christie's J/111 ICARUS taking 5th, Martin Dent's JELVIS taking 9th place, the Dutchman Bert Visser's SWEENY team taking 11th, then four J/122s taking places 15th to 20th (Andy Theobald's R&W 15th, Clive Miles's JANGLE 16th, William Avery's JACOBS LADDER 17th, and David Cule's MINT JULEP 19th). Unfortunately, Eric Gicquel's J/133 BLACK JACK from France sailed fast enough to finish 13th but forgot to turn in their "race declaration" to the RC after the race!

In IRC 1C Division the J/120 ASSARAIN III sailed by Chris Masterson was top J team at 4th overall. Paul Ward's J/88 EAT SLEEP J REPEAT was the 2nd J crew at 11th overall, followed by fellow J/88 in 13th- Dirk Van Beek's SABRIEL JR.
The red-hot IRC 2A Class included an army of 35 foot J teams.  Winning class was a classic, the famous J/35 KNIGHT BUILD Ltd from Ireland.  In fact, nine of the top 20 boats were J's of various designs.  J/109s took the next five places with John & Sue Allison's JUMBUCK in 4th, Robert Stiles' DIAMOND JEM in 5th, Kevin Armstrong's EMG 1 in 7th, Neil Mcgrigor's BOO in 8th and Julian Sutherland's JUMUNU in 10th.  David & Kirsty Apthorp's J/88 J-DREAM took 12th place. Then the next two places were J/109s, Brendon Pell's BLUE JAY in 15th and Chris Brooks's JINKS in 20th.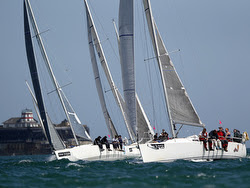 Several other J/109s sailed in IRC 2B class, with a combination of J/105s and J/109s taking 13 of the top 20 places.  The first three J's were 109s, with Ivan Burden's JACOBI in 2nd, William King's JOLLY JACK TAR 4th, and Christopher Palmer's J'TAIME in 5th.  The J/105 MOSTLY HARMLESS sailed by Tom Hayhoe & Natalie Jobling took 6th and fellow 105s JOS OF HAMBLE (Roger Williams) took 11th and JESTER (Kelvin Rawlings) placed 20th.  After the top five, other J/109s filled out the rest of the top 20 bracket, like EMG 2 (Ian Turnbull) in 8th, JUKE BOX (John Smart) 9th, David Richards' JUMPING JELLYFISH 14th, Paul Griffiths' JAGERBOMB 15th, PURE JOY (Sarah Rossiter) 16th, JIBE (Robin Taunt) 18th, and JYBE TALKIN' (Chris And Helen Burleigh) in 19th.

In the IRC 2C Class, a number of J/105s sailed well and took four of the top nine place. First 105 was William Newton's JELLY BABY, taking 2nd in class.  Fiona & Malcolm Thorpe's KING LOUIE took 4th and was followed by JIN TONIC (Andy Roberts) in 6th and NEILSON REDEYE (Pip Tyler- Managing Director of Neilson Holidays) in 9th.
The IRC 2D Class a raft of J/97s sailed well, including Ole Bettum's ALAMARA B III in 4th overall followed by Andy Howe & Annie Kelly's BLACKJACK II in 7th and James & John Owen's JET in 14th.
In the ISC Division 4B, the J/109 SQUIBS (Ken Raby) took 5th place and the J/124 ECLIPSE (Robert Bishop) took 7th position.  The J/100 THUNDERSQUALL (EJ Hentenaar) took 2nd place in ISC Division 5B.  The classic J/24s performed well in ISC Division 6, with JOBS FOR THE BUOYS (William Lack) taking 2nd in class, A-PLAN (Quinton Hall) placing 8th and J-RIDER (Roger Ayres) finishing 15th.
The J/80s sailed as a one-design class with 13 entries and enjoyed spirited racing.  Taking class honors was J-OUT-OF-THE-BOX (Yannig Loyer) with IBIS STYLES SAINT MA (Jean-Noel Belles) in 2nd and JASMINE (Douglas Neville Jones) in 3rd.

In the Sportboat Class, there were sixteen J/70 entries racing against a mixed bag of Cork 1720s, Open 7.50s, Farr 280s, C&C 30 One-Designs, Melges 24s and a Tofinou 8m.  After blasting around the backside of the island from St Catherines Point down to the Forts at the eastern end of the Solent, the J/70s proved yet again they are not only fast upwind in big waves and chop, their ability to plane fast in big waves offshore assured them of top overall positions on handicap time.  The first four places were dominated by J/70s with Martin Jones' BILLY RUFFIAN in 1st with David Mcleman's OFFBEAT in 2nd, Olivier Vidal's ATLANTIC ENDEAVOUR in 3rd and Andrew Barraclough's JENGA 8 in 4th.  For more Round Island Race sailing information
---
Golison Takes Top Honors @ Long Beach
(Long Beach, CA)- The Ullman Sails Long Beach Race Week (LBRW) concluded with a 'splash' – as classic Long Beach conditions gelled, and a solid breeze filled in from the west. Ivory cirrus swirled in the blue skies; steady waves and swell barreled through the courses.
After three days of exciting, and sometimes challenging, racing – Bruce Golison aboard the J/70 MIDLIFE CRISIS was awarded One-Design Boat of the Week.
LBRW had its origins in 1980, and is hosted by neighboring Long Beach Yacht Club (LBYC) and Alamitos Bay Yacht Club (ABYC). The co-hosts and friendly rivals have traded trophies in the coveted Yacht Club Challenge, which this year went to ABYC.

In the twenty boat J/70 fleet – the largest of the regatta – Bruce Golison looked like he'd had his own start and at the mark roundings. With an indomitable lead over the 19-boat fleet Golison won his division, and Ullman Sails Long Beach Race Week Boat of the Week in the One Design category. Golison only began sailing J/70s in September, winning that first regatta (J/Fest San Diego) and maintaining a triumphant track record ever since. He was followed by Jay Janov's MINOR THREAT from California YC in 2nd and Joel Ronning's CATAPULT team from Wayzata YC in 3rd.  A fast up and comer in the J/70 fleet also appears to be Chris Raab's crew on SUGOI from Newport Harbor YC, taking 4th place.  Fifth was San Francisco YC's Chris Kostanecki sailing JENNIFER.
Curt Johnson's AVET logged a tidy record of seven straight bullets to clinch the J/80 fleet over Mark Hunter's IN-APPROPRIATE in 2nd and David Angers' MISS DEMEANOR in 3rd.

John Laun's CAPER also had a dominating performance in the eight boat J/120 class with five 1sts and two 2nds in seven races for a mere 9 pts.  "The Commodores" on Chuck Nichols' CC RIDER from San Diego YC couldn't overcome CAPER's speed and brilliance, having to hang tight for 2nd overall with 13 pts.  Third was Mike Hatch's J-ALMIGHTY with 22 pts.
A strong showing of nine J/109s provided excellent, tight racing for the fleet.  Nevertheless, it was Tom Brott's ELECTRA from Santa Barbara YC that took first overall, posting four 1sts in his scoreline for 13 pts.  Second was Steve Crooke's SUGAR from host Long Beach YC and third was Peter Nelson's SPRAY from California YC.
In the world of PHRF handicap racing, Glenn Griley's J/111 STAMPEDE managed two 1sts in their seven races, but not enough to crack the top three, settling for 4th in PHRF Class 2.  In PHRF Class 3, it was David Boatner's J/35 RIVAL that just missed out on class victory by only one point, even after posting four 1sts!  Finally, in PHRF Class 4, it was Scott McDaniel's J/105 OFF THE PORCH that walked away with class honors after winning 5 of 7 races for a total of 11 pts.   Sailing photo credits- Bronny Daniels/ JOYphoto.com   For more Long Beach Race Week sailing information
---
Healy Wins Bacardi Newport Regatta
(Newport, RI)- After a successful winter Bacardi Miami Sailing Week held at Coconut Grove, Florida, the Bacardi marketing team created a new regatta for the summer based in Newport, Rhode Island and co-hosted the event with Newport Yacht Club and Sail Newport.  The new Bacardi Newport Sailing Week took place last weekend with four classes, including a fleet of eleven J/70s.
Blessed with more than enough winds forecast for the weekend, the NYC/ Sail Newport PRO decided to get in as many races as possible on Saturday in a strong 10-18 kts easterly.  A massive Low was working in from the Midwest with wind forecasts exceeding gale force (30-45 kts) on Sunday morning.  As it turned out, it was a prophetic call since the J/70s enjoyed five fast windward-leeward courses traversing Narragansett Bay from Potter Cove on the western side over to a windward mark tucked under the Naval War College on the eastern side of the Bay.  The course layout made for crazy tactics and strategies as massive wind streaks would form under the center span of Newport Bridge and roll down the course from a southeasterly direction, but rarely far enough or wide enough to cover the windward mark or make it down the the starting area/ leeward gates.  Simultaneously, enormous left-handers would swing down off the Navy base along the shoreline, providing huge port tack lifts going into the weather mark.  And, once in awhile, large enough puffs would produce planing-modes for J/70s while others were stuck in 8-10 kts winds diving into soak mode.

It was close racing for the J/70s and some teams were using it for "practice mode" just prior to next week's J/70 World Championship in La Rochelle, France.  Winning with three straight bullets was Tim Healy's crew (including Will Welles) on HELLY HANSEN with a record of 3-2-1-1-1 for 5 pts net.  In a close match for the regatta was Bruno Pasquinelli's STAMPEDE from Houston, Texas and Heather Gregg's MUSE team from Newport, Rhode Island.  The final race determined the outcome for this duel with MUSE posting a 1-4-3-2-3 for 9 pts to win the tie-breaker.  STAMPEDE had a 2-5-2-3-2 for 9 pts net to lose the tie-breaker and place third overall.  Showing newfound speed and sharp tactics was John Brim's RIMETTE, winning a race on their way to taking fourth in the regatta 13 pts.  Fifth was Duncan Swain's CLOWN CAR with 17 pts.  Sailing photo credits- Cory Silken.com  For more Bacardi Newport Sailing Week information
---
Cleveland Race Week Report
(Cleveland, OH)- Tim Finkle from RCR Yachts provided the following report on what it was like to sail Cleveland Race Week on a J/70.
"There is a lot to talk about after this regatta, so I am going to split it up into two parts and hopefully get some other competitors to write their stories too…stay tuned.
Sailing is a tough sport and no matter how much you prepare, sometimes you are thrown curveballs.  Looking at the score sheet certainly doesn't tell you the whole story, so here goes.
Going into this regatta, I was very excited about our potential to do well.  I had recruited some excellent sailors and my crew deserves mention because they did an awesome job.  I had Kris Werner of Quantum Sails Rochester calling tactics for us and brought a brand new set of Quantum Sails.  My trimmer was Justin Hays, who I've sailed with a bunch on the J70 and who is one of the first people I always ask to sail when he's available.  Last but not least was Anna Heubschmann on bow, who had just finished up a very successful freshman year of sailing at Eckerd College in St Pete, FL.
So with that crew, my mindset was on starting well, keeping the boat going as fast as possible at all times and staying out of trouble.  I had total faith that Kris would put us in good spots on the race course and we'd see how we measured up with the fleet.  This was a three-day event, so it was about putting up some keepers on day one.  We got out to the race course plenty early and with a building breeze, we cranked down on the rig and felt good about upwind speed.  We turned the corner to practice in some planing conditions and even worked on "blow through" gybes.  Now, we were ready to get the racing started.
First race…….was a disaster!  You will notice that we scored a DNF and here's why.  Kris had called for us to start at the pin end of the line and with a minute to go we had set up nicely to start right at the pin.  There was just one problem, I punched it a bit early and we were called OCS.  Of course, I disagreed with that decision but we went back and started again.  We had a nice claw back sailing well to get back into about the 4th or 5th spot at the top mark and ready to set the kite and start planing off downwind and trying to pass some boats.  Just as we got there, a boat ahead of us had just hit the mark and started to drag it down the offset leg.  Now it is blowing pretty good, around 18-20 knots and the boat could not get the rode off their keel, they must have dragged it 20 boat lengths.  We were in a tough spot just behind them and knowing that we needed to round that mark, we followed them.  What we didn't know was that there was no weight tied to the mid-line of the anchor rode, so it was streaming straight back just under the water.  When we thought that boat stuck on the mark was far enough ahead of us, we ducked down and set, thinking we would just sail by.  Just as we popped the kite and started to take off, we came to a screeching halt.  We looked down at the keel and saw anchor chain wrapped around our keel.  Big problem!  We proceeded to try everything we could to spin off of it, but there were two issues.  One was that we were so far down onto the anchor rode chain that it hooked on the kelp cutter on the leading edge of the keel.  If that wasn't bad enough, the Danforth flukes of the anchor wedged themselves on the trailing edge of our keel.  After about 15 long minutes of trying to free ourselves, we decided that the only way to get it free was to jump in the water and dive down to pull it off by hand.  Luckily, Justin Hays stepped up to the challenge and did the honors.  By the look on his face, the water was pretty cold.  At the end of this debacle, I decided that we should radio the race committee and retire from the race so that we wouldn't hold up the next start.  I never want to be the boat that everyone else is waiting for.
It is never a good plan to use your throw-out on the first race, but here we were.  We now knew we had to sail pretty much a flawless rest of the regatta to have a shot at winning.  It was going to be difficult, but we had to try!"
---
Marblehead to Halifax Report
(Marblehead, MA)- Building upon the 110 year race history, The Boston Yacht Club hosted the start of the Marblehead to Halifax Ocean Race off Marblehead Neck on Sunday, July 5, 2015 just before 1pm EDT.  More than 65 yachts from Canada and around the U.S. took ogg on the challenging 363 nautical mile race ending at the Royal Nova Scotia Yacht Squadron.
"Our rich partnership with the Boston Yacht Club goes back to the first race in 1905," said RNSYS Race Co-Chair David Stanfield at the Royal Nova Scotia Yacht Squadron. "Our long history of collaboration is an important reason the Marblehead to Halifax Ocean Race continues to be one of the most respected regattas in the sailing community."
The co-chair of the 2015 edition of the Marblehead to Halifax Ocean Race, David Stanfield likes to call this ocean race "the Grand-daddy of them all". Stanfield is referring to the fact that the Halifax race goes all the way back to 1905, a year before the Newport Bermuda Race started and several decades before races like the RORC's Fastnet or Sydney-Hobart were conceived.

"When I talk to people about ocean racing, it always seems with sailors, it comes down to the classics," says Stanfield. "Those other races have their challenges – the weather between Sydney and Hobart, the Gulf stream on the Bermuda race."  But, Stanfield points out the 363-mile Marblehead to Halifax course has multiple challenges too.  "The Bay of Fundy has the highest tides in the world and you have to be able to get across the Gulf of Maine to Brazil Rock (a shoal off the tip of Nova Scotia) without being sucked up into the Bay," explains Stanfield. "Then there's a whole different kind of coastal racing that goes on up the coast of Nova Scotia. You can almost always count on the fog appearing somewhere along the way. If you want to get challenged, this is the race that has it all."
A number of J teams have sailed the Halifax race multiple times. As a result, the PHRF 1 Class is ginormous, with 32 boats on the starting line and 12 of them (1/3 of the class) being various J/teams.  Many of the boats are coming off a week's worth of sailing at Storm Trysail Club's 50th Block Island Race Week.  There are five J/120s in the class all with offshore pedigree, such as Jim Praley's SHINNECOCK, Gardner Grant's ALIBI, and Stu McCrea's DEVIATION.  In addition, two J/109s are sailing, Eliot Shanabrook's HAFA ADAI and Paul Rafuse's WISC.  Joining them are two J/111s, Jon Green's EAGLES DARE and Marcel Cote's SURVENANT from Quebec YC (a J/111 Worlds participant).  A surefire class spoiler could be Evan Petley-Jones' J/35 HARRIER from Halifax.  Finally, two J/130s are sailing- Jeff Eberle's CILISTA from Manchester YC and Kris Kristiansen's SAGA from Boston YC in Marblehead, MA.
ORR Class features Scott Miller's J/122 RESOLUTE and Fred Madeira's J/44 RESOLUTE.
J/130 SAGA skipper Kristiansen had this to say about the race, "Our crew aboard SAGA has taken the Marblehead to Halifax challenge three times. We are still excited about sailing another this July. Every trip has made better sailors of us al
————————————————————————————————————–


Click to view our USED and NEW Models.