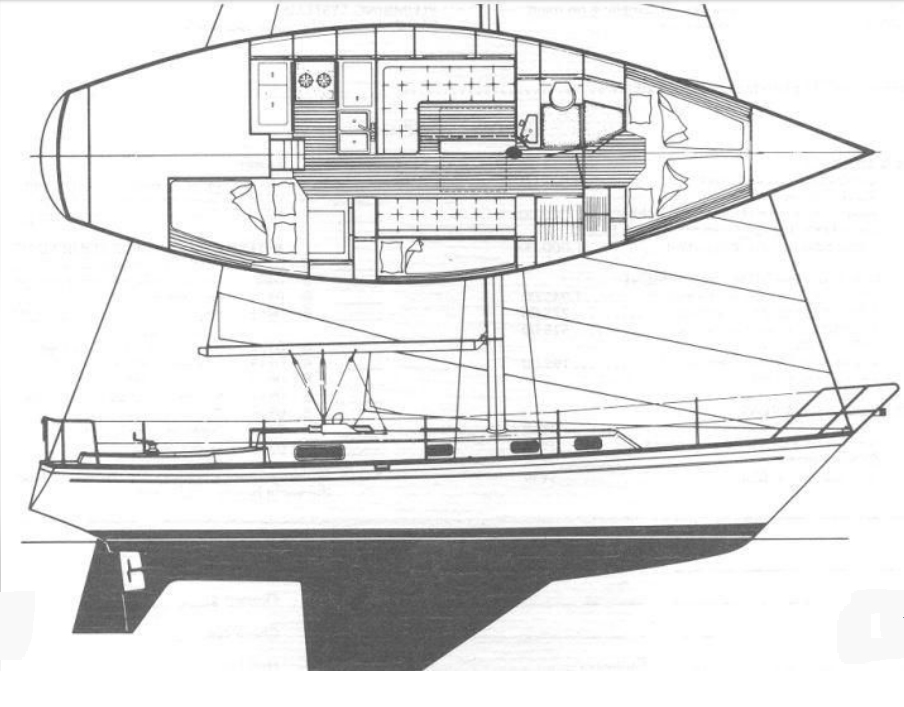 Morgan 38 By Jack Hornor Revised by BoatUS editors in October 2012
For those readers who have been around as long as I have, your first vision at the mention of Morgan 38 is likely the classically styled, late '60s, Charley Morgan-designed sloops and yawls that were Morgan's follow-up the successful Morgan 34. For more recent devotees, Morgan 38 brings to mind a more contemporary series of 38 footers introduced by Morgan Yachts in 1977. In 1993 still another Morgan 38 was introduced. All models are commonly referred to as Morgan 38's but that's where the commonalty ends. Only about 80 of the early Morgan-designed 38s were built, while nearly 500 of the 1977 Ted Brewer-designed series were built. The 93 model was a rather bulbous center cockpit model that has nothing in common with other models except its name. Space is limited and there are generally many more of the Brewer-designed models on the market, I am going to concentrate my look this month on this series. Very few models of boats have been built for protracted periods without some changes to their form or layout and the Morgan 38 is no exception. Introduced in 1977 as the Morgan 382, minor rig changes resulted in a model name change to Morgan 383 in 1980. In 1983 there were several more changes and again the model name changed to the Morgan 384. Although Morgan Yacht was purchased by Catalina in 1985, the Morgan 384 continued in production until 1986.
http://www.boatus.com/boatreviews/sail/Morgan38.asp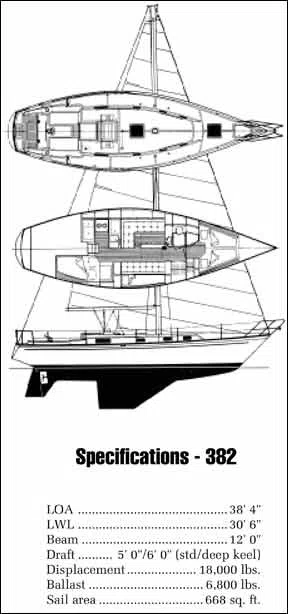 Morgan 382: Low Profile, High Return
IT DOESN'T FLAUNT ITS LOOKS, BUT THIS CLASSIC PLASTIC CRUISES IN ADMIRABLE STYLE.
BY Michel Savage POSTED August 25, 2006
Morgan 382
The Morgan 382 is an innovative 1970s design without racing aspirations.
A teardrop-shaped hull, wide beam, discreet reverse transom, and long overhangs might be the hallmarks of a vintage racing boat, but Ted Brewer designed the Morgan 382 as a cruiser, not as a racer that could also be cruised. From 1977 to 1986, Morgan Yachts and its successor, Cat-alina-Morgan, built nearly 500 of the Morgan 382 and its later configurations, the 383 and 384. Owners have taken them everywhere.
Visually, the boat is balanced and well proportioned, and the low cabin trunk and 6-inch bulwarks help keep the profile trim. At upward of 17,000 pounds on a waterline of 30 feet 6 inches, the boat is almost in the heavy-displacement category. The hull, however, with its elongated fin keel, skeg-attached rudder, and roundish bilge, isn't that of a slow cruiser.
http://www.cruisingworld.com/sailboats/morgan-382-low-profile-high-return
Morgan 38/382
Charlie Morgan's hurrah becomes Ted Brewer's success story becomes today's pseudo-classic.
By Nick Nicholson -Published:June 14, 2000Updated:January 27, 20222
We receive many requests from readers to review certain boats. Almost without exception, the requests come from owners of the boat suggested. Few boats have been the object of more requests than the venerable Morgan 38. At first blush, it is difficult to determine which Morgan 38 we ought to address, as two distinct designs were built since the first one appeared 22 years ago. After some thought, we decided to trace the history of both as best we could, including also the Morgan 382, 383 and 384.
Morgan 382 Specifications
DEFINITIONS
Hull Type: Fin with rudder on skeg
Rigging Type: Masthead Sloop
LOA: 38.33 ft / 11.68 m
LWL: 30.50 ft / 9.30 m
S.A. (reported): 667.00 ft² / 61.97 m²
Beam: 12.00 ft / 3.66 m
Displacement: 17,000.00 lb / 7,711 kg
Ballast: 6,800.00 lb / 3,084 kg
Max Draft: 5.00 ft / 1.52 m
Construction: FG
Ballast Type: Lead
First Built: 1977
Last Built: 1982
# Built: 300
Builder: Morgan Yachts (USA)
Designer: Ted Brewer/Jack Corey
Auxiliary Power/Tanks (orig. equip.)
Make: Perkins
Model: 4-108
Type: Diesel
Fuel: 40 gals / 151 L
Accomodations
Water: 55 gals / 208 L
Sailboat Calculations
DEFINITIONS
S.A. / Displ.: 16.20
Bal. / Displ.: 40.00
Disp: / Len: 267.49
Comfort Ratio: 29.22
Capsize Screening Formula: 1.87
S#: 1.94
Hull Speed: 7.40 kn
Pounds/Inch Immersion: 1,307.76 pounds/inch
Rig and Sail Particulars
HELP
I: 46.00 ft / 14.02 m
J: 16.25 ft / 4.95 m
P: 40.50 ft / 12.34 m
E: 14.50 ft / 4.42 m
S.A. Fore: 373.75 ft² / 34.72 m²
S.A. Main: 293.63 ft² / 27.28 m²
S.A. Total (100% Fore + Main Triangles): 667.38 ft² / 62.00 m²
S.A./Displ. (calc.): 16.21
Est. Forestay Length: 48.79 ft / 14.87 m
Sailboat Links
Designers:
Edward S. Brewer
Jack Corey
Builders:
Morgan Yachts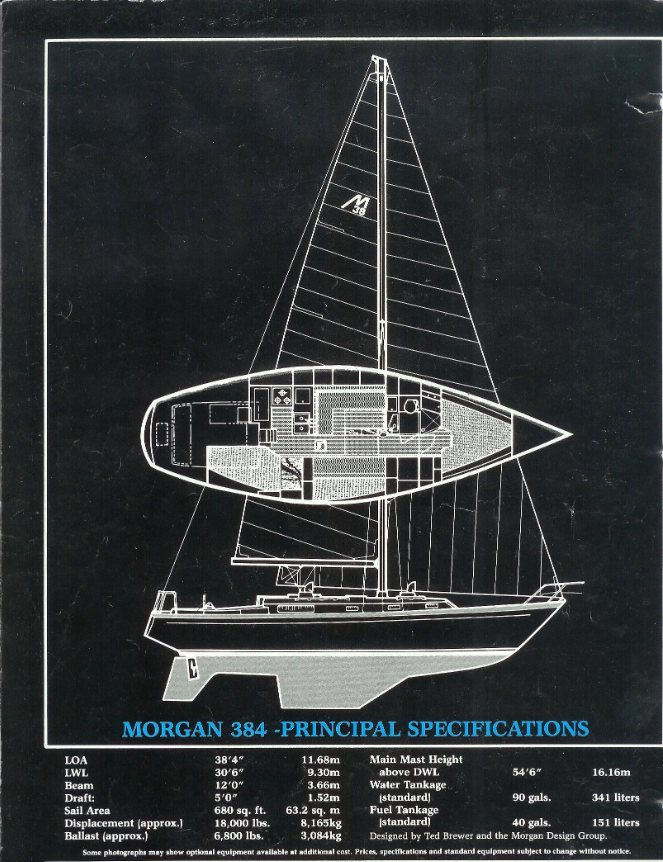 Morgan 383/384 Specifications
DEFINITIONS
Hull Type: Fin with rudder on skeg
Rigging Type: Masthead Sloop
LOA: 38.33 ft / 11.68 m
LWL: 30.50 ft / 9.30 m
S.A. (reported): 682.00 ft² / 63.36 m²
Beam: 12.00 ft / 3.66 m
Displacement: 18,000.00 lb / 8,165 kg
Ballast: 6,800.00 lb / 3,084 kg
Max Draft: 5.00 ft / 1.52 m
Construction: FG w/ balsa deck & airex topsides
First Built: 1982
# Built: 200
Builder: Morgan Yachts (USA)
Designer: Ted Brewer
Auxiliary Power/Tanks (orig. equip.)
Make: Perkins
Model: 4-108
Type: Diesel
Sailboat Calculations
DEFINITIONS
S.A. / Displ.: 15.95
Bal. / Displ.: 37.78
Disp: / Len: 283.22
Comfort Ratio: 30.94
Capsize Screening Formula: 1.83
S#: 1.79
Hull Speed: 7.40 kn
Pounds/Inch Immersion: 1,307.76 pounds/inch
Rig and Sail Particulars
HELP
I: 50.00 ft / 15.24 m
J: 16.25 ft / 4.95 m
P: 42.50 ft / 12.95 m
E: 13.00 ft / 3.96 m
S.A. Fore: 406.25 ft² / 37.74 m²
S.A. Main: 276.25 ft² / 25.66 m²
S.A. Total (100% Fore + Main Triangles): 682.50 ft² / 63.41 m²
S.A./Displ. (calc.): 15.96
Est. Forestay Length: 52.57 ft / 16.02 m
Sailboat Links
Designers:
Edward S. Brewer
Builders:
Morgan Yachts
Related Sailboats: MORGAN 382