Murray Yacht Sales compiles reviews from major magazines & publishers to present you with all the information you need to know on this popular cruising catamaran.
Sailing Magazine's Review
Ready to Rumble
2016 September 1
By JOHN KRETSCHMER
Cleverly designed and easy to sail, this cruising cat is set for adventure
The Miami Boat Show is a catamaran sailor's fantasy venue. Leading multihull manufacturers from around the world display not just their latest models, but in many cases their full range of boats. There's no denying that spacious cruising cats with their mix of outdoor and indoor living spaces are ideal for tropical waters and the palm-tree-lined Miami setting is apropos. Every year we review at least one cat after the show and this year we chose the popular Leopard 44.
Designed by the American team of Gino Morrelli and Pete Melvin, the Leopard 44 is built in South Africa by Robertson and Caine. The combination of innovative design, excellent performance and robust construction has come to define the Leopard series. It is renown for introducing the forward cockpit to the cruising catamaran market. The charter boat version of the Leopard 44 is called the Sunsail 444.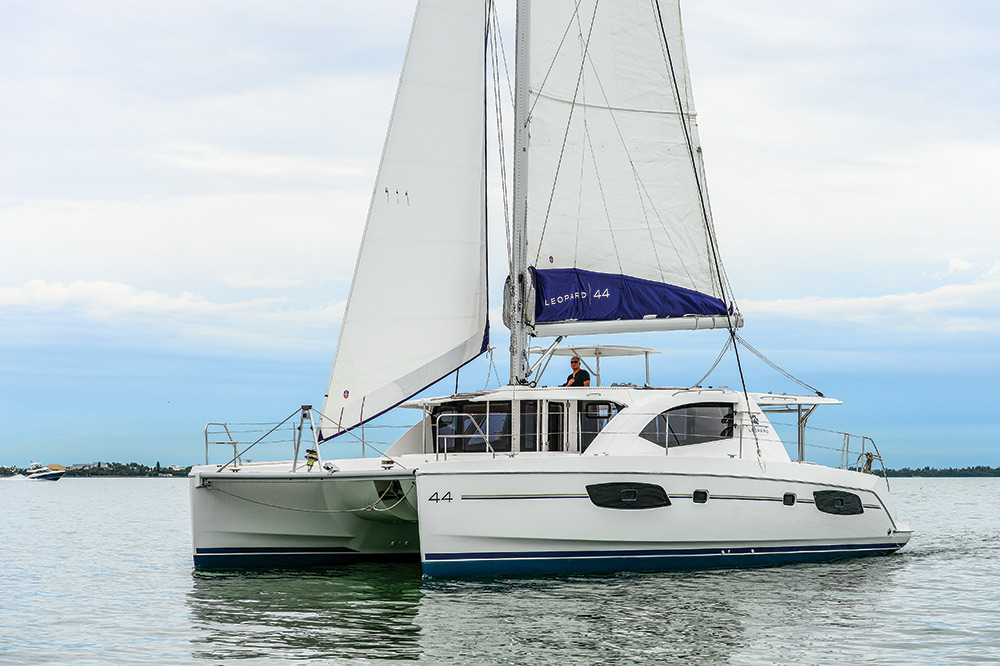 Leopard 44's Ergonomic Cabin
The interior is flooded with natural light and includes a large L-shaped galley to port. An important design feature was to avoid isolating the chef and Morrelli and Melvin succeeded as the galley faces aft and the large opening window keeps the chef in ear and eyeshot of the cockpit as well as the saloon. Two sinks, a three-burner stove and oven and drawer-style pull-out fridge and freezer are standard. There's a lot of counter space and plenty of storage in cabinets above and lockers below. There's a clever dedicated trash bin and in-floor bins for large items.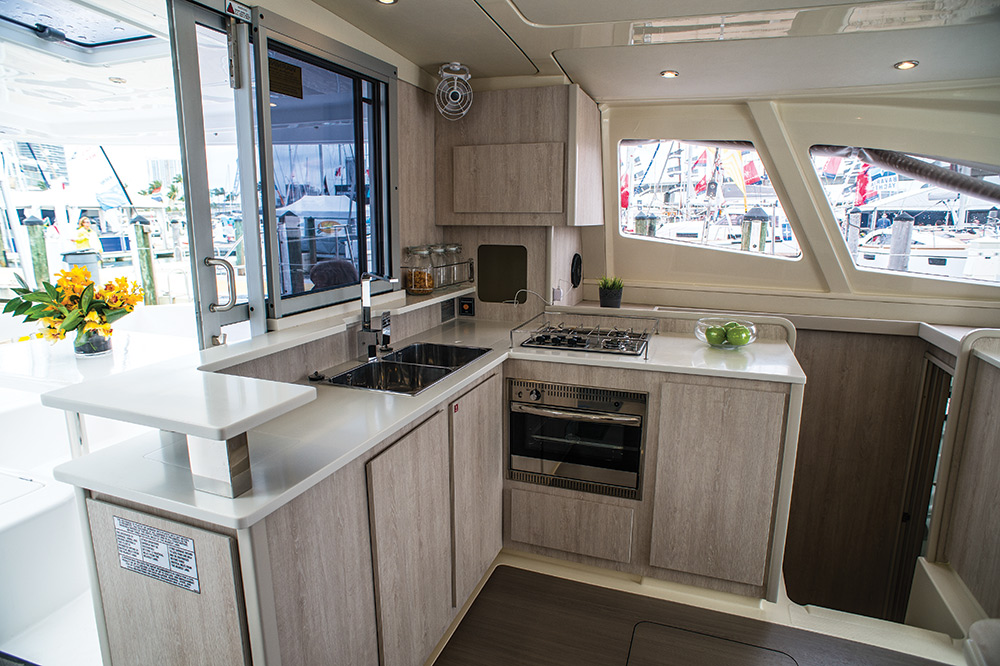 http://sailingmagazine.net/article-1796-leopard-44-boat-test.html
---
Cruising World's Review
Leopard 44
This midsize model from Leopard joins the multihull fleet. "Boat Review"
By Mark Pillsbury December 8, 2011
Leopard Catamarans – The South African catamaran builder Robertson and Caine and veteran multihull designers Morrelli & Melvin teamed up once again to produce the new Leopard 44, which is also available for charter as the Sunsail 444. The builder's longtime role as the supplier of catamarans to both Sunsail and The Moorings means that the build team has extensive owner and charterer feedback when it comes time to launch a new model. The result has been cats that are easy and fun to sail, ruggedly built to avoid downtime when in charter, and relatively affordable (view the complete photo gallery here).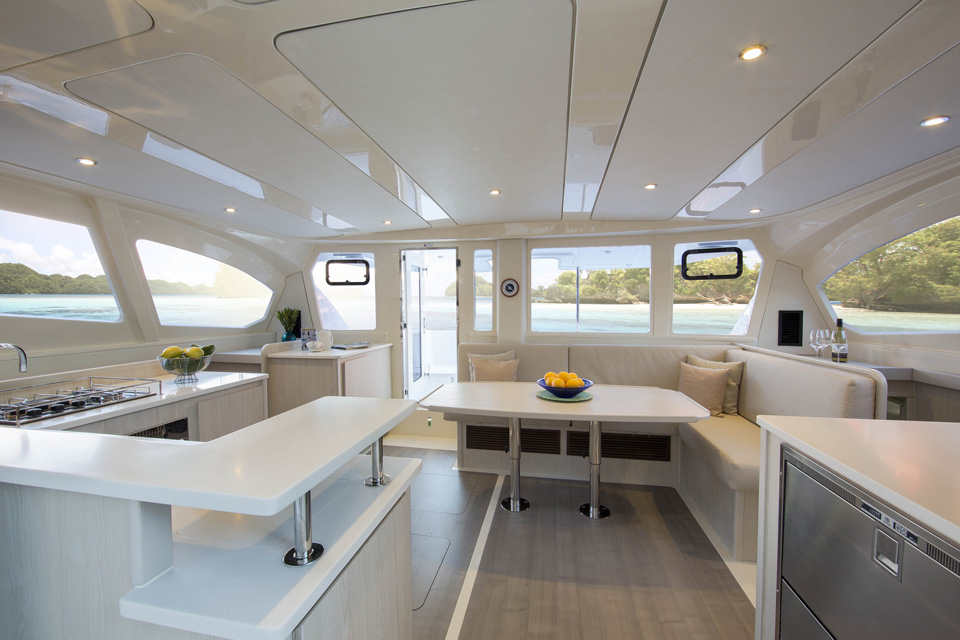 Leopard 44's Hull Materials
Hulls are constructed using isophthalic gelcoat and vinylester resin to resist osmosis. Balsa coring in the hulls and deck reduces weight and adds strength and stiffness. Hard chines and hulls that flare above the waterline provide both performance and increased interior volume.
https://www.cruisingworld.com/sailboats/leopard-44-new-cat-set-prowl
---
SAIL's Review
Leopard 44
The latest collaboration bet-ween builder Robertson and Caine and designers Morrelli & Melvin has upped the high standards set by the rest of the Leopard fleet. This new 44-footer should be popular with private owners. I suspect it will be equally popular with charterers as the Sunsail 444.
ANDREW BURTON
MAY 21, 2011
The latest collaboration bet-ween builder Robertson and Caine and designers Morrelli & Melvin has upped the high standards set by the rest of the Leopard fleet. This new 44-footer should be popular with private owners. I suspect it will be equally popular with charterers as the Sunsail 444.
Catamaran's Construction Review
The Leopard 44 is built on an industrial scale, with each boat moving along an assembly line at the company's large plant in Cape Town, South Africa. On a visit to the factory a few years ago, I was impressed with not only Robertson and Caine's build process, but the end result as well.
Review of Leopard 44's Main Cockpit
The main cockpit features seating aft and along the port side. There's room for eight to eat in comfort at the dinette and, again, plenty of lounging space. The rolled seatback aft hinges both fore and aft so you can sit facing either way. Forward to starboard a set of steps takes you to a snug steering station, where there's just enough room for two on the seat and a clear 360-degree view. All the halyards and sheets are led to the helm through Spinlock rope clutches to three Lewmar winches. The helm console has plenty of space to mount sailing instruments and a large chartplotter screen.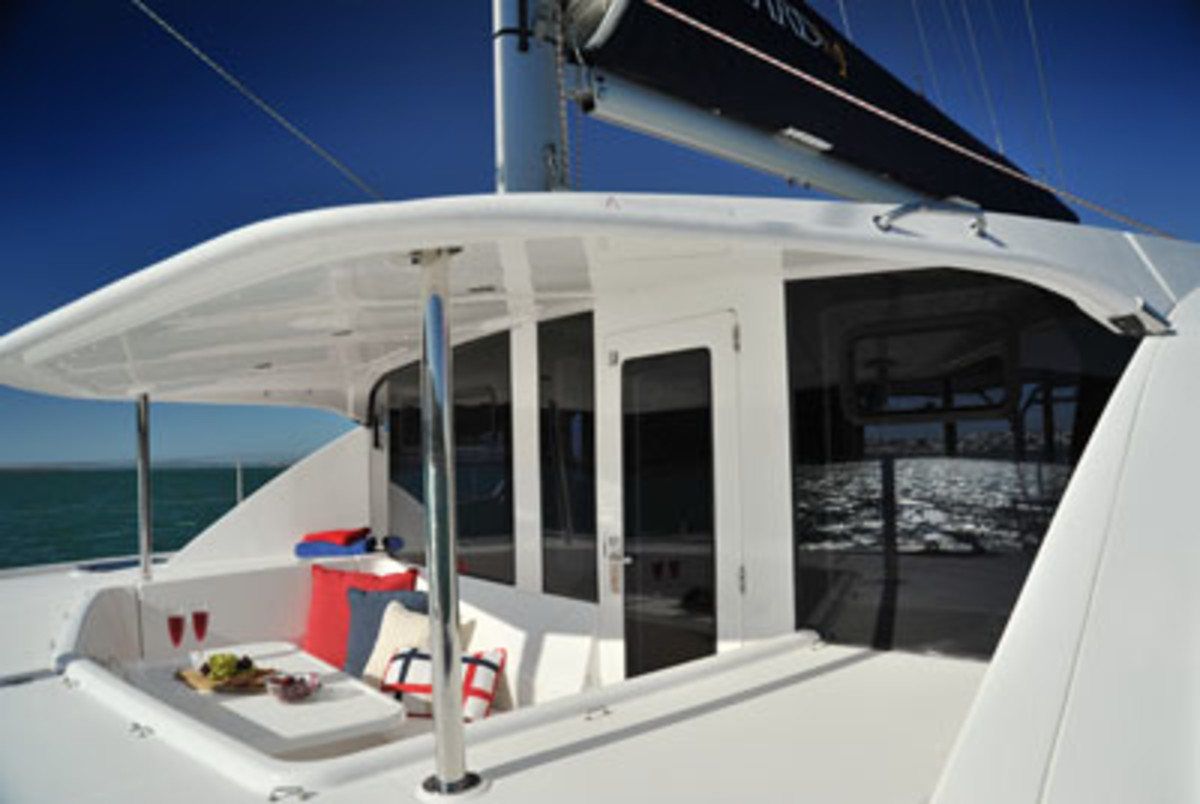 Under Sail
In 12 knots of wind on Miami's Biscayne Bay, the Leopard 44 made 7.5 knots flying a square-top main and 120 percent genoa at an apparent wind angle of 65 degrees. The boat tacked easily and got back up to speed quickly. The Leopard 44 is similar to the Leopard 46, on which I've sailed several thousand miles, so my guess is this sleek cat will handle a seaway well, too. There was no traveler on the test boat, so it was difficult to get the necessary leech tension in the main. This minor problem would be fixed on future boats.
https://www.sailmagazine.com/boats/leopard-44
---
Boats.com's Review
Leopard 44: New Cruising Catamaran, New Ideas

The designer and builder of the Leopard 44 teamed up to create a fast, versatile cat that benefits from extensive owner feedback.
By Zuzana Prochazka
July 6, 2011
The new Robertson & Caine Leopard 44 is a cruising catamaran that introduces some truly innovative features. I arrived at that conclusion not only after being aboard one, but after sitting down with designer and chief engineer Gino Morrelli, and especially after chartering another cat recently in the South Pacific — not a Leopard 44 — where I found my thoughts going back to this design and how its features would have made sense in that setting. The thought that has gone into the 44 design was a result of feedback from owners and charterers who had practical ideas on how a catamaran is used both underway and at anchor.
Reviewing what this multihull model does best
"It looks great at anchor in the BVIs with me in the forward cockpit with a cocktail," laughs Morrelli. I bet it does, but one of the things the Leopard 44 actually does best is sail. With a 120-percent furling genoa in 10 knots of true wind at 45 degrees, the Leopard will sail at 8 knots. On a beam reach with 15 knots, she'll pick up and go well over 12. The boat is strong and light for its size due to a sandwich construction of vacuum-bonded E-glass and an end-grain balsa core. The hulls are deep and narrow at the waterline but then angle out — a tulip shape according to Morrelli. This minimizes the wetted surface for more speed but then increases interior volume for living comfort. The radiused chine also deflects water and keeps the decks drier.
The Leopard 44 is easy to singlehand, as all control lines are led to two winches and several rope clutches at the helm, and there's a large line storage compartment to keep the area free of clutter. The view from the wheel is excellent both forward and aft, which is a safety must for close-quarters maneuvering.
https://www.boats.com/reviews/leopard-44-new-cruising-catamaran-new-ideas/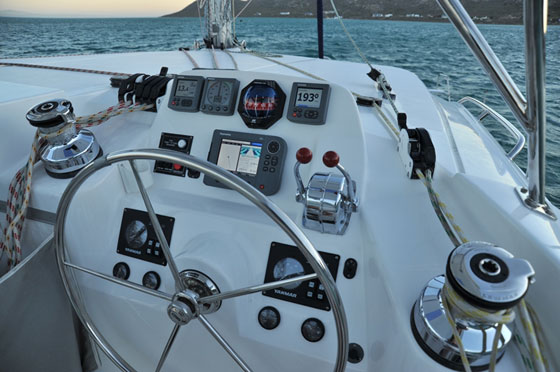 ---
Leopard 44 Wins Sail Magazine's Best Boat of the Year 2012
-Market Wire
The Leopard 44 Wins Again
-Manufacturing Digital
---
Leopard 44: Import Boat of the Year & Best Cruising Multihull
-Cruising World, Sailing World Press Release
---
The Leopard 44: Best Boats 2012 Winner
-Sail Magazine, Best boats 2012
---
Cruising World Announces '10 BOTY Winners
-Cruising World, Sailing World Press Release
---
---
Murray Yacht Sales is your premier Gulf Coast yacht brokerage with detailed experience dealing with major catamaran brands such as Lagoon, Leopard, Fountaine Pajot, and the Excess brand. We are proud to be the exclusive dealer for Excess Catamarans in Texas, Louisiana, Mississippi, Alabama, and Florida.