---
U.S. Sailboat Show In Annapolis Next Week!
(Annapolis, MD)- While you may have a passing interest in what's happening off the Bahamas this week (baby Hurricane Joaquin being hatched), it's time to plan for the upcoming US Sailboat Show in Annapolis over the Columbus holiday weekend- October 8th to 12th.  The show is the largest in the USA for sailboats and on hand will be five very exciting models from the J design team.  Featured will be the popular J/70, the new J/88 Oceanvolt, the new J/97E, the new J/122E and the classic Chesapeake shallow-draft cruiser- the J/95.
As in year's past, North Point Yacht Sales and J/Boats will be hosting their famous "J/Party" on Friday evening at 6pm when the show closes.  All J/Sailors are invited to join us for refreshments and munchies and take a look at the recent additions to the J/Boats line.

The three new models at the Newport Boat Show (J/88 Oceanvolt, J/97E, J/122E) were met with great enthusiasm by hundreds of passionate J sailors.  The styling of the new "Evolution" models was particularly captivating, with many people commenting on the bright, airy, spacious, Scandinavian-style interiors.  In addition, dozens of environmentally conscientious sailors were extremely enthusiastic about the first electric J with solar/ hydro regeneration capabilities- in fact, the first J in the world to offer the ability for dawn to dusk "solar sailing"!  Learn more about these (r)evolutionary boats down at the Annapolis docks soon!   Formore U.S. Sailboat Show information
---
J/22 North American Championship Preview
(Houston, TX)- The Houston YC and its extraordinary team of volunteers are ready to host the J/22s for their North American Championship, being held from September 30th to October 4th on Galveston Bay.
Nearly forty boats are forecast to be on the starting line on Friday.  Leading teams in the J/22 class seem to have a fondness for southern hospitality, as evidenced by the geographical cross-section of teams that have made the trek to Texas.  The Annapolis crews are well represented, with J/22 Class President Sandy Adzick sailing TILT and Brad Julian and Todd Hiller joining forces on USA 677.  The lone representative from the bastion of J/22 champions in upstate New York will be Travis Odenbach on SEA BAGS SAILING TEAM from Rochester YC.  Past J/22 Class President, Galen Freeman will be upholding the reputation of "good'ole boy" sailing from the Appalachian Mountain lakes in Tennessee.  From way up north, one team has made the migration south from Duluth, Minnesota, Susan Matti and David Turnham sailing STELLAR JAY from Duluth YC.  The lone New England representative will be Mike Marshall's BAD NEWS crew from Jamestown, RI.
The balance of the teams are mostly from Dallas- Ft Worth, Austin, and Houston areas.  Past World Champion, Terry Flynn, is sailing TEJAS with friend Mark Foster from League City, TX.  Local home boy and rock star Taylor Lutz, a college sailing champion, will be sailing BLACK RIVER RACING with some Texas buddies.  Marvin Beckmann sailing THE MARTIAN will always be an enormous factor to contend with on any race course.  Finally, watch out for the duo of Marek Valasek and Jamie Gilman aboard EL OCHO from Lakewood YC, those guys actually know how to sail super fast in very tight one-design racing classes!   For more J/22 North Americans sailing information
---
Garmin Hamble Winter Series Preview
(Hamble, England)- Once again, the annual GARMIN Hamble Winter Series will be taking place from October 4th to November 29th over the course of several weekends.  The host, Hamble River Sailing Club, welcomes the support of title sponsor GARMIN- a global leader in satellite navigation.  GARMIN's European HQ is located in Southampton ant they enable HRSC to continue to invest in the UK's premier winter sailing series and ensure it offers the mix of racing and warm welcome ashore that attracts large numbers of competitors to the popular event.
In 2014 more than 160 yachts took part in the GARMIN Hamble Winter Series.  The 2015 series and its associated events are open to IRC classes and one-design classes for J/111s, J/109s, J/88s, J/80s and J/70s.
Chrissy Winchcombe, Marketing Executive at GARMIN, said: "We are delighted to sponsor the successful Hamble Winter Series and partner with Hamble River Sailing Club throughout the year. We use the event to test and promote Garmin marine products and Garmin has enjoyed more than 10 years of successful sponsorship of the Hamble Winter Series."
Trevor Pountain, Commodore, HRSC, said: "We are very pleased to welcome title sponsor Garmin back for an 11th year and are looking forward to working with them throughout 2015 and the years ahead. HRSC is very proud to run the Hamble Winter Series, now in its 34th year, and we are consistently recognized for running great racing with a broad mix of courses. Competitor footage shot on the Garmin VIRB camera we loaned to the sailors helped drive online and social media engagement to new heights. Club members and our army of volunteers work hard to ensure the event continues to go from strength to strength."
In the Big Boat Championship segment of the event, we find two J/111s participating (Chris Jones & Louise Makin's JOURNEYMAKER II and Cornel Riklin's JITTERBUG) along with two J/122s (JUNO and R&W).
For the Hamble One-Design Championship weekends, it looks like there will be fleets of J/70s, J/80s and J/109s.  Amongst the J/70s, crew like GILL RACE TEAM, JUGADOR (Jack Davies ), OFFBEAT (Dave Mcleman), COSMIC, HARLEQUIN, JENGA 8 (Andrew Barraclough), and ROYAL THAMES VI will be on the track.  In the J/80s, leading teams include J OUT-OF-THE-BOX (Yannig Loyer) and AQUA-J (Patrick Liardet).  The J/109 teams include known crews like DESIGNSTAR 2 (Roger Phillips), JACOBI, JOLLY JACK TAR (Adrian Wheal) and JYNNAN TONNYX (Owain Franks).
For the entire GARMIN Hamble Winter Series from beginning to end, the J/109s add the following boats to the mix, JYBE TALKIN' (Chris Burleigh), JIRAFFE and RED ARROW (Jorg Lobbedey).  The J/111s will race in IRC 1 and include the aforementioned JITTERBUG and JOURNEYMAKER II.  Sailing one division above them will be the J/122 JUNO.  Then, the HRSC will have a hard time figuring out what to do with the masses of J's in the 29 to 31 foot range!  Perhaps they will get one IRC class since no one else wishes to sail against them at all due to the preponderance of fun-loving talent.  There are a trio of super-fast J/88s at around 1.035 IRC, including JONGLEUR (Paul Heys), MAI TAI and TIGRIS.  Then, rating all about the same in the 0.974 to 0.983 range are the J/97s, J/92's and J/92S'.  The J/97s are BLACKJACK II (Andy Howe), WINDJAMMER & ALAMARA B III.  The J/92S' are UPSTART and BOJANGLES (James Bedford).  The J/92 is J'RONIMO (David Greenhalgh).  All familiar boats, right?  And, all fast and well sailed.  Finally, J/70s signed up so far for the season-long event are JUGADOR, OFFBEAT, DSP (Douglas Struth), HARLEQUIN and JENGA 8.  Sailing photo credits- Paul Wyeth- PWPictures.com   Formore GARMIN Hamble Winter Series sailing information
---
J/Sailing News
The Sun Never Sets on J's Sailing Worldwide
No one can say that early fall sailing is not without its benefits!  In most places in the northern hemisphere, it seemed that last weekend was warm, sunny, somewhat benign and offered up beautiful breezes nearly everywhere.  In Europe, the Italian J/80 Open Nationals featured one of their best fleet turnouts in years and the sailing off Chiavari was simply beautiful all three days.  On the west coast of France on the Bay of Biscay, the J/80s were also sailing their penultimate regatta in Lorient, the J/80 Atlantic Telegramme Regatta- also with three fantastic days of sailing.
Hopping over the little pond to the Americas and Canada, it looked like the only light air, but sunny, series was held on Lake Ontario.  The Royal Canadian YC was hosting the J/105 Canadian Championship for a fairly substantial fleet of boats.  Just to their south, the J/30s were hosting their North Americans on Buzzards Bay.  West of them down Long Island Sound, the American YC held their Fall Series for two great days of sailing for J/Teams sailing one-design J/105s, J/70s, J/109s and J/44s.  Others, like J/88s, J/97s, J/92s and J/133s sailed in handicap classes for IRC and PHRF.  The previous weekend, the Riverside YC hosted the Long Island Sound Offshore Championship in similarly benign conditions.  Out West, the San Diego YC was quite busy hosting both the J/70 North Americans off the Coronado Roads as well as J/Fest San Diego for the 20th time!  Great fun was had by all!
Read on! The J/Community and Cruising section below has many entertaining stories and news about J/Sailors as well as cruising blogs about those who continue to enjoy the Caribbean and the South Pacific, staying warm while others are trying to stay warm up north.  Check them out!  More importantly, if you have more J/Regatta News, please email it or upload onto our J/Boats Facebook page!  Below are the summaries.
---
Regatta & Show Schedules:
Sep 30- Oct 4- J/22 North Americans- Houston, TX
Oct 3-4- AYC Fall Series – Annapolis Yacht Club, Annapolis, MD
Oct 3-4- J/70 Chesapeake Championship – Fishing Bay Yacht Club, Deltaville, VA
Oct 8-12- Annapolis Boat Show (88, 97E, 122E, 95)- Annapolis, MD
Oct 9-10- J/22 (216) Regatta- Cleveland, OH
Oct 9-11- J/80 North Americans- Seabrook, TX
Oct 9-11- J/88 New England Championship- Greenwich, CT
Oct 10-11- J/FEST Southwest- Seabrook, TX
Oct 12-17- J/70 European Championships- Monte Carlo, Monaco
Oct 24-25- J/70 Fall Brawl- Eastport, MD
For additional J/Regatta and Event dates in your region, please refer to the on-line J/Sailing Calendar.
---
Smith's AFRICA Wins GREEN FLASH J/70 North Americans
Raab's SUGOI Crushes Corinthians!
(San Diego, California)– An epic regatta it was for the third edition of the J/70 North American Championship held on the sunny SoCal waters off San Diego's Coronado Roads.  With host San Diego YC rolling out the proverbial "Green Flash" carpet for the fifty-odd J/70 crews that had gathered together for four days of racing, no one could have predicted the outcome with such a competitive fleet.  In the end, it was a New England sailor from Marblehead that is quite familiar with weeds, currents and lights airs that grabbed the brass ring and headed home with it.
Jud Smith and his crew on AFRICA overcame a 15-point deficit on the final day of the J/70 North Americans to take the title for 2015. Sailing with Smith on the mighty yacht AFRICA was Marc Gauthier, Victor Diaz, and William Felder. No stranger to winning regattas, "Juddy" is a highly regarded sailor that has won Etchells 22 World Championships along with friends like Bill Hardesty (Rolex Yachtsman of the Year) and others.  A top J/70 prize has been an elusive goal for this laid back, thoughtful sailor from Eastern YC in Marblehead.  Recently, the Smith family won their class in the ONE Regatta in Marblehead in August.
Smith's road to the top was a rocky one at best.  In fact, that was the case for just about all the crews in the top ten!  Consider the fact that current J/70 World Champion Julian Fernandez Neckelmann's crew on FLOJITO Y COOPERANDO from Mexico's Valle de Bravo fleet could only muster a 13th overall!  That is tough racing!  It was also the third NA's in a row that had little or no "planing mode" conditions— an interesting factor to take into consideration between the top teams. With everyone in "displacement mode", everyone is finding out that everyone is going the same speed! That changes the game considerably for the fleet— all of a sudden, it changes the tactics to "college-style" sailing, fleet control and tactics that take into consideration working with "groups" of boats to consolidate positions.  Here is how it all took place on the light, weedy, roller-coaster swells off the southern end of Point Loma.


Day One
Coronado Roads gave a fickle start to the day, forcing the Race Committee to postpone the starting sequence and reset the course to adjust for significant changes in wind direction. With only 5.5 kts of wind blowing, finding the perfect pocket on the starting line was more crucial than ever. The most prime real estate on the line was on the starboard side, which wind direction and the occasional puffs both seemed to favor. A bit eager to get the regatta going, the first attempt ended in a general recall. After a second try, the fleet was finally off.
At the upwind weather mark, it was Africa, skippered by Jud Smith, that led the fleet, followed closely by Zounds (Doug Strebel), Helly Hansen (Tim Healy), Midlife Crisis (Bruce Golison) and 3 Ball JT (Jack Franco). For this first day of racing, this weather mark proved to be a strong indicator of the fleet's top competition.
By the second leg of Race 2, Tim Healy and his crew took over as fleet leader and led Zounds (Strebel), Africa (Smith) and Midlife Crisis (Golison) around the remainder of the course and across the finish line.
Winds began to fill in for the second race of the day, with speeds ranging from 7-9 kts across the course. The stronger winds were just the push that Strebel and his team needed to secure the bullet. The were followed closely by Savasana (Brian Keane) in 2nd, Catapult (Joel Ronning) in 3rd, Sugoi (Chris Raab) in 4th and Africa (Jud Smith) in 5th. Previous race winner Tim Healy finished in 13th, proving that with this competitive fleet, consecutive race wins will be no easy feat.
Ultimately, it was Doug Strebel who would finish the day as the regatta leader, with a fourth place finish in Race 3 securing his spot as the top overall boat. Strebel held a ten-point lead over second place overall finisher Jud Smith, who finished Race 3 in 9th place. The winner of Race 3 was Will Welles, a new name for the top of the fleet after finishing the first two races in 22nd and 25th, respectively.

Day Two
Although the shifty San Diego winds certainly made the day's three races very interesting, they were not strong enough to shake the fleet leaders from their top spots.
When the second day concluded, the top three positions remained unchanged: Zounds (Doug Strebel) in 1st, Africa (Jud Smith) in 2nd and Helly Hansen (Tim Healy) in 3rd.
The first race of the day began with winds blowing between 8-9 kts at a direction of 270. A temporary left shift at the beginning of the first beat seemingly gave left-side starters a significant advantage over the rest of the fleet. However, their puff disappeared before the fleet was halfway to the weather mark, leaving them in slower winds than the steady pressure on the right side of the course.
Renato Faria, skipper of To Nessa from Brazil, kept a tight tail on Jud Smith's Africa as he led the rest of the fleet around the upwind mark. Faria was quick to close that gap on the downwind mark and took over as fleet leader, finishing the races with his first win of the regatta.
As crews regrouped for the next race, winds picked up to a steady 13 kts. By the end of the upwind leg, a 17-degree shift in wind direction mixed up the beat's current leaders, and Allan Terhune's Ocho Cinco was quick to seize the opportunity in front of them. Terhune was able to hold his position throughout as he led Flojito y Cooperando (Julian Fernandez Neckelmann) and Cool Story Bro (John Brigden) to finish in the top three spots of the race. It was the first top three finishes for both Terhune and Neckelmann. By the time the rest of the fleet finished the race, the winds had slowed down to a light 7.5 kts.
The third race of the day was the longest and the last, with Race Committee opting to set up a 5-leg course with an upwind finish. Jack Franco and the 3 Ball JT crew secured their first bullet of the regatta early in the race, after taking the lead on the very first upwind leg. Jud Smith's Africa gained two boats after the first leg to finish in 2nd place. The current regatta leader Doug Strebel was overtaken by Kostanecki to finish Race 6 in 3rd place.
With 26 points, Smith was 5 points behind regatta leader Strebel and 21 points ahead of the 3rd place skipper Tim Healy.

Day 3
With light winds and a 2:00pm deadline for the final day's race start, Smith only had two races to shorten Doug Strebel's 15-point lead. Winds blew at an average of 6-8 kts over the racing venue, set up just offshore from Coronado beach. The first race of the day was a four-leg course, with two upwind and two downwind sprints. Smith (Africa) finished in 9th place, while Strebel fell to the second half of the fleet, finishing in 25th.
Going into the final race of the regatta, a two-point spread separated Smith in 1st from Strebel in 2nd. Since competitors were not eligible for any throw-out scores, every race counted towards the final showdown.
The final race of the regatta was a 5-leg course with an upwind finish, whose original start was temporarily postponed to allow for consistent breezes to fill in.
By the time the fleet made it to the first upwind mark, Brad Rodi (Bl!ss) was leading the race with regatta leader Smith just four boats behind. Strebel was well behind the top third of the fleet during the second leg. He finished the race in 18th place, guaranteeing that Smith would take home the title.
Doug Strebel and the ZOUNDS/ BLACK RIVER RACING crew led for the first thee days of the event, posting all top six scores except for one race yesterday. However, while Smith gathered a 9-4 on the last day, Strebel's team struggled with a 25-18 to slip to second. Tim Healy finished third, a position he held throughout the four-day event.  Showing significant promise was Brad Rodi's team on BL!SS from San Diego YC.  Rodi is a former college All-American and College Sailor of the Year, so his familiarity with closed course, same-speed racing, was helpful in his excellent performance.  Fifth was John Brigden sailing with Chris Snow on COOL STORY BRO from St Francis YC.
Top Women's Skipper Award went to Shannon Bush's vibrant green crew on HOOLIGAN from Texas Corinthian YC.
In his first major J/70 regatta, top West Coast sailor Chris Raab and crew from Newport Harbor YC sailed SUGOI to the top of the Corinthians Division; they were also 15th overall in the regatta. Just behind them was a former J/24 North American Champion, Pat Toole and crew from Santa Barbara YC on 3 BIG DOGZ II.  Third was Steve Shaw's SMOKIN J from Lake Norman YC from North Carolina.
Big shout out and "Thanks" to all the regatta sponsors, first and foremost the "GREEN FLASH" men, Jeff Brown and JK3 YACHTS, SD Boatworks, Coral Reef Sailing Apparel and many others for a wonderful event!
For more J/70 North American Championship sailing information
---
J/Teams Dominate AYC Fall Series
(Rye, New York)- The American YC's annual fall series was blessed with nearly perfect weather conditions for the first weekend of sailing on Long Island Sound.  Partly sunny days with fresh easterlies graced the fleet for both days, with 15-23 kts on Saturday and 8-14 kts on Sunday.  The epic event for the weekend, other than the simply fabulous sailing, was the simply mind-blowing "super moon" that rose over the eastern horizon of Long Island Sound that later evolved into the "super blood red moon" by 10pm on a beautifully clear Sunday evening.
The racing was highly competitive and there was little room for error for those leading their fleets on the East and South courses off Rye, New York.  As it turns out, it was the only weekend the fleet raced, as "little Joey" (a.k.a. Hurricane Joaquin) spoiled the party for the second weekend.  Consequently, the results from the first weekend stand for all fleets.
Starting with the world of J one-designs (70s, 105s, 109s, 44s), it was clear some teams had their "mojo" going while others did not.
In the J/44s, the "Big OD's", wielding massive spinnaker poles, even more massive genoas, and even huger mainsails, it's a big person's job!  Showing their massively muscular superiority over their winded brethren along with both technical expertise and Boris Kasparov-like mental agility and elasticity on the tactical front, was the hard to hold back MAXINE- Bill Ketcham's gorgeous-blue machine.  With a sinuously snake-like scoreline of 5-1-3-1-4-2, MAXINE snuck in for the big score at the end with just 11 pts net.  No one saw them coming.  Nor, more than likely, did anyone on board MAXINE!  Vamping like a vamp she should, Lenny Sitar's VAMP was happy to take home 1sts and 4ths to walk home with second overall.  Then, like a cat-outa-da-bag, it was Jim Bishop's crew that scored a third place on the mighty and venerable GOLD DIGGER!  Notably, past AYC Commodores Joerg Esdorn & Duncan Hennes are sailing the next-gen KINCSEM quite well, winning the first race but not quite keeping up the pace to settle for 4th only one point back.  Fifth was Don & Dick Rave's RESOLUTE (Saturday was not a good day for them).
The dozen boats sailing the J/109 class demonstrated what happens when there is relative "parity" amongst the top teams.  No one had any distinct advantage in the top seven boats; in fact, all had top three finishes!  It was remarkably close and fun racing for everyone.  After two days of parrying back and forth with their swords, it was Jonathan Rechtshaffer's EMOTICON that just won the weekend battle over Bill Rogers' BIG BOAT.  11 pts to 12 pts.  A 1-4-1-2-3-4 to a 3-2-4-5-2-1.  Neither team had a decisive edge, but it could be said that Rodgers' crew was on the upswing on that pendulum!  Taking third was Carl Olsson's MORNING GLORY with 16 pts and fourth was Jack Forehand's STRATEGERY sitting on 20 pts. Fifth was Bengt & Marie Johansson's ZIG ZAG with 24 pts, winning a tie-breaker over Steve Chronert's ZUMA.
The largest fleet in the regatta was the J/105 one-design class with seventeen boats.  Several new J/105 owners were "in-medias-res" and quickly learned from class veterans what it takes to tweak their boats to extract that last 0.1 kts of boatspeed to break that 2-foot overlap at a mark-rounding. Such is the life of a one-design racer.  When the handicap guys are worried about minutes a mile, the one-design guys are worried about inches per second!  Such was the case with the 105s, as usual.  As if he was a phoenix rising from the ashes, Damian Emery's ECLIPSE, again, decided to put the old blue boat on "cruise-control" and "send it"!  That's just Damian's way of doing it.  No questions asked.  Win the start. Disappear.  Simple. And, that he did.  1-6-1-1-1–3 for 7 pts net.  Wins the regatta. Second? Actually not that far back.  Given the fact that ECLIPSE had a 6th place in race 2, they were vulnerable to a vulture ruining their feast.  Paul Beaudin's LOULOU was that vulture.  With a 4-1-2-2-2-1 they just lost out an opportunity to win, but settled their score for second in class.  Third in class was the Wilbanks' REVELATION with 17 pts.  They just edged out David Greenhouse's SKIPPERDEE in 4th and Jeremy Henderson's CONUNDRUM in 5th with 21 pts.
So, if the 105s and 109s had good racing, what was it like for the J/70s? Frightening. Yes, I mean downright scary! Like zombies walking over the water from downtown New York over the waters of Long Island Sound towards American YC- – crazy, scary stuff.  Imagine this.  Big boys, win big stuff on big boats.  Then, sail small boats, but win BIG!  Not sup'ozd'2'happen'mon!  Well.  It did. When you lay down a 1-1-1-2-1-2 scoreline, you don't often LOSE!  Doh! So, congrats to Scott & Alex Furnary on ANY COLOUR for laying some "wood" down on the local fleet in da'big'breeze to win with a convincing 6 pts net scoreline.  Yup, tossing a 2nd place can't be all bad!?  The other big surprise was the awesome performance by Allan Stern & Bill Walker's VICTURA, winning their last race as emphasis they're on a steep learning curve and hope their 2nd place was only an indicator of things to come for the future.  Third were "the girls"- Madelyn & Megan Ploch on SUGAR DADDY- once again proving their capability to not only win races in tough conditions, but hang with the top boats overall.  Fourth on 26 pts was determined by yet another tie-breaker- Dave Florence's BUZZ taking it over Scott Bursor's SLINKY.
In the world of handicap racing, similar scenarios were playing out.  Close racing and any type of tactical or teamwork situation could hurt you or help you.  In the case of the J/111 PARTNERSHIP sailing in PHRF 1 Class, their three 1st place roundings in three straight races did not play out into those same results on Saturday.  Nevertheless, David & Maryellen Tortorello's crew on PARTNERSHIP pulled it all together on Sunday to post a 5-4-1-2-2-1 scoreline for the weekend to overcome their initial deficit to win the weekend and the regatta!
Over on the "South Course", an amazingly similar situation took place.  Scoring all bullets on the first three races, Iris Vogel's J/88 DEVIATION ran the table and easily secured their lead on Saturday. However, on Sunday, Mike Bruno's new WINGS team sailed "lights out" on their J/88 and won all three races.  Meanwhile, Doug McKeige's Youth team sailed all weekend in the top five and could not crack the top three!  In the end, Vogel's crew took three 2nds on Sunday to secure the win overall, with Bruno's WINGS crew taking third and McKeige's JAZZ Youth team in 4th position overall.  A great showing for the J/88s against very tough competitors!
The PHRF 3 Class was besieged yet again by the litany of J designs in the 26-32 ft range.  In fact, it was an all J/Boat class!  Tom & Julie Sinatra's J/29 SMOKIN J sailed a beautiful series to take first with all 2nds and 1sts for 6 pts net.  Second was John Krediet's J/97 PARTICIPANT II with all top three scores for 10 pts net.  Third was Jason Viseltear's J/80 UPSETTER with 13 pts net.  For more American YC Fall Series sailing information
---
WILD CATS @ J/30 North Americans!
(Marion, MA)- The Beverly YC of Marion, MA, hosted the 2015 J/30 North Americans on Buzzards Bay for a weekend of spectacular racing.  There was plenty of sun, wind, current, & big waves.  What else could anyone imagine for the premier event for the J/30 class??

After an eight race series, it was Russ Atkinson of North Cape Yacht Club from La Salle, Michigan that won the 2015 J/30 North American Championship with an astounding record of six 1st and two 2nds to win with a wildly low score of just 8 pts.
There was a spirited competition for the balance of the podium between Ken Deyett's JEROBOAM from host Beverly YC, sailing extraordinaire Bill Saltonstall on ARBELLA and John McArthur on SMILES from Long Island Sound's Cedar Point YC.  After the smoke cleared, it was Dyett's JEROBOAM that managed all top three finishes to take second place with 15 pts.  Taking the bronze on the podium was Saltonstall's ARBELLA with 20 pts net.  Rounding out the top five was McArthur's SMILES in fourth and Mark Rotsky's NEMESIS in 5th position.   For more J/30 North American Championship sailing information
---
McLaughlin Eclipses J/105 Canadians
(Toronto, Ontario, Canada)- Eighteen teams competed in the 2015 J/105 Canadian Championship, held September 25-27 in Toronto, Ontario at the Royal Canadian Yacht Club.  Sailing in the typically variable Lake Ontario conditions, the Canadian 105 sailors had to contend with some incredibly talented crews with more than their fair share of "local knowledge" tucked under their belts.
In the end, it was Terry McLaughlin's team on MANDATE, the 2014 J/105 NA Champion that dominated the event; the MANDATE crew won eight of the nine races to take the title by 44 points over Peter McDermott Hall's JAMAICA ME CRAZY. Just two points back to take the bronze was a past J/105 NA's Champion- James Rathbun's HEY JUDE.
Rounding out the top five was Gavin Disney's THE USUAL SUSPECTS in fourth position with 61 pts and in fifth place was Mike Mountford's LEADING EDGE.  Mountford's team had to win a tie-breaker over top women skipper Felicity Clarke on ROUNDING ERROR. Notably, in 7th was the second women's' skipper- Emily Sale on SONIC BOOM.  For more J/105 Canadians sailing information
---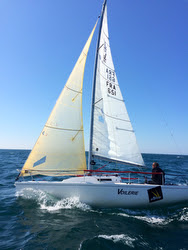 VOILERIE ALL PURPOSE Takes J/80 Atlantique Telegramme
(Lorient, France)- CN Lorient hosted their popular fall event, the J/80 Atlantique Telegramme, for thirty-one enthusiastic teams over the weekend of the 25th to 27th September.  The fleet was blessed with great sailing conditions and they enjoyed the always warm and gracious hospitality of the CNL members.  After the eight race, two throw-out series, it was Sylvain Pellissier's VOILERIE ALL PURPOSE TEAM (Mathieu Fountaine, Victor Barriquand & Loig Leon) that counted three 1sts in their finally tally to win with just 11 pts net.
The first day of racing was simply gorgeous; a sunny day with good breeze greeted the fleet and the CNL PRO, Eric Bournot, managed to run two races on Friday.  The racing was aggressive and for the second race of the day, there were 11 BFD's!  In the first race, Simon Moriceau's INTERFACE CONCEPT dominated the fleet, with Capucine Vitel's VITEL SAILING TEAM in 2nd and Luc Nadal's GAN'JA in 3rd.  Then, in the second race, Eric Brezellec's COURRIER JUNIOR won with Herve Leduc's PIERRE OCEANE in 2nd and Sylvain Pellissier's VOILERIE ALL PURPOSE in 3rd.

Saturday morning dawned with great promise and the weather gods cooperated fully, dishing out a recipe of wonderfulness for the sailors- lots of sun, 10-15 kts winds and four races!  The offshore winds from the ENE produced enormous shifts and fluctuations in the breeze, but the masterful orchestration of the CNL RC and mark boats by the PRO Bournot resulted in close, fair racing for all.  By the end of the day's sailing, the only winners were Pellissier and Nadal with two each.  Overall, the VOILERIE ALL PURPOSE team leapt into the lead followed by GAN'JA and COURRIER JUNIOR.
For the final day of racing on Sunday, the fleet was met by yet another beautiful day- bright sunshine and more 12-15 kt winds from the ENE!  PRO Bournot managed to run two more races in the shifty, offshore breezes, much to the delight of all the sailors.  "Bravo" to the CNL, their RC and PRO for wonderful organization ashore and on the water!  Pellissier's team closed the regatta with a 3-1 to win it with relative ease.  Taking second was Brezellec's COURRIER JUNIOR crew (Nicolas Richard, Julie Richeux) and third was Nadal's GAN'JA team (Pierre Mousselon, Gilles Corcaud, David Nadal).  Rounding out the top five was Moriceau in 4th and Leduc's PIERRE OCEANNE in 5th.

After taking 2nd place in her previous regatta and 5th in Normandy Race Week, Capucine Vitel is a rising woman's sailing star in French J/80 sailing circles (seen at right).  After a strong second day with a 4-7-7-4, Capucine's VITEL SAILING TEAM had risen to 5th place overall in the regatta.  However, two double-digit races on the last day dropped her back into 6th place overall but still good enough for 1st Women's skipper team for the regatta; her crew included Mathieu Layus, Damian Michelier, Jonathan Touyer and Kevin Bloch.  Second women's skipper and 11th in the overall standings was Maxime Rousseaux's team on CN St Cast GRAND OUEST (her crew was comprised of Matthieu Legrand, Luc Legrand & Benjamin Le Scornet).
The next regatta for the French J/80 season series will be in St Cast for the French J/80 Nationals from the 7th to 11th of November.  For more French J/80 Class sailing information
---
Polti Takes Italian J/80 Nationals On Tie-breaker!
The Fashionable Loro Piana Takes Silver
(Chiavari, Italy)- This year's Open J/80 National Championship in Italy returned to YC Chiavari's lovely location along the Mediterranean coastline after four years of absence.  Chiavari is considered "the home base" of the Italian J/80 fleet. The company Blue Project, which owns the fleet of nine, matched, one-design J/80s, has chosen the beautiful Ligurian town and Marina di Chiavari as its home.
The Championship took place from the 25th to 27th of September; YC Chiavari hosted it in collaboration with Blue Project and the Italian J/80 Class Association. Alongside Blue Project was the sponsor Chanteclair with its new line of "Vert" products- green eco-detergents that are 100% biodegradable. In fact, at registration, all of the teams received Chanteclair Vert, a high performance washing product that is also excellent for the boats.

With fast, clean boats and with sets of matched North Sails, the teams took off from the docks on Friday morning expecting close, friendly competition.  The fleet experienced gorgeous weather, calm seas and a west wind of about 5-7 kts. After three races, the top five teams probably recognized they got more than they expected, they were all in for a real dogfight!  Leading the fleet was Stefano Polti's MARYLOU team from YC Marina di Loano with a 4-1-2 for 7 pts.  Second was Marco Tafi's JINK BIO BASIC EUROPE crew from CN Cavo with a 1-4-3 for 8 pts.  Then, in third was Giacomo Loro Piana's MARY J team from CN Porto Cervo with a 6-2-1 for 9 pts.
In the first race of the day, it was Tafi's JINK crew that was fast out of the gate, winning it comfortably while others were untwisting their knickers and making spinnakers actually went up and down.  Second in that race was Massimo Rama's JENIALE EUROSYSTEM for LNI Sestri Levante, a long-time supporter of the class.  Third place went to Marco Rayneri's J9 from YC Marina di Loano.  In the second race, Polti's crew got their act together and won with Giacomo Loro Piana's MARY J from CN Porto Cervo taking the second position and his brother Franco Loro Piana in JAMMING taking the third spot- yes, it was a family affair that race!

For the racing on Saturday, the YC Chiavari PRO could only manage to conduct two races for the fleet.  With the west wind of 5-6 kts and flat seas, the wind dropped off considerably in the afternoon, preventing the running of further races.  With a quick 2-3 on the day, Giacomo's MARY J jumped into the regatta lead with a total of 8 pts followed by Tafi's JINK in second as a result of a 5-2 tally for 10 pts.  One point back was Polti's MARYLOU with a 4-4 on the day.
There was another new winner in race four, Franco Loro Piana on JAMMING beat his brother Giacomo on MARY J across the line while the latter settled for second place.  Third was Rama's JENIALE EUROSYSTEM.  For the fifth race, things went a bit topsy-turvy for some boats.  Rayneri's J9 won the race, followed by Tafi's JINK in second and Giacomo Loro Piana's MARY J in third.
On Sunday, a nice north wind between 8 and 12 knots permitted three more races to be held.  After an eight race series over the three days, it was Stefano Polti on MARYLOU that won the regatta in a heart-stopping final race battle against Giacomo Loro Piana's MARY J.  With one race to go, Loro Piana's MARY J was leading the regatta by two points by virtue of winning the second to last race.  In the last leg of the last race, Polti somehow managed to pull off a race win while Loro Piana finished third.  As a result, both teams were tied on points at 15 each and the tie-breaker was broken in Polti's favor! Third for the regatta was Tafi's JINK, fourth was Franco Loro Piana's JAMMING and fifth was Rama's JENIALE EUROSYSTEM.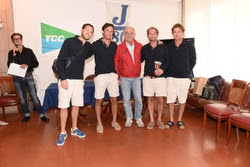 It could be said the Italian J/80 Nationals was a family affair for the famous Loro Piana family and fashion house (https://www.loropiana.com/en/) based in northern Italy.  The Loro Piana brothers, Franco and Giacomo (seen at right), are the next generation in the family business; their father is Pier Luigi.  Pier Luigi and his late brother Sergio were the sons of Pietro Loro Piana- the founder of the business at the turn of the 20th century.  In addition to enjoying sailing with friends and against one another at such a high-level of racing, the Loro Piana family also enjoy sponsoring and promoting the sport- such as their highly regarded LORO PIANA SUPERYACHT REGATTA held each June at YC Costa Smeralda in Porto Cervo, Sardinia.
Finally, there was an Award for the youngest helmsman- Alessandro Garibotto on J-BES (Group Vela LNI Chiavari and Lavagna).  For more Italian J/80 Open Championship sailing information
---
J/Fest San Diego Report
(San Diego, CA)- The San Diego YC hosted the 20th Anniversary of the J/Fest regatta in Southern California! This year's one-design fleets included the J/120s and the J/105s.
The racing consisted of a Fun Bay Pursuit race on Friday afternoon followed by windward/leeward courses in the Coronado Roads area on Saturday and Sunday.  The SDYC PRO, Summer Greene, managed to provide five races for the sun-worshipping lovin' J sailors off the big green Point Loma and south of the US Navy's North Island.
The J/120s were out in force, with many teams focused on displacing "the Commodores" on Chuck Nichols' CC RIDER off their perch atop the J/120 fleet.  Try as they might, it was much, much tougher than anyone could have imagined.  With two bullets in the first two races, it looked like Peter Zarcades team on MELTEMI was well on their way to a triumphant, walk-away win on their hands.  However, the Godz must be Crazy, as the next two races saw the MELTEMI gang dig deep and hard into the bottom of the cellar to produce a 5-4.  Only a last race 2nd kept them in the hunt to hang onto 2nd place.
After a slowish start for them, a 3-2-4, Nichols' crew on CC RIDER got the old train wound up and running downhill awfully damn fast.  Mirroring MELTEMI's start, the CC RIDER boys knocked it out of the park with a 1-1 in the last two races to close out the weekend and win the regatta with 11 pts!  Sunday's are for good boys, Saturday's are for bad boys?  Something my Sunday school teacher told me once, who knows!?
With the top two boats were struggling to determine their final outcome, the next three boats had nothing but the "fog of war" to guide them.  Such was their records, at one point  all three boats were tied.  Mike Hatch's J-ALMIGHTY, Ernie Pennell's MAD MEN, and Rudy Hasl's HASL FREE were literally playing rope-a-dope with each other race to race.  Like the leaders, the outcome hung in the balance of the 5th and final race of the regatta.  Drama?? Yes, lots of drama.  Plus, anxiety?  Plus, most likely a few bets placed on the side that needed to get settled at the SDYC "refreshment stand" afterwards.   After their hard-ridden horses were put away and the dust settled, it was Hatch's J-ALMIGHTY that grabbed the bronze while just one point back was Pennell's MADMEN in 4th and Hasl's HASL FREE one more point back in 5th! Fun sailing, to be sure.
The trio of J/105s enjoyed their weekend on the race course watching Dennis Case's WINGS sail off to five straight bullets!  Trading places most of the time were Steve Howell's BLINK! and Stew Cannon's J-OK.  In the end, Howell got the better of Cannon and took the silver.   For more J/Fest San Diego sailing information.
---
J/88s Sweep Long Island Sound Champs
Wilbanks Tops J/105s, J/109s Take Silver
(Riverside, CT)- Storm Trysail Club and the Riverside YC in Connecticut hosted this year's Long Island Sound Offshore Championship.  It was a strong turnout of nearly 40 boats with a J/105 one-design class participating along with a J/100, a trio of J/109s and a trio of J/88s sailing in their respective PHRF handicap divisions. The fleet was treated to a nice cross-section of sailing conditions; a mix of light air on Saturday 6-10 knots and more breezes on Sunday at 12-20 knots.
Starting with the half-dozen boat J/105 class, it was the family affair of George & Alex Wilbanks that "laid some pipe down" on the fleet in the first four races, scoring three 1sts in the process. But, they nearly lost the regatta!  Howzat??  Simple, finish nearly next to last in the last race to throw it all the way, or almost.  As it was, Randy Bourne's STRANGE BREW also sailed super consistently, winning the last race and, as a result, put himself into a tie for first place with the Wilbanks bro's.  Well, it was not enough to overcome the three bullets that REVELATION had banked earlier in the regatta.  Scorecard?  Wilbanks 1st, Bourne 2nd.  Watching the histrionics from the safety of the bleachers was Bob Zannetti's VENTURESOME.  The "Z-man" and crew did venture forth with a great performance, they managed to post all top three scores, but not enough to overcome the "revelation" that any "strange brew" of finishes in front of them would end up with anything but the bronze for themselves!
Over into the world of even stranger brews was the PHRF 2 Class Time-on-Time division.  Can you imagine an all carbon C32 rocketship and super-carbon everything rocketship MC38 (both with super narrow fins and massive lead bulbs slung 20 feet deep) and an over-canvassed Farr 30 sailing against the family cruiser-racer J/109s in the same class? Talk about a bizarre combo of boats!  Yes, the J/109, a boat that has a bathroom, shower, living room table, refrigerator, teak & holly flooring, ice-maker, freezer, a stainless steel wheel, an aluminum mast, heater, AC (some of them), an owner's stateroom, and lots of mirrors for lookin' good at the awards ceremony!  Incredibly, while the "bro's" on the C32 won the regatta, the J/109s faired OK.  In fact, better than OK!  Second place in this "hot boat" class went to MORNING GLORY sailed by Carl Olsson and third place to SWEET CAROLINE sailed by Christopher Ercole.
While we are still walking that fine line of bizarre-ness, let's talk about PHRF 4 Class.  Consider this.  Three brand new J/88s against three MORC World Champion Soverel 33s?  Well, that was the promise.  29 footers against 33 footers?  That's an interesting contrast from the 80s offshore state-of-the-art from well-known designer Mark Soverel from Ft Lauderdale, Florida up against the latest from the J design team.  In the end, the J/88s swept the class.  Remarkably, in their first regatta ever, it was Mike Bruno's brand new WINGS that just nipped Iris Vogel's DEVIATION for the win, by just one point.  It was a nip and tuck battle all weekend long and between the two boats they won every race!  Taking third was Kevin Marks' J/88 VELOCITY.
Finally, in the more benign PHRF 6 class, the J/100 NEVERMORE sailed by Kevin & Drew Hall sailed to a wonderful, almost perfect, 2nd place finish overall.  That boat is pretty & fast!  For more Long Island Sound Offshore Championship sailing information
---
J/Community
What friends, alumni and crew of J/Boats are doing worldwide
———–

* Championship Debrief: What does it take to win the J/105 North American Championship?? This report from Quantum Sails came from their customer debrief on the format, the competition, and what it took to win.  The J/105 North Americans had a variety of courses that included reaching legs, gates, and a couple of trips under the Golden Gate Bridge, as well as short-tacking duels up the City Front and the tactical decisions about whether or not to seek current relief in the cone of Alcatraz. All of this made for a rather unusual North American Championships format, but a welcome one, certainly for the Bay Area boats with local knowledge.  We checked in with some of the top J/105 skippers on the format, the competition, and what it took to win.
Phillip Laby, Godot, 6th Place — On Getting Good Starts
"There were a lot of good sailors in the fleet, so I expected it to be tougher competition than usual. I figured we'd go out and do as best as we can. Our goal was the top three, we ended up sixth, partially because there is more talent out there, and partially because we didn't execute our starts, we didn't get good starts on the first day. So, we were playing catch up for the rest of the race, but we kept ourselves in the game.
The key to doing well in this regatta was getting good starts that set you up for going in the right direction on the first leg, and knowing where you were going. They're all bay tours; it's a big picture thing. In the beginning, my idea was that it was more important to get a start that sent you in the right direction. I changed my philosophy after a while, and looked for a good spot on the start line focusing on an open lane rather than being closer to the side that I wanted to go."
Ryan Simmons, Blackhawk, 5th Place — On Preparation
"The goal going in was to win. We thought we had a really good opportunity, a fast boat, a great crew, new sails, and we totally thought we could win the regatta. It didn't workout that way but that was the goal.
We put a lot of time and pride into our preparation going into the race. We've been sailing together for two years, working on different maneuvers and different settings for the boat, so that when we got into these situations with variable conditions and long legs, we could adjust to them, but once you're out on the water sailboat racing is sailboat racing.
The finish of the first race was without a doubt the apex of the regatta for us. We crossed the line overlapped with Donkey Jack— it couldn't have been more than five feet. To win that race was pretty exciting."

Jason Woodley, Risk, 3rd Place — On Consistency
"A top-five finish was what we were trying to accomplish. We felt with the level of competition—there were 10 boats that could have won. There were a couple boats that are respected in their own fleets. In San Francisco, we have a little bit of an advantage being local.
We wanted to take it one race at a time, try and get into the top five for each race, that was our focus. We knew it was going to be a light year and we're actually a heavy-wind boat; we like to have bigger air, so we really tried to keep the sails powered up, that was our real focus with our Quantum sails."
Jeff Littfin, Mojo, 2nd Place — On Climbing Back
"The plan was to sail conservative. We felt like we had the boat speed as long as we minimized mistakes. We actually had poor starts and were able to dig back through the fleet. That was probably the most impressive thing of the regatta—to be in a deep position and end up with a top-five finish. We put ourselves in tough spots off the line and were able to dig back.
It was disappointing that missed two races. Once the wind came in it was a pretty awesome Big Boat Series. It wasn't too windy; it was probably one of the best weather-wise. The tides played a part, but they weren't mammoth tides. It was spectacular. It was probably best Big Boat Series I've been to, conditions-wise."
Shawn Bennett, Jose Cuervo, 2015 J/105 North American Champion — On the Challenge
"What's nice about Big Boat Series, is that there's a different course every time for a new challenge, but for a North Americans, that's a little different because you're used to having your own racecourse. We found it enjoyable actually with all the different features, colliding with the other fleets, but it certainly adds a layer of difficulty—free and clear and ahead doesn't mean some other fleet isn't going to come along and pin you out, force you in another direction, or even cut in on your air or roll you. You're not only managing your own fleet, in terms of covering them if you're ahead, you're also trying to manage the lay line and traffic management.
There were a couple of moments of sheer, stark terror.  Like, when we were going upwind on starboard and we were doing a back-and-forth trying to get around Kialoa III- the 78-foot IOR maxi. We thought, if that thing hits us, we're done."  Sailing photo credits- Pressure-drop.us  For more information on these J/105 teams and their perspectives.

* J/105 BoatShare- an exciting concept for J/Sailors!  How about a J/105 for $550 per month?
J/World San Francisco's Wayne Zittel has pioneered "boat sharing" programs for J/105s for quite a few years.  Wayne shares his perspectives on how it works:
"For starters, we generally aim to have up to eight partners on each boat. However, I think the most we have ever had at any one time is six 'share' owners.
It is setup very similarly to SailTime and WindPath.  Members book the boat via an online calendar.  I think the model makes a lot of sense for a good cross section of recreational/leisure boaters.  We like this business model since the members and boats are far more self-managing than simple bareboat charters: only members sail each specific boat, and hence they have an interest and incentive in taking better than average care off their boat!!
The model struggles a bit when trying to address the needs of racers who need to be able to book whole weekends at a time and have specific equipment needs (sails, bottoms, etc.).  But, the more advanced sailors can simply use their own sails.  Also, we did an interesting thing with the SF members the past couple of years during the SF Winter Series, in which four of the members got together, shared the cost of a J/World coach, and entered the races sailing together.
Beyond the fact that J/105 BoatShare creates an ongoing and predictable revenue stream for J/World, it also gives us access to an expanded instructional fleet!  I really believe that this type of program is great for J/Boats sailors!
We introduce new sailors to J/Boats, at a time when they are not-yet-ready-to-buy;
We open communications with these sailors so that as they evolve towards ownership, we are in a position to assist; and
We create an opportunity for brokers to sell boats into such a program where an owner realizes revenues and/or offsets expenses."
To learn more about J/World San Francisco's J/105 BoatShare program, click here.

* J/105 BoatShare in the Caribbean?
There are three J/105s currently in the Caribbean that are actively sailing the major events in the winter.  Today, there is a lightly used J-105 that is laying in Antigua, asking $85,000.  Why not "share" this with 4-5 people and rotate regattas!?  A professional boat management team can take care of it for the owners.  This would be much, much cheaper than chartering a boat- typically $8,000 per regatta.

The "Fab Five" events are the following:
1. St. Maarten Heineken Regatta- Early March- http://www.heinekenregatta.com/
2. St. Thomas International–  Late March-  http://stthomasinternationalregatta.com/
3. BVI Spring Regatta–  Early April-  http://www.bvispringregatta.org/
4. Les Voiles de St. Barth– April 11-16 2016-  http://www.lesvoilesdesaintbarth.com/site/us/
5. Antigua Race Week–  April 23-29, 2016-  http://www.sailingweek.com/v4/
The J/105 on offer has always been "dry-sailed" in Antigua.  It is a French-built J/105 and since 2001 has only sailed 5 Heinekens and 2 Antigua Sailing weeks.  You can learn more about it here-http://www.caribbeanbrokerage.com/2002-j-105-cruiser-racer/
For more information on this concept, please contact Paul Murphy at Cell# 443/600-7400 or Email-Paul@PaulMurphyAnnapolis.com
---
J/Cruisers
J Cruisers continue their adventures around the world, below are a selection of most excellent "blogs" written by their prolific publishers.  Some terribly amusing anecdotes and pearls of wisdom are contained in their blogs. Read some! You'll love it.
* The J/40 HERON REACH sailed by Virginia and Jerry is participating in the Blue Planet Odyssey project and have recently joined them in the Marquesas Islands in the Eastern Pacific.  Learn more about their adventures and experiences here- http://heronreachodyssey.blogspot.com/

* J/160 SALACIA has been sailing in Australia in the Whitsunday Islands.  Guess who decided to throw themselves across their bow as they cruised comfortably to their next destination?  A giant whale!  Look at this amazing photo!

* Jim & Heather Wilson just completed a circumnavigation of our "blue planet Earth" in June 2013 on their J/42 CEOL MOR.  Said Jim, "The odyssey of CEOL MOR is over, for now.  We completed our circumnavigation on our J/42 when we crossed our outbound track in Britannia Bay, Mustique. We were, however, still 2,000 nautical miles from home. So we continued on through the Windwards, the Leewards, and then through the British Virgin Islands. After a farewell 'Painkiller' at the Soggy Dollar, and a last meal at Foxy's, we made the 1,275 nautical mile passage to the Chesapeake and completed our port-to-port circumnavigation when we arrived in Annapolis on June 28, 2013. We had been away 1,334 days, completed 259 days of ocean passages, and sailed 30,349 nautical miles (34,925 statute miles). Read more about their adventures in their  well-documented blog here:  http://www.svceolmor.com/SVCeolMor/Welcome.html

* J/160 AVATAR headed for the Caribbean, again!  We LOVE these updates from our cruising J sailors that continue to criss-cross the Seven Seas. This one comes from Alan Fougere, sailing his beloved J/160 AVATAR.   Alan sent us an email update commenting on their passage south this winter, "In mid-December AVATAR completed her sixth transit to her winter Caribbean home, Grand Cruz Bay, St. John, USVI (seen above)  from her home port in Quissett (Falmouth), MA.  A crew of three, Captain Alan (e.g. me), Crew Pablo Brissett and Mark Conroy, covered the 1,500 nm trip in in her best time to date- 7 Days 5 Hours, averaging 8.7 kts, that's about 208 nm per day!  Amazing passage it was!  Rainbow at right far offshore was some of the amazing phenomenon we experienced on this fast offshore passage.
AVATAR will participate in the BVI Sailing Festival/Regatta again in 2013, where last year she won the Nanny Key Cup Cruising Class race around the Island of Virgin Gorda.  Here are some photos for you to share with the J/Community at-large.  Enjoy!"
Best, Alan Fougere/ AVATAR

* Bill & Judy Stellin recently had an interview about cruising on their J/42 in the Wall St Journal called "Retiring on the Open Sea".  The Wall St Journal asked Bill to reply to dozens of questions that flooded into the WSJ's Editor desks. Here's the update:
Retiring on the Sea: Answering Readers' Questions
Advice about selecting a boat, ocean crossings, itineraries and safety

The article in our WSJ Online December retirement report about eight years spent sailing the Mediterranean— "Retiring to the Open Sea"— prompted many questions and comments from readers.  We asked William Stellin, who wrote the story, to answer some of the most common queries.
WSJ- "What kind and make of boat did you use? Looking back, would you have picked a different boat?"
Bill- "In 1995-96, J/Boats of Newport, RI, came out with a new cruiser/racer model, the J/42. We bought hull No. 6 of this popular 42-foot sailboat and named it JAYWALKER. This was our fourth boat since beginning sailing in 1975.
Although long-distance cruising wasn't what we had in mind when we purchased JAYWALKER, it soon became apparent it had the ability to carry us easily and safely anywhere we wanted to go. Because the boat is light, it sails well in light winds, which means very little motoring is necessary.
People often ask (and argue) about what boat is best for cruising. Any boat that is strong, safe, fast, comfortable and easily handled by two people should fit the bill. One thing for sure, fast is fun—and important when trying to avoid bad weather."
READ MORE ABOUT BILL'S INSIGHTFUL COMMENTARY AND THOUGHTS ON WSJ ONLINE HERE
* The J/42 JARANA continues their epic voyage around the Pacific. Continue to read about Bill and Kathy Cuffel's big adventure cruising the South Pacific headed for New Zealand.  Their blog is here:http://www.svjarana.blogspot.com/
* John and Mary Driver are sailing their J/130 SHAZAM for extended cruising in the Atlantic basin. At this time, John and Mary finished their double-handed crossing of the Atlantic, landing in Portugal on their J/130 Shazam after completion of their ARC Rally. Read the latest news athttp://www.sailblogs.com/member/shazam/.

* Several J/160 owners are island hopping across the world's oceans, fulfilling life long dreams to cruise the Pacific islands, the Caribbean islands, the Indian Ocean and all points in between.  Anyone for Cape Horn and penguins??  Read more about their adventures and escapades (like our J/109 GAIA, J/42s PAX and JAYWALKER and J/130 SHAZAM friends above).
–  Bill and Susan Grun on the J/160 AVANTE are also sailing in the Pacific archipelago, read more about their great adventures on their blog (http://web.me.com/susangrun).  Read about their latest adventures as they've gotten to New Zealand- "Avante Cruises the Pacific".
– Eric and Jenn on the J/160 MANDALAY also sailed the Pacific archipelago, read more on their blog athttp://www.sailmandalay.com.  Eric and Jenn are J/World alumni took MANDALAY up and down the West Coast (Mexico, CA), then to the South Pacific and New Zealand.  MANDALAY is back in San Francisco now, and in the J/World fleet–she is available for skippered charters, private instruction, and corporate/executive groups.

__________________________________________________________________
Click for our Brokerage
SAIL LISTINGS   –   POWER LISTINGS
Click the logo for our New Sailboat Listings
Murray Yacht Sales is your Gulf Coast Beneteau & J/Boats Dealer and has been serving the Gulf Coast Boating Community since 1974