---
J/70, J/88, J/111 @ Sydney Boat Show!
(Sydney, Australia)- It is the middle of winter in Sydney, but it's still warm, sunny and breezy.  It is also a great time to visit Sydney and go to the Sydney International Boat Show- it is the largest recreational marine event in the southern hemisphere.
The show is located at two great waterfront sites on Sydney Harbour: the in-water exhibits are in Cockle Bay Marina in Darling Harbour and the undercover exhibits are at the fabulous Sydney Exhibition Centre @ Glebe Island.  A free ferry service operates between the two locations and the journey on beautiful Sydney Harbour takes on average 25 minutes to complete.
The local J/Dealer, Yachtspot, will be displaying a J/70, J/88 and J/111 during the show that runs from 30th July to 3rd August.  Come on down to the show and find out what Australians are already learning about why the International J/70 Class has been growing by leaps and bounds and is gaining momentum across Australia.  Also, discover why the J/111 continues to go from strength-to-strength in Sydney and Melbourne offshore racing circles.  Plus, get a chance to hop aboard the J/88 and be prepared for "shock & awe" as you hear about it's twistedly-fast turn-of-performance in the light stuff as well as its ability to "getup on the step" and simply send it downhill on a plane with the big A2 kite.
To make an appointment or learn more about the show, please contact Ray Entwistle @ Yachtspot.com on mobile-  +61-0406-562262 or email- info@yachtspot.com.au.    For more Sydney International Boat Show information
---
Record Fleet Preparing for J/111 Worlds
(Newport, RI)- In just four short years, the J/111 class has grown at a remarkable pace.  It achieved International Class status from ISAF in less than two years and hosted its first World Championship in Cowes, England in 2014 with eighteen boats in attendance.  Today, over 115 boats have been launched since the fall of 2010 and nearly 25% of that fleet is showing up for the J/111 Worlds in Newport for the week of June 15th to 19th.  The twenty-five boats entered come from the British Virgin Islands, Australia, Canada, Great Britain and the USA.  Of the American boats, teams have traveled from as far west as San Diego, California, representing a total of twelve states (including Illinois, Wisconsin, New York, Maryland, Connecticut, Florida, Michigan, Rhode Island, Ohio, Massachusetts and Arizona).
The excitement is building rapidly amongst the crews in anticipation of sailing in the beautiful waters off Rhode Island.  Newport is famous worldwide for hosting such events as the America's Cup, numerous one-design class world championships and, most recently, the Volvo Ocean Race.
Looking forward to that opportunity of racing off Newport is the current J/111 World Champion, Duncan McDonald and Phil Thomas from Great Britain.  This sharp duo shipped their boat- SHMOKIN JOE- over from the U.K. to participate; she has been seen for some weeks up at NEB Boatworks in Portsmouth, RI and she's looking mighty fast and clean as a whistle.  Other top five J/111 teams from the U.K. include Chris Jones and Louise Makin of JOURNEYMAKER V fame sailing a chartered boat- WILD CHILD; Tony Mack's notoriously fast crew aboard Team McFLY from Royal Southern YC; and Martin Dent's JELVIS team of young, fast and smart dinghy sailors from Queen Mary Sailing Club.
Virtually all of the top American teams will be in attendance from the Midwest (Chicago-Mackinac Race winners and J/111 North American winners), the Gulf Coast (Key West Race Week winners) and the East Coast (New York YC Regatta, NOOD Regatta, Edgartown Regatta and Block Island Race Week winners).  Current J/111 North American Champion, Richard Lehmann, will have his WIND CZAR crew from Little Traverse YC ready to show their performance in the Midwest was no fluke.  They will be accompanied by the balance of the top five from the last NA's on Lake Michigan: Dave Irish's NO SURPRISE, the Chicago trio on KASHMIR (Brummel/ Henderson/ Mayer), Rob Ruhlman's SPACEMAN SPIFF, and Marty Roesch's VELOCITY.  The top eastern teams include Doug Curtiss' WICKED 2.0 from Buzzards Bay; David & Maryellen Tortorello's PARTNERSHIP from Long Island Sound; and Fred Van Liew & David Brodsky's ODYSSEY from Newport, RI.
Participating from Sydney, Australia is Rod Warren and Ray Entwistle on LIBERTAS (partnered with owner John Donovan); from the Caribbean is Sam Talbot's SPIKE from Road Town, Tortola in the British Virgin Islands; and, from north of the border comes two Canadian teams from Quebec: Marcel Cote's SURVENANT and Carl Desgagnes' VOLTEFACE, both from Quebec Yacht Club.
The long-term forecast appears promising with a broad variety of wind and weather conditions to challenge the fleet on Rhode Island Sound.  In the forecast are for at least one weather front to pass through with breezes ranging from the classic southerly seabreezes (200-240 degrees) with 10-20 kt winds and frontal passages leaving lighter NW to NE breezes in the 5-10 kts range and flatter waters.  The fleet will be sailing mostly windward-leeward courses, but one day will also include a middle distance race of around 18-25 nm depending on breeze.
Helping the visiting teams on "local knowledge" will be none other than North Sails President Ken Read.  Having won six J/24 World Championships (including one in Newport), Ken should be able to provide teams with a perspective on what it takes to get around the track offshore in Rhode Island Sound.  Ken's local knowledge chat will take place on Monday, June 15th at 5pm at Ida Lewis YC.  As a primary sponsor, North Sails is also providing "North Sails Day" on Tuesday, with a review of the day's racing by North U Regatta Services (Chuck Allen and Sandy McMillan) under the Sail Newport tent.
In addition, the J/111 Worlds' organizers welcome aboard Gold Sponsor B&G, the navigation electronics equipment of choice for most of the top J/111 teams.  Furthermore, the organizers welcome Industry Sponsors BACARDI (supplying the official cocktail- the "Cuban Storm"), MJM Yachts (supplying the official VIP yacht), SeaBlade (the official mark/ support boat from NEB Boatworks), Quantum Sails (the supplier of gear for all registered boats) and RACEQS.com (the official live tracking/ replay supplier).   Sailing photo credits- Rick Tomlinson.  For more J/111 World Championship sailing information
---
Rolex New York YC Regatta Preview
(Newport, RI)- This coming weekend the 161st New York YC Regatta presented by Rolex will be hosting sailing's biggest players on Narragansett Bay and Rhode Island Sound. The three-day event, distinguished as America's oldest continually run regatta, is scheduled for Friday through Sunday, June 12-14, and hosted by the New York Yacht Club at its on-the-water clubhouse, Harbour Court, in Newport, RI.  The fleet may be treated to good breezes all weekend long with a seabreeze on Friday for a quick round-trip of the classic Round Conanicut Island Race and for the weekend, variable winds from the north, east and south with seabreeze development.
The single largest offshore one-design fleet ever assembled in New York YC Annual Regatta history will be the J/111 class of nineteen boats.  As part of their preparation for the J/111 World Championship taking place next week, many of the twenty-five boats entered in that regatta are using the fun weekend of sailing off Newport to familiarize themselves with the weather conditions in Rhode Island Sound.  Take any one of the teams mentioned above in the J/111 World's review and you will get an idea of what each team is facing for the weekend's competition.  The most challenging event for eleven of the teams will certainly be Friday's Round Conanicut Island race- a 20nm circumnavigation around Narragansett Bay that has seen some of the world's top sailing teams simply implode because of the tricky currents and shifty breezes.
In the IRC division, there will be a trio of well-sailed J/122s in IRC 4 class that includes Mike Bruno's WINGS (a past NYYC winner from American YC in Rye, NY), Paul Milo's ORION (from NYYC and Leesburg, VA) and Rupert & Jan Thouron's DUNDER (from Middlesex, VT).  The J/44s that are racing include WHITE GOLD sailed by Jim Bishop in IRC 3 class and the others in IRC 4 class are Jack Neades and a US Coast Guard Academy crew on GLORY and Chris Lewis from Houston, TX on KENAI.
The IRC 5 class features several top 35 footers from the J drawing board, including the J/35 LEADING EDGE sailed by Tom Sutton from Houston, TX and a trio of J/109s getting ready for their J/109 North Americans at Block Island Race Week: Carl Olsson's MORNING GLORY, Bill Sweetser's RUSH (a past J/109 NA Champion and NYYC winner) and Brooke Mastrorio's URSA from Lakeville, MA.
In the PHRF Navigators Division, the three J/105s will have several well-traveled teams in attendance, including Mark & Jolene Masur sailing TWO FEATHERS from Ft Worth Boat Club in Ft Worth, TX; Donald Santa's SANTAS REIGN DEAR from Annapolis YC in Annapolis, MD; and Fred Darlington's TONTO from East Greenwich YC in East Greenwich, RI.  Joining them are Kenn Fischburg's J/111 WILD CHILD from Stonington Harbor YC, Marcus Cholerton-Brown's J/120 SUNSET CHILD, EC Helme's J/92S SPIRIT from Coasters Harbor YC, Dawson Hodgson's J/100 GRIMACE from New York YC, Brian Kiley's J/29 MEDDLER X from Rhode Island YC, and the Barker/ McVicker/ Ryan trio aboard the J/24 NIGHTHAWK from SailNewport.  For more Rolex New York YC Annual Regatta sailing information
---
J/Cup Regatta Preview
(Cowes, Isle of Wight, England)- Big breeze is expected in the Solent over the weekend, providing high octane conditions for a bumper fleet of 67 yachts entered for the Landsail Tyres J-Cup in partnership with B&G. Starting Thursday, June 11th, three days of electric racing are scheduled on tight Solent courses. The Island Sailing Club, host for the event, is a hive of activity with competitors enjoying a welcome BBQ and plenty of banter about the regatta. Spectacular conditions are expected for the first day with a strong easterly breeze expected to provide exhilarating racing.
"The regatta is a great occasion for everybody to get together and enjoy close racing on the water and a party atmosphere ashore," commented Key Yachting's Paul Heys. "Whilst J/Boats are in abundance at regattas all over the world, the J-Cup provides an opportunity to set courses that are ideal for fast planing asymmetric boats and a party atmosphere that suits the J/Boat family. It is really great to see so many owners supporting this regatta and I am sure they will be rewarded with excellent racing and great company. Over 500 sailors will enjoy this J/Boat family rendezvous with up 12 races scheduled for the three-day event. Daily prize givings and supper at the Island Sailing Club give competitors the opportunity to rub shoulders with old friends and meet a few new ones."
Heys and the J-Cup organizers are also thrilled to announce that Italian clothing brand SLAM will once again support the J/Cup regatta. Selected by many of the world's top sailors and competitive racing teams, and a firm favorite with J Boats sailors, SLAM pride themselves on designing sailing gear that not only protects against the worst of the weather but, at the same time, allows for maximum comfort and freedom of movement.  Store manager Elena Antoniazzi said,  "We are honored to support the J-Cup event, and we are excited to welcome competitors into the store to take advantage of special discounts on their regatta orders. We specialize in sailing team gear and provide a very fast, competitive, and high quality embroidery service to our customers."  Their new website is-http://www.slam-cowes.co.uk.
The vast majority of the fleet will be racing in one-design classes, including a 19-strong fleet of fast, fun-loving J/70s. The fastest growing sportsboat class in the world will revel in the fresh breeze. In addition to class veterans like Simon Ling's SPITFIRE TEAM RAF BENEVOLENT FUND, Ian Wilson's GILL RACE TEAM and Simon Cavey's JUST4PLAY, a number of J owners from the larger-sized classes have jumped into the fray to have a go at full-on planing in the blustery conditions. Some of those teams include Adam & Nick Munday's J7T, Andrew Barraclough's JENGA VIII, Mike Holmes' JIKA, Jack Davies JUGADOR, Dave Mitchell's JUMANJI, Jamie Arnell's LITTLE LOUISE, and David McLeman's OFFBEAT.
The new J/88 fleet will enjoy their first National Championship, sponsored by Fastnet Marine Insurance; eight of these one-design family speedsters will do battle for the title. These teams will have some experienced sailors like Paul Ward's EAT SLEEP J REPEAT, Marie-Claude Heys' JIFI and Richard Cooper's JONGLEUR up against some very experienced offshore J crews.  Some of those teams include Kirsty Apthorp's J-DREAM, Ivan Trotman's JOJO and Jackie Dobson's TEAM JERONIMO.
The J/97 National Championship will also be held during the regatta and the fleet is packed with talent.  It's anyone's guess which horse to ride for win-place-show, but in the mix should be Annie Kelly's BLACKJACK, Rob Orr's JACKAROO, Helen Hofmann's JASLAN, Rick Sparrow's ONLY MAGIC and Ole Bettum's ALAMARA B III.
Sixteen J/109s will be racing for the Lifedge J/109 National Championship and the racing will be spirited and extremely competitive.  Most of the top teams are in attendance and hope to excel in the first day's breezy conditions.  Amongst those that should be a factor overall are Roger Phillips' DESIGNSTAR 2, Paul Griffiths' JAGERBOMB, Ian Nagle's JELLY BABY, Tony Dickin's JUBILEE, Owain Franks' JYNNAN TONNYX and William Edwards' SARDONYX.
The high performance, turbo-charged, J/111 fleet will enjoy tight racing in the feisty conditions.  While several teams have already headed over from the UK for the J/111 Worlds in Newport, the balance of the teams will enjoy excellent sailing.  Look for Stu Sawyer's BLACK DOG, Chris Body's ICARUS, Cornell Riklin's JITTERBUG and Louise Makin's JOURNEYMAKER II to be in the hunt.  Joining them is a top Irish team, Stephen Schoelfield's MUSTIGO II.
In addition to these one-design classes, J/92s, J/95s, J/122s, and a J/120 are sailing in IRC handicap classes.  For more J/Cup Regatta sailing information
---
Red Grant Regatta Announcement
(Raritan, New Jersey)- This year, the Raritan Yacht Club of Raritan, New Jersey is celebrating its 150th anniversary and will be hosting its 69th annual Red Grant Regatta.  The event is not only the largest keelboat regatta in the New York City area outside of the Long Island Sound, but it is also one of the highlights of the summertime social festivities at RYC.
Joining in that celebration are several one-design J fleets as well as the usual PHRF classes.  The one-design classes will feature twenty J/Crews divided amongst J/30s, J/105s and the J/109 East Coast Championships.  Within the J/30, class one will find several familiar faces seeking to augment their pickle-dish case; such as Steve Buzbee's BLUE MEANIE from the host club and also John McArthur's SMILES from Cedar Point YC in Cedar Point, CT.
The J/105s has a half-dozen teams in the hunt for fame and glory, including Paul Zajac's SKAL, Dennis Driscoll's HORNET and Marcus Wunderlich's STRATOS.
The nice turnout of seven J/109s includes teams from as far east as Newport, RI and as far west as Pennsylvania.  Leading teams include Adrian Begley's MAD DOGS & ENGLISHMEN from Atlantic Highlands YC, Dave Frizell's CEOL NA MARA from the hosted RYC, and Bill Kneller's VENTO SOLARE.  For more Red Grant Regatta sailing information
---
J/Sailing News
The Sun Never Sets on J's Sailing Worldwide
The first week of June sees most colleges/ universities and secondary schools letting the kids out for summer.  It also marks a tremendous increase of activity as sailing clubs and yacht clubs in the northern hemisphere finally finish dusting off their boats and launch them for the summer.  It drives boatyards crazy, of course, that everyone always waits until the last minute to think about their summer sailing schedules, but such as it is for most who are generally focused on the needs of family and kids before the sailing schedule kicks in hard.
On the European summer sailing circuit, a number of the new "sailing leagues" start rolling using J/70s as their primary sailboat class.  In Germany, they hosted their second event already in Kiel with the top 18 teams.  Up north, the Danish league started off at Skive in the Skivefjord with 36 teams sailing in two "flights".  And, in Sweden, their league started off at the KSSS (Royal Swedish YC) facilities in Saltsjöbaden with 18 teams.  There is enormous enthusiasm for this style of sailing in Europe. Other events over the past week included the J/24 European Championship sailed off the summer resort of Crouesty de Arzon, France, hosted by YC Crouesty-Arzon.  Then, south of them the J/80 Campeonato de Espana took place off the summer resort of Sotogrande, Spain.
Over in the Americas, the famous Annapolis to Newport Race was sailed in very challenging conditions for most teams, the 475nm classic seeing some gear-buster conditions and good performances by several teams, including J/120s, J/44s, J/122s and others.  Then, in another gear-buster race, several J crews on J/105s, J/109 and J/34 IOR boat excelled in the rough conditions for the Toledo YC Mills Trophy Race.
Not to be outdone by their J colleagues on either side of the Atlantic, down in the Caribbean, the J/22 class in Montego Bay, Jamaica hosted their first Robert Mallasch Memorial J/22 Series, hosted by Montego Bay YC.  Fun was had by all and the duel between the Kingston and Mo'Bay boats continues!
Read on! The J/Community and Cruising section below has many entertaining stories and news about J/Sailors as well as cruising blogs about those who continue to enjoy the Caribbean and the South Pacific, staying warm while others are trying to stay warm up north.  Check them out!  More importantly, if you have more J/Regatta News, please email it or upload onto our J/Boats Facebook page!  Below are the summaries.
---
Regatta & Show Schedules:
Jun 3-6- J/80 Campeonato de Espana- Sotogrande, Spain
Jun 5- RORC de Guingand Bowl- Cowes, IOW, England
Jun 6-8- Cronulla J/24 Short Course Regatta- Sydney, Australia
Jun 6-13- J/24 Europeans- Arzon, France
Jun 11-13- J/Cup Regatta- Cowes, IOW, England
Jun 12-14- NYYC Annual Regatta- Newport, RI
Jun 12-14- Cleveland Race Week- Cleveland, OH
Jun 12-14- Chicago NOOD Regatta- Chicago, IL
Jun 12-14- Italian J/70 Alcatel OneTouch #3- Cervia, Italy
Jun 15-19- J/111 World Championship- Newport, RI
Jun 21-26- Block Island Race Week- Block Island, RI
Jun 21-26- J/109 North Americans- Block Island, RI
Jun 25-28- Kieler Woche- Kiel, Germany
Jun 26-Jul 5- Delta Week 2015- Grevelingen, The Netherlands
Jun 26-28- Long Beach Race Week- Long Beach, CA
Jun 27- JP Morgan Round Island Race- Cowes, IOW- England
For additional J/Regatta and Event dates in your region, please refer to the on-line J/Sailing Calendar.
---
Chiemsee YC Wins Segel-Bundesliga Act II- Kiel
(Kiel, Germany)- It was a thoroughly enjoyable event for everyone during the second Deutsche Segel-Bundesliga event sailed in J/70s over the weekend of June 5 to 7 in Kiel, Germany.  There was lots of drama and anxiety going into the last race, but in the end, it was Chiemsee Yacht Club (CYC) team that won, thereby securing valuable points en route to the overall Deutsche Segel-Bundesliga championship.  Not far behind them on points was the powerful VSaW (Verein Seglerhaus Am Wansee) team and in a surprise third place finish was Kieler Yacht Club (KYC).
It was a stressful, but fun-filled three days of sailing for the teams with lots of action and some fabulous days of sailing with the magnificent backdrop of the Kiel waterfront. It was a neck-and-neck race at its best. On all three days the 18 clubs exchanged places overall, moving up and down like a roller-coaster; no one could feel confident about their positions because the teams were so closely matched on speed and tactics; after 45 total races it was proving to be fairly tiring for some teams!
"Our recipe was the consistency. We drove defensively and tried to make as few mistakes as possible. That worked for us. We are very happy and satisfied with the team performance," said a very pleased Chiemsee YC helmsman- Leopold Fricke.

A surprising third place were the local heroes of Kiel YC. "We have not started so well, so we had to work our way from behind all the time. The team did a sensational job and so we have been fighting hard to get the last place on the podium. We are happy about our "small home win," said Oliver Schwall, helmsman of Kiel YC.
For the first day of racing, it was clear the weather Gods were smiling on Friday.  Glorious weather for both the sailors and spectators along the Kiel waterfront. Fantastic sunshine and smiling faces, the spectators on the promenade followed the exciting race just below them. At the end of the day, the Deutscher Touring YC (DTYC) was the initial regatta leaders followed by the VSaW team and Chiemsee YC.
After 1410 hrs, the "Color Line" ferry had cleared the way for the first six J/70 teams to sail the first race starting at 1430 hours.  With a solid 10 kts breeze, the PRO managed to knock out eleven good races. In those conditions, it was the DTYC crew from Tutzing that sailed like madmen, only settling for three 1st places for the day! The DTYC team was led by helmsman Maximilian Weiss and his crew of Patrick Follmann, Luis Tarabochia and Jonas Vogt.

For the second day, what can you say?? It was an all around perfect day for all those who came to sail on Kiel's Inner Fjord. Whether as a league sailor or as a spectator, Kiel gave all it could possibly offer. At the end of the day, VSaW team was now at the top of the charts; closely followed by their well-known competition- Flensburger Segel-Club (FSC).  Sitting in third was DTYC.
"Nice and gusty winds and big waves." That could be heard today more than once along the waterfront, a result of puffs in excess of 25 kts at times during the course of the day's racing. In such perfect conditions, the 18 first division clubs sailed another 19 races on Saturday.  What stood out for all the club teams was the simple fact that those teams who practiced hard early in the season had an advantage over those who didn't.  In particular, boat-handling mistakes and boatspeed errors saw teams go from first to last in one maneuver!  Even top German Olympic and World Champion sailor Jochen Schümann, skippering for YC Berlin-Grunau, was impressed by the overall performance of the top teams.   Schuman's YCBG team could only manage an 11th after sailing the 15 races overall.

In the end, CYC took the lead on the last day with a consistent 2-1-2-5 to win with just 41 pts.  VSaW hung tough to secure second by only 1 pt over Kieler YC.  Fourth was DTYC having a slow last day and in fifth was the best performance so far in the Segel-Bundesliga for Segelkameradschaft Wappen von Bremen.
As a result of the finishes in Act II of the DSBL, the overall leader based on a tie-breaker on 5 pts is Chiemsee YC, edging out DTYC.  Sitting in third is Flensburger Segel-club with 8 pts.  Fourth is VSaW with 11 pts and fifth is Seglervereinigung Itzhoe with 13 pts.
Sven Jurgensen of German J/Dealer Mittelmanns Werft was out on the photo boat for the event.  Sven commented, "We had some VIP's on our photo boat today (see photo above).  For the first start we are on our rib with: Dr. Frank Nägele- member of the government "Schleswig Holstein"; Dr. Katrin Adelkofer of the Deutsche Segel-Bundesliga GmbH; famous German sailor Jochen Schümann skippering the Yacht Club Berlin Grünau
(YCBG) boat; and Henning Mittelmann from Mittelmanns Werft."  Watch J/70 Segel-Bundesliga Kiel sailing highlights video here.  Watch J/70 Kiel Sailing impressions video here.   Formore J/70 Deutsche Segel-Bundesliga
J/70 Segel-Bundesliga Sailing- Live Video Recording
---
Sailing Champions League Growing Across Europe
(Hamburg, Germany)- The concept of "sailing leagues" is taking Europe by storm.  It's an idea that mimics exactly how American college sailing works; multiple teams are rotated into a small fleet of boats in order to permit more sailing clubs to participate.  In the case of Germany's Segel-Bundesliga, the format is 18 teams rotating into 6 matched J/70 one-design; at any given time, 12 teams are on the sidelines watching their friends and foes dueling for top positions on the water and learning best practices for tactics/ strategy the next time they go out.  The formula has worked extremely well and is an "all-inclusive" event.  Everyone is welcome to participate and, in the case of Germany, the number of clubs applying to sail in their league far outstrips what they can accommodate.
Since the introduction of the German league in 2013, other countries have jumped in with both feet.  In particular, Denmark was the first to join the "sailing league club" and host the first Sailing Champions League event in Copenhagen in the fall of 2014.  The excitement surrounding the format has meant that young and old alike are competing side-by-side with Olympic and World Champions, all representing their sailing club.  Countries that have started their own leagues include Sweden, Poland, Russia, Italy (the Lega Italiana Vela), Norway and now Finland.  The boat of choice has generally been J/70s due to its simplicity, ease of trailering, and ease of use by all skills of sailors.

SWEDEN Report
At the end of May, the first Swedish Sailing League (called  "Allsvenskan") started in Saltsjöbaden. 18 clubs came to sail against each other. The weekend offered summer and sun, but very challenging conditions.  The winner after 11 flights overall was the host club- KSSS (the Royal Swedish YC).
On Friday, all teams were nervous, and eager to see what the competition had to offer. But soon it was clear which clubs would dominate the weekend. Ekolns Sailing Club from Uppsala surprised everyone by winning five heats in a row before posting an OCS (over the line in the start) and proved to be human. Stockholms 606 Klubb were favorites in the polls but had a tough start. They worked hard and sailed better and better throughout the regatta. Also, the two west coast clubs, Hjuviks Båtklubb and Royal Gothenburg Yacht Club, showed that their pre-season training was well spent.

However, at the end, it was the Royal Swedish Yacht Club (KSSS) that maximized the advantage of home waters as well as many hours of training in the J/70. The winning KSSS team consisted of Rodney Ardern, Sandra Sandqvist, Ingemar Sundstedt, and Mikael Lindqvist (pictured here). They managed to win 8 out of 11 races. Behind them in second place was Stockholms 606 Klubb and in third overall Ekolns SegelKlubb, also from the Stockholm area.  The balance of the top five included Hjuviks Båtklubb in fourth and Royal Gothenburg YC in fifth.
Sandra Sandqvist, who is also working on sailing in the 2016 Olympics in Rio de Janeiro, Brazil, had this to say about their winning performance: "We had some favorites pressure on us, so we definitely felt that pressure. But, we have been given roles in the team to work well together. It's always fun to win!"
The next Tour stops for Allsvenskan 2015 include:
 August 14-16- the MSS, the Western Harbour, Malmo
 August 28-30- HjBK/CCYC, Grötö, Gothenburg archipelago
 September 17-19- the Yacht Club Costa Smeralda, Italy
Check out their Swedish Sailing Facebook page here.  To learn more about the Swedish Sailing League.
NORWAY Report
After the Danish, the Swedish and the Finnish, the Norwegians are now the last Scandinavian country in the North of Europe to start with their own national sailing league this year.
Two regattas are planned for 2015, which will also be qualifiers for the 2016 sailing league season. Next year 15 clubs will sail four regattas. In both years, the races are being sailed in brand new J/70s offered by the Norwegian Sailing Association.

DENMARK Updates
After the tremendously successful inaugural Sailing Champions League regatta in Copenhagen in the fall of 2014, the Danish Sejlsportsligaen have started off their 2015 season with 36 highly motivated clubs! As a result of this enormous enthusiasm, the Sejlsportsligaen is split into two "flights" (1 and 2) so that 18 teams can compete in each regatta on their 6 boats.  At the end of the season will be grand finale for the top eight teams from each flight.
After the first event held in northern Denmark at Skive on the Skivefjord, it was the Frederikshavn Sejlklub from northern Denmark that is leading in League 1 and in League 2 it was the Bogense Sejlklub from the Isle Fuenen that dominated their fleet.
The regatta saw three intense days of wind, lots of drama, high speed and lots of teams learning how to keep their boat underneath the spinnaker after a huge gust of wind.  On Sunday, especially, the sailing was at its best and most challenging.  The teams sailed in 10-12 m/s winds throughout the day with puffs in excess of 15-16 m/s; creating some spectacular planes for some teams and some spectacular broaches for others— must to the delight of the enthusiastic crowd roaring encouragement from the sidelines.
The event was dominated all three days by Frederikshavn, Aarhus and Skovshoved. The first two came with experienced sprit boat crews and Skovshoved was also heavily stacked, including Olympic bronze medalist Peter Lang in the boat.

During Sunday races, Frederikshavn gradually increased their lead and ended with 74 points – after having picked up nine first places and five third places in 14 races! There's was a consistent, top performance that none of the other competitors were able to match.
"With so much wind, technique and boat handling were critical to our success.  Everyone had to know their roles and execute them well," said Frederikshavn skipper Chris Houmann.  "Tactically, we sailed a good event. But it is also easier to make the right decisions if you are ahead with good speed and boat handling. "
Frederikshavn's goal is to become the league winner!  Surprise, surprise.  However, with such a convincing start to their season in the Skive regatta, they may well achieve their goal quickly. "We did not expect to win here. Next time, we come with the same crew and hope to make our presence felt in the fleet again. But, there are also events later in the year where we cannot be represented with our strongest team," said Houmann.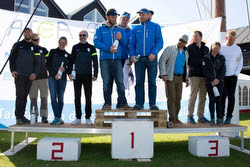 Aarhus Sailing Club, with Peter Warrer as skipper, finished with 70 points in second place after staying close to Frederikshavn through most of the regatta. Third place went to Skovshoved Yacht Club who had Lars Nordbjerg as skipper.
Apparently, there was some "panic" taking place amongst one of Denmark's leading sailing clubs.  It was a result of the fact that KDY (the Royal Danish YC) is now currently last in League 1.  The general view was that something had to be wrong with their team since they were the winners of the SAILING Champions League 2014.  Now, they are way behind at the first event this season. In 14 races, the KDY finished last eight times; and in the other six races they received a penalty. In short, everyone hopes there is still room for improvement for their team!  The next event for the Danish Sejlsportsligaen will take place in Horsens 12th-14th June.

Danish Skive | Sejlsportsligaen 2015 sailing video highlights
Day 2– https://www.youtube.com/watch?v=T_6yrCjhBdA
Day 3- https://www.youtube.com/watch?v=jP1vkyPjzOs
Check out the Danish Sejlsportsligaen Facebook page here.   For more Danish Sejlsportsligaen sailing information
SWISS SAILING LEAGUE
The successful German Sailing League ("Segel-Bundesliga") and the international SAILING Champions League were the driving force behind the Swiss Sailing League. 33 sailing clubs from Switzerland applied to be at the starting line for their inaugural series in 2015.  23 clubs were chosen to participate in the Swiss Sailing League 2015, while the others are invited to compete in a qualifier regatta to participate in the 2016 League.
The goal of the Swiss Sailing League is to nominate the best Swiss sailing club in the end.  The clubs will send their best sailors to the event and they also hope to qualify for one of the two spots for the international SAILING Champions League to be held in September at YC Costa Smeralda in Porto Cervo, Sardinia. All the teams will be sailing matched one-design J/70s supplied by the Swiss Sailing League in cooperation with the Deutsche Segel-Bundesliga.
The big interest in the Swiss Sailing League makes it possible to run two leagues in 2016 – a Swiss Sailing Super League and a Swiss Sailing Challenge League. Furthermore, there will be a qualifier regatta at the end of October 2015, where all non-set clubs can qualify for the 1st or 2nd league.
The following events are scheduled for 2015:
 Act 1: 24th to 26th April 2015 in Thun (Thunersee Yacht Club)
 Act 2: 2nd to 4th October 2015 in Kreuzlingen (Yachtclub Kreuzlingen)
 2016 Qualifers- October 2015 on Lake Constance
For more Sailing Champions League sailing information
---
McCarthy Crowned European J/24 Champion
Ingham Takes Open European Title
(Crouesty de Arzon, France)- There was no wind on the final day of the J/24 European Open Championship and the result was that all thirty-two crews (representing France, Germany, Ireland, Italy, Great Britain, Brazil and United States) returned to shore to haul their boats and prepare for the awards ceremony earlier than many expected.  Nevertheless, the regatta was warmly and enthusiastically embraced by Europe's top J/24 teams as they enjoyed great sailing on the Bay of Biscay, excellent RC PRO work from Yacht Club du Crouesty Arzon, and fabulous shoreside evening activities at one of the nicer seaside resorts in France.
After counting seven races total over the four-day regatta, it was the British team of MADELEINE skippered by Duncan McCarthy that took the European crown with a remarkably consistent 2-2-2-3-9-4-3 record.  Taking the Open European Championship was the American team of Mike Ingham with the amazingly low tally of four 1sts and a 2-3 for counters for just 9 pts total!

The first day of racing had good enough weather conditions to test the fleet with three races; and it also set the tone for the rest of the regatta as the protagonists were immediately established at the head of the fleet.  Virtually tied on points were Ingham's American team (sitting on 5 pts) and Duncan's MADELEINE crew (sitting on 6 pts).  The rest of the fleet was seemingly miles behind on speed, tactics and execution.  Lying third was the Italian Champion, Ignazio Bonanno sailing LA SUPERBA.  Frank Schonfeldt's HENK was tied on points with LA SUPERBA at 19 each.  Then, with a strong showing the first day was the Greek team on CATSIAPIS FOUNDATION helmed by Anthimos Nicolaidis in fifth.  In fact, just four points separated 5th from 10th after day one; it was close racing!  The top French boat was Francois De Herce on MAJIC sitting in the 10th position and the top Irish boat was Flor O'Driscoll's HARD ON PORT.
Despite a lousy first race on the second day, Ingham's crew continued to extend their overall lead with a 14-2-1.  Meanwhile, McCarthy hung on tight to second with a 3-9-4.  The big climber up the ladder was Germany's Daniel Frost sailing SG POWER SOLUTIONS, posting a 5-3-2 to grab third overall.  Also, sailing "lights out" in the conditions was fellow German countryman Mark Karsunke skippering SULLBERG, powering their way into 4th overall with 1-1-6 finishes. Schonfeldt's HENK team lost their edge, posting a 20-5-3 to drop into 5th.
The third day was great for some teams, definitely not so hot for other teams.  In the "when you're hot your hot" category, Ingham's crew rolled off another bullet to ultimately win the regatta on a superior performance.  McCarthy's MADELEINE crew did the same, posting a 3rd to secure 2nd overall in the Open class and be declared winner of the J/24 Europeans 2015.  Frost's SG POWER SOLUTIONS scored a 10th, but hung on to 3rd overall and silver for the continent.  Fourth overall and 3rd in Europe was Schonfeldt's HENK.  For more J/24 Europeans sailing information
---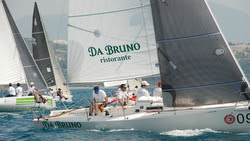 DA BRUNO Nails First J/80 Campeonato de Espana
(Sotogrande, Spain)- The IX Campeonato de Espana for J/80s took place off the gorgeous seaside resort of Sotogrande from June 3rd to 6th.  The event was hosted by Club Nautico Bevelle for the nineteen-boat fleet with teams that represented every major fleet across Spain, including Andalusia, the Balearic Islands, Cantabria, Catalonia, Galicia, Murcia and the Basque Country.
The Race Committee, chaired by the Andalusian Arianne Mainemare and his team, plans to have at least nine windward-leeward races over the three-day weekend and came within one race, managing to run eight races in that time period.

The winner of this year's Campeonato de Espana was a surprise to most of Spain's top competitors, but hardly a surprise to the incredibly talented team of DA BRUNO, led by skipper Juan Luiz Paez sailing for CN Sevilla from Seville, Spain.  While they did not start out in the lead, and were clearly not the favorites, this resilient team pounded out good solid finishes over the three days to win the regatta by one point over Mikel Vazquez's GOLD SAILING team from CN Hondarribia.
Starting on the first day, it was GOLD SAILING that took the lead with just 5 pts as a result of their unassailable 1-1-3 record.  Regatta favorite Carlos Martinez on AKEWELE posted a 4-2-2 to secure second after the first day of sailing and Javier Chacartegui sailed HM-HOTELS into third based on a 2-3-7 tally.
The weather of the first day of sailing could not have been nicer.  Sunny, 8-12 kts of breeze and in the 70s F.  The wind favored the left hand side of the course since in allowed the wind to shift left along the beach of Torreguadiaro all day long. In the early stages, the fleet dispersed trying their luck by going into the middle or right, but the best was always staying on starboard into the beach before making a late layline call to the weather mark.

The second day of sailing saw the level of anxiety rise as several boats had BFD's or simply bad races.  Plus, there were three different winners of all three races.  The winds again were from the east at 8-12 kts, which again favored the long starboard tack into the beach.  As a result, the fleet soon learned this and the fleet became very tightly packed at the start as most boats hoped to lead the fleet into the beach; this led to several general recalls and black flag for the unfortunate few.
Vazquez's team on GOLD SAILING continued to sail consistently, posting a 7-3-1 to hang onto their lead with just 9 pts.  Chacartegui's HM-HOTELS sailed well, posting the best score of the day with a 1-4-3 to leapfrog into second overall.  At this point, Paez's DA BRUNO had taken a page out of the "go left" strategy and simply sailed well to post a 6-1-4 for the day to jump into third overall.  The big hit in the standings was taken by Martinez's AKEWELE, dropping from second overall to seventh due to a 16-BFD-11 tally.
The stage was now set for the last three races of the regatta on Sunday. At this juncture, it was anybody's guess who would win overall.  Some teams were struggling in the very even conditions while others were not.  In the end, "the new kids on the block", Paez's DA BRUNO team, took the title of J/80 Spanish Champion for their first time ever.  DA BRUNO posted a blistering 2-1 on the last day to just win by one point over Vazquez's world dominator team on GOLD SAILING.  While starting out a bit slow, it was Marc Antonio's BRIBON-MOVISTAR that closed fast and won a tie-break over Chacartegui's HM-HOTELS to grab the bronze on the podium.  Taking fifth was Pablo Villar's VERTIGO, the top boat from the host club.  For more J/80 Campeonato de Espana sailing information
---
J's Excel in Challenging Annapolis Newport Race
J/120s Sweep Top Five in PHRF Division
(Newport, RI)- The 475nm Annapolis to Newport race is one of the most historic and well-known of the US East Coast blue water races. Linking two seaports dating from our nation's birth, Annapolis and Newport, the race provides a contrast between the country's largest estuary, the Chesapeake Bay, and the Atlantic Ocean. The course heads south for 120 miles from Annapolis to the Chesapeake Bay Bridge Tunnel, then east to the Chesapeake Light and hence northeast to Newport. After navigating the shallows and currents of the Bay, navigators have to decide if they want to sail the rhumbline to Newport, go in towards the shore or head further into the Ocean.

This year's 35th edition was one of the most demanding races on record.  Both fleets, the Thursday start for smaller boats and the Friday start for the bigger boats, saw rain and northerly winds in the 12-14 kts range.  Virtually all boats started with their pretty spinnakers and headed down the Chesapeake Bay in the 7-10 kts boatspeed range, eager for an early exit from the Chesapeake to head north.  However, most boats didn't imagine how rough the seas would be once they headed off into the Atlantic Ocean, with monster swells and the wind hard on the nose as they beat for Newport.  For some, the race went from a rough ride with everything from strong winds, breaking seas and powerful squalls to slatting sails in a huge leftover swell crawling towards the finish off Castle Hill Light at the entrance to the East Passage of Narragansett Bay.
"We were beating into 18 to 25 knot winds almost the whole way. It was rough and we got banged around quite a bit," one sailor told The Capital after reaching the docks at Ida Lewis Yacht Club on Sunday evening. "It finally eased up this morning. Today was light and slow. It was hard to keep the boat moving."

"We had a plan based on the weather information we were presented, and for the most part we followed it," said another sailor. "We believed the wind was going to go east so we put ourselves in position to capitalize on that shift."  The main tactical decision was how soon to tack from port onto starboard when the forecasted easterly shift arrived; some boats anticipated that move well and held on long enough to clear Block Island on the way into the finish off Newport.
In the IRC 2 class, it was Paul Milo's crew on the J/122 ORION that fought hard to secure third overall in their class, just behind the famous 48 ft CARINA sailed by New York YC Commodore Rives Potts.  Taking 5th in class was Chris Lewis' J/44 KENAI and fellow J/44 GLORY sailed by US Coast Guard's Jack Neades to 8th.

Perhaps the story of the race was the performance by the J/120s, simply dominating the PHRF 1 class with a sweep of the top five.  Leading everyone home was Stephen McManus' SAYKADOO.  They were followed by stablemates SHINNECOCK (James Praley), HERON (Greg Leonard), WINDBORN (Richard Born), and CHAOTIC FLUX (James Chen).  Kristen Berry's J/World Annapolis team sailed their J/120 EUROTRASH GIRL into 7th.  And, Mike Boylan's pretty J/46 MEDLEY took 8th.
In PHRF 2 class, Robert Fox's crew managed to sail their J/42 performance cruiser SCHEMATIC to a 9th in class.  Finally, Will Passano's J/37 CARINA took second in Performance Cruising 1 class.
A significant influx of performance cruising designs has enabled the Annapolis-to-Newport race committee to introduce a new competition – the Manufacturer's Trophy – to promote friendly rivalry battles between production boat types.  Though not announced yet, it appears the J/Teams performed well enough for them to garner that trophy??   Check out the A2N Facebook page here.   For more Annapolis-Newport sailing information
---
Morse Tops J/22 Robert Mallasch Memorial Regatta
(Montego Bay, Jamaica)- Mike Morse and his merry team of professional cyclists and instructors managed to pip the rest of the fleet to be the Champion boat in the first Robert Mallasch Memorial J/22 series.  Mallasch's widow, Norma, not one for sailing, graced us with her presence for the prize giving; it was great to see her.
It was a very fitting win for AYAHSO, as not only had Mike organized the race, the prizes (donated by John McConnell before his recent passing- – rest his soul), but also he did it on Bob Mallasch's old boat that he had steadfastly crewed on up until Bob's death this time last year.  A fitting tribute Mike, well done from all of us!

The racing was held over two weekends with three races per day (because Bob didn't like to have more than that)!  The series was well supported, with two teams from Kingston driving the 120 miles each way to make the fleet up to a respectful 7 boats.
The racing was just how Bob would have liked, quiet on the first weekend and blowing dogs off chains on the second.  In fact, the winds were powerful enough on the second day to allow moments of upwind brilliance for some teams to be outstripped by "shrimping", "diving", "anchoring" and throwing the race all in one move.  Well done J/22 TSUNAMI, the only instance this writer is aware of when having put the mast in the water and lost some crew overboard, one of the said crew was then run over by the sideways moving hull and popped up between the keel and the rudder with a vaguely anxious look!
Bob is missed for his enthusiasm and for the creating the glue that FORCED all of the skippers to come and sail an event, even if they thought they might have an excuse.  He would always call every Thursday
before a weekend and remind everyone of a pending event and have a quick chat about any hilarious exploit that came to mind.  He was a true sportsman, always loving, generous and rule abiding.  If only there were more like him!
A huge "Thank you" to the Race Committee Bryan and Lyn Langford for their rules, their interpretation of the rules and, most importantly, for Bob's Beer and the many fond memories. And, a tremendous "thanks" to all the competitors-  Zipper (Peter Harper), Nina (Stephen Dear), Tsunami (Scott Clarke), Awesome (Steven Cooke), Defender (Nigel Knows- our Commodore), Ayahso (Michael Morse) and Renegade (Richard Hamilton)!!  Thanks as well for this contribution from Richard, skipper of the raucous Renegade team!  For more Robert Mallasch Memorial J/22 Series information
---
J/Teams Survive Tough, Tragic Mills Race
(Toledo, Ohio)- Hosted by the Toledo Yacht Club, the annual Mills Trophy Race starts near the Toledo Harbor Light along the Ohio shoreline of Lake Erie, and finishes off of South Bass Island (Put-in-Bay). Three courses, ranging from 38 to 71 nm, deliver the fleet to this popular summer resort and recreational destination.
The National Weather Service office in Cleveland issued a small-craft advisory for western Lake Erie when the 122-boat fleet started on Friday evening (June 5), in which it predicted north winds of 15 to 25 knots shifting to the northeast and waves building from 2-4 feet to 3-5 feet high.
Ron Soka, the Chairman of the Mills Race, said rough winds and waves were evident from the race's start on Friday evening and remained consistent throughout. "It was windy, but it wasn't unmanageable," Soka said. "We have raced in worse – it was heavy though, no doubt."
The Mills Trophy Race is held each year on the second weekend following Memorial Day. The race is open to the following classes: PHRF, JAM, Double-Handed, Multi-Hull and Classics. The three courses offered, depending on class and boat rating, all begin near the Toledo Harbor Light and end at a finish line off South Bass Island (Put-in-Bay).
In accordance with the deed of gift for the Mills Trophy that the race be a test of navigational skill, starts begin in the late afternoon and sailing continues through the evening and night.
Upon finishing, the boats proceed to the reserved public docks in downtown Put-in-Bay. Regardless of the time of arrival, the gathering at the docks is festive occasion for all with both the winners and the not so fortunate trading tales of their night on the lake.
Although the race is the centerpiece, Mills Week includes a number of other events. On the Friday evening preceding the race, the Mills Masters are invited to a special picnic in their honor. On Wednesday, the winners of the previous year's race are feted at a banquet and awards presentation. Thursday evening is the famous Mills Party held on the lawn of the Toledo Yacht Club. This party is open to the public and offers an opportunity to see many of the boats that will race the next evening. Boats arriving on Thursday are welcomed with a cannon salute. A post-race party, held on Saturday afternoon at the Put-in-Bay Yacht Club, includes music, refreshments and the posting of the race results. Before heading home on Sunday, flags are presented to the winning skippers.
There were 126 boats participating in this year's event with eight J/Teams racing.  One of those sailing teams that excelled in the race was the classic J/34 IOR design called KNEE DEEP.  The report from owner Katie Langolf and her husband Brett was, "our J/34 just took 3rd in a nasty and tragic Mills Race.  The boat was awesome!
In a race that saw 40+ boats not finish, 30+ knots winds and many more breakdowns, the J/34 Knee Deep stood up to the challenge taking a 3rd Place in PHRF and 6th overall on the course."  The photo here is of owner Katie Langolf with the flag at the local watering hole.
In addition to their excellent performance, others with notable finishes included Chris Mallet's J/109 SYNCRONICITY taking third in PHRF E class; Mark Symond's Mac Race winning J/105 team on PTERODACTYL taking 2nd in PHRF F class; and Dick & Dan Synowiec's J/33 SHENANIGAN taking 2nd in PHRF B class.
J/Boats and our extended family of sailors and friends wish the family that lost their father/ grandfather our most heartfelt condolences.  For more Mills Trophy Race sailing information
---
J/Community
What friends, alumni and crew of J/Boats are doing worldwide
———–

* J/70s Uruguay- Norbi Garcia produces a weekly TV sailing show, called EL FARO TV (http://elfaro.tv) for the largest broadcaster in Buenos Aires, Argentina.  It is a highlight of boating events taking place around the world. He recently traveled to Punta del Este to visit friends who were participating in the first J/70 training clinic held at YC Punta del Este with their fleet of ten boats!  Enjoy the sailing video footage and lively commentary, even if you don't understand Spanish!
https://youtu.be/3GzXOICOiV0?t=9m33s

* Nick Hayes recently wrote a nice story for Spinsheet.com regarding how new families to sailing got involved in the sport.  Nick is famous for his bestselling book "Saving Sailing" and has been an advocate for family sailing and innovative learning programs through speaking and writing for SpinSheet and other sailing publications.
"Taji Jacobs saw a Facebook post about a new kind of sailing program, discussed it with the family over dinner, and they decided to give it a try.
Taji was always on the lookout for fun outdoor activities that might be done as a family. Her daughter Adi was nine, fearless, fiery, and loved the feeling of fast. Adi's happiest day was hitting the required height for the Anaconda roller coaster at the theme park.
Daud was 13, mildly asthmatic, quick, bright, and the technical guru of the family. He hadn't yet met a school subject he couldn't ace or a computer game he couldn't master. Mom was convinced that he needed fresh air.
Taji's husband Paul often reminisced about sailing with childhood neighbors who car-topped a Phantom to a Northwoods campsite a couple of summers.
Taji thought sailing might be fun for everyone, though she was a bit apprehensive herself. Would she feel scared? What if she didn't understand the lingo and made a mistake that caused trouble? Would the kids think it was boring? Would Paul be interested? She researched carefully.
The sailing school supplied life jackets and highly trained sailing instructors, watched the weather, and boasted a durable safety record. Check.
The school's class flyer said that kids would drive a sailboat on the first day, if they wanted to. Check.
Dads and moms chatting on Facebook used surprising adjectives such as calming, thrilling, inspiring. Check.
The first lesson was like nothing the family had ever experienced. They were met in the parking lot by a confident, articulate counselor named Janelle who handed out sunscreen and raved about the glorious weather and the fact that they'd get wet, but be safe.
Janelle made certain that nobody was wearing cotton or carrying a cellphone in an open pocket. They left them in the car. Everyone picked a lifejacket from a rack in a shed and learned how to secure it correctly. They walked down the dock, where five sailboats with luffing mainsails and furled jibs were held firm by five high school kids, ready to help with boarding and shoving off.
Janelle pulled Paul aside and handed him a waterproof digital camera on a lanyard, suggesting that he "might start snapping now. Your daughter is going to drive." She then demonstrated safe boarding and helped the whole family to places in the cockpit. She explained how the boom was just above head and that sitting was safest. She showed how cleats cleat and winches winch.
For a few moments, she focused on Daud, explaining that he was going to be the one in charge of speed and comfort and offered basic instructions on when to ease or trim the mainsheet based on the heel of the boat. She used her weight to demonstrate. Taji would have two lines to manage: the green one that unfurled the jib, and the blue one that sheeted it. Paul was already camera happy. Adi, of course, would be at the helm. The kids on the dock helped them cast off.

Janelle pointed to a place for Adi to aim the bow. As Adi turned down, Janelle nudged Daud to ease the mainsheet, talked Taji through the signals from the jib, and kept a knee near the tiller, though Adi seemed not to need her help. Janelle gave clear instructions and explained why with each one, even as she pointed out things they shouldn't miss: the graceful wooden classic yacht moored nearby, other families sailing, the red and green markers telling them where to and where not to sail, and their own grins.
The boat accelerated as they came into more wind, and a ribbon of cool spray came over the bow as it parted the choppy waves outside of the mooring area. The dousing was surprising at first so they screeched and then laughed.
Paul seemed transported back to a different time and place and giggled like a teenager. Daud was already working up sail angles and curves and the leverage created by purchase between blocks. Numbers blasted through his brain. Adi was getting the hang of helping the boat to ride the waves while holding a straight line. The kids seemed in sync.
Janelle suggested that the family huddle so she could take their picture in front of the bay lighthouse, seen from the water side. This was a special sight, she said, that only sailors can see, "like the backside of the moon to an astronaut." Taji noted that they had gone from the car to an all new world in 60 minutes. She couldn't wait to return.
Everyone traded places. Paul drove, Taji trimmed main, Adi trimmed jibs, and Daud figured out the video setting on the camera.
That night, the Jacobs family combined the best shots into a highlights reel, complete with captions and a rocking soundtrack. Daud posted it on Youtube and shared it on the sailing school's Facebook page and his own. Taji sent it to her parent group.
The next Sunday afternoon the Chen family from down the street joined the Jacobs family at sailing school. Janelle's co-counselor Everett met the Chens — three kids, their mom, and her partner — in the parking lot with sunscreen and a camera. Janelle and the Jacobs family sailed clear across the bay to a sheltered harbor to swim and dig in mud and write an exciting new chapter called sailing school in the family adventure."  Thanks for contribution from Spinsheet.com and Nick Hayes.

* Just about every morning in the summer of 1983, Alan Bond, Skip Lissiman, John Bertrand and many of the Australia II America's Cup team could be found parked inside the west part of the famous Ranger Shed at the old Newport Offshore Shipyard on lower Thames Street in Newport, Rhode Island.
Bondie's large 92 foot white yacht, SOUTHERN CROSS, was also seen parked at the end of the dock, often flying the green "boxing kangaroo" flag, much to the chagrin of the New York YC and some of the challenging teams.

Next door, J/World Sailing School would have Sunday evening cookouts for their new students each week.  More often than not, Bondi, Skip for sure, and sometimes John, would swing down the dock to join the J/World students for burgers'n'dogs "on the barby"and tell more than their fair share of yarns and jokes over copious amount of beer.  Those were great memories and we miss those days.
Drake, Jeff, and I (Stu J) are sad to hear about the passing of the larger-than-life Bondi.  We wish his family our heartfelt condolences.  While Bondi may be best known amongst the sailing world for wresting the America's Cup from the hands of the Americans after 132 years in 1983, we remember Bondi for having raised the profile of the sport in Newport, Australia and around the world over many decades.  To say that Bondi and friends (Skip, etc) were colorful, engaging and humorous would be a bit of an understatement; they made for one of the most fun and entertaining summers perhaps any one of us have had in recent memory!

* Heineken goes J/105 Sailing?  NOT!  This weekend's SF Challenge provided a pretty epic photo shoot of Johnny Heineken- the World Champion Kiteboarder from San Francisco, CA.
When your kids get their kite fouled up in a tree, you climb up and untangle it, right? But when former Rolex Yachtsman of the Year Johnny Heineken gets his kite fouled in the rigging of the J/105 BLACKHAWK, the retrieval process is a whole lot more dramatic.
Johnny got tangled with Scooter and Ryan Simmons' J/105 BLACKHAWK on the Berkley Circle while heading back up to the St. Francis Yacht Club in the SF Bay Challenge Regatta. Thankfully, there were no serious injuries minus some bruises to Johnny and the destruction of the anemometer. Apparently, BLACKHAWK was awarded average points for the races they had to miss! Can't blame them, the right thing to do for sure by the StFYC jury!
---
J/Cruisers
J Cruisers continue their adventures around the world, below are a selection of most excellent "blogs" written by their prolific publishers.  Some terribly amusing anecdotes and pearls of wisdom are contained in their blogs. Read some! You'll love it.
* The J/40 HERON REACH sailed by Virginia and Jerry is participating in the Blue Planet Odyssey project and have recently joined them in the Marquesas Islands in the Eastern Pacific.  Learn more about their adventures and experiences here- http://heronreachodyssey.blogspot.com/

* J/160 SALACIA has been sailing in Australia in the Whitsunday Islands.  Guess who decided to throw themselves across their bow as they cruised comfortably to their next destination?  A giant whale!  Look at this amazing photo!

* Jim & Heather Wilson just completed a circumnavigation of our "blue planet Earth" in June 2013 on their J/42 CEOL MOR.  Said Jim, "The odyssey of CEOL MOR is over, for now.  We completed our circumnavigation on our J/42 when we crossed our outbound track in Britannia Bay, Mustique. We were, however, still 2,000 nautical miles from home. So we continued on through the Windwards, the Leewards, and then through the British Virgin Islands. After a farewell 'Painkiller' at the Soggy Dollar, and a last meal at Foxy's, we made the 1,275 nautical mile passage to the Chesapeake and completed our port-to-port circumnavigation when we arrived in Annapolis on June 28, 2013. We had been away 1,334 days, completed 259 days of ocean passages, and sailed 30,349 nautical miles (34,925 statute miles). Read more about their adventures in their  well-documented blog here:  http://www.svceolmor.com/SVCeolMor/Welcome.html

* J/160 AVATAR headed for the Caribbean, again!  We LOVE these updates from our cruising J sailors that continue to criss-cross the Seven Seas. This one comes from Alan Fougere, sailing his beloved J/160 AVATAR.   Alan sent us an email update commenting on their passage south this winter, "In mid-December AVATAR completed her sixth transit to her winter Caribbean home, Grand Cruz Bay, St. John, USVI (seen above)  from her home port in Quissett (Falmouth), MA.  A crew of three, Captain Alan (e.g. me), Crew Pablo Brissett and Mark Conroy, covered the 1,500 nm trip in in her best time to date- 7 Days 5 Hours, averaging 8.7 kts, that's about 208 nm per day!  Amazing passage it was!  Rainbow at right far offshore was some of the amazing phenomenon we experienced on this fast offshore passage.
AVATAR will participate in the BVI Sailing Festival/Regatta again in 2013, where last year she won the Nanny Key Cup Cruising Class race around the Island of Virgin Gorda.  Here are some photos for you to share with the J/Community at-large.  Enjoy!"
Best, Alan Fougere/ AVATAR

* Bill & Judy Stellin recently had an interview about cruising on their J/42 in the Wall St Journal called "Retiring on the Open Sea".  The Wall St Journal asked Bill to reply to dozens of questions that flooded into the WSJ's Editor desks. Here's the update:
Retiring on the Sea: Answering Readers' Questions
Advice about selecting a boat, ocean crossings, itineraries and safety

The article in our WSJ Online December retirement report about eight years spent sailing the Mediterranean— "Retiring to the Open Sea"— prompted many questions and comments from readers.  We asked William Stellin, who wrote the story, to answer some of the most common queries.
WSJ- "What kind and make of boat did you use? Looking back, would you have picked a different boat?"
Bill- "In 1995-96, J/Boats of Newport, RI, came out with a new cruiser/racer mod
—————————————————————————————————————


Click the logo to view our J/Boats for sale




Click the logo to view our used and brokerage J/Boats for sale.  Murray Yacht Sales is your authorized Gulf Coast J/Dealer and we have been servicing the Gulf Coast sailing community since 1974.