---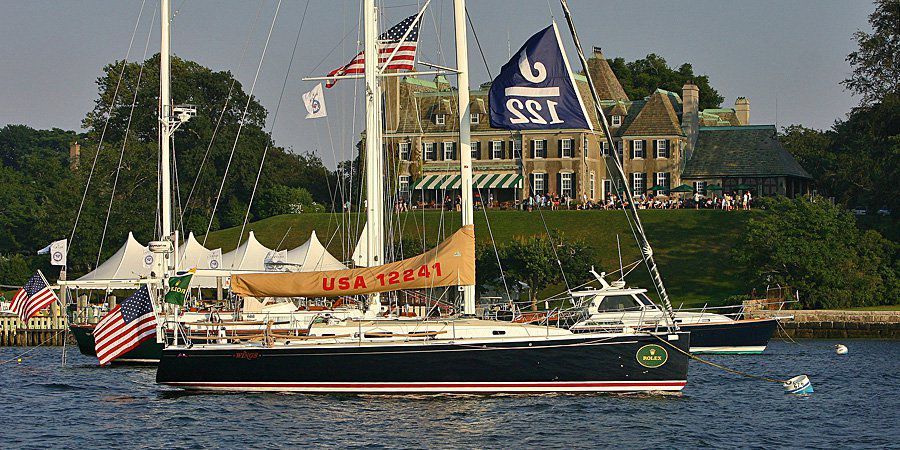 Rolex New York YC Regatta Preview
(Newport, RI)- This coming weekend the 160th New York YC Regatta presented by Rolex will be hosting sailing's biggest players on Narragansett Bay and Rhode Island Sound. The three-day event, distinguished as America's oldest continually run regatta, is scheduled for Friday through Sunday, June 13-15, and hosted by the New York Yacht Club at its on-the-water clubhouse, Harbour Court, in Newport, RI.  So far, the fleet may be blessed with 8-15 kt winds all weekend long and, with any luck, may provide the "round island" racers on Friday a quick romp around Conanicut Island.

Team Alvimedica, the Rhode Island-led team preparing for the Volvo Ocean Race 2014-15, will debut its just-launched Volvo Ocean 65 in the Around-the-Island Race on Friday. Leading the charge on-board is skipper Charlie Enright, a top J/24 sailor from the famous Newport J/24 Fleet on Narragansett Bay!  Needless to say, they will be applying their years of experience sailing against the world's best J/24 sailors to ensure they sail well this weekend!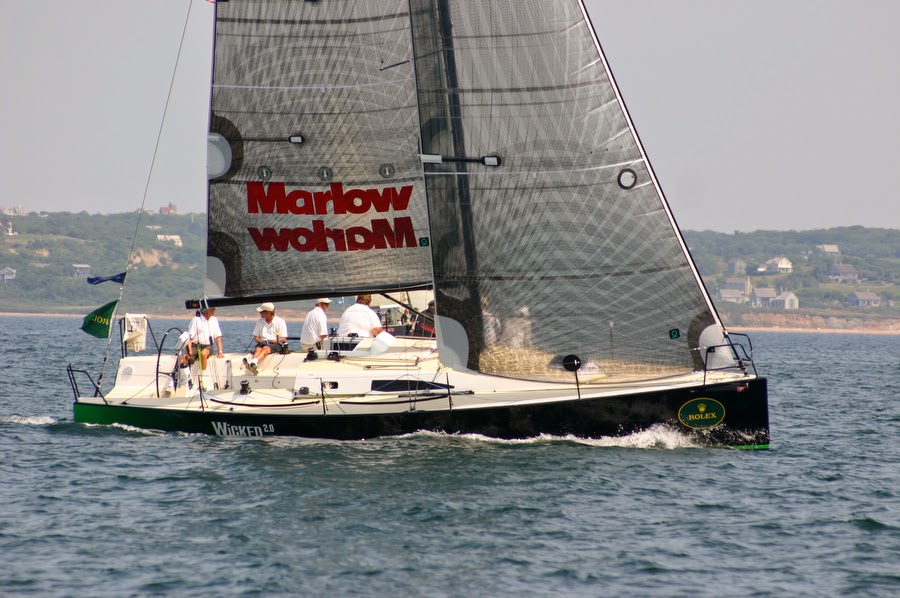 For this classic event, many of the 24 J's racing will also be in preparation for the upcoming Bermuda Race.  In the IRC Classes, the queen of the J fleet will be Jonathan Bamberger's J/145 SPITFIRE from National YC in Toronto, Canada.  They will be facing a trio well-sailed J/122s that include Mike Bruno's WINGS (a past NYYC winner from American YC in Rye, NY), Jamey Shachoy's AUGUST WEST (from Beverly YC in Marion, MA) and Paul Milo's ORION (from NYYC and Leesburg, VA).  The J/44s will be racing as class and IRC, including the renowned GOLD DIGGER sailed by Jim Bishop, Jack Neades and a US Coast Guard Academy crew on GLORY, famous J/105 sailors Joerg Esdorn & Duncan Hennes on KINCSEM, Len Sitar sailing VAMP and Chris Lewis (from Lakewood YC in Houston, TX).  After spending her entire winter in the Caribbean, Marcus Cholerton-Brown will be sailing his J/120 SUNSET CHILD and may have to contend with two championship winning J/109s- Bill Sweetser's RUSH (from Annapolis YC in Annapolis, MD) and Ted Herlihy's GUT FEELING (from New Bedford YC in S Dartmouth, MA).

In the PHRF classes, the J/105s will have several well-traveled teams in attendance, including Mark Lindquist's STERLING (Beverly YC), Fed Darlington (East Greenwich YC) and Mark & Jolene Masur sailing TWO FEATHERS from Ft Worth Boat Club in Ft Worth, TX).  

While the J/111s will be racing in PHRF handicap, they will also be scored as one-design.  The J/111s should have a pretty evenly matched fleet as most teams have all finished on the podium over the past season, including Doug Curtiss's WICKED 2.0 from New Bedford YC in S Dartmouth, MA; Fred Van Liew & David Brodsky's ODYSSEY from NYYC and Newport, RI; and Sedgwick Ward sailing BRAVO from Shelter Island YC.  After winning their class in the first major J/111 regatta on the Solent, the dynamic duo of Chris Jones and Louise Makin (from Royal Southern YC in Hamble, England) will test their mettle against some of the top East Coast teams sailing the newly-launched WILD CHILD.

In the "Navigators" classes (both PHRF & ORR), the teams will be sailing "random leg" courses around government marks all over Narragansett Bay and offshore in Rhode Island Sound.  In the ORR group is the J/42 ARROWHEAD sailed by Steve Berlack from NYYC and Franconia, NH.  One-third of the fifteen boat fleet in PHRF are J's, including Dawson Hodgson's J/100 GRIMACE from NYYC and Slocum, RI; the J/24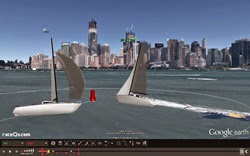 NIGHTHAWK sailed by Richard Barker from Sail Newport in Newport, RI; the J/29 MEDDLER X skippered by Brian Kiley from Rhode Island YC and Cranston, RI; and the J/92s SPIRIT sailed by E.C. Helme from Coasters Harbor Navy YC and Newport, RI.  

Finally in the cool to amazingly awesome department, you armchair sailors, navigators, strategists and tacticians may be able to replay the race in 3D on RaceQs.com.  Go there after racing each day to see 3D replays of all racing classes on all three race courses!  For more New York YC Annual Regatta sailing information
---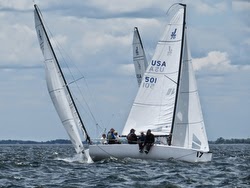 Cleveland Race Week- One-Design Preview
(Cleveland, OH)- Over many years the Edgewater YC in Cleveland, Ohio has continued to refine and grow one of the best regattas on Lake Erie- Cleveland Race Week.  It's an event that is comprised of two parts:  the first weekend is oriented to one-designs from June 12th to 15th and the second weekend is dedicated to offshore handicap racing from June 19th to 22nd.  The first weekend is also the J/70 Great Lakes Championship and top boats qualify to sail for the J/70 World Championships sailed in Newport, RI and hosted by New York YC.  The sailors are all looking forward to three days of sailing on three circles and three days of parties- including live bands, food and drink.

The one-design event this year looks like it may be challenging for the sailors as the El Nino effects and random-moving jet-streams are conspiring to create a light-air weekend of sailing.  Nevertheless, it will still be competitive sailing for the fleets of J/22s, J/24s, J/70s and J/105s.

As it has been in several multi-fleet regattas, the J/70s have just about taken over yet another event.  As the largest fleet with 25 boats, it will be "game on" for these teams as they seek to be amongst the fortunate few to get a coveted slot to the Worlds.  Teams like Henry Filter's WILD CHILD, John Aras's SCHOOL'S OUT, John McSweeney's FLAT STANLEY RACING, Tim Finkle's JUNIOR and Marty McKenna's RARITY may all be in the hunt for the top spots on the podium.

Over in J/22 world, an excellent turn-out of fourteen teams will ensure fun racing for all.  Several of the infamous New York teams (Rochester, Youngstown, Buffalo) will be in attendance, including none other than Kevin Doyle's and Vic Snyder's MO'MONEY, Mark Stuhlmiller's EUDAIMONIA, Adam & Jermoe Masters's TRAINWRECK, Dave & Benjamin Krystaf's RUFUS and RJ Moon's AXE WOUND.  Local Ohio boats that will factor into the equation should be Nick Turney & Brian Brucken on USA 1058 as well as Tod Sackett's FM.  Then, it looks like a rather "stacked" boat from Tawas Bay YC in Michigan will be on hand to upset the apple cart- Chris & Jennifer Princing with Chris Doyle sailing TEAM AWARD & SPORTS.  

For the J/105s, a complete Lake Erie contingent are sailing.  Watch out for the Uhlir Brothers on TRIO, Chris & Josh Mallet on SYNCHRONICITY and Jim Sminchak & Moose on IT.
 
The J/24s will be dueling for who's the "local top dog" on the podium. Chris & Melissa Glynn will be aiming THE MYSTERY MACHINE for the stars, Terrence Bowdish on CARRY-ON is hoping to just carry-on, and Steve Hronek plans to guide the BLACK & TAN missile into orbit— hopefully.  For more Cleveland Race Week sailing information
---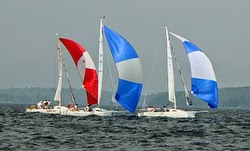 Toronto Hospice Regatta Preview
J/22 Ontario Championship On The Line!
(Toronto, ONT, Canada)- The National YC, situated in front of Toronto's magnificent skyline, is hosting their annual Redpath Toronto Area Hospice Regatta this weekend along with the J/22 Ontario Provincial Championship!  Sailed on the aquamarine waters of Lake Ontario, the fleet is looking forward to a beautiful weekend of sailing with lightish airs from just about every single point of the compass.

In addition to the J/22s sailing their provincial event, the J/70s and J/80s in the Toronto area will also be participating.  

The J/22s have a nice fleet competing with six teams competing from the local club. Notable teams include Ash Das's DAS BOOT, Chris Hobbs's FLAWED LOGIC, Rob Bartholomew's MIGHTY MOUSE and Geoff Bayne's THREE'S COMPANY.

In the J/70 fleet, an experienced veteran from Port Credit YC, Scott Weakley's REX, will be taking on Tony Gaffney's DYNAMO, Hadrian Corning's EMILEE and Ali Bilgen's ICE3.

J/80s have a symphony of players hoping their version of Mozart's "Clarinet Concerto" will keep them in the running.  Chief competitors vying for Lake Ontario J/80 supremacy may be Gary Stephenson's FLYER, Brian Mellon's JIBBERISH, Lawrence Alexander's JIGGERS, Eric Jacob's UGILAJUG or Bart Smit's NAUTICAL SYMPHONY!  For more Redpath Toronto Hospice Regatta sailing information
 
---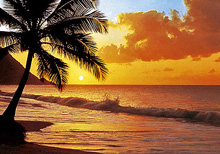 J/Sailing News
The Sun Never Sets on J's Sailing Worldwide
The first week of June had remarkably diverse activity taking place amongst the J cognoscenti.  In Ireland, the J/80 Women's Match Race World Championship took place in Cork, that beautiful, quaint seaside down southwest of Dublin along their verdant green coastline.  Tough racing for most of the women in the top 50 worldwide.  Just east of them in the North Sea, the armada of German sailors that descended upon a jewel of an island called Heligoland enjoyed great camaraderie and respectable sailing at Nordseewoche.  Their famous Rund Skagen Race saw an amazing performance by yet another fast J/125. The race is a 510nm dash around the top of Germany and Denmark, starting on the west side of the peninsula, heading north around the top to finish down in Kiel in the Baltic Sea!  Also sailing in nearby waters of the English Channel and the North Sea were a flock of J's sailing the RORC de Guingand Bowl- a race that starts and finishes on the Solent (off the famous Royal Yacht Squadron starting line).  Several notable performances were accomplished by J/105s, J/109s and a J/122. Earlier, the J/24s had their UK Nationals in Poole, England and their colleagues in Greece were also having the first part of their summer National Series in Paleo Faliro, Greece.  In addition, the J/22's in Germany hosted their Schanzenberg Cup in Lubecker, Germany.  And, in the northern parts the J/80s held the next part of their summer series in Stockholm, Sweden.  

Hoping across the Eurasian continent to Australia, the J/24s down in Sydney were at it again, having more fun than the kookaburra sitting in the old gum tree counting all the monkeys that he could see!  Sailing out of the Cronulla Sailing Club, the J/24 fanatics had a scream sailing the newly hatched "Short Course Regatta"— and, indeed, it was tight, short races of less than a half hour elapsed!  

Over to the Americas we find the Chicago YC and its wonderful hospitality (and even better RC & PRO's) hosting the Sperry Top Sider Chicago NOOD Regatta with one-design fleets of J/70s, J/105s, J/109s and J/111s and offshore PHRF fleets that included a J/100, J/35, J/122s, J/124, J/130, & J/133.  Two great days of sailing, followed by a "bull riding" contest and perhaps relief that races were canceled Sunday due to a bit of a wee gale blowing from the northeast. Over in New England, the J/80 Jamboree was held yet again on beautiful Lake Winnipesaukee, NH with a little less wind.

In the southern Americas, the J/24 Mexico class held their Copa BBVA Bancomer Regatta in Avandaro, Mexico and even further south, the Argentinean J/24 Class ran their Vela Dorada down in Buenos Aires, Argentina.

Read on! The J/Community and Cruising section below has many entertaining stories and news about J/Sailors as well as cruising blogs about those who continue to enjoy the Caribbean and the South Pacific, staying warm while others are trying to stay warm up north.  Check them out!  More importantly, if you have more J/Regatta News, please email it or upload onto our J/Boats Facebook page!  Below are the summaries.
---
Regatta & Show Schedules:
Jun 9-15- Normandy Sailing Week- Le Havre, France
Jun 13-22- Cleveland Race Week- Cleveland, OH
Jun 12-13- New York YC Annual Regatta- Newport, RI
Jun 13-22- Cleveland Race Week- Cleveland, OH
Jun 21-24- Kieler Woche- Kiel, Germany
Jun 21- Summer Sailstice Celebration- San Anselmo, CA
Jun 23-27- Block Island Race Week- Block Island, RI
Jun 27-29- Long Beach Race Week- Long Beach, CA
Jun 28- Jul 4- J/80 European Championship- Barcelona, Spain
Jun 28- J/Boats Rendezvous- Brownswville, WA
Jun 28- Round Ireland Race- Wicklow, Ireland
Jul 5-11- CORK Week- Cork, Ireland
Jul 6- Pacific Cup Race- San Francisco, CA
Jul 11-13- Bacardi Newport Regatta- Newport, RI
Jul 12- Bayview Mackinac Race- Port Huron, MI
Jul 14-20- J/70 North Americans- Rochester, NY
Jul 15-19- J/109 North Americans- Newport, RI
Jul 18-20- Screwpile Lighthouse Challenge- Solomons Island, MD
Jul 19-22- Chicago Mackinac Race- Chicago, IL
Jul 23-26- J-Cup Regatta- Hamble, England
Jul 24-27- J/111 North Americans- Harbor Springs, MI
Jul 24-27- Marblehead NOOD Regatta- Marblehead, MA

For additional J/Regatta and Event dates in your region, please refer to the on-line J/Sailing Calendar.
---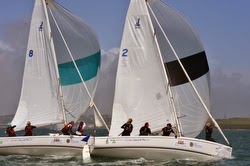 J/80 Women's Match Race Worlds
USA'S Epic Racing Team Scores Podium Finish!
(Cork, Ireland)- Over the past fortnight, most of the world's top women match racers were sailing J/80's in Cork, Ireland in their bid to become the world's #1 in their discipline.  The ISAF Women's Match Racing World Championship is the first stop on the five event Women's International Match Racing Series, a professional sailing circuit, hosted by the Women's International Match Racing Association for the world's leading women match racing sailors.

After the week long series, Olympic sailor and World #2 Anna Kjellberg of the Royal Gothenburg Yacht Club was crowned the ISAF Women's Match Racing World Champion.  Her team defeated Danish World #1 Camilla Ulrikkeholm (DEN) 3 – 1 in their Scandinavian battle in Cork Harbour, Ireland.

"This is absolutely incredible. We've never before sailed a regatta with such a great crew feeling," the Swedish skipper smiled. "The last few weeks of my life have been completely crazy, giving birth to my daughter just five weeks ago, and now this," she said, laughing and shaking her head.

With three victories needed to win the final of the 2014 ISAF Women's Match Racing World Championship, Ulrikkeholm gained an early advantage by winning the first match of the final. Strong but very shifting and puffy winds, together with a swift current, put the sailors to the test. The second meeting ended in a fierce fight around the course, but Kjellberg kept control of her J/80 and passed the finish line one boat length ahead of her opponent.

When the Swedes won the third match, they put Ulrikkeholm under great pressure to break back. In the fourth match, the Danes got away ahead, but didn't cover the Swedes well enough on the second upwind. Kjellberg was allowed to tack away for clear air, found an advantageous wind shift and passed into a leading position, which she was able to maintain to the finish.

"We've improved in every match during this regatta, and we know that in J/80 match racing it's never over until it's over. I think we had the right nerves today, with a rather calm feeling in the boat even when the competition was tough," Kjellberg analyzed after her golden match.

On her loss Ulrikkeholm commented, "In these conditions it was hard also to be ahead. We made some mistakes not covering the Swedes enough, and then we didn't have as good boat handling as the other days of the regatta."

Kjellberg bow- Annika Carlunger- had no less than seven World Championship silver medals before this regatta, sailing with different helmsmen over the years. Now she got her eagerly awaited gold medal and shouted after having passed the finish line, "Finally, after all these years."

In the Petit Final, Caroline Sylvan (SWE) put up a tough fight against Stephanie Roble (USA), but the American crew proved to be strongest at the end. With two straight wins, they secured the bronze in the 2014 ISAF Women's Match Racing World Championship, the first event out of five on the 2014 Women's International Match Racing Series.  "We never felt comfortably in control, but my team did an awesome job all the way around the course," said Roble who praised her crew.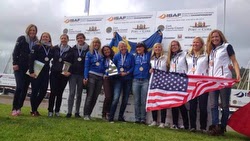 Steph goes on to comment, "From the awesome competition, beautiful sailing venue with evenly matched J/80's, and the friendly event staff, to the crazy weather, Ireland was one heck of a trip!

The regatta format for the ISAF Women's Match Race World Championship was a single round robin, quarterfinals, semis & finals. For the round robin, our goal was to learn as much as we could about the J/80's, the venue and each team we raced. Although it would have been awesome to win the round robin, we were prepared to race anyone in the quarterfinals. We came out of the RR tied for 4th and ultimately losing the tie breaker to place 5th with a 9-3 record. We thought that record would have placed us in the top three but the top 8 was incredibly close!

We ended up racing Claudia Pierce from New Zealand in a first-to-three-point series. Quarterfinals day presented us with some beautiful Irish summer weather: 25 knots, 50 degrees and whipping rain. With a reef in our main, we lead the charge off the dock with the semis on our minds. In race 1, we came in hot by giving Pierce a penalty, having a crush start and taking the race. Race 2 we had another strong start but she managed to stay hot on our tail with a few lead changes. We ended up reaching over the top of her on the last run to take the win. For the next two races, the breeze lightened up and we continued to dominate the starts. We had a few miscommunications on what to do with her tactically upwind, however, and she took the next two races. With all pressure on for the 5th race, we reset, took out our reef, and felt more relaxed with a wind shift that presented college sailing conditions (i.e. shifty and puffy). We, again, used our strong pre-start to gain control and led the race around the track.

For the semis, we were paired with Anna Kjellberg from Sweden who is ranked 2nd in the World. We knew we had a tough fight in front of us but were fully physically and mentally prepared for the battle. It was again a breezy, shifty day, 15-18 knots off Camden.

Each race was incredibly close in this series. After a close loss in race 1, we again determined that our pre-starts were our strength. For the next two races, we capitalized as much as possible on this, won the right side of the course and ultimately won the next two races. We had great momentum but in race 3 we copped a penalty for not sailing our proper course downwind. We tried to burn the penalty but she got around us. Race 5 left us in a sudden death scenario. Immediately upon entry, we gave the Swedes a penalty. All we had to do was stay ahead or stay just close enough to them so they couldn't make a play. Unfortunately, we had a boat handling error that set us behind and she was able to spin her penalty and keep her lead.

It was gut wrenching to lose the series after we put up su
ch a tough fight. We came to shore knowing that we had left everything we had on the water. We were proud of our series and our regatta but we ultimately just ended up having more mistakes than Anna.

On the final day, we raced Caroline Sylvan from Sweden for the last podium spot. We left the dock with a mutual understanding that 4th was not an option for us. We wanted the bronze medal so bad and our flag on the podium. We did exactly that by winning the petite finals.

Although we didn't claim the World Championship title, we are still stoked about our finish. It was our first World Championship as a team and are still in the running for the overall Women's International Match (WIM) Series title. We are so happy with how we progressed as a team throughout the week and are very much looking forward to the rest of the season."  View daily videos from the Irish J/80 WIM Series here.   For more J/80 ISAF Women's Match Race Worlds sailing information
---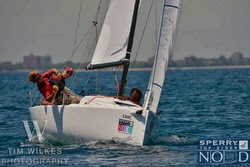 J/105 BELLA Crowned Chicago NOOD Champion
(Chicago, IL)- Prior to the 2014 Sperry Top-Sider NOOD Regatta Chicago, Skipper Steve Knoop had raced in the previous 25 Lake Michigan NOOD stops aboard his Tartan 10. Making his maiden NOOD appearance in the J/105 class this weekend, Knoop looked anything but a newcomer, sailing his way to Overall Winner honors at the country's largest regatta series.  

With conditions on Lake Michigan not up to NOOD racing standards today, Knoop and crew aboard BELLA were awarded the prestigious honor based on their overall performance during the first two days of racing in the highly-competitive J/105 Class.

"This was our first year in the J/105, before that I was with T/10 for 26 or 27 years," said Knoop. "We took lessons learned from T/10 and brought it here. Chicago is a unique weather system, light air in the summer brings thermals out of the southeast and it's a matter of how you play them. This regatta has been about what side of the course you were on and how it played out. Local knowledge was a huge factor."  

Here is how it all went down over the course of the three days.  Starting on Friday, the Windy City didn't entirely disappoint sailors. The first of three days of racing saw steady breezes on Lake Michigan, paving the way for three challenging races for all 11 classes.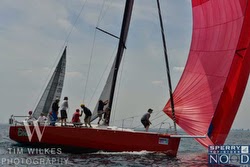 The regatta's principal race officer, Sue Reilly, overseeing action on the regatta's Blue Circle, which was comprised of a few of the regatta's larger keelboat fleets, reported that conditions were forecast to be marginally sailable at best, but winds held strong enough to get one race off early before increasing up to 10 knots mid-day and then fading across the lake altogether. She added that larger progressive windshifts were prevalent throughout the day, allowing three quality races.

"We thought there would be a postponement [before the first race] because it was so light," says Karl Brummel, co-owner and bowman for the J/111-series leading KASHMIR, which won all three of its races by significant margins. "We got caught off guard, were pretty far upwind, and barely made it back to the start."

KASHMIR's near miss aside, they were outstanding in the day's light conditions. "We got off the starting line clean every time," says Brummel. "In the last we were in a bit more traffic, but we were able to peel off the guy to weather and keep up off the guy to leeward. We were able to just keep an open lane off to the left [side of the course], which seemed to really pay today."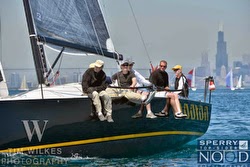 The team onboard KASHMIR, which came out of the local J/105 class, is in its fourth season with the J/111, and over the past few years, has put up top results in other regional regattas. "Our results have allowed us to attract good sailors that want to sail with us," says Brummel, "and the program is getting better every event. That, and we've worked hard with the rig tune and sail development this year.

Friday was the first day with their new North Sails-designed jib, which Brummel says is a significant improvement over last year's design. "We've have been diligent about rig tune," he adds, "and I think we're comfortable with the amount of headstay sag we have for the light conditions."

KASHMIR's speed team was happy with their light-air performance, says Brummel, but the team was looking forward to a stronger wind forecast on Sunday. "We like to play in big breeze, and right now they're talking about five-foot waves, so maybe we'll get some surfing in."

For Saturday, the fleet was treated to a second consecutive day of favorable conditions on Lake Michigan; the prevailing theme continues to be the importance of local knowledge.  Thereafter, the forecast was all too reliable, with a powerful North East breeze powering in and creating such enormous waves and 20-30 kts breeze that the race organizers canceled sailing for Sunday.  Somehow, the sailor's seemed to know this might take place.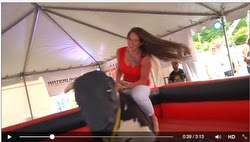 The sailing highlight on Saturday night was the "mechanical bull. The party theme was "country" and the bull (plus a few rum drinks) provided lots of laughs and entertainment for the participants. Here are some remarkable new foredeck recruits any serious offshore program should consider for the front-half of their boats.

Luckily, for the bull riders, this venue more than lived up to its nickname on Sunday. The "Windy City" delivered high winds combined with high swell forcing the race committee to call racing off for the day.

Not everybody stayed ashore on Sunday, as a video posted by Todd Jones explains: "When racing was cancelled due to high winds, we went out for a practice run on our J/70. We entertained the sailors on shore with a high speed blast down the waterfront!" Todd was sailing with Paul Hulsey and Alex Hume.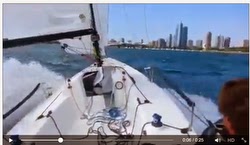 Facebook J/70 sailing video here.

While the run-away winner in this year's J/11
1 class was KASHMIR, posting five 1sts and two 2nds for just 9 pts, the balance of the top five went down to the wire in the last race on Saturday.  By winning the last race, the Dabrowski/ Edman duo on Team NIGHTHAWK secured 2nd overall with 22 pts.  Sailing steadily better in just about every regatta they've entered, Rich Witzel's crew on ROWDY took third with 26 pts.  Narrowly missing third place was the trio of Dr George Miz, Peter Dreher and Mark Hatfield sailing IMPULSE.  They started off quite slowly but posted a 2-3-1-4 to rapidly close on the leaders on Saturday only to miss by 2 pts, settling for fourth in class.  Fifth was taken by Bill Smith's WOOTON crew.

For the J/109s, a similar scenario occurred as the 111's.  David Gustman's NORTHSTAR gang were not to be denied enroute to winning their class in convincing fashion, posting four 1sts on their route to victory with just 17 pts, 8 pts clear of the next boat.   TIME OUT, skippered by Doug Evans, started off with a 1st in the 1st race, but had a rocky road ahead of them and hung on to take 2nd overall with 25 pts. Third just 3 pts back was Jim Murray's CALLISTO.  In fact, third to sixth place must've been an anxiety-ridden ride for the four boats as they all finished within three points of one another!  Fourth, was Scott Sims's SLAPSHOT with 29 pts and fifth was Peter Priede's FULL TILT with 30 pts- close finish!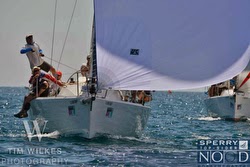 As described above, it's no wonder Knoop's J/105 BELLA was awarded to Overall NOOD Champion award as he not only had to win on a tie-breaker, but the top six boats all finished within four pts!  Holy heart attack, what a nail-biter!  Losing the tie-breaker for first was John Moore's HERE'S JOHNNY, finishing second with 21 pts, too.  Only one point back was past winner VYTIS sailed by Tom & Gyt Petkus with 22 pts.  Fourth was Mike Sheppard's FLYING PIG with 24 pts.  Then Clark Pellet's SEALARK took fifth by virtue of a tie-breaker on 25 pts!  Starting quite slowly but closing fast with two bullets was Sandy Curtiss on ROCKING HORSE; but not enough to close the gap for the top three, losing the tie-breaker to SEALARK for sixth in the compact fleet.  

For the J/70's debut in the Chicago NOOD, the class had excellent racing with the top of five on the leaderboard trading places nearly every race.  When the smoke cleared on Saturday afternoon, John Arendshorst's 20/20 narrowly took the win with 16 pts, winning only two races out of the six sailed.  Dan Cheresh's "X" was second with 17 pts followed by the globe-trotting Bennet Greenwald on PERSEVERANCE in third.  The balance of the top five was taken by Paul Hulsey sailing BYC TEAM PRIDE in fourth and by Martin Johnsson skippering AQUAHOLIKS in fifth (by the way, they were "fast learners"- improving every race with an 8-6-4-4-2-1 scoreline!).

In the offshore racing world, the two J/122s dueled for ORR 1 Class honors but had a hard time beating a well-sailed TP 52.  Winning their battle, however, was Matt Songer's EVVAI, taking 2nd in class while Mitch Padnos's SUFFICIENT REASON (the 2013 Chicago-Mac Race overall and class winner) had to settle for third place.

Finally, the new NORTH SAILS Rally Race was fortunate to get their race in on Saturday with a great turn-out of boats.  In Offshore Racing 1 Class, Tom Papoutsis's J/133 RENEGADE finished third in a 12 boat class.  Three other colleagues finished together in 6th, 7th & 8th- Jim Gignac's J/130 SALSA, Adam Esselman's J/124 STILL MESSIN and Frank Giampoli's J/120 JAHAZI, respectively.  In Offshore Racing 2, Benjamin Wilson's brand new J/88 RAMBLER took a third in her class!  Sailing Photo Credits- Tim Wilkes.com.   For more Sperry Top Sider Chicago NOOD Regatta sailing information
---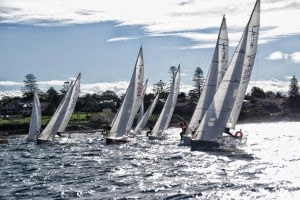 McKay Wins J/24 Short Course Regatta
Yup, That Was the Long & The Short of It!
(Sydney, Australia)- For starters, everyone recognized that Mick Reynolds from the J/24 SLIPPERY FISH did a great job driving the organization for a unique Queens Birthday Weekend Regatta at Cronulla Sailing Club- the J/24 Short Course Regatta. Designed to be a short course event, it featured 8 races over the long weekend, with the fleet able to sail in either the wide blue ocean in Bate Bay, or in the more sheltered Bundeena Bay for inclement weather.

So, what was the long and the short of it for this regatta?  Mat Short, the rising star in the fast growing fleet of J/24s at Cronulla, proved the old maxim – if you want to finish first, first you have to finish – and although he blitzed the racing on Saturday, not sailing on Sunday put an end to his (deserved) potential championship winning result. Instead a short and happy Dave McKay with a huge reputation for success and giving back to the sport, took the honors in a switch around (after an error in the race points was realized) from the prize-giving honors where one of our newest female skippers, Lia Darby was deservedly awarded first place (for a short time). Lia now scores an equally well deserved second place after a huge effort in delivering, preparing and racing hard in the demanding conditions (and then sailing it back to Sydney). Well done Lia!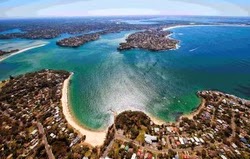 Held over the weekend of the June 6th to 9th, the Cronulla Sailing Club in Sydney ran a very successful J/24 Short Course Regatta. Racing was focused on a windward-leeward style event with legs at no more than 750 meters to ensure close racing between all. Mick Reynolds, the J/24 captain at Cronulla, with the great help of Fiona Campbell off COOEE TOO, led a keen group of volunteers in bringing this regatta to a successful conclusion. This event is planned as an annual event and planning is already underway for next year over the Queen's Birthday Long Weekend 2015.

The Friday saw horizontal rain and weather that we all love in Sydney for this time of year. Boats had already began to gather with STARPAC being delivered the Sunday prior and RIFF RAFF being sailed from AUSSEA Sailing School on Botany Bay on the Thursday. SAILPAC arrived by trailer.

The most spectacular arrival would have to have been Steve O'Rouke who towed his J/24 ENDLESS SUMMER from Botany Bay on the Saturday morning in 2 to 3metre Seas ! I didn't know a J could to 15 kts, but anything's possible behind a super powered twin engine rib!!

It was interesting to see amongst the crews that when it comes to class racing how many past and present sailing identities, seem to be drawn to an event such as this. The racing therefore was first class!

Racing commenced at 1200 on the Saturday with a planned 4 races. Race starter Dave McLachlan along with Dennis McClaren, started the fleet of 14 boats in a good solid 15 to 20kt SSW Breeze and a nice sunny day. Racing in the Port Hacking Estuary to a windward mark set off the beautiful shores of the Royal National Park.

Great sailing by young skipper Mat Short and the crew on SHORT FACED, including Mat's mum, saw them take 4 of the five races conducted to see SHORT FACED in the lead on completion of day one.

Unfortunately due to prior sailing commitments with his sail maker father Ian, Mathew Short was unable to race on the second day.

On Sunday the 3 scheduled races got underway in a solid 20 to 25 knots SSW gusting to 30knt. STARPAC won the first race of the second day in strengthening conditions that with the short 510nm leg meant a number of boats elected to run without kites to avoid wipeouts as performed by numerous others. The tough starting conditions also saw local boats, MCKAY MARINE, PINOT, SLIPPERY FISH and CJ CONSTRUCTIONS score OCS, leaving the gate open for The Girls on COOEE TOO to come storming through in 4th – their best race finish – go girls!

SAILPAC won the final two races of the regatta and a very well deserved 3rd place overall for Tim Briggs, the current NSW treasurer and all-round nice guy. Says Tim, "it's the first time I have helmed the J in a major regatta and I was scared as hell on the Saturday and even more on the Sunday." Well done Tim. Racing over for the day and the real race, back to the clubhouse and bar began. The Cronulla clubhouse is a great venue, situated right on the water, (with watering deck) and a crane and a small amount of hard stand. Right at the top of Gunnamatta Bay, the view and atmosphere is superb.

Dave McKay, once again proved he's not just a short man with a pretty face (Dave got hit by the boom and although covered with blood, with his broad grin, quipped that he had 'finally got into the girls loo' as Lia and Michelle off STARPAC did the nurse thing for him) and after sailing a very good regatta took out the championship once the drop was finally enacted.

The final tally for the top five was McKay's McKay MARINE 1st on 16 pts, followed by Darby's STARPAC in second with 21 pts, then Briggs's SAILPAC in third with 22 pts, Sellers's ONLY A JOURNEY in fourth with 34 pts and Short's SHORT FACED in fifth at 41 pts.

Mat Short, who we think needs to be encouraged to compete on the National circuit, is excited about the prospects of the class and his own boat at Cronulla, "It was really good to see so many boats get out there and such close racing out on the water. Credit should go to Dave McLachlan and his team on the start boat setting a good course conducive to competitive racing in the conditions and for their hard work (as always). I would also like to thank the sponsors for getting onboard with the regatta and hopefully it will continue to grow over the coming years."  (Sail with us Mat – Dave S needs a push along!)

From Mick, "The Race Committee would like to thank all competitors for making the weekend such a success, supporting an event based on participation and racing J/24s. Also the sportsmanship shown when penalties and boats may have touched, with penalty turns enacted and no protests being l
odged. The Cronulla Sailing Club is committed to relighting the passion in the owners and crews, to engage and support the upcoming J/24 NSW Association Racing Program."

From Simon."To those that didn't know about it – look at the website more often. To those who didn't come – that's one you don't want to miss next year. To Hugo, planned, prepared, and ready to come, but took a fall off a ladder at work the week before and is still in hospital. From the fleet at Cronulla and at-large, Get well soon Hugo, we missed you."  Sailing photo credits- Phil Rogers    For more Australian J/24 sailing information
---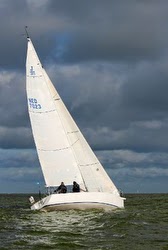 J/Teams Triumph In RORC de Guingand Bowl
Good Show for J/122, J/109, J/105 & J/97!
(Cowes, Isle of Wight, England)- The Royal Ocean Racing Club's Season's Points Championship continues last weekend with the De Guingand Bowl Race, the fifth offshore race of the annual RORC offshore championship. Designed to last 24-36 hours, the De Guingand Bowl Race starts and finishes in The Solent and is a flexi-course allowing the Royal Ocean Racing Club to design a bespoke course.

"Without the constraint of finishing the race in a totally different location, we concentrate on the weather and tidal conditions to decide the course," explained RORC Racing Manager, Nick Elliott. "We try to get all of the fleet to finish the first beat in the same tidal vector, so as to avoid a tidal gate early in the race and that is often why we start the slower yachts first. After that, wherever possible, we try to set turning marks that give tactical options to yachts during the race although trying to predict exact wind speed and direction can be difficult. The race should last over 24 hours but the breeze looks to be going light on Sunday and we will probably factor that into the length of the course."

Clearly loving the random leg format and weather conditions were the fleet of J/Teams racing in the event.  Taking IRC 2 Class honors and 5th IRC Overall was the J/122 RELENTLESS ON JELLYFISH skippered by James George and Chris Radford, winning their race by a significant margin over renowned French and English veterans on Figaro II's, A40s and First 40s.  

In IRC 3 Class, Nick Martin's J/105 DIABLO-J took second overall and also third in the IRC Double-handed class.  Classmate Kevin Armstrong sailed his J/109 JAZZY JELLYFISH to third in IRC 3 Class and another J/109, Chris Palmer's J-T'AIME took fifth in class.

The J/97 in IRC 4 Class also had a good showing, with Blair Forsyth's HIGH JINKS taking third in class and sixth in the IRC Double-handed division.

At this juncture in the overall RORC Season Series, Nick Martin's J/105 is lying 2nd in IRC Double class, 2nd in IRC 3 and 6th in IRC Overall.  John Allison's J/109 JUMBUCK is 3rd in IRC 3 Class (and 11th in IRC Overall), just in front of Armstrong's J/109 JAZZY JELLYFISH in 5th (15th IRC Overall) and Palmer's J-T'AIME in 6th (12th IRC Overall).  Radford's J/122 RELENTLESS ON JELLYFISH is 3rd in IRC 2 Class and 10th overall in IRC.  As a result, J/Teams are five of the top 15 boats overall, an excellent performance at this early point in the season.   For more RORC de Guingand Bowl sailing information
---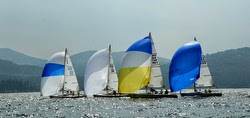 Beckwith's FKA Da J/80 Jamboree Jammer!
(Lake Winnipesaukee, NH)- A tradition in the USA J/80 class for years has been the J/80 Jamboree on beautiful Lake Winnipesaukee in New Hampshire! Incredibly, this year's event was the 27th Annual J-Jamboree. This long-standing event traditionally produces excellent winds, great race administration, many races and an outstanding social program. This year's annual event promised no less. With three days of racing and the J-Jamboree Dinner on Saturday evening at the new Dave Adams Memorial Sailing Center, the participants were blessed with the best any fleet can offer to its members.

This year the weather Gods were having a troubling time living up to the promised forecasts.  While J/80 Fleet #1 (members of the Lake Winnipesaukee Sailing Association) did everything imaginable to take care of the lakes version of Captain Neptune (paying homage with boxes of wine, sacrificial daffodils and so forth), nothing quite seemed to work.  In the end, the fleet was blessed with an awesome six (yes SIX) races on Saturday in beautiful, sunny, breezy weather while Sunday was simply lost to no wind but pretty skies.  

Sailing like a man possessed after a disappointing third in the first race, Les Beckwith and crew on FKA smoked the fleet with four 1sts and a 2nd to win the regatta with 9 pts.  Holding up the local pride and showing that they, too, know how to sail J/80s fast was the duo of Jeff Kirchhoff & Kevin Hayes on MORE GOSTASA taking two 1sts, two 2nds and a 3rd in their scoreline to solidify a solid second place with 15 pts.  Third in the event was Casey Nickerson on ARGO III with two 2nds and two 3rds in his tally for 21 pts.  Fun and games for all!  Apparently, the Saturday evening festivities remained in the "legendary status".   For more J/80 Jamboree sailing information
---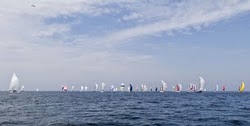 J/125 Crushes Rund Skagen Offshore Race
(Heligoland, Germany)- The Nordseewoche participants were welcomed to Heligoland Island with bright, beautiful sunshine on Sunday, just prior to the start of the famous Rund Skagen Race.  However, by the following day when the fleet took off north to go up and around the northern parts of Germany and Denmark and then back down the straits between Denmark and Sweden to finish in Kiel, Germany 510nm later, the weather was anything but sunny!  It was a special challenge as always for this legendary race that takes the teams on a tortuous route through the North Sea, the Skagerrak, the Kattegat and the Danish islands to Kiel.  Sailors experienced the full range of enormous tides and wind-induced currents in the Baltic Sea that the race is renowned for!

In the end, overcoming numerous obstacles and vagaries of weather along the way, the J/125 NEEDLES & PINS, skippered by Andreas Rose, took 1st place in ORCC 1 Division by over eight hours corrected time! In fact, they crushed the highly-regarded Volvo 60 ILLBRUCK and two famous Pogo 40's that regularly race Class 40 events in Europe!  Sailing photo credit-  Antonie Specht/stockmaritime.com   For more Nordseewoche sailing information
---
MADELEINE Crowned J/24 UK Champion
(Poole, England)- It was never supposed to be this easy. Show up for an event with twenty-strong J/24 teams from across Great Britain and simply walk away from the fleet with nary a day's practice underneath their belts.  Say it ain't so, bro!  Well, that's pretty much what happened in the recent U.K. J/24 Nationals.

Twenty teams signed up for the Nationals which was blessed with fair sailing and sunshine with everything from 5 to 20 kts of breeze, surf, slop and flat water, ensuring that the teams on top were masters of all conditions.  Each race saw race leads seesaw as the fierce competition pushed teams and kept everyone on their toes. However by the time each race came to conclusion, Duncan McCarthy's MADELEINE crew from Parkstone YC had worked their way into the top places leaving them with an enviable scoreline counting nothing less than a 3rd place after TEN races! Yea, count that!  Ten!  Jeepers creepers. But go figure on their consistency- they counted just three 1sts, three 2nds, and three 3rds and tossed a 5th for just 18 pts net!  Awesimo, dudes!  

While the MADELEINE crew set a new standard for themselves, the SERCO, CHAOTIC, CACOON and JOLLY ROGERS crews had their work cut-out for themselves.  Winning that battle was Bob Turner & Ian Brown's SERCO from Castle Cove SC with several strong closing races, having match-raced CHAOTIC into a toss race on the regatta finale and securing second overall for themselves with 31 pts net.  Third was Nick Phillips's Parkstone YC crew on CHAOTIC with 38 pts net.  Fourth & fifth, respectively, were Nick McDonald's CACOON and Roger Morris's JOLLY ROGER.   Sailing Photo credits- Tony Howe   For more J/24 UK sailing information
---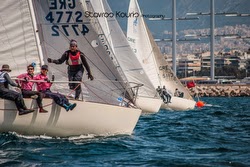 GREEK POLICE Leading Greece J/24 Series
(Paleo Faliro, Greece)- The Greek J/24 Class are well on their way into their 2014 National Championship Series having completed their first event at YC Paleo Faliro this spring.

With great weather, nice breeze and awesome race management by YC Paleo Faliro, the eleven teams from Athens, Crete and Thessaloniki and about 70 sailors gave major battles during the three days of racing, offering great competition and a tremendous spectacle for all the spectators watching from the shoreline.  This is the spirit of the Greek J/24 class- fun in the sun!!

The big winner of the First Phase of the National Championship, with just 10 penalty points, was the team GREEK POLICE commanded by Alexander Tagaropoulo and crew Nick Black, Pericles Aidinidis, Yannis and Dimitris Kokkori Trap, which confirmed the title favorite winning with great ease eight of the ten races that took place.

The great battle was for second place, which eventually was won by the team of Eunice Altsiadi, Dimitri Vangelis, and crew Mitakis, Claus Portosalte, Mano Smirli and Sotiris Kartal.  They were just three points ahead of Team JMANIA with crew of Nikos Spingou and crew Katerina Kaitatzidis, Dimitris Kolios, Menelaus Reizidi Costas Tridimas and Alexander Michaelides. The two teams had great competition racing against one another every race, with the two finishing most races just a few seconds difference from one another.   For more Greek J/24 sailing information
---
LUCA Victorious In J/24 Vela Dorada
(Buenos Aires, Argentina)- It took until the last minute to find out who had won this year's Vela Dorada Regatta. The suspense was everywhere for the top five teams in an awesome event hosted by C.V. Barlovento.  The CVB ran great races and the fleet was blessed with great weather, winds between 5-12 kts, oscillating all the time— a great joy for all sailors!

Going into the last race two boats were tied for first place, Matias Pereyra's CARRERA and Alejo Rigoni's LUCA.  In short, it was a match race going into the start of the last race, which ended up with a penalty against CARRERA— end of regatta for them to claim first overall!  Rigoni's LUCA team were ecstatic to take the victory!

Meanwhile, near the port pin, Nicolas Cubria on MENDIETA took off to lead the last race along with Luis Cerrato just behind them.  

The first downwind followed more or less in that order, while the leaders of the regatta were buried further back. Finally, on the last leg, thanks to an excellent run, Cubria's team held onto the lead to take third overall with Cerrato's team in fourth. Taking fifth was Francisco Avernaete for YC Argentino.  For more Argentina J/24 sailing information
---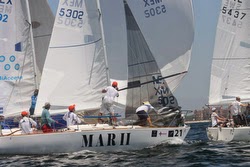 SUPERMACHOS Magnifico-  BBVA Bancomer Regatta
(Avandaro, Mexico)- The report from the Mexican J/24 fleet is always entertaining, if you haven't understood their "modus operandi" for the past half-century, then perhaps it's a lesson in how to have fun while racing somewhat earnestly for pickle dishes.

Recently, the Copa Bancomer BBVA Private Banking regatta had thirteen J/24s participating. On Saturday, only 2 races were achieved due to the low wind.  Then, on  Sunday the wind came at 1120 hrs at northwest 16-18 knots for just an hour and a half; then unfortunately took a 180 ° turn and the PRO was forced to cancel the race.  The fleet waited until 1300 hrs in the afternoon, then the normal wind arrived between 8 and 10 knots gusting 14 to 16 knots and the PRO managed to complete 3 races that day.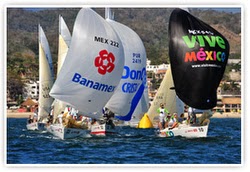 To YC Avandaro, "thank you" for your hospitality, great food and orchestra, also the sponsor BBVA Bancomer, who gave a new J/24 mainsail to Jorge Murrieta and Titus W. Benitez, plus raffles Ipods, Ipads, tools, pens, etches.  Plus, there was also much tequila, whiskey and beer.  NOTE- are there any American regattas like this??!!

Congratulations to the SUPERMACHOS TEAM with Ralph Nelles, Valeria Martínez, Raúl González and Roberto Contreras, who took first place with 12 points.

Second place went to Jorge Murrieta on TRES DOLORES with Balbinus Gallegos and crew with 14 points, winning on a tie-breaker.  Third place, losing the tie-breaker, went to Peter Wiegandt, Ernesto Sánchez and Miguel Bargalló aboard BRUSCHETTA.   For more Mexican J/24 Sailing fun
---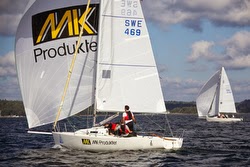 J/80 Sweden Report
(Stockholm, Sweden)- The J/80s in Sweden have just started to get their summer going this past weekend.  It's well understood that living that far north in Scandinavia the sailing season is rather abbreviated, but much loved for many reasons!  By June 21st, not too far away, it's the Mid-Summer Celebration in Scandinavia and many sailing regattas abound that enable you to sail for 24 hours in pure sunlight (or at least in sunset to sunrise conditions) for most of the time.  Quite spectacular for those who have not experienced 24 hour sunlight.  

The J/80s are well on their way in their 2014 sailing season, having counted the Lidingo-Runt, Viggan-Open and two races in their season series so far.  Recently, the first J/80 endagarsregatta was sailed in "propaganda weather" with good winds and great racing.  The fleet enjoyed six races in just over four hours!  It was tight racing at its best, with few boat lengths distinguished between the boats after two laps.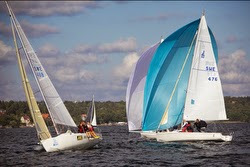 The winner was Johannes Bergh's HAPPY, with Pontus Tornlund's HEAVY DUTY in second and third was Lars Bellerhed's MK-PRODUKTER. MK are training hard for the upcoming J/80 European Championships being sailed in Barcelona, Spain.

In the second endagarsregatta on June 1st, the J/80s had another good weekend of racing. Again, Bergh's HAPPY won the regatta. There was little wind at the beginning and three races are completed rapidly, before the sea breeze came and the track was moved to Fällström.

After the first two races, MK-PRODUKTER led the regatta in the light winds.  But, when the sea breeze came in and the wind increased, it was good to have maximum weight to windward. Despite this kept MK finished second in the regatta. The winner was Happy, third was Tyra and four Parbleu.

With no more races planned before the summer holidays, the class will schedule several one-day fall events. Here are the current rankings:  HAPPY in first with a perfect 100 points, followed by MK-PRODUKTER in second with 88 pts and HEAVY DUTY in third with 63 pts.  For more Sweden J/80 sailing information
---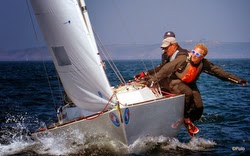 Hamburg Upsets J/22 Schanzenberg Cup
(Lubecker, Germany)- For the past three years, the Lübeck Segler Verein (LSV) has hosted the Schanzenberg Cup using the International J/22 Class sailboats.  The regatta is a unique regional "challenge" trophy amongst Germany's leading yacht clubs.

In glorious sunshine and wind, contrary to the weather reports all week, the LSV managed to get in four races in sailing conditions that ranged from 4-10 kts all Saturday.  Sadly, despite best efforts, there was no way to get in any racing on Sunday due to a complete lack of wind.

The native Lübeck sailors proved both on land (barbecue tips, especially!) and on the water they were good hosts. So, the challenge trophy "Schanzenberg Cup" was awarded this year to Hamburg. Kai Freese from Hamburg sailed all four races to an impressive record, including two 1st and one 2nd places. They clearly won ahead of the best Lübecker crew this time around!

Next year the LSV plans the expansion of the event to three race days from Saturday to Whit Monday and hopes it is an even better event than this year.  Report contributed from "mojo4rookies."   Formore German J/22 sailing information
 
---
J/Community
What friends, alumni and crew of J/Boats are doing worldwide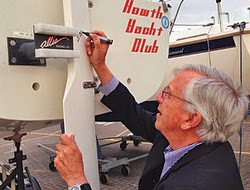 * J/Boats Co-Founder Visits Howth YC- Here is Bob Johnstone 'autographing' the J/24 JEBUS
 on the forecourt of the club. Bob with brother Rod founded the famous J-Boat Company in Connecticut in 1975.JEBUS (hull number 191) and now owned by HYC Honorary Sailing Secretary Emmet Dalton, was built in 1978 and then shipped to Italy to be used as the plug for the European built boats, eventually building the world wide fleet to over 5,000 boats – making it the most popular racing keelboat of all time.  http://j24ireland.wordpress.com/
Bob enjoyed supper at Howth YC with J/24 Class President Robin Eagleson
 and Irish Class President Flor O'Driscoll in the company of former HYC Commodore Derek Bothwell and their respective partners.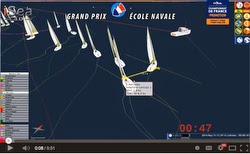 * The J/80s sailing in the Grand Prix de l'Ecole Navale 2014 had some of the iSea3D tracking devices
 on their boats.  Several of the top boats had them, including Simon Moriceau's INTERFACE CONCEPT and also Matthieu Salomon's CHARIOT PLUS- VANNES UTILITAIRES.  Fun to watch how this particular raced evolved.  
Check it out here as a YouTube sailing video.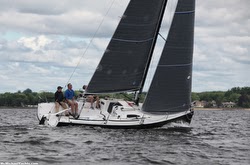 * J/88s on Long Island Sound going full tilt!
  Recently, we got a 
report from Howie McMichaels
, the J/Boats dealer on Long Island Sound, regards the enormous amount of interest being generated for J/88's on the Sound.  "88's are in full swing at McMichael, two boats at our docks this week and three more launching later this month! Check out our Facebook page for some more pictures!"  Thanks also to Howie for the photos! 
http://www.facebook.com/mcmyacht
* J/80 German "CAMPAIGN SAILING TEAM" Perspectives on SPI OUEST INTERMARCHE in La Trinite sur Mer, France-
  "We should have been prepared for our participation in Spi Ouest. The Breton town, whose marina is larger than the town itself, lured 2,500 sailors and 408 boats to measure their skill together. Where last year was a bit short on sunshine, we were prepared for fantastic weather for this year's sailing spectacle.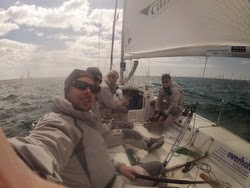 Every morning, an armada of racing yachts took off in a picturesque setting to get to the day's sailing in the Bay of Quiberon. Next to us, and our 88 competitors in the J/80 class also sailed other boats in their respective classes.
We had traveled with our "campaign" already for two weekends before the start of races and had used the time for training and testing sails. Impressively, we had an encounter with "Spindrift", the largest 130 ft. trimaran in the world, the fastest Atlantic crossing and sail around the world, at one of our training sessions.
Races were scheduled for Friday to Monday. The J/80 class was divided due to their size into two groups, which were mixed again on the second day of racing. The last two days would be a "Gold Fleet" and the "Silver Fleet".
Strengthened by our training we started for the first race. We quickly realized that the level in spite of the reduced number of participants was still damn high! At the end of the first day we were 39th place but climbed back into 16th place, and from there into 14th on the last day.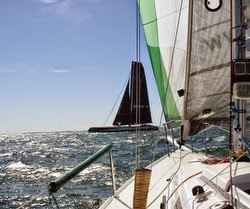 The question is, we are satisfied with the result? The answer is yes and no, with the emphasis on Yes. While it is a pity that we could not improve the overall result, but there were also many things that we did better than last season. We sailed with a cooler head. But when sailing competition counts, this year's winner SAFFRON, the boat sailing with all professionals and IMOCA skipper Morgan Lagravière, was first! We are happy with our result against such good crews
One can be philosophical about results as much as you want, but what counts in the end is the fun on the water – and we had that! The Spi Ouest 2014 was a feast for sailors; the mood at night in the tents in the North Hall was second to none!  We had great wind, bright sunshine and a lot of fun. The campaign is awesome and the crew sailed hot for the upcoming season!"  
Learn more about the Campaign J/80 sailing team here.
---
J/Cruising Community


J Cruisers continue their adventures around the world, below are a selection of most excellent "blogs" written by their prolific publishers.  Some terribly amusing anecdotes and pearls of wisdom are contained in their blogs. Read some! You'll love it.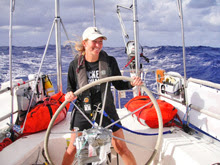 * Jim & Heather Wilson just completed a circumnavigation of our "blue planet Earth" in June 2013 on their J/42 CEOL MOR.  Said Jim, "The odyssey of CEOL MOR is over, for now.  We completed our circumnavigation on our J/42 when we crossed our outbound track in Britannia Bay, Mustique. We were, however, still 2,000 nautical miles from home. So we continued on through the Windwards, the Leewards, and then through the British Virgin Islands. After a farewell 'Painkiller' at the Soggy Dollar, and a last meal at Foxy's, we made the 1,275 nautical mile passage to the Chesapeake and completed our port-to-port circumnavigation when we arrived in Annapolis on June 28, 2013. We had been away 1,334 days, completed 259 days of ocean passages, and sailed 30,349 nautical miles (34,925 statute miles). Read more about their adventures in their  well-documented blog here: http://www.svceolmor.com/SVCeolMor/Welcome.html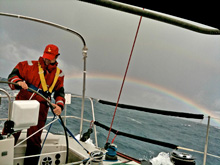 * J/160 AVATAR headed for the Caribbean, again!  We LOVE these updates from our cruising J sailors that continue to criss-cross the Seven Seas. This one comes from Alan Fougere, sailing his beloved J/160 AVATAR.   Alan sent us an email update commenting on their passage south this winter, "In mid-December AVATAR completed her sixth transit to her winter Caribbean home, Grand Cruz Bay, St. John, USVI (seen above)  from her home port in Quissett (Falmouth), MA.  A crew of three, Captain Alan (e.g. me), Crew Pablo Brissett and Mark Conroy, covered the 1,500 nm trip in in her best time to date- 7 Days 5 Hours, averaging 8.7 kts, that's about 208 nm per day!  Amazing passage it was!  Rainbow at right far offshore was some of the amazing phenomenon we experienced on this fast offshore passage.

AVATAR will participate in the BVI Sailing Festival/Regatta again in 2013, where last year she won the Nanny Key Cup Cruising Class race around the Island of Virgin Gorda.  Here are some photos for you to share with the J/Community at-large.  Enjoy!"
Best, Alan Fougere/ AVATAR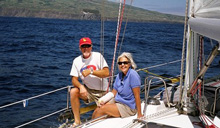 * Bill & Judy Stellin recently had an interview about cruising on their J/42 in the Wall St Journal called "Retiring on the Open Sea".  The Wall St Journal asked Bill to reply to dozens of questions that flooded into the WSJ's Editor desks. Here's the update:

Retiring on the Sea: Answering Readers' Questions
Advice about selecting a boat, ocean crossings, itineraries and safety



The article in our WSJ Online December retirement report about eight years spent sailing the Mediterranean— "Retiring to the Open Sea"— prompted many questions and comments from readers.  We asked William Stellin, who wrote the story, to answer some of the most common queries.

WSJ- "What kind and make of boat did you use? Looking back, would you have picked a different boat?"

Bill- "In 1995-96, J/Boats of Newport, RI, came out with a new cruiser/racer model, the J/42. We bought hull No. 6 of this popular 42-foot sailboat and named it JAYWALKER. This was our fourth boat since beginning sailing in 1975.

Although long-distance cruising wasn't what we had in mind when we purchased JAYWALKER, it soon became apparent it had the ability to carry us easily and safely anywhere we wanted to go. Because the boat is light, it sails well in light winds, which means very little motoring is necessary.

People often ask (and argue) about what boat is best for cruising. Any boat that is strong, safe, fast, comfortable and easily handled by two people should fit the bill. One thing for sure, fast is fun—and important when trying to avoid bad weather."  

READ MORE ABOUT BILL'S INSIGHTFUL COMMENTARY AND THOUGHTS ON WSJ ONLINE HERE

* The J/42 JARANA continues their epic voyage around the Pacific. Continue to read about Bill and Kathy Cuffel's big adventure cruising the South Pacific headed for New Zealand.  Their blog is here:http://www.svjarana.blogspot.com/

* John and Mary Driver are sailing their J/130 SHAZAM for extended cruising in the Atlantic basin. At this time, John and Mary finished their double-handed crossing of the Atlantic, landing in Portugal on their J/130 Shazam after completion of their ARC Rally. Read the latest news athttp://www.sailblogs.com/member/shazam/.


* Several J/160 owners are island hopping across the world's oceans, fulfilling life long dreams to cruise the Pacific islands, the Caribbean islands, the Indian Ocean and all points in between.  Anyone for Cape Horn and penguins??  Read more about their adventures and escapades (like our J/109 GAIA, J/42s PAX and JAYWALKER and J/130 SHAZAM friends above).

–  Bill and Susan Grun on the J/160 AVANTE are also sailing in the Pacific archipelago, read more about their great adventures on their blog (http://web.me.com/susangrun).  Read about their latest adventures as they've gotten to New Zealand- "Avante Cruises the Pacific".

– Eric and Jenn on the J/160 MANDALAY also sailed the Pacific archipelago, read more on their blog at http://www.sailmandalay.com.  Eric and Jenn are J/World alumni took MANDALAY up and down the West Coast (Mexico, CA), then to the South Pacific and New Zealand.  MANDALAY is back in San Francisco now, and in the J/World fleet–she is available for skippered charters, private instruction, and corporate/executive groups.