---
J/70 Quantum Series Preview
(Tampa, Florida)- For the second annual J/70 Quantum Winter Series, the "Sailingest Yacht Club in the South"- Davis Island YC- is again hosting a large fleet of passionate J/70 sailors eager to head south to warmer weather and sample some good'ole fashioned southern hospitality.  With an excellent turnout of fifty boats so far, DIYC's Regatta Chair George Haynie and PRO Judy Hanlon will have their hands full keeping this eager fleet rolling and pumping out races for the two day event.  The weather forecast so far looks promising, with 10-15 kts NW winds filling in behind a cold front, slowly diminishing to under 10 kts NW shifting NE on Sunday.  With temperatures in the 50s-70s and sunny skies, no question the "shorts & shades" will be widespread!
Quantum Sails have been the principal sponsor for the series and this year they will be featuring some of their top sailmakers providing seminars and on-going coaching for those who wish to be helped on their boat-handling, sail trim and so forth.  At a minimum, expect to see J/22 World Champion Allan "Albie" Terhune, Scott Nixon, Martie Kullman and (if rumor holds true), even former J/24 World Champion Terry Hutchinson making a guest appearance for the Quantum Sails team. As a "local" from St Petersburg, Florida, one also wouldn't be surprised to see Quantum Sails supporter and coach- Ed Baird (yet another former J/24 World Champion and America's Champion)- make a "guest" appearance.
The three-part winter series takes place this weekend from December 13th to 14th, then it's followed up just after New Year's 2015 with Act #2 on January 10th to 11th, just prior to the J/70 Midwinters in Key West, Florida, then followed up by Act #3 from February 7th to 8th.

An important new feature for the regatta will be the introduction of both on-board "live" broadcast of any teams using the RaceQs.com "tracking app" (Android and Apple iOS) and, subsequent coaching analysis post-racing at the Davis Island YC bar!Check out the app here at RaceQs.com (http://www.raceqs.com).  The "live" broadcast will take place starting on Saturday 11am Eastern Standard Time at:  http://raceqs.com/regattas/quantum-j70-winter-series
The fleet is packed with talent and many of the usual suspects from past major J/70 championships (Midwinters, North Americans and Worlds) are in attendance.  Plus, there are a number of new teams participating from across country.  Amongst the leading teams may be Jud Smith's AFRICA, Andrew & Melissa Fisher's BUTTON FLY, Peter Tuite's CURRAGH, Al Terhune's DAZZLER, Rob Britts' HOT MESS, Tim Molony's JOUST, Cole Allsopp's MOXIE, Marty Kullman's NEW WAVE, Tom Londrigan's POLARIS, Will Welles' RASCAL, John Brim's RIMETTE, Dave Franzel's SPRING, Kris Werner's SUPERFECTA, Ted Johnson's VITAMIN J and Taylor Lutz's ZOUNDS HEARING.  The "new kid on the block" could well be a "sleeper" as most sailors East of the Rocky Mountains have never heard about him, but watch out for Jack "Jacko" Franco sailing Dave Ullman's USA 3— while recently seen sailing out of Lakewood YC, Jack is a past Intergalactic World Lido 14 Champion from Newport Beach, CA (if memory serves us correctly)!  Formore J/70 Quantum Winter Series sailing information
---
The Perfect Gift For People Who Love Sailing!
(Newport, RI)- HOT Off the Press!  Order your J/Calendar 2015 now! There's still enough time to fill the stockings or toss some under the tree for your favorite sailors!
For 2015, we have created another beautiful calendar for J sailors who love the joys of sailing a J in some of the most spectacular harbors and waters of the world.  Whether you are a cruising, racing or armchair sailor, these stunning sailboat photographs will transport you to wonderful sailing experiences in far away places.
The 2015 sailing calendar features photos of J/70s flying off Monte Carlo & Lake Garda; J/24s dueling off Sweden, Newport & Seattle; surrealistic J/80s off Santander, Spain; J/120s gliding off San Diego; J/111s serenely sailing on the Solent; J/22s sailing off the Netherlands; and other gorgeous images of J/105s and J/122.  A great gift for loved ones, family, friends and crew (see gallery here). Order your 2015 J/Calendar today here!
---
Beautiful J/Models for Home or Office
(San Cristóbal, Dominican Republic)- Celebrating their 20th anniversary, Denis Cartier's model-making business-  Abordage.com- has produced a number of gorgeous J/models, ranging from the J/22, J/24, J/70, J/80 up to the J/109, J/122 and J/44.
With their great devotion to both the sea and sailing, Abordage has been proudly producing beautifully handcrafted ship models, either classic or modern ships, since the Company's inception in 1989.
From their well-established boat yard in the Dominican Republic, the highly skilled team of craftsmen works with only the finest of materials and produces every ship model in minute detail and with innovative perfection.  If you have an interest in these remarkably affordable models of your boat, please visit- http://www.abordage.com.   For J/Model examples, please take a look at some of the stunning detail here.
---
J/Sailing News
The Sun Never Sets on J's Sailing Worldwide
With the Winter Solstice just around the corner and many sailors preparing for the upcoming holidays, it's always surprising to see how many regattas and races take place in December, particularly in the northern hemisphere.  Down Under, of course, it's summer solstice and they'll be partying likes it's 1999 soon!
In the northern parts, the RORC Trans-Atlantic Race continues on after starting on November 30th and we've gotten updates from the J/133 APOLLO 7 from the United Kingdom.  Not far across from their finish line in Grenada, in fact due west of them in the Caribbean, the passionate J/22 class in Jamaica held their Silver Anniversary (25th) Jamin' Jamaica Invitational Regatta at Montego Bay- with local teams from Montego Bay, Kingston and visiting teams from the Cayman Islands, Canada and the USA.
Down in South America, the J/24 class in Argentina held two significant regattas over the past three weekends at Club Nautico de Olivos in Buenos Aires.  Racing took place on the Rio del Plata, the first regatta was the Argentine J/24 Nationals and the second was the Argentine J/24 Pan American Games selection trials for the 2015 Pan Am Games in Toronto, Ontario, Canada.
East of them way Down Under, the J/24 class in Melbourne, Victoria, Australia had yet another great weekend of sailing in their summer series.  Check out their report on how they keep a one-design class rolling along!
Then, in America, two highly popular events took place at opposite ends of the Pacific coastline.  Up in the northwest, the Winter Vashon Island Race was sailed off Seattle, Washington on the gorgeous Puget Sound.  Many hardy souls participated in what turned out to be one of the most beautiful days of sailing in recent memory for Pacific Northwest sailors.  Finally, down in Southern California, the San Diego YC Hot Rum Series was completed off San Diego, California, with solid performances from J/70s, J/105s, J/120s and even a J/24!
Read on! The J/Community and Cruising section below has many entertaining stories and news about J/Sailors as well as cruising blogs about those who continue to enjoy the Caribbean and the South Pacific, staying warm while others are trying to stay warm up north.  Check them out!  More importantly, if you have more J/Regatta News, please email it or upload onto our J/Boats Facebook page!  Below are the summaries.
---
Regatta & Show Schedules:
Oct 24- Mar 8- Monaco J/70 Winter Series- Monte Carlo, Monaco
Dec 13- Feb 7- Quantum J/70 Winter Series- Davis Island, FL
Jan 18-23- Quantum Key West Race Week- Key West, FL
Mar 4-7- Bacardi Miami Sailing Week- Miami, FL
Boat Shows:
Dec 6-14- Salon Nautique- Paris, France- J/122E and J/70
Jan 9-18- London Boat Show- London, England- J/70, J/88, J/97e, J/122e
Jan 10-18- Toronto Boat Show- Toronto, Ontario- J/70, J/88
Jan 14-18- Chicago Strictly Sail Boat Show- J/88 and J/70
Jan 17-25- Boot Dusseldorf- Dusseldorf, Germany- J/122E and J/70
Jan 22-25- San Diego Sun Road Boat Show- J/70, J/88, J/111
Jan 22-25- San Francisco Boat Show- J/70, J/88, J/111
Jan 23- Feb 1- Seattle Boat Show- J/122E, J/70 and J/88
Apr 9-12- Apr 9-12- Strictly Sail Pacific- Oakland, CA- J/70, J/88, J/111
For additional J/Regatta and Event dates in your region, please refer to the on-line J/Sailing Calendar.
---
Could This Be Love? Grow Sailing Jamaica Style!
The Silver Anniversary J/22 Jamin' Jamaica
(Montego Bay, Jamaica)- You bet mon!  Since 1983, J/22s have been part of the sailing landscape in Jamaica; a beautiful, rugged, jungle festooned island in the middle of the Caribbean, renowned for "Bob Marley and the Wailers" and their unique form of reggae music.  While Marley and friends like Peter Tosh continued to attract a worldwide audience for their metaphorical "chill", relaxing rhythms and stories of life in 'da hood in Jamaica, the J/22 also expanded as a fleet at Montego Bay Yacht Club.
Not soon after the arrival of the first J/22s, many local sailors fell in love with their little boats and continued to champion their use to the local school kids and local population, encouraging one and all to enjoy sailing off the spectacular coastline along the north shore of the island.  For over a quarter century, the "Jamaica, No Problem Mon" family of J/22 sailors have hosted their Jamin' Jamaica Invitational since 1989, a wildly popular event for those "in the know".

The format was simple.  The local fleet of around a dozen boats would have their Jamaican J/22 Nationals 2-3 weeks prior to the Jamin' Regatta, with the top two teams from each fleet "qualifying" to sail their own boats in the Jamin' event to represent the homeland of Jamaica (MoBay and Kingston).  The rest of the boats would be offered to "international" teams from around the Americas, Europe and South Africa— just about anywhere there were J/22 teams.  Boats would be "drawn" out of a hat and teams of 3-4 crew could show up, use their own sails if they wished, and even enjoy local host accommodations in some of the coolest places you could ever dream about.
In the early days, the first long-time J/22 Class President, Galen Freeman from Tennessee, sailed in that first event and fell in love with the club, the parties, the sailing and, most of all, the people.  It's not hard to imagine why anyone wouldn't want to go.  To say that the membership of Montego Bay YC throws down the red carpet for visiting crews and welcomes everyone in one big warm hug as "family mon!" is a bit of an understatement.  After four days or more of sailing and experiencing the island, you'd swear you just picked up several new "brothers & sisters" along the way.

No question, the Jamaica J/22 sailors love to have fun and love sharing it even more with their friends. A highlight of the regatta is theSaturday evening "Jamaica Stylee" Party hosted by the most amazingly sweet couple, Bryan and Lyn Langford.  Dressed in 70s "stylee style", the sailors enjoy what has to be one of the nicest potluck dinner parties you'd ever attend.  With a superb "DJ playlist" of awesome reggae tunes, the sailors often leave with bellies full of the best "jerk chicken", "pepper fish (snapper)", "pepper shrimp" and other local delicacies while being plied with gallons of the favorite local rum— Appleton's!  Many happy faces (sometimes goofy) are seen leaving in the wee hours of the morning.  That Sunday's racing ever gets going by 11am in the morning for the last three races is often a miracle.
Leading the charge on the entertainment front has to be one of Kingston's greatest characters, Rugie Misir.  Having owned a J/22 for only four years and sailed for just about as long, Rugie is one of the latest members of the local J/22 tribe.  Telling tall tales goes with the territory and Rugie has had more than his fair share in such a short period of time.  Chief amongst them was a recent outing in Kingston Harbor.  Rugie and the boys decided to head out one afternoon in a 25-30 kt easterly breeze in the flat waters of the harbor. Using their "chicken chute", they wanted to see how fast they could go (or how scared they might get).  "After a few
broaches, we got her goin' good, spray flying everywhere mon' and de crew goin' crazy!" said Rugie.  "We hit 18.7 kts average for nearly 2km!  Simply amazin'! Check out our video!"
Here's proof, watch their "Jamaica crazy J/22" YouTube sailing video here:
https://www.youtube.com/watch?v=Thc4S-pR5XI
As a natural self-promoter in business, Rugie also recognized the need to get more kids and adults involved in the sport he all of a sudden fell completely in love with.  With the help of the J/22 Jamaica class President, Richard Hamilton, they have collaborated to spearhead efforts to get more people
involved, women, kids, young and old alike.  They created a J/22 "promotion" video for Jamaica that is somewhat amusing and heart-warming.
You can see that J/22 Jamaica sailing promotional video on YouTube here:
https://www.youtube.com/watch?v=deOj7umqQdk
In their efforts to cast a wider net around the world, Jamaica's J/22 fleet first invited American teams and later invited others from Germany, The Netherlands, South Africa, and, ultimately, the sailing teams from a nearby neighbor- the Cayman Islands.

While Jamaica was the first J/22 fleet in the Caribbean, the Cayman fleet grew quickly in recent years. With nearly the same number of boats, their 13 teams have fielded strong one-design sailors, including Mike Farrington who recently placed third in the J/22 Worlds in South Africa.  One of those teams sailing in Jamin' this year was Team YAHOO! and included a cast of characters like Mark Edmunds (helm), Pete Bridge (trimmer), Jo Richards (foredeck) and Eduardo Bernal (rail meat, tactician, traveller, backstay, bar duty, pre-start timing, clothing coordinator, travel planner, accommodation chef de mission and anything else the team needed). Their mission statement: "Start at the front, stay at the front!" Fallback mission statement: "drink plenty, enjoy the sailing and hospitality of MoBay YC!"  That just about characterizes another one of their fun-loving, marauding teams from Cayman- the brave women's team hailing from northern Cayman- the "Vikings".  All four girls were blonds, were beautiful and were led by their skipper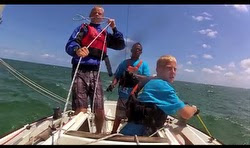 Suvi Hayden- her crew included Jo Richards, Kristine Verner, and Karin McGrath (a sailing instructor at the Cayman Islands Sailing Club).
Here's the J/22 Cayman Island Sailing kids promo Vimeo: http://vimeo.com/38963995
Besides the local "homies" and the Cayman trio of boats, the Silver Anniversary Regatta that sailed over the 6th and 7th December also saw teams from Canada and America.
The regatta was blessed by idyllic sailing conditions both days.  As promised by the local Chamber of Commerce cheerleader (Evelyn Harrington), "the winds are light in the morning, build from 10 to 11am, then diminish in the evening to a light cool breeze.  Plus, it will be sunny all day with cottony clouds scudding across the horizon, perhaps we may get a light drizzle from a stray cloud, and the sunsets will be perfect."  She was just about 95% right.  The PRO Peter Harper, with help from Commodore Nigel, support from Bryan and Lyn Langford and others all pitched in to conduct seven races in all.  Saturday's racing was quite blustery, with 15-25 kts puffs whistling over the mountainous peninsula near the windward mark with 40-60 degree shifts from the ENE wrecking havoc on every windward leg and run.  The fourth and last race of the day was the standard windward-leeward 1 1/2 legs followed by a long run into the MoBay YC finish dock!

The next day dawned with much lighter winds from the NNE. Thank goodness, as many teams were a bit groggy after the Saturday night festivities at the Langford's house.  Starting again at the red sea-buoy, the RC sent the fleet off on an "ocean tour" up the beaches to colorful mark names like "Doctor's Cave" and "Hospital".  In the end, Team USA comprised of Mike Morse, Noel, Stuart Johnstone and Julia Langford took fleet honors sailing DEFENDER.  In the battle for second, Richard Hamilton from MoBay took second on RENEGADE followed by Team ZIPPER from the Cayman Islands (skipper Bruce, Dave, Rob and Jenny Smith). The final leg of the last race determined the final outcome for 2nd and 3rd; ZIPPER dropped to 6th on the final run to the finish while RENEGADE took the "ocean option" downwind to snag 2nd in the race and second overall by one point.
For any J sailors wishing to learn more about the event in December 2015, please don't hesitate to contact Jamaica J/22 fleet captain Richard Hamilton @ rhamiltonsri@yahoo.com. Learn more on the Jamin Facebook page.   For more J/22 Jamin' Jamaica Regatta sailing information
---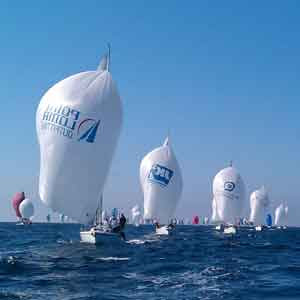 White Hot Rum Series A J/Team Festival
J/70s Eclipse PHRF Class 4!
(San Diego, CA)- For the three weekends that comprise the San Diego YC's Hot Rum Series, it's clear the veterans know you can expect just about anything the weather Gods can throw at you— from full-on gales to simply no wind- known as a "glass out".  While the first weekend offered somewhat reasonable racing, the last two races of this year's series were fraught with peril.
For example, Hot Rum #2 was another busy day on the water for competitors and Race Committee. With the addition of a nice westerly breeze, maneuvers at the start line were much easier to accomplish and nobody came in contact with the RC Signal boat.
However, on the return leg, our "Check In" notice of outbound Navy Ship @ 1500 materialized. We are not given notice of what, precisely when, or how the vessels will maneuver or be getting underway. That's (understandably) the US Navy way. Departure times for their operations are not generally subject to negotiation or influenced by recreational traffic. However, much more than you are probably aware, the US Navy makes regular considerations for recreational traffic both in the bay and in the Coronado Roads, in the course of their everyday operations.
While it was unfortunate that there was also an outbound car carrier passing Ballast Point just moments before the US Navy Sub got underway, in the midst of dozens of Hot Rum competitors negotiating each other, light winds, changing tide and inbound at Ballast Point meant this mix of commercial traffic, US Navy subs and Hot Rum sailors had about as good an outcome as there could have been— e.g. complete and utter chaos reigned!
Know that the Harbor Pilots and SeaTractor crew, along with the US Navy Sub Crew and Security boats accomplished their task swiftly and with much more traffic, much closer than they would ordinarily allow, without complaint. A big "Thank You" to them, and all sailors who complied with directions and alterations of course. Working together with all the various facets that make up the San Diego Bay is what makes Hot Rum Series contest unique, interesting, and possible!
Then, for the following weekend, the weather Gods again didn't cooperate, with light airs prevailing most all day and most boats roasting in the beautiful SoCal "Sunny Diego" weather.
In Class 2, the J/120s turned out seven strong and some crews had a successful go of it in less than ideal J/120 sailing conditions.  At the top of the heap was Chuck Nichols' CC RIDER, taking 2nd in class and garnering top honors for J/120s.  Following them was Mike Hatch's J-ALMIGHTY at 5th in class and 2nd J/120.  Third J/120 was Ernie Pennell's TAMA JAMA.
Six J/105s took up the challenge in Class 3 with Dag Fish's VIGGEN taking class honors and 2nd in class.  Third in Class and 2nd J/105 was Dennis Case's WINGS, losing a tie-breaker with VIGGEN at 13 pts each.  Notably, Herb Zoehrer's J/35 Z-FORCE had a good outing, taking 7th in a class of 40 boats!
The most surprising outcome of the series was the extraordinary performance of the top J/70s, with Dave Vieregg's SOGGY DOLLAR winning class with Karl Pomeroy's ZERO TO 60 taking 2nd only one point back!  The third J/70 was David Cheresh's FLARE in 8th.
Finally, hanging tough in Class 5 yet again was Mark Clements' classic J/24 BRIGADOON, closing with a superior performance in the last race by taking 3rd in a fleet of 26 boats!   For more San Diego YC Hot Rum Series sailing information
---
Balmy Winter Around Vashon Island Race
(Seattle, WA)- "74 hearty boats and crews made the Dec 6th start off the slag pile near Ruston to compete in the second ever counter-clockwise race Around Vashon Island, the first installment in the 2014/2015 South Sound Sailing Series.  It felt like a warm fall day out there compared to last year's 24 degree temps and for all those that want a screamin' deal on a Christmas tree or even several cords of wood, the Fall Vashon was for you – formerly regarded as Winter Vashon, I stand corrected by prominent members of Tacoma Yacht Club that winter doesn't start till Dec 21st!
Back to the tree issue, apparently the recent giant tides, northerly winds and extreme river runoff pulled everything imaginable off the shoreline and deposited it in Commencement Bay.  There was more driftwood afloat on the Southern Puget Sound than is standing in the forests nearby!  The calls at the start line were interesting in the light air – "one boat length, boat to leeward, log ahead, don't come up or you'll catch the shrubbery!"  Grass clippings, shrubbery, and a copious amount wood from stumps to deadheads- it was all out there, and fortunately for everyone the wind was so calm and the water so flat that it was easy to foresee these hazards and take evasive action.

The deliveries to TYC on Friday were pleasant and even a 6am start Saturday out of Des Moines was downright enjoyable.  OK, a full thermos of hot coffee was helpful there. TYC made everyone feel welcome, as usual, with free moorage, dinner Friday night, use of the small boat hoist, friendly staff, and a hearty Saturday morning breakfast. The course was "innovative" this year with two virtual marks at the North end of Vashon. I've always felt Swiftsure Bank and for those that can remember back that far, the Cobb Seamount, were virtual as well, so for inland sailors to have a chance to round not only one but actually two virtual marks, a challenge to be certain.

The start was light, with just enough wind to get to the line and have steerage to dodge the debris.  The forecast southerly was promising though and every time you got that little puff it was a header so spinnakers were the order of the day with the racing fleet chasing the burgeoning cruising fleet East across Commencement Bay. The tugboats must work hard on the weekends down here as two were required to plow through the start line and create a few delays. Small boats, that start first, seemed to have some advantage in these conditions because even as far into the race as the North end of Vashon Dennis Clark, in his J/27 LXIII, was still in the company of 40'ers!
Point Robinson was the first geography gate and those that were willing to play a little West in the light South westerly started slipping north to lead the charge into the stronger winds. It was obvious light is fast on December 6th and the ability to just be plain slippery paid.
What a gorgeous day, too, as Mt. Rainier was clearly visible and you could identify the airliners by the paint on their tail every couple minutes rising out of SeaTac Airport. Boats swapped gybes and pleasantries as they hull speeded their way north to the mysterious virtual gate. Which headsail to use? How windy is Colvos passage going to be? Discussions were required and the lead boats were visually inspected as they began to heel over on their way South into the passage. Where is my weather drone when I need it?
If you ever wanted to see what a boat can do upwind sailing well, this was your day. The J/133 CONSTELLATION was deadly as they stampeded South down Colvos passage under a heavy spread of canvas.
After correction in the IRC fleet, John McPhail's gorgeous navy-blue J/160 JAM took second.  Class 2 was dominated by the J/133 CONSTELLATION, owned by Ron Holbrook.

Class 3 was not an easy task in a class of five, count em', five J/35's and two J/109s!  All very capable and fast designs.  Taking second in class was the always well-sailed J/109 TANTIVY.  Class 4 saw one of the West Sounds fastest J/105's take third- DULCINEA.  Class 5 once again watched that beautifully maintained J/29 SLICK, owned by Mayfield & Nelson, slip into first place in this always tight class.
Almost taking the spread on the day was the amazingly rebuilt J/27 LXIII, owned by Dennis Clark – taking Class 6 by over 35 minutes!  Behind them in third was the well traveled J/27 TRUE NORTH.
As the sun went down on the 2014 Winter Vashon so did the wind, the lights of TYC started to twinkle as the last few boats made the slow crawl to the finish watching their hopes of correcting out on the "Big Boys" slipping away again. A cup of holiday cheer and a warm bunk never sounded better as the sails were furled and hatches were battened down for a long winter's night.
Call your local sailmaker and convince them there is no snow on them thar hills anyway so they may as well go sailing!  Have them come out and critique you at Duwamish Head Jan 10th hosted by the very cordial Three Tree Point Yacht Club.   See you on the water!"  Thanks for the contribution from Andy Schwenk.  Sailing photo credits-Jan Pix @ SmugMug
---
J/24 CARRERA Rocking Buenos Aires
Wins J/24 Nationals & Pan Am Qualifiers
(Buenos Aires, Argentina)- Over the past few weeks, the Argentina J/24 class was hosting two major regattas on the Rio del Plata, hosted by Club Nautico Olivos.  The first regatta was the J/24 Argentine Nationals and the second was the Pan Am Qualifiers in J/24s for the 2015 Pan American Games in Toronto, Ontario, Canada.
The Nationals took place over two weekends, starting on November 22nd and 23rd and concluding on November 29th & 30th.  The regatta saw fifteen teams participating, a great turnout for the Argentine J/24 class.  Teams showed up from Buenos Aires, Bariloche, Cordoba, Mendoza and Mar del Plata J/24 fleets. After three days of racing, very light winds marred the first weekend of sailing, the CNO PRO managing to get in just three races.  The following weekend, the CNO PRO- Ernesto Lupi managed to squeeze in three more races in reasonable breezes on Saturday, thanks to their early start at 1100 hours.

In the end, the team on CARRERA, skippered by Matias Pereira with crew of Augusto Rossi, Roberto Bellinoto & Federico Ambrus managed to hold onto their lead from the first weekend to take the championship by just one point.  Sailing in the Nationals for the first time, Rodrigo Benedetto and his team of Alejandro Giralt, Augusto Bassanetti, Hernan Suarez & Sebastian Peri Brusa took second place by winning two of the six races!  The LUCA VIVES team of Alejo Rigone, Gustavo Gonzalez, Joaquin Suarte Argerich, Fernando Gwodwz & Matias Maffioli took third place on a tie-breaker.  Rounding out the top five were Santiago Doval in 4th and Chiqui Figueroa in 5th.
The Argentina selection qualifiers for the Toronto 2015 Pan Am Games took place this past weekend.  The most significant difference for the Pan Am qualifiers versus the Nationals is that the boats sailed with 100% jibs only and there were only four crew members permitted for each boat.  Yet again, Matias Pereira's crew on CARRERA (Federico Ambrus, Guillermo Bellinotto & Juan Pereira) sailed like champions to become the Argentina representative in the 2015 Pan Am Games.
The three-day selection event was again characterized by unusually light winds.  Eight teams participated in the event.  The first day saw light 6-8 kts NE winds with remarkably large wind shifts all day.  The CNO Race Officer- Santiago Sharpin- managed to run three races.  Yet again, Pereira established an early lead the first day, never to relinquish it until the end of the regatta.
The second day saw drizzle, light unstable air from the ESE and reduced visibility to some fogginess. Nevertheless, after postponing sailing until 1340 hrs, the first race started and Aeljo Rigoni's LUCA VIVE won the first race of the day.  Another postponement ensued with the second and last race of the day started at 1640 hrs.  Despite the light winds and lousy weather, CARRERA won the 5th race of the series to lengthen their lead over the fleet.  Nevertheless, the racing was very tight and close together, with the entire fleet finishing in less than two minutes!
The final day of racing on Monday was not much different than the previous two days.  Again, the fleet was postponed to a 1315 hrs start time. CARRERA again showed her transom to the fleet, winning race 6, followed by Francisco Van Avermaetre's MENDIETA and Luis Cerrato's NORMAII SANDRO.  The second race of the day didn't start until 1430 hrs. It was declared the last race by PRO Santiago Sharpin, enabling Pereira's crew to take a DNS drop race and still win the championship!  After starting slowly, the MENDIETA crew (Van Avermaetre with Rafael de Martis, Carlos Lacchini & Geronimo Galvan) won the last race and secured second place overall.  Taking second in the last race and happily getting a bronze was Alejo Rigoni's crew on LUCA VIVE (Gustavo Gonzalez, Joaquin Duarte & Fernando Gwodwz).  For more J/24 Argentina sailing information
---
RORC TransAtlantic Update #2- Almost Done!
(Grand Canaria, Canary Islands)- In the mix for both IRC Class 2 leadership and also IRC Overall honors is the J/133 APOLLO 7 from the United Kingdom, skippered by her owner Nigel Passmore.  As they close down to the final part of the 2,900nm long Trans-Atlantic Race from the Canary Islands down the tradewinds route to Grenada, the APOLLO 7 team is working hard to milk the breeze for every advantage possible.
The overall race win is difficult to predict; as the wind is likely to lighten for the leaders during their approach to the islands, but the rest of the fleet are going to begin to catch up with them. With weather models showing a consistent easterly wind after the leaders have finished, we may be looking to one of the smaller boats to lift the IRC Trophy. The APOLLO 7 is the biggest threat. And, the fleet is encountering unforeseen obstacles to their progress.
As one boat recently reported, "Day 10 out here and life is good. It's important to look around sometimes and really enjoy the great times we are having. We are in slightly lighter pressure then usual, but still moving well and we seem to be holding with the competition. It's sunny and warm and watches were flying by until we started sailing through massive amounts of seaweed. The stuff haunts us, huge patches with no way through and no way to see them at night. Everyone on board has a different idea of how often we should back down (stop the boat and go in reverse to clear the keel and rudder) and some creative ideas are developing about how to clear the rudders underway. We think we lose a little over half a mile for every back down, but sometimes the weed can reduce boats speed by 1.5-2 knots, so it's a funny opinionated game to see how often stopping is necessary. Often we will prep for a back down, only to have the weed come off seconds before then maneuver…classic. I'm writing this post after having some frustrating time at the helm, so my hatred of the weed is at an all-time high. Perhaps it's not as bad is I'm making it sound! Under 700 miles to the finish and we are pushing hard to keep our position. There are some potentially tricky spots up ahead, so stay tuned to see how it works out!"
On December 4th, APOLLO 7 reported on their blog, "Good morning on day five! Life onboard has fallen into a good routine as we head south. For the navigators it is like a game of chess on a massive board, right/wrong moves being rewarded or punished in sea miles.
The temperature is slowly rising and it was a nice dawn with a warm breeze today, just rewards after three hours of charging along at 10+ knots into total darkness.
My watch mates Dan Gohl and Mark Davies are determined to beat Brett Arrons, Steve Wassells and Jim Slaters 16.4 knots. We'll keep trying!"
Then, on December 8th the APOLLO 7 gang commented, "Well, is it really a week ago that we left the windy Lanzarote?
When I set out on this adventure it was with the dream of long surfing downwind days with blue skies and the Atlantic has delivered it! It's amazing, we are currently surfing due west at 12 -13 knots and have a few days ago enjoyed blasts of 20 knots, and all this on a J/Cruiseliner like the J/133!
Progress should be good over the next three days with stronger winds expected and with our best 24hr run of 294 miles to beat.
This leads to the ultimate goal of box ticking the Atlantic, so it's sail fast and safe on APOLLO 7 and deliver its astronauts to Grenada in 7/8 days time!"
Background: The RORC Transatlantic Race started November 30 from Puerto Calero Marina in the Canary Islands. The 11-boat fleet departed Puerto Calero Marina, Lanzarote bound for Camper & Nicholsons Port Louis Marina, Grenada West Indies, 2,995 nm away across the Atlantic Ocean.  For more RORC Trans-Atlantic Race sailing information
---
Growing J/24 One-Design In Melbourne
Racing at its absolute best!
(Melbourne, Australia)- Here's some perspective for those of you supporting and developing one-design fleets.  Doug MacGregor, President of the J/24 Victoria class offers some insights on the success of their local fleet in Melbourne:
"Fourteen J/24s on the water on a Sunday.  Seventy Sailors.  Blue skies.  Perfect winds.  Three blistering races.  And excellent race management.  The most active keelboat class on the bay 'giein' it laldy' as they say in Scotland.  Was it a state titles?  Was it a National Championship?  Was it a regatta?  Nope!  Just a normal J/24 Sunday race day!
As predicted, this season is turning out to be like no previous J/24 season.  The days when Pacemaker would win race after race by ten boat lengths are gone.  There are now any one of five boats that can win a race and the latest development is that even some of the historic middle markers are popping up at the pointy end.  There now is no boat that is noticeably quicker than any other and the J/24s are now producing racing that is all about seamanship, tactics, crew work and reading the shifts.
Feel like you are missing out?  Rob Date (Victorian Ocean Racer Of The Year and owner/skipper of Scarlet Runner) doesn't, he skippered Hyperactive for a sprint day.  Albert Doggett (Fast Company) doesn't, he trimmed on Crackerjack.  Geoff Wood (Fast Company and Calm) doesn't, he trimmed on Crackerjack earlier in the season.  Marissa Chalkley (owns Hush) doesn't, she crews on Jet.  Husband Pete Chalkley and Marissa both crewed on Code Violation in the NSW state titles.  Peter Fitzgibbons "Fitzy" (Veloce) doesn't, he crews on J/Force.  Joelle Roderick (38 degrees) doesn't, she crews on Hyperactive.  Hey, the list is long and I don't want to lose our dear reader, but you've just got to try this stuff!
Final point.  Fourteen boats on the water at Sandringham Yacht Club.  That's more than the J/24 Nationals in Sydney earlier this year, it's more than the NSW State Titles held a couple of weeks ago and its 82% of our available racing fleet.  Fantastic numbers in anyone's book!"  For more J/24 Australia sailing information
---
J/Community
What friends, alumni and crew of J/Boats are doing worldwide
———–

* J/22s getting some "Snow and sailing satisfaction"!Nothing diminished the enthusiasm and hot-blooded passion to get out on the water for this intrepid trio of J/22s.  Using a snow-blower to access the docks, they dusted off their J/22s and went for an afternoon sail on the nice, wide-open, boat-less harbor in Harbor Springs, Michigan.  Perhaps one of the perfect little harbors to go "frostbite" sailing since it's nearly landlocked on crystal clear, azure waters.  Plus, it's easy to setup a short course right off the docks of Irish Boat Shop where there's plenty of warm grog and roaring fires! Learn more about J/22 frostbite sailing at Irish Boat Shop in Harbor Springs, Michigan.
---
J/Cruisers
J Cruisers continue their adventures around the world, below are a selection of most excellent "blogs" written by their prolific publishers.  Some terribly amusing anecdotes and pearls of wisdom are contained in their blogs. Read some! You'll love it.
*
J/160 SALACIA has been sailing in Australia in the Whitsunday Islands.  Guess who decided to throw themselves across their bow as they cruised comfortably to their next destination?  A giant whale!  Look at this amazing photo!

* Jim & Heather Wilson just completed a circumnavigation of our "blue planet Earth" in June 2013 on their J/42 CEOL MOR.  Said Jim, "The odyssey of CEOL MOR is over, for now.  We completed our circumnavigation on our J/42 when we crossed our outbound track in Britannia Bay, Mustique. We were, however, still 2,000 nautical miles from home. So we continued on through the Windwards, the Leewards, and then through the British Virgin Islands. After a farewell 'Painkiller' at the Soggy Dollar, and a last meal at Foxy's, we made the 1,275 nautical mile passage to the Chesapeake and completed our port-to-port circumnavigation when we arrived in Annapolis on June 28, 2013. We had been away 1,334 days, completed 259 days of ocean passages, and sailed 30,349 nautical miles (34,925 statute miles). Read more about their adventures in their  well-documented blog here:  http://www.svceolmor.com/SVCeolMor/Welcome.html

* J/160 AVATAR headed for the Caribbean, again!  We LOVE these updates from our cruising J sailors that continue to criss-cross the Seven Seas. This one comes from Alan Fougere, sailing his beloved J/160 AVATAR.   Alan sent us an email update commenting on their passage south this winter, "In mid-December AVATAR completed her sixth transit to her winter Caribbean home, Grand Cruz Bay, St. John, USVI (seen above)  from her home port in Quissett (Falmouth), MA.  A crew of three, Captain Alan (e.g. me), Crew Pablo Brissett and Mark Conroy, covered the 1,500 nm trip in in her best time to date- 7 Days 5 Hours, averaging 8.7 kts, that's about 208 nm per day!  Amazing passage it was!  Rainbow at right far offshore was some of the amazing phenomenon we experienced on this fast offshore passage.
AVATAR will participate in the BVI Sailing Festival/Regatta again in 2013, where last year she won the Nanny Key Cup Cruising Class race around the Island of Virgin Gorda.  Here are some photos for you to share with the J/Community at-large.  Enjoy!"
Best, Alan Fougere/ AVATAR

* Bill & Judy Stellin recently had an interview about cruising on their J/42 in the Wall St Journal called "Retiring on the Open Sea".  The Wall St Journal asked Bill to reply to dozens of questions that flooded into the WSJ's Editor desks. Here's the update:
Retiring on the Sea: Answering Readers' Questions
Advice about selecting a boat, ocean crossings, itineraries and safety

The article in our WSJ Online December retirement report about eight years spent sailing the Mediterranean— "Retiring to the Open Sea"— prompted many questions and comments from readers.  We asked William Stellin, who wrote the story, to answer some of the most common queries.
WSJ- "What kind and make of boat did you use? Looking back, would you have picked a different boat?"
Bill- "In 1995-96, J/Boats of Newport, RI, came out with a new cruiser/racer model, the J/42. We bought hull No. 6 of this popular 42-foot sailboat and named it JAYWALKER. This was our fourth boat since beginning sailing in 1975.
Although long-distance cruising wasn't what we had in mind when we purchased JAYWALKER, it soon became apparent it had the ability to carry us easily and safely anywhere we wanted to go. Because the boat is light, it sails well in light winds, which means very little motoring is necessary.
People often ask (and argue) about what boat is best for cruising. Any boat that is strong, safe, fast, comfortable and easily handled by two people should fit the bill. One thing for sure, fast is fun—and important when trying to avoid bad weather."
READ MORE ABOUT BILL'S INSIGHTFUL COMMENTARY AND THOUGHTS ON WSJ ONLINE HERE
* The J/42 JARANA continues their epic voyage around the Pacific. Continue to read about Bill and Kathy Cuffel's big adventure cruising the South Pacific headed for New Zealand.  Their blog is here:http://www.svjarana.blogspot.com/
* John and Mary Driver are sailing their J/130 SHAZAM for extended cruising in the Atlantic basin. At this time, John and Mary finished their double-handed crossing of the Atlantic, landing in Portugal on their J/130 Shazam after completion of their ARC Rally. Read the latest news athttp://www.sailblogs.com/member/shazam/.

* Several J/160 owners are island hopping across the world's oceans, fulfilling life long dreams to cruise the Pacific islands, the Caribbean islands, the Indian Ocean and all points in between.  Anyone for Cape Horn and penguins??  Read more about their adventures and escapades (like our J/109 GAIA, J/42s PAX and JAYWALKER and J/130 SHAZAM friends above).
–  Bill and Susan Grun on the J/160 AVANTE are also sailing in the Pacific archipelago, read more about their great adventures on their blog (http://web.me.com/susangrun).  Read about their latest adventures as they've gotten to New Zealand- "Avante Cruises the Pacific".
– Eric and Jenn on the J/160 MANDALAY also sailed the Pacific archipelago, read more on their blog athttp://www.sailmandalay.com.  Eric and Jenn are J/World alumni took MANDALAY up and down the West Coast (Mexico, CA), then to the South Pacific and New Zealand.  MANDALAY is back in San Francisco now, and in the J/World fleet–she is available for skippered charters, private instruction, and corporate/executive groups.