---
J/24 Worlds Preview
(Boltenhagen, Germany)- Next week, the German J/24 teams, their families and friends are looking forward to sailing and partying with all J/24 sailors in Boltenhagen on the Baltic coast, one of the top sailing areas in Germany! Boltenhagen's attractive location in Mecklenburg-Vorpommerania allows spectator-friendly inshore racing, with stable winds and free from commercial shipping lanes.
From 28th August to 4th September, the fifty-five boats from 14 countries (Argentina, Barbados, Brazil, France, Great Britain, Germany, Greece, Hungary, Italy, Japan, The Netherlands, Peru, Sweden, USA) will be based in the purpose-built Boltenhagen Marina located within the exclusive 'Weiße Wiek' holiday village which offers a modern yet relaxed atmosphere. Racing will be organized by the Norddeutscher Regattaverein, one of Germany's oldest yacht clubs, that has many years of experience in staging international events such as Kiel week and countless One-Design Championships. The town of Boltenhagen is close to the venue and grew from a fishing village into a picturesque seaside resort in the early 19th century.

The fleet has great representation across the board from the major J/24 fleets in Europe as well as teams coming from South America, North America and Far East Asia.  The host country is fielding the largest contingent of boats, with 23 on the starting line.  Most of their top teams are present, including Peer Kock on UK SAILMAKERS GISCHTH & GLUT, Lars Gibbe's HANSA PROJEKT, Jan Kahler's UNITED 5, John Huhn's HUNGRIGER WOLF, Frank Schonfeldt's HENK, Tobias Feuerherdt's TEAM ROTOMAN, Manfred Konig's VITESSE, and Frithjof Schade's JJONE.
The next largest contingent are their friends from across The Channel, the seven boats participating from Great Britain.  Leading that contingent is likely to be Ian Southworth's IL RICCIO, a past J/24 European Champion.  They will be joined by Jim Anderson's BOOMERANG, Andrew Taylor's hot crew on HITCH-HIKER, Roger Morris' JOLLY ROGER, David Cooper's JAWBREAKER and Quinton Hall's JUJU.
Not surprisingly, the very active J/24 fleet in Italy is sending five boats that include top contenders like Pietro Diamanti's JAMAICA and Marc Arata's Italian Navy crew on a "hash tagged" boat called #WEAREINPUGLIA!  Amazingly, the Japanese contingent are showing up with four teams that includes Fumiya Kato on LULL & HACHI, Kazuki Kumagai on DABOHAZE, Hiraoki Matsuyama on GYOSYU and Tokuma Takesue on GEKKO.
For the other countries sending between 1 to 3 teams, notably absent is the current J/24 World Champion- Will Welles from Newport, RI.  In his place will be two very fast, highly competitive teams- Mike Ingham's NAUTALYTICS from Rochester, New York and Travis Odenbach's DR FEELGOOD from North Carolina.  Other top contenders should be Sweden's Per-Hakan Persson on FRONT RUNNER, Peru's Javier Arribas Harten skippering JJ-ONE, The Netherland's Dirk Olyslagers on JOOL, the top Hungarian teams- Mike Schmolling on EL NINO and Mate Kakas on ZULU, the top Greek crew- Dimitris Altsiadis on EVNIKI, France's Francois de Herce on MAJIC, 5-time World Champion Mauricio Santa Cruz from Brazil skippering BRUSCHETTA, and Rodrigo Benedetto's Argentinean crew on THOMSON REUTERS.

Top women's teams vying for the Top Women Skipper include Germany's Stephanie Kopcke on VEGA RAGAZZA and Corina Thiermann's AVALANCHA; Sophie Pearson's British crew on JELI from Parkstone YC; and Liselotte Sjoberg's Swedish team on FOR FUN BLUE.
For you armchair sailors and tacticians, you can follow the fleet with TracTrac. Every boat will sail the races with a GPS-tracker on board so spectators worldwide can follow the racing live as soon as the starting gun fires! Also, the competitors will be able to analyze afterwards where they made gains or losses.  All features like replay, position lists at mark roundings and boat-to-boat comparisons will be online. See the live-tracking here.   For more J/24 World Championship sailing information
---
Marblehead ONE Regatta Preview
(Marblehead, MA)- As a relatively new regatta on the summer sailing calendar in Marblehead, the Mass Bay Sailing association in cooperation with the three principal yacht clubs in the harbor (Eastern, Boston, Corinthian), created the Marblehead ONE Championship- the Corinthian Yacht Club is the shore-side host this year and will provide an unparalleled post-race experience.
The regatta continues to grow strongly, with 88 participants in 11 classes looking forward to sail over the August 28th to 30th weekend! It features a diversity of boats and fleets, something for everyone and anything that floats and has a pulse!  The largest fleets are the two J/classes- the ten J/70s and sixteen J/105s.  The PHRF Racing fleets number six in total, plus two PHRF Cruz classes and the new addition this year, the PHRF Doublehanded class.
Within the J/70s, the usual suspects and cast of characters have made sure they cleared their end-of-summer calendars for their final round of competition in August.  Included in that fraternity are the RASCAL's (Henry Brauer and Stew Neff), Ted Johnson's VITAMIN J, Holly Fabyan's ASTERIA, Marc Poirier's HALF FULL and the Smith Family aboard AFRICA.

Watch out for a rematch of what happened in the earlier HELLY HANSEN Marblehead NOOD Regatta for the J/105 class.  All the contenders are back for another shoot-out at the O.K. Marblehead Corral— e.g. Mass Bay!  Amongst those top boats are Dave Nelson's GOT QI, John Ready's VMAX, Mark & Jolene Masur's TWO FEATHERS, Fred de Napoli's ALLEGRO SIMPLICITA, Jon Samel's BLOWN AWAY, Charlie Garrard's MERLIN and Ken Bowden's KNOTLESS.
Over in PHRF handicap world, many J/Teams present should factor into their class podiums at the end of the regatta.  PHRF 2 will feature scorching hot competition between the three J/111s and a J/122.  Ed Kaye's PRAVDA 2, Mike Williamson's BRIGADOON and Gary Weisberg's HEATWAVE will lead the J/111s while holding up the J/122 honors will be Tom Mager's GIGI.  PHRF 3 Class features the brand new J/88 FREYJA skippered by Tomas Bergstrand.  The J/109 WILDTHANG skippered by Dan Boyd & Mitch Wiest will be tackling the PHRF 4 class.  A seriously quick J/33 skippered by Ward Blodgett is taking on the PHRF 5 fleet along with the J/29 IL CATTIVO helmed by Pat Cerundolo, they are up against "Sparkle Pony"- a boat of dubious vintage.  Rounding out PHRF Racing is PHRF 6 class with a trio J/24s gunning class annihilation- Erica Beck Spencer's SEA BAGS WOMENS SAILING TEAM, John Denman's AIRODOODLE, and John Wells' SHELDON-J.  The lone wolf in PHRF Doublehanded class is Jeff Kent's J/35 BLACK SEAL.
For more ONE Championship regatta sailing information
---
SAILING Magazine Features J/105, J/11S & J/24
(Port Washington, Wisconsin)- In the September "New Boats " issue the J/105 was featured on the cover of the magazine.  Then, in the "New Boats 2016" article, the new J/11S launched in Les Sables d'Olonne, France for European IRC racing was given an overview.  Then, the famous, classic, world's largest one-design keelboat class, the J/24, was featured on the "Boats & Gear" cover, as well as being featured in the Used Boat Notebook" on page 56.
Thanks to Sue Reynen and the Schanen Family at SAILING for these boat features.  You can visit their website (http://www.sailingmagazine.net) and follow them on Facebook (https://www.facebook.com/SAILINGmag)!
---
J/70 Chesapeake Champs Announcement!
(Fishing Bay, Virginia)- Fishing Bay YC would like to invite you to the 2015 J/70 Chesapeake Bay Championship.  Following on the success of last year's event, we have planned what we hope to be an excellent regatta. We expect a strong group of competitors from around the Bay as well as from places afar.
This year the date has been moved up to October 3-4 while fall sailing conditions are at their peak.  Fishing Bay YC is ideally situated at the mouth of the Piankatank River at the Chesapeake Bay offering a variety of sailing areas to suit the conditions. The water temperature will still be mild and the breezes should allow for excellent racing.
We will be offering continental breakfast in the mornings prior to racing and dinner on Saturday evening.  Of course, FBYC will have our famous regatta bar set up throughout the event, beginning at check-in on Friday afternoon.
Schedule:
10/2/15: Registration/Check-in 17:00-21:00 with Happy Hour and appetizers
"Dock Talk/Debrief"- Allan Terhune with Quantum Sails
10/3/13: Continental breakfast begins at 7:00
Final registration/Check-in:  8:00-9:00
Skipper's Meeting at 9:00
First Warning at 11:00
Beer and cash bar open at 17:00
"Dock Talk/Debrief"- Geoff Becker with North Sails
Regatta dinner served at 18:00
10/4/15: Continental breakfast begins at 7:00
First warning at 10:30
No races to begin after 14:00
Light snacks and awards following racing
For more information, please be sure to contact Event Chair- Robin Troutman- owner of J/70 USA 380- cell# 804-384-8492 or email- rjtroutman1@gmail.com.   For more J/70 Chesapeake Championship sailing information
---
J/Sailing News
The Sun Never Sets on J's Sailing Worldwide
The middle of August, the peak of the summer holidays for most, is always fraught with dozens of events taking place around the world in dinghies, multihulls, one-design keelboats, foilers and offshore keelboats.  However, every two years, one of the biggest races in the 600nm plus category has traditionally been the RORC's eponymous ROLEX Fastnet Race.  The 2015 edition will go down in the record books as the slowest on record and within that framework were some amazing stories of J/Teams overcoming overwhelming obstacles to persevere and either win or place well in their respective divisions.  In addition, we have fascinating Fastnet Race reports from the women's J/105 duo sailing PANTHER; a commentary by the IRC Two-handed winners, Stuart Childerley and Kelvin Rawlings on the J/105 JESTER; and amazing perspectives and commentary on a Fastnet "newbie" from Peter Gustafsson's highly experienced offshore team on the J/111 BLUR.
While the Fastnet Race was taking place, the Irish were dancing a jig and having fun sailing their J/24 Nationals on Lough Derg, hosted by the Lough Derg YC.  Then, across the "La Manche" in the middle of Germany, the Deutsche Segel-Bundesliga was sailing its fifth act on the Wansee in Berlin, hosted by the Berliner YC.
In North America, the J/70s were also sailing their J/70 Great Lakes concurrently with the Verve Cup Inshore at Chicago YC in Chicago, IL.  On the eastern part of the Great Lakes, the J/80s were sailing their Hans Fogh Memorial Regatta in Sodus Bay, Ontario, Canada.  Then, out west, the St Francis YC hosted their annual Aldo Alessio Regatta for a one-design fleet of J/111s and a PHRF/ORR handicap fleet on San Francisco Bay.
Still farther west across the Pacific, the AUDI Hamilton Island Race Week took place on Hamilton Island; a gorgeous place to host a regatta smack in the middle of the Whitsundays Island chain in northeastern Australia- a.k.a. the spectacular Great Barrier Reef.  A J/130 and J/133 were having more than their fair share of fun sailing around flying humpback whales and curious sea turtles!
Read on! The J/Community and Cruising section below has many entertaining stories and news about J/Sailors as well as cruising blogs about those who continue to enjoy the Caribbean and the South Pacific, staying warm while others are trying to stay warm up north.  Check them out!  More importantly, if you have more J/Regatta News, please email it or upload onto our J/Boats Facebook page!  Below are the summaries.
---
Regatta & Show Schedules:
Aug 28- Sep 4- J/24 World Championship- Boltenhagen, Germany
Sep 4- RORC Cherbourg Race- Cowes, Isle of Wight, England
Sep 10-13- J/24 North Americans- Portland, Maine
Sep 10-13- J/70 Alcatel OneTouch Italian Nationals- Riva del Garda, Italy
Sep 11-13- J/24 Italian Nationals- Genoa, Italy
Sep 12-13- J/80 German Open Nationals- Glucksburg, Germany
Sep 12-13- J/24 Regata de la Independencia- Valle de Bravo, Mexico
Sep 17-20- J/105 North Americans- San Francisco, CA
Sep 17-20- Rolex Big Boat Series- San Francisco, CA
Sep 18-20- J/22 Dutch Open Nationals- Medemblik, The Netherlands
Sep 18-20- J/70 SAILING Champions League- Porto Cervo, Italy
Sep 19-20- The HOOD- Houston Open One-Design Regatta- Houston, TX
Sep 21-27- J/70 North Americans- San Diego, CA
Sep 24-27- J/30 North Americans- Marion, MA
Sep 25-27- J/105 Canadian Championships- Toronto, ONT, Canada
Sep 25-27- J/80 Atlantique Telegrame- Lorient, France
Sep 25-27- J/FEST San Diego- San Diego, CA
Sep 30- Oct 4- J/22 North Americans- Houston, TX
Oct 9-11- J/80 North Americans- Seabrook, TX
Oct 10-11- J/FEST Southwest- Seabrook, TX
Oct 12-17- J/70 European Championships- Monte Carlo, Monaco
For additional J/Regatta and Event dates in your region, please refer to the on-line J/Sailing Calendar.
---
J/Teams Excel In Difficult ROLEX Fastnet Race
J/105 Wins Doublehanded, J/111 Takes IRC 2A
(Cowes, Isle of Wight, England)- The Rolex Fastnet Race, the event that caused the formation of the Royal Ocean Racing Club, celebrated its 90th birthday in 2015.  The founding fathers of the club and its flagship event would have been in awe of their creation with 300 boats signing up within just 24 minutes of the entry list opening in January, a record-sized fleet of 356 boats starting from the Royal Yacht Squadron line making the Rolex Fastnet Race by far the largest of the world's classic 600 mile offshore races, in terms of participation.  The race attracts top teams from around the world with boats ranging from SPINDRIFT 2 and COMANCHE, the world's fastest offshore racing multihull and monohull respectively, down to the J/97 cruiser-racer with every conceivable flavor of offshore racing yachts in between.
The upper echelons in the fleet are packed with America's Cup and Volvo Ocean Race winners plus Olympic and World champions, while the bulk of entries are Corinthian with sailing school and family crews for whom the biennial race from Cowes to Plymouth via the Fastnet Rock off southwest Ireland represents the pinnacle of their sailing season, if not their careers.

The prognosis for this year's 90th Rolex Fastnet Race was less than overwhelming. The forecast for this year's race was extremely light. In fact, the nine fastest boats made it around in reasonable order before high pressure over the Celtic Sea saw the wind disappear from the racetrack for 36 hours. This caused multiple park-ups, huge compression in the fleet and several attempts at deep water kedging. These conditions affected all but the smallest in the giant fleet, and continued until Wednesday when the more usual frontal systems resumed rolling through, providing a fast finish especially for the mid-fleet. In fact, it was so alarmingly, frustratingly slow that by the time some boats drifted to the Lizard Point off Land's End, boats were beginning to retire and head home due to family and/or business commitments.

It was not what anyone in the record-sized fleet initially expected and planned for as they set off the starting line on Sunday.  COMANCHE skipper Ken Read (6x J/24 World Champion) shared his take on the race: "It was honestly one of the most bizarre races I've ever been in in my life – starts and stops and people being left behind for dead and then all of a sudden they are sailing around you. It was phenomenal."  Just after reaching Fastnet Rock, Ken reported: "We sat there for exactly four hours not moving – I know that because it was almost to a minute the duration of my watch! We had a little westerly-going current early on and some easterly current for the last hour and a half and we zigzagged back and forth with the current waiting for the breeze to fill in."  Imagine that.  A 100-foot all carbon and foam epoxy $15 million offshore racing machine parked.  Yes, parked. Going "triple naught" for four hours.  Yup, afternoon tea on the poop deck would've rivaled anything on the green at Hyde Park, imagine the views?  Too bad Jim doesn't allow the crew to post "selfies" on Facebook!

Fastnet Races can be epic affairs, at least that's the impression one gets reading the Rolex Fastnet brochure and propaganda.  Nevertheless, most years it's basically a coastal race headed west then east along the southern shoreline of Great Britain.  That means tidal gates along at least two major "points" (Start Pt off Dartmouth and the Lizard Point at Land's End) and working with ever-changing fronts rolling through at a reasonable pace.  Then, the round-trip across the Celtic (Irish) Sea from the Scilly Isles to Fastnet Rock (Ireland) and back (about 150nm each way) can be tricky, but is often just a slog beating under white sails into 4-8 ft high choppy confused seas or a wild reach (in the same seas) but burying the bow and hoping no one gets washed overboard.
As they often say in such unusual scenarios, "never seen anything like this before"!  Forty-year veterans of "the race" have, in fact, never experienced such a slow race before.  Think about this, the 130 ft record-breaking trimaran SPINDRIFT II sailed by her owner/skipper Donna Bertarelli took two DAYS 11 HOURS to sail 605nm??  This same boat can do 45 kts practically on "cruise control" and do 605nm in 24 hours no problem.  Yet, they only beat Lloyd Thornburg's electric green/silver MOD 70 trimaran called PHAEDO by just two hours.  Do the math.  To everyone's surprise, ultimately, SPINDRIFT II finished at 22:57:41 BST on Tuesday night, more than a day outside of her own record at the average, tortoise-like speed of 10.25 kts!  The big canting-keelers, COMANCHE and RAMBLER 88, weren't far behind.

The big news for British sailors (and the J/Tribe) was the fact that a couple of old hands absolutely slammed home one of the most amazing performances ever in the IRC Two-Handed Division.  Stuart Childerley and Kelvin Rawlings took victory in the usually French-dominated Two-Handed class aboard their J/105 JESTER.  Remarkably, they beat the Overall 2013 Rolex Fastnet Race winning father and son team (Pascal and Alexis Loison) on their JPK 10.10 Night And Day by a mere 14 seconds!! Childerley and Rawlings' performance was such that the J/105 JESTER also ended up top British boat, finishing fourth overall under IRC!  An absolutely extraordinary performance in the 20+-year-old first-ever sprit-designed keelboat in the world.  Here's one for Nautical Trivial Pursuit- the Loison's of France were also former J/105 owners for years (perhaps now regretting their decision to change horses)!
Generally, the top spots overall in IRC were filled by boats from IRC 3 and 4, suggesting that the best vessel to suit this year's weather was a well-sailed, fast, IRC-friendly small boat.  Tactically the most significant parts of the race for these boats was being able to shave the north side of the Casquets TSS on the first night and then hugging the Devonshire-Cornish coasts between Start Point and the Lizard. Importantly, boats in these classes generally managed to avoid the high pressure between the Scilly Isles and the Fastnet Rock and the resultant park-ups that affected the bigger, faster boats.

Royal Ocean Racing Club CEO Eddie Warden Owen (J/24 UK and European Champion) observed of this year's Rolex Fastnet Race: "I think it has been an incredibly challenging race – one of the best for a while. The teams that won had to work really hard. They had all conditions: Drifting, light winds up to strong winds – very challenging.
The Two-Handed class impressed me: 68 boats, including the IMOCA's and the Figaro's, shows that to be an area of sailing that is on the rise and it is an interesting discipline. The winners of the Two-Handed class under IRC were two very good sailors – Stuart Childerley and Kelvin Rawlings – and to beat the 2013 overall winners is a big achievement. You can believe that those two guys would have been grabbing every inch of performance out of their boat."
Given the magnitude of their achievement, the J/teams in the Two-Handed class faired quite well.  The extremely competitive team of John van der Starre and Robin Verhoef sailing their J/111 XCENTRIC RIPPER finished 7th overall in 2H and also ended up winning IRC 2A class against fully-crewed teams!  Then Neil McGrigor's J/109 BOO, placed 10th in IRC 2H and one of the RORC Season series leaders, Nick Martin's J/105 DIABLO-J was 13th in class. Yvonne Beusker & Edith Voskamp's J/105 PANTHER finished 38th in class and were, in fact, TOP WOMEN's team in the entire race!!  That is very cool.
IRC 1 Class was an interesting mix of boats, all with the hotter than hot IRC latest designs like Ker 40s, Carkeek 40 MK 2s, GP42s, etc. etc.  The two highest rated J's in the event included Peter Gustafsson's J/111 BLUR and David Ballantyne's J/133 JINGS. Extraordinarily, they practically finished within sight of each other after four days of sailing and rating near identically under IRC, 1.110 and 1.109, respectively.  Peter's BLUR crew finished 6th and David's team placed 8th, just one hour apart!

If one were betting on ultimate outcomes sailing the Fastnet Race, most would place their money on the mid-fleet boats that sail in IRC 2 Class.  More often that not, they're fast enough boats to hang on to tactical/ strategic "windows" that larger boats cannot get away from, but they are fast enough to eclipse the 34-38 footers.  In the end, the "rubber-banding" effect on the fleet as they crossed holes, tidal gates, and so forth meant it was going to be a tough race for all.  In the IRC 2 Class, it was the J/111 XCENTRIC RIPPER that took 4th overall in class and 1st in IRC 2A division.  Just behind them was the J/122 LORELEI sailed by the husband/wife team of Alain and Marie Catherineau, taking 7th in class and 3rd in IRC 2A division.  In addition to their extraordinary achievements, as LORELEI's skipper, Marie Catherineau, won the Maite de Arambalza Trophy for the best yacht with a female skipper.  Taking 9th in class and 4th in IRC 2A was Gilles Fournier's J/133 PINTIA (at one point, they were leading the entire race on handicap, such are the changing winds of fame and fortune!).
No question, IRC 3 Class was pretty hyper-competitive.  It produced the overall winner (all Figaro champions) and it also produced the top J/Team- Stu and Kelvin's J/105 JESTER.  Winning 2H for them was the crown jewel, but finishing 3rd in class and winning IRC 3B didn't suck either— just more silverware and more "brag flags" for this motley duo!  A tough competitor proved to be David McGough's J/109 JUST SO, taking 5th in class and 3rd in IRC 3B.  In 7th place IRC 3 and 4th in IRC 3A was Jean Jacques Godet's J/120 RHAPSODIE V.
Finally, in IRC 4B, in her first Fastnet Race ever, Helen Hofmann's J/97 JASLAN managed a 10th in class- an epic performance in her 30 footer!!  Kudos to her and crew for their perseverance against all odds in what was the most difficult Fastnet Race ever.  Yes, Fastnet 1979 was physically demanding, but Fastnet 2015 was psychologically and mentally exhausting for most crews. Sailing photo credits- ROLEX/ Kurt Arrigo and Daniel Forster.  For more Rolex Fastnet Race sailing information
For more Rolex Fastnet Race YouTube sailing video coverage:
IRC 1 Class Start    IRC 2 Class Start    IRC 3 Class Start    IRC 4 Class Start
Overall Rolex Fastnet Race Summary
---
The Triumphant J/105 JESTER!
(Plymouth, England)- In the court of the crimson king, this court needed its court jester! 54 teams entered the 2015 Rolex Fastnet Race racing in the IRC Two-Handed Class from Belgium, France, Great Britain, Holland, Ireland, Monaco and the United States of America and the winner, after over four days and nights of racing, was decided by just 14 seconds, with the top 18 yachts just 5% apart after time correction.
For most of the two-handed competitors, food will have been simply fuel, and sleep will have been the ultimate luxury. Racing two-handed for 603 nautical miles non-stop, spending most of the time alone on deck is tough. To perform well requires an all-round ability where both crew need to be able to accomplish any task on board. This year's Rolex Fastnet Race proved to be a long hard marathon for the 108 sailors racing in all four of the Two-Handed Classes (IMOCA, Class 40, Figaro, IRC 2H).
The fastest yachts had taken over four days and nights to complete the course and some of the slower yachts were still out there battling against the weather and their fatigue late Thursday afternoon. Tenacity, patience and a will of iron, coupled with expert seamanship and racing prowess is what's required to take on the Rolex Fastnet Race two-handed. Make no mistake, it is an extraordinary challenge.
The 2013 overall winner of the Rolex Fastnet Race was Pascal and Alexis Loison's JPK 1010 Night and Day, the first-ever two-handed overall victory in the 90-year history of the race. Night and Day was back this year to defend their title. During the race the father and son team were very much in the running for the Two-Handed Class, even the dream of the overall win. However, the French champions were defeated by the narrowest of margins by a rookie British team.  The most ultimate of ironies, in fact (the Loison's used to race a J/105).
Racing two-handed in the Rolex Fastnet Race for the first time, Kelvin Rawlings & Stuart Childerley – campaigning the 20-year old J/105 JESTER – won by a dramatic 14 seconds after time correction from Night and Day. Antoine Croyere and Joe Lacey's A35, Hey Joe was third. JESTER was also fourth overall out of 309 yachts racing under IRC!!
Kelvin Rawlings has competed in the America's Cup, won several Admiral's Cup campaigns and taken part in over 21 Fastnet races, but never two-handed. His long-time ride has been with Mike Slade's LONGOBARDA and LEOPARD, including the record run on the 100ft Maxi in 2007. Turning 65 next year, Kelvin received a proposition from his long-time friend, Stuart Childerley, about a new challenge.

Stuart, who turns 50 next year, has represented Great Britain twice at the Olympics, coming fourth on both occasions and has also won the International Etchells 22 World Championship twice. Stuart has competed in seven Fastnets including several Admiral's Cups and big boat racing, including LEOPARD and is still a potent force in the International Etchells 22 class. A poacher turned gamekeeper, these days Stuart is an International Race Officer working for the Royal Ocean Racing Club on inshore regattas, including the IRC National Championship and the Brewin Dolphin Commodores' Cup.  Here is their commentary after finishing the race.
Kelvin Rawlings: "We were on different sides of the world and Stuart sent me a three word text: 'Two handed Fastnet?' I replied – 'Yes.' There was absolutely no hesitation at all and everybody thought I was mad.
I thought we would do well, but I didn't think we would win it! Two-handed is just a challenge and I had done it all in the big boats. In a big team you just do your job; in my case the pit, so I wanted to get back to all-round sailing and be involved in everything from cooking, trimming, helming, navigation and tactics. We looked at chartering a modern boat, but a lot of people in the know kept talking about the J/105, so we just bought one and worked it up.
I come from a generation where there was a way forward in yachting; a structure. You learnt to sail, you found your way onto a good boat and committed yourself to a racing programme and you sailed every weekend, offshore and inshore for the ultimate goal; The Admiral's Cup, which was a stepping stone to the America's Cup.
This victory is up there with winning the first race in the Challengers' finals in the America's Cup, against Australia II, the eventual winners. It is also up there with winning the 1977 Admiral's Cup with 59 boats on the start line. I have done 10 Rolex Sydney-Hobart's, but this is right up there!!"
Stuart Childerley spoke about the logistics of organizing the Rolex Fastnet Race:  "The level of detail from risk management, co-ordination of the services at two different locations and much, much more is huge when you are running an event like this.

People come from all over the world to do the Fastnet and they prepare for years to take part. It is one of those races that any offshore sailor wants to do. On board JESTER we have had good moments in the race and some big knocks, but we always kept fighting. We sensed we were close to victory, AIS has transformed offshore racing because you can identify who the top boats are. We didn't know the full picture but we knew that every second counts.
Down to the last 10 miles, we knew we were catching up. We had the light kite up and the wind was increasing, so we made the decision to change to the heavier kite, then the wind speed decreased and we changed back. We put in two sail changes and really nice gybes and we needed to; we could have easily lost it there, but we were absolutely delighted to win.
The intensity of those last 10 miles after four days racing was great. This has been a fantastic challenge and you can't live in the past, you can't trade that as a currency, you move on to your next challenge and we will both be looking for one!!"  Sailing photo credits- ROLEX/ Kurt Arrigo   For more Rolex Fastnet Race sailing information
---
"PANTHER Girls" Rock the Fastnet!
(The Hague, The Netherlands)-  Here's the report of the women's two-handed team sailing the J/105 PANTHER from the Netherlands.  Yvonne Beusker (left in this photo) sailed with her friend Edith Voskamp all season long in the Netherlands/ RORC races as a warm-up/ training for the Rolex Fastnet Race.  Here is their story as told by Yvonne about their Rolex Fastnet Race experience:
"Monday 10 August around noon time – what a splendid welcome- drizzly Cowes! The non-stop journey from Scheveningen (NL) prepared us from no wind and sun on Saturday afternoon to a 20-23 kts of wind and, well, the rain the days following. Once sailing you remember it's all relatively close. Our welcoming committee, while being washed in with the currents into East Cowes, were fanatic battling Cowes Week competitors, cheered by the music ashore. It's good to be back!
But we're in for far more than just a cruise. About a little more than a year ago, the idea popped up over a coffee while planning the year's Two-Handed race schedule for ourselves. Sure why not do the Fastnet Race? Crazy?  Maybe.  But, we made sure to put the opening of the registration for Rolex Fastnet 2015 in our agenda as we know with the limited number of participants, it's fully booked in no time.

In The Netherlands we have quite an active competition in the Two-Handed scene which is perfect for a good preparation: from October 2014 through to end of March 2015 a winter competition out at the North Sea with the Two-Handed class. The regular 2015 competition kicking off with 50 Mile race competing with 110 yachts. Then working our way to the first Dutch Two-handed Nationals 2015 ever during North Sea Regatta in Scheveningen (NL); a stiff competition of 22 yachts, racing 2 long distance races, 130 mile Vuurschepen Race to Harwich, immediately followed with a 180 mile return of North Sea Race to Scheveningen and last but not least another 4 days of around the cans inshore racing. Fantastic! Even better, with accumulation of all these miles in the last year we had our qualification for the Fastnet more than confirmed.
So there we are Sunday 16 august, D-Day. We have to pass the gate first with all our orange storm sails up before we can do our preparation for the start. And we're checked in!
In the days ahead of the start, we'd gone out to get accustomed to the surroundings: tides, stating line and other local conditions. We were fortunate to have our coach Erik van Vuuren with us, who knows the area pretty well and for last minute tuning of the boat.
Media helicopters fly above the Solent to record all they can on the epic 90th anniversary Rolex Fastnet Race. It is very impressive to sail between all the other 390 competing yachts, and these 100 ft Maxi's and 70 ft Tri's really make you feel humble on our 10.5 meter yacht. And we're all competitors. Imagine, in which sport can you have a Formula 1 car race against a Golf 2nd generation and actually even win?
We were looking for signs— could the crash of both our watches and our starting watch be a sign that we are entitled for the Rolex chronometer? With our J/105, we were part of the fastest yachts (on paper) in Class 4, the largest class with a fleet of 72. Both duos as well as full-crewed yachts are combined in the Classes and thus start together. We were prepared for a really light weather start and actually light weather throughout at least Monday. Knowing such upfront made us prepare the anchor with enough rope and make the mental frustration level a little more acceptable. The tide is strong in the Solent, so we wanted to make sure not to drift over the starting line and being obliged to return to do a restart.
Well let's not waste too much on our start; we basically got stuck between other drifting yachts and score-wise were falling near bottom. We knew the return from the rock would be a blast, where our J/105 could be planing downwind. The starting position turned out to be an expensive mistake and we've been fighting all the way throughout the race to make up for the loss, return to an 18th position in our Class 4A.

When you're sailing with a team, it's pretty obvious: you split the crew into teams and have them divide watches among them. So how does that work with us, duo's? Well, we basically do the same work as the full-crewed teams, but in essence just need to work a little harder. You know that if you race together you are more efficient. Being human too, other elements kick in: sleep and rest, every moment you can. Approximately 60% of the time one is sailing solo, the other 40% you need for: sail arranging, repair, sleeping, eating, navigation.
To perform in a longer period of time it is key to see when one can rest. We get the latest compressed weather files via iridium satellite to plan ahead. That feels like getting back in time even before 1995! To give you an idea, while you're out surfing through free Wi-Fi at your local coffee shop, an average file download of 40kb takes 1.5 minute to set up plus an additional 4 minutes to download with 9.6 kb a minute satellite connection- – – or longer if the connection is lost! So, dear friends, that's why we skipped the sharing of these nice pictures and movies during the race.  With the raw data files we make our weather forecast, strategy and plan ahead when to expect action or one of us has to rest. My friends warned me not to get carried away in this blog with the details on the weather and strategy, but obviously feel free to ask if you're up for it.
Work and play, for days. The highs of the trip must have been the start, the rounding of the Fastnet rock and really, the last 100 miles or so planing back with outrageous speeds, and cheering dolphins all around us playing with the waves of our bow. That's why you have a J/105!! Thursday night at 03:15 UTC we were welcomed in Plymouth by Coach Erik; as the Dutch do, he'd been cycling his butt off for 350 kilometers from Cowes to Plymouth to be in time to take our mooring lines!  What a man! We LOVE him!  So good to see you all again!  We LOVE you all!
A few facts and figures (thanks Chris!) on the 90th anniversary edition of the RORC and the famous Rolex Fastnet Race 2015:
Since 2005, the first Two-Handed Class was allowed to compete in the Rolex Fastnet Race.
In total, only 176 duos have completed the Rolex Fastnet Race since it was first allowed
Out of this total, only 19 Two-Handed Dutch boats have finished the race
And for the record books, J/105 Team PANTHER is the only all-female duo to have completed the Fastnet Race!
NOTE – J/105 Panther was brought to Netherlands in 2009 from the U.K. by her current owners- Yvonne Beusker & Edith Voskamp. It has been active in international inshore & offshore racing since. In 2009 and 2010 PANTHER was raced by a mixed full-crewed team.  In 2011 and 2012 by an all-female full-crewed team. Since 2013, Yvonne & Edith actively race PANTHER as a duo in Two-Handed races and competition. PANTHER is the only Dutch all-female Two-Handed yacht racing offshore and this Dutch team are the first two women to have completed the Rolex Fastnet Race in 2015."   Sailing photo credits- ROLEX/ Kurt Arrigo   You can follow Yvonne's and Edith's escapades on the Facebook PANTHER Sailing team page.   For more Rolex Fastnet Race sailing information
---
A "Newbies" Perspective on the Fastnet Race
(Stockholm, Sweden)- Sweden's Peter Gustafsson has been sailing in Scandinavia ever since he was a little kid.  As his passion for sailing developed, he has been fortunate to have the ability to sail a number of different boats and has chronicled his adventures on the social media blog site- BLUR.SE (http://www.blur.se).  For years he successfully raced a J/109 named BLUR and then three years ago, Peter decided to jump into a similar-sized but much faster boat- the J/111.  After nearly a year of preparation, Peter and his all Scandinavian crew took on the Fastnet Race with their J/111 BLUR.  Here is their story as told by Peter:
"Let's start with answering the obvious question, 'how was it'?  It was fantastic!  And different.
Compared to most other offshore races I've done there was another dimension, that I can't really put my finger on. It might be the fantastic nature and animal life with whales and hundreds of dolphins. It might be the intense competition with some of the world's best offshore racers. It might be the mix of legendary landmarks and teams that inspired me to go offshore when I was young. It might be the welcoming atmosphere both in Cowes and Plymouth that made us fit right in.
It doesn't really matter what it was.  All I know is that I was on an emotional high for 96 hours straight and that the team worked harder than ever.  This is a race we should have done a long time ago.
Preparations
I'll write a separate article (in Swedish) on preparations, as I know of several Scandinavian crews who want to do Fastnet in 2017. This year there were eight Swedish boats, and all did very well. And I'd expect even more to come along in two years.
We decided to do the race in December 2014. The alternative was the J/111 Worlds in Newport, but none of us had done Fastnet (we all had it on our bucket list) so that would be the bigger challenge and demand more from the team.
It's so much easier to focus on one major event, so all spring training, qualification races and even transport were designed as a build up. And looking back I wouldn't want to do anything different.
Start (-4 days)
We arrived in Cowes a week before the race, and hade the boat ready-to-race when the crew arrived Wednesday. We spent two days sailing on the Solent from the start (at the correct time to match the current on Sunday) to the Needles to get a feel for the tide, and got to ask questions not even the locals had answers to. My take is that good homework beats local knowledge every time, and this would prove true in this case as well.

We also worked together with Aksel Magdahl on weather scenarios. We wanted to race as a team without any pros or local guys on board, but three of us worked together with Aksel to analyze the weather situation.
As Squid Sailing decided to give all their high-res models away for free to Fastnet competitors, we knew that everyone had good data. The big thing was to determine the impact of a low pressure and associated fronts over Ireland, and to manage a number of transitions; one at Plymouth on the way out and one at Scilly Isles.
Starting Line – Needles
Naturally, there's a lot of drama in the morning. Check-in with the orange sails up, watching Spindrift and Comanche swosh by, cheering on other boats, and having old and new friends wishing loch from everything that floats. Chaos. But a friendly chaos…
We watched the IRC3 and IRC2 starts and it was obvious that the tide took it's toll with many OCS in both classes. Good boats like Refanut and Courrier du Leon spent a long time under spinnaker trying to get back to restart.

We had decided to be conservative, and we were in good company. With 4 minutes to the gun most of the fleet was sailing eastward, away from the line to avoid being early. With 25 boat-lengths to the line we got going.
We were about a third up along the line from the squadron and lost out to the boats that were closer, but soon hit the favorable current along the southern shore. We traded tracks with Ker 40 Keronimo and some other seriously fast boats and managed to hang on to them for quite a while.
We worked the south side down towards with our navigator monitoring currents closely. As soon as we lost just 0.2 knots we tried to get back in maximum current again. Here our work earlier in the week paid of and we managed to find a good balance between currant and wind pressure.

Before the start, we decided on a number of boats we would monitor on AIS. This would help us keep our pace up but also serve as indicators of wind and current. Naturally, the J/111s were perfect, as all of them were in IRC2 that started 20 minutes before us. And as most of them went right we could see that they were considerably slower than us due to less current.
For a while we struggled, but decided to make one more tack in under a dark cloud in Newtown bay before changing sides to make the most out of the passage at Yarmouth and Hurst Castle.
After Hurst, we found that the strongest current was further south than expected and worked hard to stay with it. Most local boats, following "common knowledge", went hard right towards the Shingles and lost out. Super effort by our navigator, Patrik Måneskiöld, who nailed it.
The pay-off came at the Needles, where we were leading in IRC1. Absolutely amazing!!
This was one of the stages I worried about before the race, but in the past, we've proved we can win the trickiest stages in Denmark and the Stockholm archipelago without any local knowledge. But by doing our homework.

Needles – Start Point
As the wind lightened throughout the evening, our routing had us going south along with most of the fleet. But we wanted to be on the right side to be able to make the most of the northerly that was supposed to fill in during the night. A short port tack put us in a position with 20% of the boats to windward, which felt very good.
Looking back, we might as well continued south, but before the race we decided to be very conservative. We should stay with the fleet and not take any chances. We knew we had speed and trusted our ability to hang in there, even if we didn't get 100% out of every opportunity.
And we got the proof early on when we passed the other J/111s. As they started 20 minutes before in IRC2 and we caught them in less than 3 hours of sailing. That was a boost for everyone on board. Afterwards we got good grades from the crew on British Soldier: "You guys are really quick".
During the night, the wind went further and further west, and the current took the fleet south.
We made progress towards west, but away from the expected northerly wind, so we decided to tack north again to meet the shift. One alternative would be to anchor, like First 40 La Reponse, to be in a good position, but we valued a position further west and kept sailing.
Looking at the track, it's very similar to Courier du Leon, and it's hard to see that we could have done it very different? At 19.00 we were within sight of each other. The screenshot shows us at 0200 just after the transition, and at 0600 in the morning we had extended our lead to 14nm.
After the northerly filled in we went to Code 0 and charged westwards. Here the fleet divided into a northerly group aiming to take advantage of the sea breeze in the morning and one southerly offshore group. Together with very experienced Grand Soleil 43 Quokka and La Reponse we lead a bunch of boats committing to the inshore route. We felt confident that those two boats and our routing all agreed on the same thing.

Start Point – Lizard
In the morning Quokka slowed down, then we and La Reponse. We though our positioning was ok, in front and to the right, but as others caught up they went even further north to avoid stopping. The process repeated itself as more and more boats came along, leaving us in a tough spot.
We managed to keep some speed, but still lost out to the group that went by on the inside. All the 14nm we had on Courier du Leon were gone.
When we finally got going, we went right, to be on the right side of the pack when the northerly wind came back.
When we got Internet access, the tracker showed us as 26th in IRC 1. Not fun after being in the lead, but still something to work with. Spirits were high and we sailed very aggressively up the coast towards Lizard Point.
And we timed the northerly wind perfectly, went to Code 0 and then A3 ten minutes later. We found a good line slightly east of the majority of boats that included both Alphalink and Xcentric Ripper. We had slightly more current against, but better pressure. So, we were able to catch the boats ahead, one by one. British Soldier opted for an offshore route that didn't pay.

Lizard – Scilly
At Lizard Point, we went back to Code 0 and hit the corner and current (that now was with us) perfectly. Passed a bunch of boats and had great pace towards the TSS east of Scilly.
We knew we were hitting another transition with light winds, and we didn't want to be caught on our own. We gave up some westerly distance to position ourselves ahead in a more conservative spot. Better safe than sorry…
It was a fantastic night. When I came on watch at midnight it was warm and we had hundreds of navigation lights astern. The lighthouse swept over a black sky filled with stars. We were the fastest boat in sight but didn't make a sound as we left a long trail of glowing sea sparkles together with dolphins and schooling fish.
A magical show that gave way to a beautiful sunrise at the Scilly Isles.

Scilly – Fastnet
Looking at the results we were again in the lead. Apparently, we managed to crawl back from 26th to a 9th south of Fowey and then 6th at Lizard Point.
And now we could see both A13 Teasing Machine (committed to the south after Scilly) and Swan 45 K-Force (committing to the north).
Here's the situation at 10.04 Tuesday morning. We wanted to be left of the pack to get the SW breeze first, but not invest too heavily as each port tack was wasted distance when the wind hit. Again, the strategy and positioning was very similar to Courrier du Leon:
At one point just after lunch we couldn't hit our targets. We found kelp around the rudder, and after some investigation with the GoPro, around the keel as well.
We stopped the boat, and Simon Kindt did a wonderful dive to clear he keel. Pretty absurd thing to do in the middle of the Celtic Sea. And yes, it's on film.
In the afternoon, the wind increased at forecasted. We went from Code 0 to J2 to one reef when the wind topped 20 knots during the night. We struggled with performance, and had a hard time pushing the boat. Here it was obvious we hadn't trained in pitch black, fog and short waves. Also, some of the crew got seasick and we became somewhat passive for a few hours.

Fastnet – Scilly
When the morning broke, we could see Fastnet Rock through the fog. The rough conditions were exactly how we imagined the rounding, and it felt great to be able to tick the box.
This was a moment to remember for all of us.  And a great achievement to be able to be here as 9th boat in a super competitive class.
I downloaded the latest weather that indicated that the low over Ireland would stay there and we would sail into less and less wind on the way to the finish. We decided to make the most of it and set out big "whomper" A2 and went low in the stronger winds. We would have the opportunity to come back up in the lighter winds.

Fast and fun sailing when we passed boat after boat. We tried to do the most out of the conditions and peeled between A2, A3 and A5 to maximize our speed towards the TSS west of Scilly.
Unfortunately, we didn't really do our homework on the TSS at Scilly Isles. We were so focused on hitting the SW corner that we didn't really evaluate the option of going on the inside. It would have been faster to stay low and head up with the current close to the islands, but 80% of the boats stayed south so that might still have been the conservative choice?
We'll put this aside as a beginners mistake. As this was our first race, it was hard to change perspectives. Going from the big picture, with many options, to managing each leg, and then back up again to re-evaluate is hard when everything is new. When the competition have done 10-15 races, they've seen (or even tried) most alternatives.

Scilly – Finish
Not very dramatic, but we still worked hard. Changed back and forth between A2 and A3 in the pitch-black night to make the most out of every change in conditions. At Lizard Point, we tried to find maximum current, but obviously the pay-off was much smaller this time.
In general, in 8-12 knots downwind we don't really have an edge over other boats, but we stayed in contact with Farr 45 Nature and some other fast boats.  After short gybe behind the breakwater in Plymouth we passed the finish line at 12:31:58.

Wrap up
Our goal was to finish Fastnet Race in the best way we could and get the most out of both the boat and the team. We were all new to the race, but wanted to do it without local knowledge or other expertise on board, as this would be more demanding (and maybe rewarding).
We had no expectations in regards to results, so to finish 6th in IRC1 which included over fifty of the best pro teams in Europe is absolutely marvelous. And to beat legends as Antix. Erivale and Hooligan really make our result something out of the ordinary.
Personally, I had three moments that defined our accomplishment:
Leading IRC 1 at the Needles, after a tricky start we trusted our speed and homework and beat the rock-stars at their own game.
Coming back from 26th place to lead again at the Scilly Isles. No negative vibes. Just focus, hard work and confidence in the team.
Rounding the rock 🙂
The Team
I'm especially proud of our team effort. Everyone worked harder than I've ever seen before and also helped each other reach a higher level. I've done more and more short-handed racing in the last few years, but when a crew perform at it's full potential it's magical.
Our watch schedule with two hours on, two hours stand-by and two hours off (three watches) let us push the boat hard and when fresh guys came up every two hours it really felt like a well oiled machinery.
Blur Sailing Team (top photo left to right): Peter Gustafsson (helm + skipper), Pelle Pedersen (helm), Mattias Bodlund (trim + mast), Andreas Turesson (trim + bow), Patrik Måneskiöld (navigator + trim), Mats Björk (keyboard), Simon Kindt (bow) and Magnus Hansson (helm).

The team also include David Johansson (bow). We usually race with nine, but IRC limited our crew to 8. David still did the race with SunFast 3600 La Primera, and has a big part in getting both them and us to Cowes and around the rock.
A big thank you to our partners. Without you we wouldn't be able to perform: GVA, Henri Lloyd, North Sails, Liros, Spinlock, 24Hour Meal and Happy Yachting.
I'd also like to thank RORC and all local sailors that welcomed us with open arms, helped us in every way and hosted some great parties."  Sailing photo credits- ROLEX/ Kurt Arrigo.  Rounding Fastnet Rock YouTube sailing video.    For more J/111 BLUR sailing experiences please click here.   For more Rolex Fastnet Race sailing information
---
Berlin YC Hometown Heroes in DSBL V
(Berlin, Germany)- The Deustche Segel-Bundesliga sailed it's fifth act on the Wansee in Berlin, Germany this past weekend, from August 21st to 23rd.  Like their compatriots sailing the Fastnet Race, that same "squishy flat" high pressure moved over the European continent and proceeded to park itself over most of the major sailing lakes, leaving many regattas gasping for any breeze.  On Berlin's Wansee, that was the case.  The first day of racing was canceled because of the absolutely perfect mirror created by a complete lack of wind- yes, the proverbial "glass out", as some might call it.  Nevertheless, over the next two days, the teams were treated to reasonable winds and the host club's team, Berliner YC, won the regatta with a remarkably consistent scoreline- in fifteen races posting 5 3rds, 7 2nds and a 1st.  Comparatively, their erstwhile competitors were all over the map playing their own versions of "snakes & ladders" all weekend long!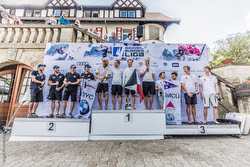 According to BYC's skipper, Max Nickel, "Better lucky than smart, that's our story! We never expected to win. The key to victory was probably our consistency, good starts and a certain home advantage since we do know how the wind works around the lake!"  Max and his crew of Sven Rüggesiek, Heiner Wilkens and Philip Raabe had trained hard for event but had no idea they would topple some of the DSBL's top teams.
Taking second for the regatta was the Deutscher Touring YC, winning six races but not demonstrating anywhere near the consistency of their Berliner YC friends. In fact, DTYC barely beat out one of the newer teams on the circuit, the Segel-und Motorboot Club Uberlingen.  In fact, SMCU secured third place on the podium as a result of a tiebreaker with one of the
more experienced DSBL teams, Verein Seglerhaus Am Wansee (another "local" club).  Taking fifth place was Norddeutscher Regatta Verein.
As a result of their stunning performance, Berliner YC leapt into second overall in the DSBL 2015 League standings.  Their finishes of 5-14-8-4-1 is good for 32 pts and, by virtue of the tie-breaker, sit in second place over Norddeutscher Regatta Verein that have a 7-13-1-6-5 scoreline for 32 pts.  Leading the entire series by a wide margin is Deutscher Touring YC with a very consistent scoreline over five regattas of 1-4-3-7-2 for just 17 pts total. Lying fourth overall is Flensburger SC and in fifth is Kieler YC.  Sailing photo credits- DSBL / Lars Werhmann.   J/70 Berlin Highlights   J/70 Berlin Live Video replay   For more J/70 Deutsche Segel-Bundesliga sailing information
---
J/111 SKELETON KEY Aces Aldo Alessio Regatta
(San Francisco, CA)- The annual summer time big-boat classic, the St Francis YC's Aldo Alessio Regatta, took place over the August 21st to 23rd weekend in the usual "fresh to frightening" weather conditions served up by San Francisco Bay.  The format was different than it had been in past years, the StFYC offered up a trio of scoring systems for all who wished to participate and to gain a better understanding of how their boats would perform under various rating rules- PHRF ToT, ORR and HPR.  In addition, there was a one-design class for the J/111 SF Bay fleet.
For the six J/111s sailing one-design, it was loads of fun and tight racing.  Nevertheless, the standout for this regatta happened to be Peter Wagner's SKELETON KEY.  They certainly had the "key" to something, like perhaps a direct line to the "big guy upstairs", since their scoreline of straight bullets was pretty remarkable in this closely-fought racing.  Taking second with nearly as many 2nds was Dorian McKelvy's MADMEN with 9 pts total.  Hanging on to third place was Rob Theis' AEOLUS with 12 pts.  The top five was completed with Dick Swanson's BAD DOG in fourth and Gorkem Ozcelebi's DOUBLE DIGIT in fifth position.
The debates were raging over on the handicap class fleet.  All the boats were scored in PHRF ToT, but some also elected to be scored in ORR and HPR.  The top J/team was Peter Krueger's J/125 DOUBLE TROUBLE, taking third overall in PHRF ToT.  Tom Siebel's J/125 TYR TYR had some good scores, but couldn't make the last race so dropped to 8th overall.  In the HPR scoring, the J/125s took 2nd and 3rd with DOUBLE TROUBLE over TYR TYR.  In the ORR ToT scoring, the J/125s placed 6th and 7th.  The jury is clearly still out on what works best on SF Bay.  Sailing photo credits- Presure-drop.us.  For more St Francis YC Aldo Alessio sailing information
---
Fun Times @ AUDI Hamilton Race Week
(Hamilton Islands, Australia)- This year's Audi Hamilton Island Race Week featured a little bit of everything for the sailors- from a gorgeous, brilliant first day of sailing, to pop-up rain storms, to spectacular sunrises and sunsets interspersed with rain and sun.  Never a dull moment for the large fleet of boats that kept criss-crossing the Dent Passage from August 16th to 22nd.
When the weather is "on", it's simply stunning.  Perfectly situated on the edge of the Great Barrier Reef, amongst Queensland's seventy-four Whitsunday Islands, Hamilton Island offers an experience like no other: glorious weather, azure waters, brilliant beaches, awe-inspiring coral reefs, fascinating flora and fauna, fine food and wines, and activities almost too numerous to mention.
I
n the end, it was the J/133 EUPHORIA, skippered by Anthony Coleman, that had a week-long battle for the top of the podium in EHC Racer-Cruiser class.  And, fittingly, the entire regatta came down to the last race in a "who beat who" scenario to determine the winner.  However, the outcome was a surprise, with EUPHORIA taking 2nd in the race, but not good enough to win!  Having to settle for the silver as a result of being tied on 23 pts each and losing the tie-breaker!  Nevertheless, a great performance for Coleman's team and chances are likely their performance will only whet their appetite to return in 2016 to seek the overall title!
In addition to the large cruiser classes that dominate the event, the 2015 Australian IRC Championship was taking place.  In the IRC 4 Class, Chris & Bernadette Morgan's J/130 RAGTIME had their moments of brilliance, but could only managed a mid-fleet finish, taking 7th in their class.  For more AUDI Hamilton Island Race Week sailing information.
---
REACH AROUND Crowned J/70 Great Lakes Champ
AQUAHOLIKS Top Corinthians, 3rd Overall Too!
(Chicago, IL)- The annual Verve Inshore Regatta weekend got an early start as fourteen J/70s began their Great Lakes Championship Friday morning with uncertain conditions in the forecast. "We started the day off in six knots of wind at 10:30 this morning and the wind shifted over to the southeast to about nine knots," said Chicago YC's PRO Rick Lillie. "We were able to get four square races off today with only a few adjustments."
Even before racing started there was a shift when NORBOY transitioned to "NORGIRL"! During practice on Thursday, NORBOY's owner Leif Sigmond was injured after a rough round up and a dip into the storm-cooled waters of Lake Michigan. Not wanting to drop out of the event, Sigmond quickly brought in Sarah Renz as a substitute skipper to round out his all-star team of fellow Chicago Yacht Club members including his wife Laura Sigmond, Melissa Grim and Rolex Yachtswoman of the Year Stephanie Roble!

Leading at the end of four races was Thomas Bowen's REACH AROUND from Charleston, SC.  REACH AROUND is a two-year-old husband-wife program that ranked top 10 in the three top events of the 2015 winter circuit — Key West Race Week, Miami Sailing Week and Charleston Race Week. It is their first event on freshwater. Racing with REACH AROUND was Quantum Sails J/70 specialist Marty Kullman. "We have been sailing together long enough that we all know each other pretty well and react to each other," said Kullman. "A team that sails together a lot is just in a better situation."
Local J/70 veteran John Heaton's EMPEIARIA was sitting in a close second and improved their finishes with each race taking off one boat at a time, moving from fourth to first. Heaton agreed that teamwork and time in the boat together is the key to success. "Our team took a little while to gel today, but it all came together for the last race. We got off the line well, had good tactical decisions, the boat was fast and we put together a complete race and won it by quite a bit," Heaton said. "It was a good race."

After two more days of racing, Bowen's REACH AROUND posted all top three finishes to win the regatta with 16 pts.  Heaton's EMPEIRIA also maintained their second position over the weekend with mostly top three races in their scoreline.  Behind them, it was a real battle for the balance of the top five and, especially, the third spot on the podium.
As the Corinthian J/70 Great Lakes Champion, Martin Johnsson's AQUAHOLIKS gang sailed consistently and even won a race enroute to securing the third spot.  Just behind them, 4th and 5th were determined by a tiebreak between Trey Sheehan's FLAT STANLEY/ HOOLIGAN RACING and the Laura Sigmond's women's team sailing NORGIRL!  In the end, FLAT STANLEY won the tiebreak on 40 pts while the ladies on NORGIRL had to settle for 5th place.  The NORGIRL team was also the top Women's team.  Second in Corinthians and second women's skipper was Amy Neill's NITEMARE from Chicago YC and third Corinthians was Ryan Foley's JOHNNY UTAH.  For more J/70 Great Lakes/ Verve Cup Inshore sailing information
---
KILCULLEN Wins Irish J/24 Nationals
(Lough Derg, Ireland)- The J24 fleet was out in force for last weekend's J24 Nationals. The event, which was held in Lough Derg Yacht Club, saw 13 boats coming from all parts of the country to compete. With 13 J24s on the start line, it was sure to be an interesting and competitive 9 races.
Perfect sailing conditions were forecast for the first day of racing all sailors were eager to get to the race course and