10.24.19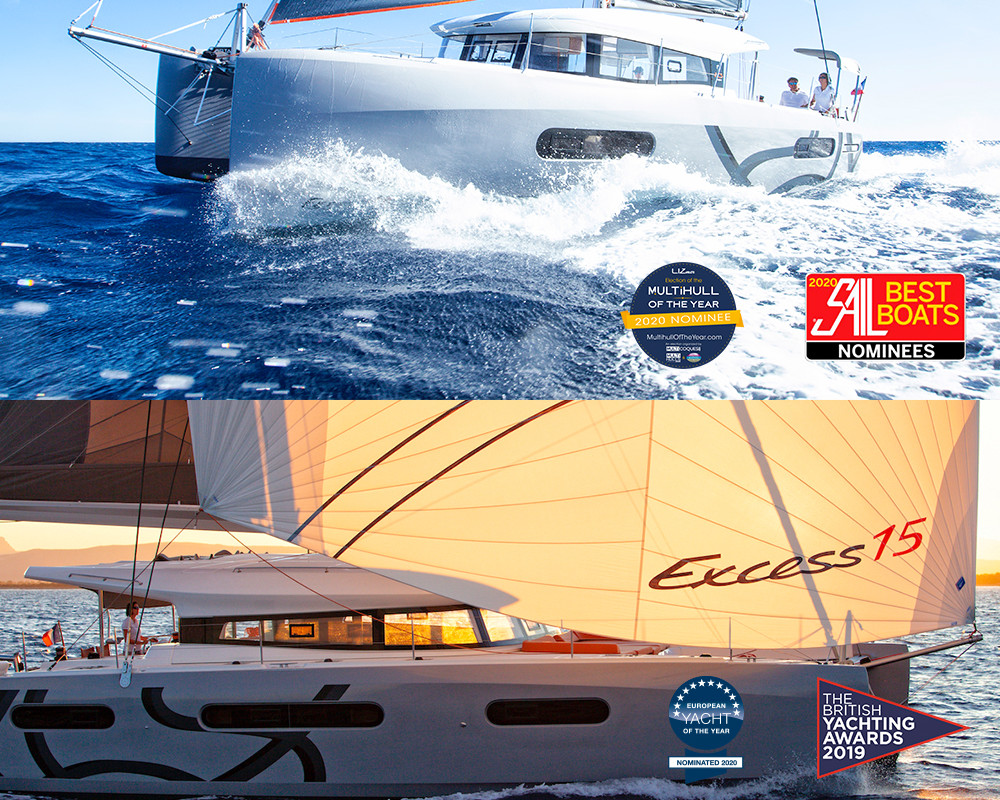 As we start back after the summer, American magazine SAIL, British magazines Sailing Today and Yachts & Yachting, Multihulls World, as well as the 12 magazines involved in the EYOTY – European Yacht of the Year Award – have announced the nominees for their new competitions. And surprise, surprise: we find the Excess range!
SAIL magazine has launched the Best Boats Awards 2020, and among the contenders, the Excess 12! This catamaran, with her sporty spirit and sleek design, is getting ready for her very first competition!
The objective of SAIL magazine is to offer the public a broad vision of the boating industry. The Excess 12 is positioned in the Multihulls Cruising category and is looking to win the title of "Best Boat 2020" against her opponents! Keep an eye out for the January 2020 issue of SAIL magazine, to discover the results!
Multihulls World magazine, in partnership with the International Multihull Show, is organizing the election of the Multihull of the Year for 2020! For her launch, the Excess 12 has been nominated in the category of Multihulls under 40 feet. This election is just for Multihulls and is open to anyone, allowing sailors from all horizons to choose their favorite boat! Make your vote count by clicking here to support the Excess 12. For the announcement of the results, you're going to have to wait for the Multihull Show in April 2020.
This catamaran with high average speeds, offers a sporty feel at the helm and a gentle way of life on board! Her bright interior, modern layout and new-generation rig promise uncompromising sailing pleasure – and the World Press has understood this well.
The British Yachting Awards 2019 is back this year, and honors the Excess 15 in its Multihull of the Year category. Note that the voters are the consumers themselves, so everyone is invited to vote. The great news this year is that voters will participate in a draw to win an ACR locator beacon worth £330, so all of you, get voting! The results will be announced on December 2nd 2019 at the Royal Thames Yacht Club, at Knightsbridge in London. The purpose of the evening is to celebrate the best of the boating industry!
The Excess 15 is also in the European Yacht of the Year Award competition, in the Multihull category. The 12 magazines involved – Germany's Yacht, the Swiss marina.ch, Denmark's Bådmagasinet, the French Voiles et Voiliers, Norwegian Seilmagasinet, Swedish Båtnytt, Spanish N&Y, Finland's Vene, the UK's Yachting World, the Italian Vela e Motore, the Dutch Zeilen, and Austria's Yachtrevue – all of whom make up the "EYOTY" examine the world of boating every month for more than a million readers in Europe! The EYOTY jury brings together maritime experts, publishers, journalists, boat testers… who will reward the best players in the field! See you at the Düsseldorf Boat Show for the results.
Keep an eye out, and get voting!
---