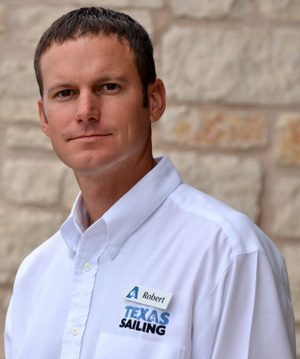 Robert is the Murray Yacht Sales Team Leader on Lake Travis in Austin, Texas.  He specializes in New Beneteau sales and quality brokerage.  He has been sailing over twenty five years and has worked in the industry for over twenty years.  Robert began working for Texas Sailing in 1996 as the head instructor and rigger/service tech. In 2000 he purchased Texas Sailing along the Texas Sailing partners.
His goal is to help everyone with an interest in sailing to realize their goal regardless of their current skill level.
Robert Barlow
AUSTIN OFFICE
101 Lakeway Dr
Austin, TX 78734
(800) 826-2807
RBarlow@MurrayYachtSales.com
Professional Licenses and Certifications
Professional Memberships and Affiliations
USCG Master's License with Sailing Endorsement
Certified Beneteau Sales Professional
Certified Beneteau Service Technician
US Sailing Basic Keelboat Certified Instructor
US Sailing Basic Cruising Certified Instructor
US Sailing Bareboat Cruising Certified Instructor
US Sailing Coastal Navigation Certified Instructor
Education
Power Boat Experience
Sail Cruising
Robert has sailed throughout the vast majority of the Caribbean and has made numerous deliveries.
Sail Racing
Robert races regularly in both circuits as well as local regattas.
Very knowledgeable team with excellent customer service!
MYS has now helped me buy three boats and sell two. Our most recent purchase went flawlessly. Their expertise and professionalism made the difference. I cannot endorse them higly enough.…
The folks at Murray Yacht Sales are extremely knowledgeable of everything boat, yet down to earth, and a pleasure to work with!
Consistent, professional, and extremely knowledgeable on the yacht market. Not a "one size fits all" dealership, they really make the effort to find the right boat for the right person.
Murray Yacht sales is by far the most desirable yacht brokers in the Gulf Coast. The are committed to making the buying and selling process as pleasurable and effective in…
I'm also happy to hear the new owner is happy with the boat, especially after going through the storm. I felt you dealt with both Buyer and Seller in an…
"I would like to thank you and the rest of your staff for all of the work you guys did to sell the boat. I really appreciate it. I have…
"Robert, you have been a true asset and a powerful facilitator of this transaction. Thank you for everything, a bottle of champagne coming your way in a couple of weeks…
"Thank you Stanton. It was a pleasure meeting you at the St. Pete boat show. My thanks also to (your team) and you for handling the sale of Stanley G…
"Our experience with your brokerage made a rough ride easier… been great to work with on all the paperwork! Our hats are off to you all and we appreciate your…