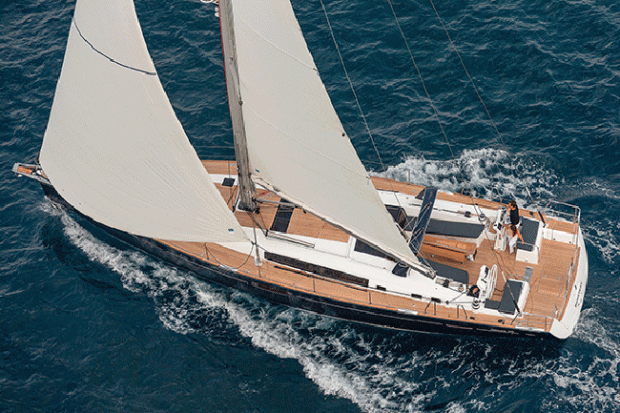 BENETEAU, BLUE WATER SAILING, BOAT REVIEWS, EDITOR'S PICKS
BOAT REVIEWS | BENETEAU OCEANIS 60
By Blue Water Sailing · On May 4, 2015
The new 60-foot flagship from Beneteau offers a huge amount of living space in a cruising sloop that will eat up the miles, by George Day.
The morning we set off from Miamarina at Miami's Bayside after the Strictly Sail Miami boat show in February, the trade winds were blowing a steady 10 to 12 knots and white puffy clouds were trundling in from the Bahamas. It was a perfect morning to go sailing and to put the brand new Beneteau 60 through her paces.
We folded up the huge swim platform aft and then backed out of the slip. The big boat backed easily and turned sharply in reverse. The bow thruster helped us maneuver the bow in tight spaces and to make the turn departing the marina. Once underway, the 60 powered at eight knots at cruising revs and maxed out at 9.8 knots at full revs.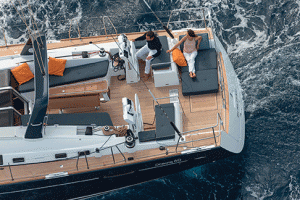 The 60's cockpit is huge, as you can imagine. The boat has almost 17 feet of beam and the maximum beam is carried well aft so the cockpit gets to make use of that acreage. The twin helms have seats that are wide enough for two people. It is quite a distance between the two wheels so you have to let go of one before grasping the other. Aft of the helm seats is the afterdeck where floor cushions can be arranged for lounging. Under the after deck, there is a huge garage where you can store a small RIB. With the swim platform folded down, you have a large area for sunning, swimming or getting in and out of the dinghy.
http://www.bwsailing.com/bw/blue-water-sailing/boat-reviews-beneteau-oceanis-60/?fb_ref=Default

Murray Yacht Sales Beneteau Oceanis 60 links: