Block Island 40
Bill Tripp's fabled yawl is still being built, almost to the original plans. It has few vices.
Eric Woods, wearing shorts and sneakers, and a baseball cap with the bill backwards, looks
a lot like Johnny Carson as he finishes setting the mizzen staysail and jumps back to the cockpit. He has the same impish grin, the sort of grin a 10- year-old boy has after dropping a frog down a girl's dress.
It's no accident. He's just launched hull #10 of Migrator Yachts' version of the Block Island 40 yawl, we're steaming along at better than seven knots, and he's happy.
Really
happy! And why not? After a lifetime in the boatbuilding business, and a longtime love affair with the BI 40, he's finally his own boss; his two sons Rob and Eric, who work with him, are sailing a sistership abeam of us; sales are picking up; and, hey, this is a perfect day!
https://www.practical-sailor.com/reviews/boatreview/Block_Island_40-1133-1.html
BLOCK ISLAND 40 (MIGRATOR)
Hull Type:

Keel/Cbrd.

Rig Type:

Masthead Yawl

LOA:

40.75′ / 12.42m

LWL:

29.28′ / 8.92m

Beam:

11.00′ / 3.35m

Listed SA:
661 ft2 / 61.41 m2
Draft (max.)

8.82′ / 2.69m

Draft (min.)

4.20′ / 1.28m

Displacement:

20000 lbs./ 9072 kgs.

Ballast:

7800 lbs. / 3538 kgs.

Sail Area/Disp.1:

14.41

Bal./Disp.:

39.00%

Disp./Len.:

355.69

Designer:

William Tripp Jr.

Builder:

Migrator Yachts, Inc. (USA)

Construction:

FG

Bal. type:

Lead

First Built:

1984

Last Built:

# Built:

RIG AND SAIL PARTICULARS KEY
I(IG):

46.80′ / 14.26m

J:

15.58′ / 4.75m

P:

39.50′ / 12.04m

E:

15.00′ / 4.57m

PY:

20.50′ / 6.25m

EY:

7.25′ / 2.21m

ISP:

SPL/TPS:

SA(Fore.):
364.57 ft2 / 33.87 m2
SA(Main):
296.25 ft2 / 27.52 m2
Sail Area (100% fore+main triangles):
735.13 ft2 / 68.29 m2
Sail Area/Disp.2:

16.02

Est. Forestay Length.:

49.33′ / 15.03m

DESIGNER
More about & boats designed by:
William H. Tripp Jr.
SEE ALSO:
Related Boat:
BLOCK ISLAND 40
NOTES

The BLOCK ISLAND 40 was first introduced in 1957.
This particular 'revival' of the design began around 1984.
How many of this later version have been built is unknown.
Migrator Yachts, Inc.
72 Sandwich Rd.
Rte. 6
Wareham, MA 02571
Hull Type:
Keel/Cbrd.
Rig Type:
Masthead Yawl
LOA:
40.00′ / 12.19m
LWL:
27.50′ / 8.38m
Beam:
11.75′ / 3.58m
Listed SA:
650 ft2 / 60.38 m2
Draft (max.)
8.42′ / 2.57m
Draft (min.)
3.92′ / 1.19m
Displacement:
21000 lbs./ 9526 kgs.
Ballast:
5000 lbs. / 2268 kgs.
Sail Area/Disp.1:
13.72
Bal./Disp.:
23.81%
Disp./Len.:
450.79
Designer:
William Tripp Jr,
Builder:
Beetle Boat Co./American Boat Building (USA)
Construction:
FG
Bal. type:
First Built:
1957
Last Built:
# Built:
BUILDERS (past & present)
More about & boats built by:
Metalmast Marine
More about & boats built by:
Beetle Boat Co.(USA)
DESIGNER
More about & boats designed by:
William H. Tripp Jr.
SEE ALSO:
Related Boat:
BLOCK ISLAND 40 (MIGRATOR)
NOTES

Based on VITESSE 40, in Holland.
This was first design for fiberglass by Tripp and one of the earliest production fiberglass boats of this size anywhere
Beetle Boat Co. built the first 26 boats.
Later, the molds were aquired by Metalmast Marine. The version they built has a separate spade rudder and reverse transom. (Sometimes referred to as BLOCK ISLAND 40-2) and was built until 1978?.
Re-introduced, on a limited basis, in the early 1980's with a hull similar to the original but with redesigned deck and coach roof.
Thanks to Jerry Packer, owner of Hull No. 1 'Seal', for providing additional information.
___________________________________________________________________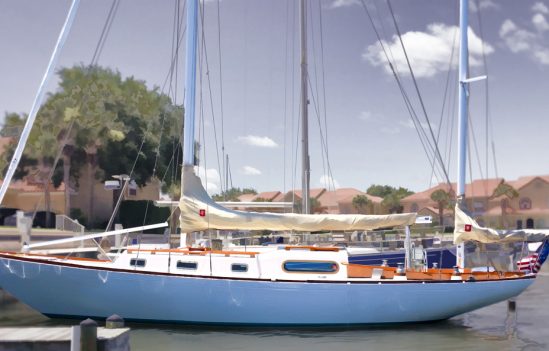 Type: Block Island 40 (Series 1)
Solaris Specifications:
LOA: 40'8″ / 12.39m
LWL: 27'6″ / 8.38m
Beam: 11'9″ / 3.58m
Draft: 3'11" / 1.19m / 8'5″ / 2.56m
Hull Number: 19
Designer: Bill Tripp
Current Owner: Paul Tetreault
Year Built: 1961
Built By: American Boat Building Company, East Greewich, RI
Hull Material: GRP
Gross Displacement: 20,000 LBS
Ballast: 7,800 lbs
Sail Number: BI-40 / 471


Historical:
Bill Tripp began his design work with Philip Rhodes, then after service in WW2, joined Sparkman & Stephens until 1952, whereby he opened his own design firm, and was one of the early pioneers in the use of fiberglass. The first Block Island 40s were said to have been built like "Sherman Tanks" with Tripp's fiberglass layup schedule calling for up to two inches thickness in the hulls.
Solaris Article Courtesy of Paul Tetreault – Quietly basking in the Florida sun and nudging at her spring line as the tide ebbs at Marina Cove, just across the fairway from the Palm Coast Marina, a recent derelict is quietly going through a rebirth.
She was found almost four years ago in the tidal marshes of North Carolina's Bay County, up a meandering creek just a stone's throw east of the Intracoastal Waterway, every east coast boater's I‐95. Found behind a back‐water, long forgotten fish processing shack at the end of a meandering dirt road in a town with only one stop sign aptly called Low Land.
She was surrounded by a swarm of soft-planked trawlers each slowly finding their natural resting places with several years of vegetation on sprouting from their discarded nets and hard rubber tire fenders. She had been "rode hard and put‐up wet". She had almost gone to seed, but not quite.
Her tanks and powertrain had long since lost all utility. The mahogany top-side wood trim was black with mold and her generous cockpit a depository for many years of autumn‐brown leaves. Open hatches and bone‐dry weather stripping invited the rain, insects and dirt into call her winsome hull home. She was on the verge; but not quite ready for the wrecking crew.
In better days, she had won the Newport to Bermuda race, as well as many other prestigious races in and around Long Island Sound and throughout New England. In one early 60s Newport to Bermuda Race, six of the 11 boats finishing first were all identical, all like this long‐forgotten triple‐crown winner discovered in a North Carolina marsh, They were all identical except for their race numbers and name boards. They were all Block Island 40s and the very spark that ignited today's whole off‐shore yacht manufacturing industry.
The Block Island 40 was the first "big" boat to be made completely of that new-fangled product called fiberglass, a material that L. Francis Herreshoff, called "frozen snot".
In the late 50s and early 60s no one knew what to expect of the new experimental fiberglass material. Would her bows splinter from the Atlantic rollers? Would the decks continue to cure after launching? Would the centerboard trunk not withstand the stress of off‐shore sailing? Would she simply be too heavy and slow to hold her own in light winds?
All these considerations weighed heavily upon the designer, Bill Tripp, as he drove his 2800 pound Jaguar XKE repeatedly over test samples of the hull to determine its characteristics and potential strength, and while The American Boatbuilding Corporation in East Greenwich, Rhode Island continued to make the hull sections thicker and
thicker by adding additional layers of solid fiberglass roving and hand‐applied resin.
---
William H. Tripp, Jr.
1920-1971
A native of Long Island, New York, Bill Tripp began as designer in the office of Phillip Rhodes. After service during World War II, he joined Sparkman & Stevens. In 1952 he started his own practice. In 1957, Tripp's Touche, a 48-foot flush-deck sloop built by the well-known yard of Abeking and Rasmussen in Germany, compiled a good race record and gave its young designer a boost in stature. His boats were then built of wood, but the allure of fiberglass soon drew his attention. Tripp conducted his own experiments with the new material and ultimately became a pioneer designer of the era. Among his many successful designs for production yachts are the Block Island 40 and the Hinckley Bermuda 40. (From Article by GoodOldBoat as seen on Sailnet.com)

__________________________________________________________________
Click for our Brokerage
SAIL LISTINGS – POWER LISTINGS
Click the logo for our New Sailboat Listings
Murray Yacht Sales is your Gulf Coast Beneteau & J/Boats Dealer and has been serving the Gulf Coast Boating Community since 1974