Overview
The Beneteau 361 is revolutionary in design both above and below decks. Following in the footsteps of the highly successful Oceanis 352. Exemplary features include a large head with separate shower, fully equipped galley with loads of counter space, forward facing nav station and an expansive main salon. The Beneteau 361 was one of the more popular models for Murray Yacht Sales and Beneteau Sailboats during the turn of the century. Since that 1999, 2000, 2001, 2002, 2003, & 2004 period, we have both sold customer's Beneteau 361's as their listing broker as well as represented our clients buying these boats on the brokerage market. In both cases, we have seen the boat hold up well as a quality built vessel with a well designed interior layout & notably tall headroom.
Design
The Beneteau 361 was designed by Berret-Racoupeau and comes in 3 versions of cabin layouts: a Two Cabin, Three Cabin, and an Optional Main Salon.  One popular aspect of the boat that separates it from other top sailboats under 40 feet is the 6'4 headroom.
Sailing Performance Review: Our clients experiences on this boat as well as our own indicates that it is very lively and maneuverable as compared to other cruising boats of this size and year. PHRF ratings for the 361 have been reported in the 110-115 range.
See Sailboat Owners Forums regarding general reviews on the 361's sailing performance.
Beneteau 361 Specs
Year Introduced 1999

LOA 36'5

LWL 31'1

Beam 12'6

Displacement 12,790 lbs

Ballast 4,156 lbs

Engine 27 hp

Fuel 20 gallons

Water 88 gallons

Holding 22 gallons

Mast height 49'7

Headroom 6'4

CE Rating A

Dspl/L 189.7

SA/D 18.55
BENETEAU 361 REVIEWS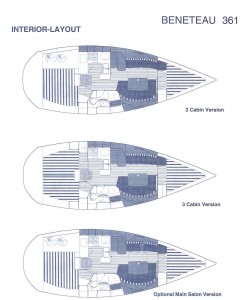 Available Upon Request
Brochure
Spec Sheet
Equipment list (PDF at bottom of this page)
Owner's Manual (unlock via brief form below)
Unlock Beneteau Oceanis 361 Owners Manual
Fill out this brief form to access the full digital Owners Manual for the Beneteau 361.
Beneteau 361 Equipment List
Is the Beneteau 361 a good cruiser?
Our clients experience with the sailing performance of the Beneteau 361 has been a positive one overall, further supported by 3rd party reviews and a relatively competitive PHRF rating.
How much headroom is on the Beneteau 361
With a sizeable amount of headroom onboard, even our tallest clients are impressed by the comfort standing up down below. The Beneteau 361 combines a 6'4″ headroom with a convenient cabin layout to create a spacious, comfortable & ergonomic interior that works well for liveaboards.