---

Rolex J/88 Video
(Seattle, Washington)- Recently, a J/88 sailing on Seattle's Puget Sound became a "star" in a Rolex promotional video.  Cleverly emphasizing the Rolex Submariner, the promo explores why "time" is an important element of a shared "experience" with family and friends.  More importantly, the clip captures the essence of "why we love sailing" and sharing it with others!  Enjoy.  Watch & Share it with friends!
For more J/88 sailboat information
---
2017 J/70 Worlds @ Sardinia!
(Porto Cervo, Sardinia, Italy)- As the J/70 continues to gain momentum worldwide, it's clear that Europe continues to grow at an accelerating pace due in large part to a combination of one-design class circuits (like the Monaco Winter Series and the Italian Alcatel OneTouch Series) and the increasingly popular "sailing leagues" first manifest in Germany's Deutsche Segel-Bundesliga and spreading like wildfire to other countries such as Russia, Sweden, Denmark, United Kingdom, and Italy.
As a result, the IJCA just announced that J/70 World Championship IV will be sailed from September 12-16, 2017, in Porto Cervo, Sardinia, Italy and hosted by the Yacht Club Costa Smeralda!
"We are absolutely grateful and delighted with the decision to award Italy the honour of hosting the J/70 Worlds," said the J/70 Italian Class President Mauro di Vittorio.

"After the success of the last J/70 European Championship, we campaigned for the bid knowing that we can deliver a superb World Championship, putting crews and owners at its heart.  Now, we have the opportunity to deliver on that promise and to give an enormous boost to the National class," added Paolo Boido, J/Boats dealer for Italy and Class Secretary of the Italian J/70 Class.
The J/70 class is, indeed, rapidly growing in Italy and this year its J/70 ALCATEL ONETOUCH Italian Open Championship has been attracting competitors from as far away as Sweden. "It gives us encouragement to see more top sailors join the class and we will continue on this path leading up to the 2017 World Championship," commented Di Vittorio.

In addition, Porto Cervo itself will ensure a successful event, renowned for beautiful azure waters, temperate climate, plentiful sunshine, and gorgeous attractions. The unbeatable combination of great sailing waters, top class race management and YC Costa Smeralda's amazing hospitality will all be celebrated during the club's 50th anniversary— its members are enthusiastic to host a memorable fourth edition of the J/70 World Championship.  Click here for more details on the Yacht Club Costa Smeralda.
Please note that many of the top Italian teams are sailing this weekend in San Remo for the third act of their J/70 Alcatel ONETOUCH Italian Championship series.   For more J/70 Alcatel ONETOUCH Italian Championship sailing information
---
Delta Lloyd North Sea Regatta Starts!
(Scheveningen, The Netherlands)- This next week is going to be a hot-bed of sailing activity across the North Sea and off the seacoast of Scheveningen, The Netherlands.  Hosted by Jachtclub Scheveningen, the 110-mile Vuurschepenrace from Scheveningen to Harwich, England is the opening of the Delta Lloyd North Sea Regatta. After a rest day in Harwich, the IRC and ORC classes sail the RORC North Sea Race back to the Netherlands.
Thereafter, those offshore yachts join thousands of other sailors sailing dozens of one-design classes in one of the largest regattas in Europe. It is truly a sailing festival as the entire town is taken over by sailors. Several disciplines participate in the event, big yachts, Olympic classes, catamarans, open boats, and kite boarders. Next week, the J/22s and J/80s will join the fun.

The Vuurschepenrace Race to Harwich started on Tuesday afternoon.  After the start off Scheveningen, the fleet had a reach north along the coast to the first mark (NAM 22), just offshore of the seaside village of Katwijk.  After turning left, the fleet was facing westerlies in the 10-15 kts range overnight going to the mid-channel mark in a WNW direction.  In short, the entire fleet was hard on the nose, very tightly packed together, hoping to make headway in the
choppy channel that is loaded with ships everywhere (here's the AIS map- vesselfinder.com- of the channel as 0200 hours on Wednesday!).
The "fetch" to Harwich on starboard may or may not be easy depending on how the winds hold up, plus there's lots of current to take into consideration crossing the channel.  You can watch the live/ recorded tracking of the fleet on Yellow Brick's website-http://yb.tl/vuurschepen2015.
Sailing in the IRC 2 Class is the J/105 HARPOEN skippered by Harry Rek.  In ORC 2 division, a duo of J/109s are racing, MAJIC (Arnout Joorritsma) and JAI LAI (JC Bornet).

The big "news" is the new Dutch Double-handed Nationals series that starts with the Vuurschepen Race.  In ORC 2H are seven very well-sailed and prepared J/Teams, many of whom have won previous RORC offshore races and the Delta Lloyd Regatta.  Those teams include the J/133 BATFISH (Bart Desaunois/ Gerard de Boer), the J/111 XCENTRIC RIPPER (John van der Starre/ Robin Verhoef), the J/122 JUNIQUE RAYMARINE SAILING TEAM (Chris Revelman/ Pascal Bakker), the J/120 MAVERICK (Chris Schram), the J/109s FIRESTORM (Wim van Slooten/ Jochem Hamstra) & ARETHUSA (Kees Mijs) and the J/105 PANTHER sailed by the women's team of Yvonne Beusker/ Edith Voskamp.
The North Sea Regatta this year has a special edition for the two-person sailing teams. For the first time in Dutch history, but also internationally, there is a national championship for Two-Handed sailors.  The organizers are the Shorthanded Dutch class organization, the North Sea Club and the Royal Yachting Association.  The Vuurschepenrace, the North Sea Race and the North Sea Regatta 2015 are designated as the first official Dutch Championship for duets! The explosive growth of Two-Handed teams in the North Sea Regatta shows that one-third of the fleet is now manned by pairs!

"The class organization for Two-Handed sailors is ready", says a proud Yvonne Beusker.  Yvonne's responsible for the new competition format and is a proud J/105 owner/ skipper.  She adds, "The first event is anything but simple, with two long range offshore races and four days of inshore racing off the coast Scheveningen. We already have 22 die-hard sailors! Quite a few duos, including Junique, Maverick, Panther and Xcentric Ripper (all JBoats teams) will continue the fight after the North Sea Regatta, with everyone preparing for the Rolex Fastnet Race in August!"  The photo here is of Yvonne and co-skipper Edith Voskamp on their J/105 PANTHER.  Follow their activities on social media Facebook sailing page.
For more North Sea Regatta sailing information.
---
Grand Prix de l'Ecole Navale Preview
(Brest, France)- La Marine Nationale (the French Navy) and l'École Navale (French Naval Academy) have always been intimately linked to the sailing world. Indeed, sailing is one of the pillars in the academy's training and the Navy has been an ocean racing partner for many years.  The French Navy have long recognized the value of teaching their midshipmen how to handle small keelboats in a wide range of weather and sailing conditions as it fosters better teamwork, decision-making and responsibility.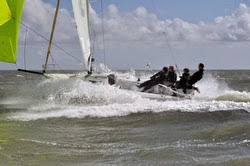 In 2002, the Naval Academy expressed the wish to take advantage of its exceptional stretch of water along the Bay of Biscay and decided to create its own regatta with the help of private partners- G.P.E.N.  Over more than 10 years, more and more competitors have joined the event, leading to greater success and notoriety. The event attracted 200 competitors and 60 boats in its first edition and has now grown to more than 900 competitors and 190 boats.  Following the 2009 edition, the President of la Fédération Française de Voile (FFVoile, French Sailing Federation), Jean-Pierre Champion, decided to entrust the organization of le Championnat de France Monotypes Habitables(CFPMH, French Championship) to the Naval Academy. This choice enhanced and strengthened the ties between FFvoile, the French Navy and the Naval Academy.
Happily enjoying the benefits of their successful efforts have been the French J/22 and J/80 classes.  This year, an enormous fleet of fifty-two J/80s (the largest in the regatta) are ready to compete for the honors of being named a "Championnat de France Monotypes Habitables". There are at least nine women skippers in the event, nearly 10% of the boats!  Notable women skippers include Sophie Riot sailing LE HAVRE LADIES NORMANDIE, Laura Simon skippering UNIVERSITY NANTES, Maxime Mesnil steering CO-PILOTES, and Maxime Rousseaux on CN ST CAST/ GRAND OUEST ETIQUETTES.
In addition to the women's teams, there are several top teams that should be in contention, including Luc Nadal's GAN'JA, Herve Leduc's PIERRE OCEANE, and Eric Brezellec's COURIER JUNIOR.
The J/22s have a compact but competitive group that includes Patrick Huet's EUROPEAN HOMES, Herve Despres' JINGLE and Grando Phillipe's SOFFE.  For more Grand Prix de l'Ecole Navale sailing information
---
Vice Admiral's Cup Preview
(Cowes, Isle of Wight, UK)- The Royal Corinthian Yacht Club's annual Vice Admiral's Cup regatta takes place from Friday 15th to Sunday 17th May. Since its introduction, the event has gone from strength to strength with its simple close-racing format and fun social program making it enjoyable for the competitors.
This year there will be a maximum of seven classes taking part in the event and among them will be strong fields for the J/111 Class and J/109 fleet.  Both classes have become a regular fixture of the regatta in recent years.
As always, racing will take place in the Solent with committee boat starts and up to eight races scheduled over the three days. The race format will be predominantly windward/leeward with the option for Solent "round the cans" courses too.

The J/111 fleet has seven teams, most of whom saw action at last year's J/111 Worlds sailed on the Solent and hosted by the Royal Yacht Squadron.  Familiar names that are racing include Tony Mack's McFLY, Andrew Christie's ICARUS, Cornel Riklin's JITTERBUG (Warsash Spring Championship winner), Chris Jones & Louise Makin's JOURNEYMAKER II, Stu Sawyer's BLACK DOG and Martin Dent's J-ELVIS.  Sporting the amazingly cool sail number GBR 7111, the new trio of Scholefied, MacDonald & Thomas (barristers in the City?) will be guiding the mighty MUSTIGO against some of the big guns in the class.
With strong performances in the Warsash Spring Series J/109 Class (Black Group & Championship), it remains to be seen if the quartet of JAGERBOMB (Paul Griffiths), JUKE BOX (John Smart & Chris Copeland), JOLLY JACK TAR (RNSA) and JYNNAN TONNYX (Owain Franks & Jean Lockett) can maintain that knife edge of performance, perfectly executed boat-handling and incisive decision-making to stay atop this rambunctious fleet.  With eleven boats battling it out around the cans, it would not be surprising to see others like JELLY BABY (Ian Nagle), ME JULIE (David Rolfe) or INSPARA (Tor Mclaren) throw a monkey wrench into other's aspirations for a podium finish.  Sailing photo credits- Rick Tomlinson. For more Vice Admiral's Cup sailing information
---
Cedar Point One-Design Regatta Preview
(Cedar Point, CT)- As one of the newest regattas on the late spring sailing circuit, the Cedar Point YC One-Design Regatta has continued to grow significantly year over year.  For their 2015 edition, running from May 16-17 to May 30-31, sixty-five boats across seven classes are looking forward to the extraordinary hospitality displayed by members of Cedar Point YC.  A long-time hot-bed of J one-design sailing, it's not surprising that 48 teams of J sailors (J/70s, J/30s, J/105s, & J/109s comprise nearly 75% of the fleet) have made their spring pilgrimage to Cedar Point for fun sailing and even better social activities.
The J/70s have attracted a diverse and talented number of crews from Connecticut, Maryland, New York, New Jersey, Pennsylvania, Massachusetts, Minnesota and South Carolina.  The fleet of twenty boats has more than their fair share of Midwinter, North American and World Champions in their midst; and virtually all of them are incredibly generous with their thoughts on tactics, tuning, boat-handling and equipment ideas— just ask them!  Chief amongst them may be Allan Terhune racing the electrifying DAZZLER from Annapolis.  He is joined by other top teams like Joel Ronning's CATAPULT (#2 at the 2014 J/70 Worlds), Noel Clinard's LOONATICTU from Nantucket, Kerry Klingler's MENACE (J/80 World Champion), Tom Bowen's REACH AROUND from Charleston and Ted Johnson's VITAMIN J from Marblehead.
Amongst the J/30s, a famous team led by Carl Sherter will be guiding the equally famous FAT CITY across the choppy waters of Long Island Sound.  They're joined by Stefan Jans skippering PALE RIDER and John McArthur's SMILES.
Looking at the 35 footers that are slowing migrating from Western Long Island Sound, to Eastern LIS, then Newport, then Block Island Race Week, we find both classes (J/105 & J/109s) have a slew of champion teams ready to pony up to the starting line.  The ten boat J/105 class will be featuring recent Edlu Distance Race leaders, Za & Libby Jelliffe on ARETE from American YC.  They will have to take all that practice and hope to stay in contention with teams like ECLIPSE (Damian Emery), LOU LOU (Paul Beaudin), STRATOS (Marcus Wunderlich) and SHAKEDOWN (Jordan Mindich).
On a per foot basis, the massive 17 boat J/109 fleet will be thundering across the starting line with many hoping to keep free air for the first sixty seconds into the race!  With a herd like that, having to tack off and duck transoms soon after the start is not a pretty picture!  The 109s have undergone a renaissance of sorts with new owners jumping into the fray after having sailed J/105s, J/30s and what not over the years.  And, the veteran teams are still having fun sparring with one another even as the racing gets tighter and tighter.  Sure to be a battle that has been repeated over the years will be Bill Sweetser's RUSH from Annapolis against Rick Lyall's STORM from Long Island Sound.  Both have won more regattas than Heinz has pickles!  Wannabes to the throne include boats that are easily capable winning, such as Jonathan Rechtshaffer's EMOTICON, Adrian Begley's MAD DOGS & ENGLISHMEN, Bob Siegel's PAX 3, Jim Vos' SKOOT and Jack Forehand's STRATEGERY.  It will be fun & games for this band of merry rogues!
For more Cedar Point One-Design regatta sailing information
---
J/24 Western Regionals Preview
Plus, SFYC Elite Keelboat Regatta
(Belvedere, CA)- The beautiful San Francisco Yacht Club, situated on Belvedere Cove facing the famous Raccoon Straits inside of Angel Island, is hosting their annual Elite Keelboat Regatta and the J/24 Western Regional Championship from May 16 to 17.  The racing takes place on the Berkeley Circle just off the Berkeley city waterfront.  Infamous for raging currents, howling breezes and simply gigantic boat-crunching chop, the sailors will always find it a challenge to sail a consistent regatta on the notorious "circle".

Founded in 1869, The San Francisco Yacht Club is the oldest club on the Pacific Coast. The original anchorage and clubhouse were located in San Francisco near Mission Rock, but inadequate depth of water and increasing industrial growth in the area resulted in a move to Sausalito. Later, increasing ferry traffic and congestion contributed to a decision to move again in 1926. One group, headed by Commodore Clifford Smith, felt that Belvedere Cove would be an ideal location. Another group felt that the Club should move back to San Francisco and lease land from the City on the Marina.  One group stayed with the club at its current Belvedere site, those who opposed the move resigned and formed St. Francis Yacht Club!

Other than the classic Knarrs, the famous "woodies" that have graced the Bay for generations, the J/24s and J/70s are the biggest fleets in the regatta.  As a Worlds Qualifier regatta, the J/24s have an excellent turnout of nearly a dozen boats.  Visitors have come from all over California and the Pacific Coast.  Headliner for the class should be Pat Toole's Santa Barbara YC team on 3 BIG DOGS, past J/24 North American Champions.  Not giving an inch will also be the top caliber team of TREMENDOUS SLOUCH from Corinthian YC in Seattle, WA led by Scott Milne.  While these top contenders may have their evil eyes focused on each other, don't count out Jasper Van Vliet's EVIL OCTUPUS, Darren Cumming's DOWNTOWN UPROAR, Valentin Lulevich's SHUT UP & DRIVE nor Paul van Ravenswaay's FERAL ROOSTER.
With an eight boat class consisting of SF Bay boats that have all sailed well and placed in one event or another, it's a bit of a challenge handicapping the group.  Nevertheless, amongst the leaders should be Chris Kostanecki's JENNIFER, Peter Cameron's PRIME NUMBER and Chris Anderson's PERFECT WIFE.  Sailing photo credits- Chris Ray and Pressure-drop.us.  Sailing photo credits- Chris Ray and Presssure-drop.us.   For more Elite Keel/ J/24 Western Regionals sailing information
---
Swiftsure Regatta Preview
(San Francisco, CA)- While their friends and colleagues on the north side of the Bay are hosting the Elite Keel and the J/24 Westerns, the St Francis YC will be playing host to the Phyllis Kleinman Swiftsure Regatta, an event named in memoriam to a highly regarded member and contributor at StFYC.  The regatta will be sailed from May 16th to 17th on the western end of the Bay between Alcatraz Island and the Golden Gate Bridge- a.k.a. "the city front course."
Three J classes are participating, the J/105s, J/111s and J/120s. Many of the usual suspects in San Francisco's famous J/105 fleet will be on hand to pay their respects to Phyllis, but also enjoy some great racing and camaraderie.  With a tremendous degree of parity being displayed in the fleet, many of the teams are keeping a watchful eye on how to gain even a nanosecond of advantage as their teams prepare for the upcoming J/105 North American Championship on September 17-20 (held in conjunction with the Rolex Big Boat Series on the Bay).  The class leaders include a raft of good boats such as Ryan & Scooter Simmons' BLACKHAWK, Bruce Stone's ARBITRAGE (with trophy-winning wife Nicole Breault calling tactics), the DONKEY JACK trio (Shannon Ryan, Rolf Kaiser, Ken Turnbull), Adam Spiegel's JAM SESSION, Jeff Litfin's MOJO and Jason Woodley/ Scott Whitney's RISK.

Gaining new adherents all the time is the SF Bay J/111 class, it's exhilarating to watch a fleet of 111s screaming across the Bay at 15-18 kts in the classic 18-25 kts afternoon Bay breeze.  Newcomers ready to do battle include Peter Wagner on a brand new boat- USA 115- as well as Bennet Greenwald's San Diego YC crew on his new PERSEVERANCE.  Happy to provide tuning and speed tips will be class leaders such as Dick Swanson's BAD DOG, Gorkem Ozcelebi's DOUBLE DIGIT, Dorian McKelvy's MADMEN and Nessrin Basoz's SWIFT NESS from Richmond, California.

The grand dame of the J classes on the Bay are the J/120s.  The fleet continues to enjoy their friends and family racing on a boat that easily doubles as an incredibly comfortable weekender to cruise up the Delta or around the Bay.  The latest addition to the fleet is Tom Grennan's KOOKABURRA.  Given that class veterans may have at least a dozen years under their belts, Grennan's crew may do well to increase their bar tube budget to soak sail trimmers on other boats for all their tips and tricks.  Nevertheless, like their J/105 amigos, on any given weekend anyone can win, including Barry Lewis' CHANCE, Steve Madeira's MR MAGOO, Dave Halliwill's PEREGRINE or Timo Bruck's TWIST.  For more St FYC Swiftsure Regatta sailing information
---
PNW One Design Preview
(Seattle, WA)- Corinthian Yacht Club of Seattle presents the First Annual POD Regatta (Pacific NW One Design).  This two-day sailing event is open to One Design, PHRF, and IRC Fleets of all experience levels. Round the buoys races start off Shilshole Bay at 11 am each day, varying distance depending on conditions.  The CYC clubhouse is open after racing for great parties serving food and drinks.  Awards presentation follows racing on Sunday.
Corinthian Yacht Club of Seattle is one of the oldest and largest yacht clubs in the Pacific Northwest. With more than 1000 members, CYC plays a leading role in sailing activities in the region. The club's activities at Shilshole Bay Marina on Puget Sound and Leschi Marina on Lake Washington are focal points for major one-design and handicap racing events throughout the year.  With more than 1,000 starts annually, CYC is one of the most active clubs in the country.

The social activities for this regatta are sure to set a new standard for sailors in the Pacific NW.  Here is what's on each day:
Thursday (evening), May 14:  The Center for Whale Research will be presenting an educational program on Puget Sound Orca whales.
Friday (afternoon), May 15: There will be an informal practice with coaching and video. Come get a look at the competition and develop winning strategies with the top sailors.
Friday (evening), May 15: POD Regatta Chalk Talk: The CYC welcomes Carl Buchan for the weekend chalk talk!  Carl is an Olympic Gold Medallist and Offshore Champion.  The bar & food open at 6:00pm, the talk begins at 7:00pm.
Saturday & Sunday: Bring your team and entire family to share the sailing community. CYC clubhouse will be open all weekend for drinks and $5 dinner(!) prepared fresh by Chef Jeromi. Saturday after racing will feature sea stories, dancing and kids activities. Sunday awards presentation after the best sailors have proven their skills and tactics.
So far, one of the strongest fleets to sign on to this promising event are the J/105s.  Just about all the top boats will be present to thrash around the cans and swap sea stories later.  Those teams include Erik Kristen's JUBILEE, Jim Geros' LAST TANGO, Jerry Diercks' DELIRIUM, David Cohen's INCONCEIVABLE, Robert Blaylock's USAWI and Dave Pengelly's AVALANCHE.  For more CYC PNW One-Design sail information
---
J/Sailing News
The Sun Never Sets on J's Sailing Worldwide
With the Volvo Ocean Race in town, it's been a rather hectic week in Newport- the sailing capital of the world.  The town has been swamped with sailors from every point of the compass on at least six continents.  The SailNewport/ Volvo Ocean Race Village numbers have been compelling, with over 50,000 people strolling through the "sailing festival" on the end of Fort Adams.  It's a pretty impressive sight and an even more amazing program that is essentially promoting the sport of sailing to the masses.  Ongoing "demo sails" have been taking place every day with hundreds of "rides" already given by SailNewport's fleet of a dozen J/22s!  With such a circus in town, it inevitably attracts dozens of friends that drop by the J/HQ on Thames Street as they trek out to the Fort on the far side of Newport Harbor.  Fun and games and plenty of socializing!
While sailors and tourists overrun Newport, some intrepid adventurers hopped aboard their boats and sailed the Edlu Distance Race hosted by Larchmont Yacht Club in New York. It's an offshore event held on Long Island Sound that had J/92, J/100, J/105, J/109, J/120, J/122 sailing and the skippers had a choice of the long or mid-distance course.  There were some amazing performances, especially by some of the "millennial" sailing generation!  In the far west northwest, the Oregon Offshore took place in perhaps the lightest, slowest conditions ever for a fleet that included a J/42, J/46, J/120 and J/122- there is a reason why some races in the Pacific NW have been dubbed "the driftsure".
Over in Europe, there was plenty of activity taking place on the Mediterranean.  The J/80 Blue Project participated in the TAG HEUER VelaFestival hosted at Santa Margherita Ligure, Italy, just around the corner from Portofino.  It truly was a "sailing festival" for those involved in the event- part boat show, part intro sailing, part racing.  Along similar lines, the famous Tour de Belle Ile Race took place for 417 boats sailing from La Trinite sur Mer, France out around the famous summer community on the spectacular island of Belle Ile, leaving it and all other islands and rocks to port before returning back to La Trinite sur Mer across Quiberon Bay.  Enjoying themselves immensely were packs of J/70s, J/80s, J/105s, J/97, J/111 and a J/120.
Read on! The J/Community and Cruising section below has many entertaining stories and news about J/Sailors as well as cruising blogs about those who continue to enjoy the Caribbean and the South Pacific, staying warm while others are trying to stay warm up north.  Check them out!  More importantly, if you have more J/Regatta News, please email it or upload onto our J/Boats Facebook page!  Below are the summaries.
---
Regatta & Show Schedules:
May 12-25- Delta Lloyd North Sea Regatta- Scheveningen, The Netherlands
May 20-24- J/24 USA Nationals- Berkeley, CA
May 22-25- Grand Prix du Crouesty- Crouesty, France
May 22-24- J/80 Copa de Espana- Aguilas, Murcia, Spain
May 29-30- Susan Hood Trophy Race- Mississauga, Ontario
May 29-31- Southern Bay Race Week- Hampton, VA
May 30-31- Cal Race Week- Marina del Rey, CA
May 30- Jun 2- Italian J/24 Nationals- Cala Galera, Italy
Jun 3-6- J/80 Campeonato de Espana- Sotogrande, Spain
Jun 5- RORC de Guingand Bowl- Cowes, IOW, England
Jun 6-8- Cronulla J/24 Short Course Regatta- Sydney, Australia
Jun 6-13- J/24 Europeans- Arzon, France
Jun 11-13- J/Cup Regatta- Cowes, IOW, England
Jun 12-14- NYYC Annual Regatta- Newport, RI
Jun 12-14- Cleveland Race Week- Cleveland, OH
Jun 12-14- Chicago NOOD Regatta- Chicago, IL
Jun 12-14- Italian J/70 Alcatel OneTouch #3- Cervia, Italy
Jun 15-19- J/111 World Championship- Newport, RI
Jun 21-26- Block Island Race Week- Block Island, RI
Jun 21-26- J/109 North Americans- Block Island, RI
Jun 25-28- Kieler Woche- Kiel, Germany
Jun 26-Jul 5- Delta Week 2015- Grevelingen, The Netherlands
Jun 26-28- Long Beach Race Week- Long Beach, CA
Jun 27- JP Morgan Round Island Race- Cowes, IOW- England
For additional J/Regatta and Event dates in your region, please refer to the on-line J/Sailing Calendar.
---
The "Kids" Win Edlu Race!
J/Teams Predominate In Class/ Overall
(Larchmont, New York)- They have done it again facing the most extraordinary odds; and they overcame all manner of challenges to pull off yet another stunning victory in their class and overall.  If you may recall, the American Yacht Club Junior Offshore Team have seemingly made the extraordinary seem ordinary.  After winning the Stamford Vineyard Race on a club member's J/122 PATRIOT last year (seen here), they can now add 1st in PHRF 2 Class and 1st PHRF Overall sailing their J/105 YOUNG AMERICAN in the Edlu Distance Race.  As a result, they also picked up the Commodore Wilfred Kluss Trophy for the PHRF yacht with the best-corrected time.
Larchmont Yacht Club's 60th Annual Edlu distance race was held on Saturday May 9, in pea soup fog with visibility of only about one-quarter mile. Thirty-seven yachts from fourteen yacht clubs competed in six divisions of IRC and PHRF ratings. The course for the IRC and PHRF spinnaker boats was approximately 32 miles to Buoy 11B off Eaton's Neck/Stamford. The non-spinnaker division sailed a 16.4-mile course to the red bell off Lloyd's Neck. The first start went off at 0911 in an easterly breeze of 8-10 knots with a flooding tide. The final boat crossed the finish line off the Larchmont breakwater just a few minutes before the time limit of 7 p.m. to hearty cheers from the Race Committee.
In this year's race, the fog was the real challenge – several boats withdrew after reporting to the Race Committee that they had rounded the wrong mark due to poor visibility.  According to sailmaker Butch Ulmer from UK Sails, "Navigation became the key since every boat was sailing in a 200-yard bubble with no sense of what was going on around them!"
According to Doug Mckeige, the "adult supervision" on board the J/105 YOUNG AMERICAN, "the kids really had a fun time sailing the race.  It was quite a challenge for them, especially working on their charts, navigation, currents and strategy. My son Will was on board along with a bunch of his junior sailing buddies- Hector McKemy, Richard O'Leary, Malcolm, TJ and Chris.  We mixed up the roles along the race to ensure everyone had a hand in trying the various roles on the boat. In the end, Will and Hector did most of the driving. It was tough on anyone wearing glasses to be peering through the thick fog for so long!"
Whether they knew it or not, the YOUNG AMERICANS had another J/105 hot on their tail for most of the race, Za & Libby Jelliffe's ARETE, finishing only two minutes behind them to take 2nd in Class/ 2nd Overall!  Other J/Teams did well in PHRF 2 including George & Alex Wilbanks' J/105 REVELATION in 5th, Ken Hall's J/100 NEVERMORE in 6th, Bill Komaroff's J/100 TEXAS ROSE in 7th and Russ Stokes' J/88 BLUE FOR YOU in 8th.
Former LYC Commodore Carl Olsson won first place in PHRF 1 Class in his new J/109 MORNING GLORY.  He also won the AYC Spring series in his first outing in the new boat.  Dr. Olsson has won the Edlu trophy twice, in 2005 and 2013. They were followed by another J/109, Paul Steinborn's 3 CHEERS in 3rd place.
In PHRF Double Handed division, half the class was J duos.  Sailing another good race was Todd Aven's J/92 THIN MAN, taking the silver.  Only 47 seconds back on corrected time and placing third in class was Marcus Wunderlich's J/105 STRATOS, Two more J/105s filled out the top five, including Marc Berkowitz's CLEAN SLATE in 4th and Charlie Cannam's ENGARDE in 5th.
PHRF Non-Spinnaker had a nice fleet of boats and Chris Roe's J/32 ECLIPSE managed a 3rd in class.
The IRC Division saw just nine boats sailing. Making the most of "flying blind" at 9 kts was John Pearson's J/122 RED SKY, taking 4th in class.  Feeling their way through the "pea soup" and getting home safely to tell a few sea stories was Cory Eaves J/109 FREEDOM in 7th place.  For more Edlu Distance Race sailing information
---
Fast, Gorgeous Tour de Belle Isle
(La Trinite sur Mer, France)- What is the essence of the "grand tour" of Belle Ile?  Perhaps the panorama above gives you that feeling of majestic beauty and romance of sailing that captures us all.
Created in 2008, the Tour de Belle Ile was meant to be just that— a tour that started from the heart of the Bay of Quiberon, just off La Trinite sur Mer, and sail on a beautiful circumnavigation around Belle-Ile-en-Mer. The fascinating contrasts and variety of stunning landscapes enrich this exceptional course.
The idea for participating was also simple.  So long as you had a boat over 6 meters, you could sail. Small or tall ships, whether professional or amateur sailors and cruise enthusiasts, everyone is invited to participate. And, all types of boats have looked forward to their tour each year, Maxi trimarans like Groupama and Banque Populaire, many famous IMOCA 60s from Vendee Globe, Route du Rhum and so forth, as well as legendary boats like Eric Tabarly's PEN DUICK IV and even the America's Cup 12 Meter FRANCE I.

Here's the most fun (or craziest) part of the event.  Everyone has the same starting line that is 3 kilometers long!  That is the essence of the Tour de Belle-Ile.  More than 500 boats lined up in the majestic Bay of Quiberon, what a sight!
With so many small boats joining this sailing festival on the water, the organization created two courses, the Grand Tour (start/finish off La Trinité-sur-Mer, leaving Belle Ile and various rocks/ islands to port for a 42nm course) and Le Petit Tour (start/finish La Trinite sur Mer, but instead round a series of marks on the inner coast (east side) of Belle-Ile for about 37nm).

Many J/Teams participated in this year's event including J/70s, J/80s and J/92s on the Le Petit Tour and on the Grand Tour were the offshore J's.  In IRC 2, the famous J/120 RHAPSODIE V sailed by Jean Jacques Godet from SR Rochelaises managed a 4th in class.  In the IRC 3, it was the J/97 MISPICKEL VI sailed by Thibaut Fagart from SR Rochelaises that took 3rd in her class.
In the HNB A class, the J/111 J4F sailed by Pierre Guennal with Nicolas Troussel, twice winner of the Solitaire du Figaro, won their class!  They were followed in 4th overall by the J/88 J-LANCE XI skippered by Didier Le Moal from SR Rochelaises (also President of J/Composites in France).  Just behind them in 5th overall was the J/105 MISS J sailed by Frederic Guillemot.  For more Tour de Belle Ile sailing information
---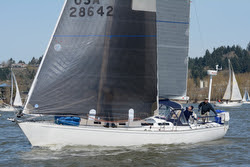 Oregon Offshore Driftsure!
(Astoria, Oregon)- Light winds on the Washington coast for the extent of the race became an exercise in patience, then ultimately disappointment for many racers, as the time limit made the finish line out of reach.  One boat managed to finish the course in the allotted time.  As a result, the RC notified the racers they could complete a "shortened course" to Duntze Rock.  Imagine what the RC at CYC Portland was thinking, gotta give out all those trophies somehow!
In PHRF A, the J/42 VELOCITY sailed by Tom Keffe from Hood River, Oregon showed extreme tenacity, gutting it out to complete the shortened course before the time limit and securing 2nd place in her class and 2nd Overall.  Only one other boat completed the course and all others dropped out and motor-sailed to Victoria, British Columbia.
Every May, the Corinthian Yacht Club of Portland sponsors the Oregon Offshore Yacht Race from Astoria, OR to Victoria, BC. The event has been a classic "feeder" race, taking enthusiastic offshore sailors from the friendly confines of Portland, Oregon up to the Seattle/ Victoria, BC region for some excellent sailing in the summers– e.g. Vic-Maui, Seattle NOOD, Swiftsure Race and so forth.  The race goes 193 nm race, starting off Astoria, Oregon at the mouth of the famous Columbia River, then head north up around Cape Flattery (the NW tip of the spectacular Olympic Peninsula), then head down ESE through the notorious Straits of Juan de Fuca to the finish line at Victoria, BC, Canada.  That was the plan.  However, this year the race officially became the slowest ever Oregon Offshore on record.  Next up the "Swifter" Race!!  And, next year will be the 40th edition of the Oregon Offshore.  For more Oregon Offshore sailing information
---
Fun J/80 TAG HEUER Vela Festival!
(Santa Margherita, Italy)- The Blue Project, an Italian J/80 sailing club with a fleet of nine J/80s, recently attended the TAG HEUER VelaFestival in Santa Margherita/ Portofino from the 7th to 10th of May.
The VELAFestival is an event sponsored by TAG HEUER for sailing lovers, amateurs and professionals to showcase the sport and also introduce people to sailing not only with a harbor "boat show", but also a series of regattas taking place just offshore in view of everyone at the festival.

Blue Project not only exhibited at the VelaFestival but also contributed its fleet of nine J80s at the main pier, promoting the class and sailing activities.
On Saturday, all Blue Project teams competed in the Vela Cup.  The racing was very close for all teams, especially with 150 boats registered and many big names in Italian sailing enrolled in the regatta.  The top J/80 crew was TEAM SPACE COWBOYS, sailing well to place 17th overall of 150 boats and also taking 1st in the J/80 class.

On Sunday 10th, Blue Project and its J/80 fleet conquered the local racing scene, showcasing the last match of the Winter Sailing Series in front of Santa Margherita Ligure.  The winners of the Winter Sailing Series 2014-2015 were the VELAMARE TEAM consisting of Ms Fiore Baruffi, Matteo Soppera, Matteo Colombo, and Andrea Rizzato.
Blue Project awarded the determination and perseverance of VELAMARE TEAM with a huge prize- – – the free use of a J/80 during the next Winter Championship Series in 2015/2016!  Ms Baruffi was simply shocked by the amazing prize (seen here in photo on the right)!  She thought a TAG HEUER watch was nice enough for 1st place!
The event and the Winter Sailing Series ended in a friendly and enthusiastic atmosphere with a champagne party on the VIP Terrace of the TAG HEUER LOUNGE overlooking the beautiful waterfront.  All the participants were very satisfied with Blue Project's organization and have already registered themselves in the next Winter Series that will be held in Chiavari (GE).
Blue Project has moved its headquarters and fleet to Yacht Club Chiavari on the Portofino Coast where they will organize many sailing activities at a very high level.    For more TAG HEUER VelaFestival sailing information.   For more J/80 BLUE PROJECT sailing information, please contact Ivana Quattrini / mobile- + 39 335 8093904/ ufficiostampa@blueprojectsailing.com
---
J/Community
What friends, alumni and crew of J/Boats are doing worldwide
———–

* Stephanie Roble, Rolex Yachtswoman of the Year and USA Women's #1 Match Racer, has been sailing for the past two years with John Brim on his J/70 RIMETTE.  John loves sailing his boat and he has assembled a fun, easy-going, and extremely talented crew.  Steph has been helping John and the crew sail faster, get better organized, and focus on teamwork.  Here are some of Steph's pearls of wisdom after sailing in the Helly Hansen Annapolis NOOD Regatta:
"I had a great time with Team Rimette (John Brim (driver), Collin Leon (trim) & Dave Wright (tactics/bow)) at the Annapolis NOOD present by Helly Hansen. This was my first time sailing the NOOD in Naptown and first time sailing in the "non college sailing" venue. We arrived two days early for some practice where we focused on upwind speed and boathandling. The team sailed in the Wednesday night race against about 20 other boats, it was super fun and a great pre-regatta reminder of pre start processes. Despite a light air event with minimal races, we had a great event, finishing 8th overall.  Here are some take-aways from Team Rimette:
– Be consistent with pre start homework & dock off time: For an 11 am start, we left the dock at 9:30 every morning. This gave us enough time to cruise by some crab pots on the way out to confirm the current. A big goal for us this event was to develop upwind speed, so we also left plenty of time to get the rig dialed in and made an effort to always be lining up with the same, fast teams each day. With the strong current and light air we often kept our engine on the back until we knew we were going into sequence. Also, with the current, we made several time runs at the line so we could understand how the current would affect our approach with angle and speed. This was super helpful and hard with the adverse current the last day!!
– Raking back was a positive move for our rig: In Charleston, we had our rake set at 5'4 ½" (with North Sails). We consistently felt stuck in a lower/faster to lower/same mode and the driver had minimal helm. So, we raked back to 5'6 3/4″ in hopes of finding a higher groove and we did! We still used the North Tuning guide as a base for the rig. However, with the rig further back, we had to be conscious of headstay tension, which was a combination of lower tension, and mainsheet tension. In general, the event was pretty light so we generally found headstay sag to be fast. But, in the puffs when everyone was on the rail and we were slightly overpowered, I would put on slight amount of backstay, little bit of vang and just gave the mainsheet a bump to keep the boat under us.
– Speed kills: With a light air event, we focused a lot on proper weight placement fore/aft as well as side to side. If it was super light, we had weight together and forward as much as possible. When the puffs came up, we were very quick to get weight on the rail so the driver didn't have to pinch up in the puffs & lose speed. Overall, John and I focused on creating good target numbers UW and in the super light stuff we made fast target numbers and made a team rule of absolutely never going slower than that (which is hard!). Downwind, we are super fast because Collin is constantly communicating pressure in the sheet to John and we try to focus on using weight to turn the boat rather than the rudder.
– Be consistent with communication: I run the starts on our boat and I have been focusing on developing consistent communication with the team and John. Starting with 60 boats in light air in adverse current is super stressful for everyone onboard and around us. So we find that we can calm down and create all around the best start when we revert back to the communication we have developed. All around the course Dave was very good at saying "if this, then that" which kept things cool on the boat. And downwind Collin's communication is clear and concise to keep the boat moving.
– We love our water filter! Collin purchased a water filter that hooks up to the hose on the dock. It is extremely handy! We fill 4 Nalgenes on the dock each morning and 1 gallon jug. Easy to move the weight around and obviously less use of plastic bottles. Definitely worth the investment and pays itself off pretty quickly!

* Both Sally Barkow and Charlie Enright were happy to arrive in Newport after completing their long leg in the Volvo Ocean Race from Itajai, Brazil to Newport.  Sally (a J/22 and J/24 sailor and top woman Match Racer from Neenah, Wisconsin) is sailing as one of the skippers on Team SCA and Charlie (J/24 champion and Fleet #50 champion) is sailing as skipper of Team ALVIMEDICA.  We had a chance to chat with them at the New York YC Harbour Court Commissioning Ceremony, presided over by Reverend Mary Johnstone.

Both sailors are completing a weeks worth of festivities in Newport, RI and are preparing for their assault on the last long distance leg of the 2014/ 2015 Volvo Ocean Race.  Both have credited the discipline and focus they learned as one-design sailors against the world's best competition as a solid base on which to build their offshore capabilities.  Both are sailing on teams that are relative novices at the offshore racing game, at least compared to the considerable talent arrayed against them on boats such as Abu Dhabi Racing and Dong Feng Racing teams.

Ironically, it's another champion J/24 sailor from the United Kingdom, Ian Walker, who is capitalizing on his experience both in one-design and offshore to be the current fleet leader as the skipper of Abu Dhabi.  It seems that both Abu Dhabi and Dong Feng both have "third gears" that no one else have seemed to discover when any of the boats are in a "close reaching/ power beating" scenario.
As Charlie himself commented, "when we have VMG upwind or VMG downwind on any leg we seem to have the right modes and sail cross-over choices.  At least we can hang with the leaders.  However, in just plain jib/ J1/ C0 reaching situations, we just bleed miles away.  We are still learning how to use the 'reaching strut' on the clews and to double or triple slot the headsails."  Sally pretty much echoed Charlie's perspectives, except to say that, "we are on a HUGE learning curve and on the last leg there were several times we felt like we were in the hunt! It's tough out there, but we're lovin' it!"
More news soon as they head off onto their Saturday Inshore Race in Narragansett Bay and their start off Fort Adams to begin their journey across the Big Pond to Portugal.
---
J/Cruisers
J Cruisers continue their adventures around the world, below are a selection of most excellent "blogs" written by their prolific publishers.  Some terribly amusing anecdotes and pearls of wisdom are contained in their blogs. Read some! You'll love it.
* The J/40 HERON REACH sailed by Virginia and Jerry is participating in the Blue Planet Odyssey project and have recently joined them in the Marquesas Islands in the Eastern Pacific.  Learn more about their adventures and experiences here- http://heronreachodyssey.blogspot.com/

* J/160 SALACIA has been sailing in Australia in the Whitsunday Islands.  Guess who decided to throw themselves across their bow as they cruised comfortably to their next destination?  A giant whale!  Look at this amazing photo!

* Jim & Heather Wilson just completed a circumnavigation of our "blue planet Earth" in June 2013 on their J/42 CEOL MOR.  Said Jim, "The odyssey of CEOL MOR is over, for now.  We completed our circumnavigation on our J/42 when we crossed our outbound track in Britannia Bay, Mustique. We were, however, still 2,000 nautical miles from home. So we continued on through the Windwards, the Leewards, and then through the British Virgin Islands. After a farewell 'Painkiller' at the Soggy Dollar, and a last meal at Foxy's, we made the 1,275 nautical mile passage to the Chesapeake and completed our port-to-port circumnavigation when we arrived in Annapolis on June 28, 2013. We had been away 1,334 days, completed 259 days of ocean passages, and sailed 30,349 nautical miles (34,925 statute miles). Read more about their adventures in their  well-documented blog here: http://www.svceolmor.com/SVCeolMor/Welcome.html

* J/160 AVATAR headed for the Caribbean, again!  We LOVE these updates from our cruising J sailors that continue to criss-cross the Seven Seas. This one comes from Alan Fougere, sailing his beloved J/160 AVATAR.   Alan sent us an email update commenting on their passage south this winter, "In mid-December AVATAR completed her sixth transit to her winter Caribbean home, Grand Cruz Bay, St. John, USVI (seen above)  from her home port in Quissett (Falmouth), MA.  A crew of three, Captain Alan (e.g. me), Crew Pablo Brissett and Mark Conroy, covered the 1,500 nm trip in in her best time to date- 7 Days 5 Hours, averaging 8.7 kts, that's about 208 nm per day!  Amazing passage it was!  Rainbow at right far offshore was some of the amazing phenomenon we experienced on this fast offshore passage.
AVATAR will participate in the BVI Sailing Festival/Regatta again in 2013, where last year she won the Nanny Key Cup Cruising Class race around the Island of Virgin Gorda.  Here are some photos for you to share with the J/Community at-large.  Enjoy!"
Best, Alan Fougere/ AVATAR

* Bill & Judy Stellin recently had an interview about cruising on their J/42 in the Wall St Journal called "Retiring on the Open Sea".  The Wall St Journal asked Bill to reply to dozens of questions that flooded into the WSJ's Editor desks. Here's the update:
Retiring on the Sea: Answering Readers' Questions
Advice about selecting a boat, ocean crossings, itineraries and safety

The article in our WSJ Online December retirement report about eight years spent sailing the Mediterranean— "Retiring to the Open Sea"— prompted many questions and comments from readers.  We asked William Stellin, who wrote the story, to answer some of the most common queries.
WSJ- "What kind and make of boat did you use? Looking back, would you have picked a different boat?"
Bill- "In 1995-96, J/Boats of Newport, RI, came out with a new cruiser/racer model, the J/42. We bought hull No. 6 of this popular 42-foot sailboat and named it JAYWALKER. This was our fourth boat since beginning sailing in 1975.
Although long-distance cruising wasn't what we had in mind when we purchased JAYWALKER, it soon became apparent it had the ability to carry us easily and safely anywhere we wanted to go. Because the boat is light, it sails well in light winds, which means very little motoring is necessary.
People often ask (and argue) about what boat is best for cruising. Any boat that is strong, safe, fast, comfortable and easily handled by two people should fit the bill. One thing for sure, fast is fun—and important when trying to avoid bad weather."
READ MORE ABOUT BILL'S INSIGHTFUL COMMENTARY AND THOUGHTS ON WSJ ONLINE HERE
* The J/42 JARANA continues their epic voyage around the Pacific. Continue to read about Bill and Kathy Cuffel's big adventure cruising the South Pacific headed for New Zealand.  Their blog is here:http://www.svjarana.blogspot.com/
* John and Mary Driver are sailing their J/130 SHAZAM for extended cruising in the Atlantic basin. At this time, John and Mary finished their double-handed crossing of the Atlantic, landing in Portugal on their J/130 Shazam after completion of their ARC Rally. Read the latest news athttp://www.sailblogs.com/member/shazam/.

* Several J/160 owners are island hopping across the world's oceans, fulfilling life long dreams to cruise the Pacific islands, the Caribbean islands, the Indian Ocean and all points in between.  Anyone for Cape Horn and penguins??  Read more about their adventures and escapades (like our J/109 GAIA, J/42s PAX and JAYWALKER and J/130 SHAZAM friends above).
–  Bill and Susan Grun on the J/160 AVANTE are also sailing in the Pacific archipelago, read more about their great adventures on their blog (http://web.me.com/susangrun).  Read about their latest adventures as they've gotten to New Zealand- "Avante Cruises the Pacific".
– Eric and Jenn on the J/160 MANDALAY also sailed the Pacific archipelago, read more on their blog athttp://www.sailmandalay.com.  Eric and Jenn are J/World alumni took MANDALAY up and down the West Coast (Mexico, CA), then to the South Pacific and New Zealand.  MANDALAY is back in San Francisco now, and in the J/World fleet–she is available for skippered charters, private instruction, and corporate/executive groups.


Click the logo to see the current new J/Boat Models that are for sale through Murray Yacht Sales